Recipe: Best mince pies
Could these be the best mince pies in Dubai? Try the recipe and taste for yourself…
Serves: 12 mini pies
Prep 2 hours
Cook 30 mins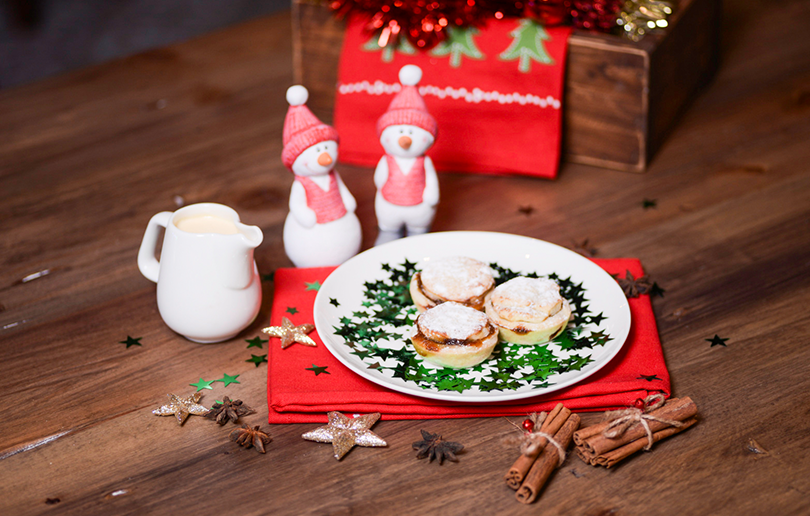 Ingredients
For the Pie filling
Mixed spice 2 tsp
Apple 225g
Sultanas 225
Raisins 225g
Currants 225g
Sugar 175g
For the pastry
Flour 500g
Sugar 150g
Eggs 2
Butter 200g
Water 100ml
Method
Heat oven to 180C/fan
In large bowl, combine all the ingredients.
Stir well making sure all the ingredients are evenly distributed. Cover the bowl with foil and place in the warmed oven for 2 hours. At the end of this time the suet will have melted.
Leave to one side to cool, stirring from time to time. The stirring is important as it helps to evenly distribute the fruits as the mixture cools
In a food processor mix the flour and the butter until they resemble a breadcrumb texture, remove and place onto a floured work surface.
Mix eggs and sugar and add to the mixture, add the water and gently mix all together to form a smooth dough.
Cover with cling film or a damp towel and allow to rest in the chiller for at least 30 mins.
Once rested and the filling has cooled, remove the pastry and dust a work surface with flour, roll out the pastry to a thickness of 1/4inch.
Using a round cutter, depending on the size you would like, cut out circles and place into a greased muffin tray,
Fill the pies with pie filling and using the remaining pastry.
cut even smaller circles (star shapes look really cool) for the top.
Brush with a mixture of one egg and 100ml milk and bake for approx. 30mins.
Once out of the oven immediately sprinkle icing sugar and allow cooling before eating.
Recipe provided by Senara restaurant and chef.