Eastern Meets Nordic
The Power of Trollbeads
By: Dina Maaty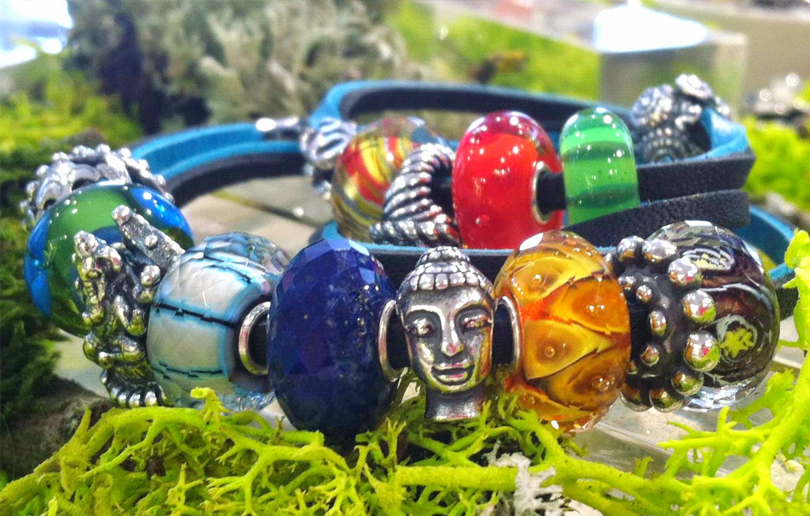 "Do not dwell in the past, do not dream of the future, concentrate the mind on the present moment." This is a famous Buddha quote, an aspiration for most of us. Be. Here. Now.
Some like to gain inner peace by meditating or doing yoga. Others seek peace and harmony by taking a stroll at the sea or in a beautiful and quiet forest. All seeking the same: a moment of peace, mindfulness, to feel the now.
Trollbeads is world famous for the enchanting way they play with glass and the Now collection comprises beads inspired by the colours of the Nordic forest, shining and reflecting light, drawing attention to the spirituality of the East.
The Now collection is a beautiful variety of Eastern spirituality and the Nordic forest. From the East, "Om", Buddha, Ganesh, and spiritual ornaments inspired from the wood carvings on the temple walls and the Tears of Shiva are presented. Then, we go north and find squirrels, fawns and dandelions.
This particular collection contains the gemstone Lapis Lazuli, which brings matters more clearly to the mind, and the Brown/Yellow Chalcedony, which helps you become friendly, receptive and responsive.
The pendants in the collection comprise of the beautiful lotus flower, with all its meanings and symbolism, and the Tree of Wisdom, showing Buddha sitting under a tree.
It takes practise and discipline, but learning to focus the body and mind, we can tap into the spiritual energies of the whole world. All is one – and OM is the sound of the universe.
Let the Eastern and the Nordic meet and restore your energies!
To marvel at these and other handmade pieces, head to their kiosks in Dubai Festival City and Ibn Battuta Mall and add a little zen to your style.