Mama's Ready for Take Off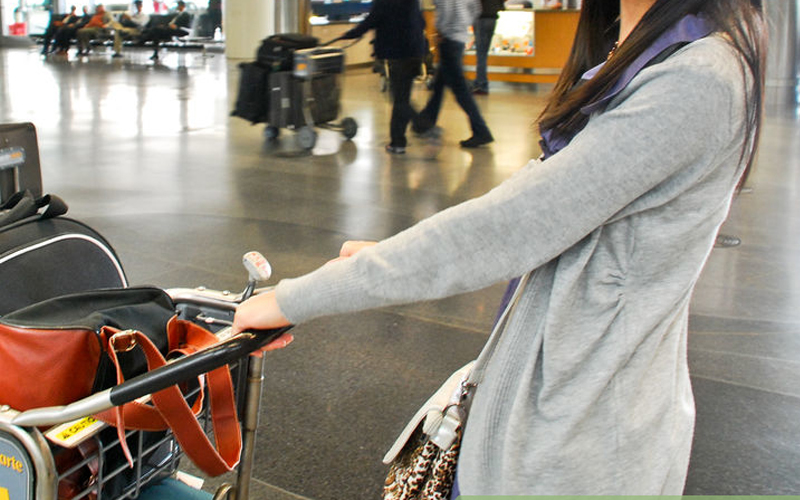 An airport setting can be overwhelming even
for the most seasoned of travellers. With endless 'last calls' and passengers rushing through gate queues – not to mention travelling with children in tow – it would be easy for a mother to forget that jet lag is not an excuse for fashion and beauty crimes.
Mother, Baby & Child interviews Elizabeth Saltzman, British Airways' style ambassador and fashion stylist to the stars for tips on travelling chic and beautiful to that summer getaway or business trip.
I prefer a carry-on only unless you are going away for more than four days. Make your outfits versatile so you can use things more than once. Plan ahead: For instance, if you pack a navy blue tuxedo as an outfit to wear in the evening, you can also use the tuxedo jacket with your jeans, white shirt and flats for the day. A small amount of effort when packing can help you get really organised.
Travel with clean, well-moisturised skin. Everybody has their favourite products. I swear by Charlotte Tilbury Magic Cream, Elizabeth Arden Eight Hour Cream and Shiseido Eye Mask. I love to freshen my face up during the flight with the Crème de La Mer Mist. I can't travel without these products!
Water, water, water: Hydrating yourself from the inside helps with jet lag and dehydration. It also keeps your hair looking glossy and skin fresh.
Stretch! Every hour, you should get up and stretch your legs; do at least 30 seconds or one minute of exercise to get your blood circulating. I always stretch my arms over my head and move my hands like I'm playing a phantom piano. Try leaning against the doorway to stretch your shoulders and open up your chest. For three simple options without even getting up from your seat, try a seated spinal twist, a half-forward bend and slow neck rolls, five times in each direction.
Take care of them pearly whites! Nothing is more welcoming than a pretty smile. I can't fly without toothpaste and a toothbrush. Keeping my mouth fresh and teeth clean is a priority and certainly one which is appreciated when greeting people after a long flight.
I like to tie my hair up on a plane. I think it gets less static and dirty that way, and if I twist it up into a bun I can let it down when we land, it's like an instant blow-dry effect. If I have to go straight to a meeting I use dry shampoo to quickly freshen my hair.
Scarves, everyone should have one in their bag while travelling. Great for warmth on the plane, they can be used as a blanket for your children, hoodie or neck warmer. I also love them during my trip to change up an outfit, they can double a sarong or an evening shawl.
Hats are hard to pack so choose wisely. A fedora works in many situations: it's great for sun protection, styling and if you didn't have time to style your hair before travelling.
Bring a bag that isn't too big to carry and doesn't unbalance your shoulders. The last thing you need is a crater-sized knot in your back. As for my tote, I would choose something simple and streamlined.
Shoes! They are every woman's guilty pleasure. Rather than packing more shoes than necessary for your trip, it's great to travel in ones you can use more than once. If that means you're wearing a pair of heels, just remember to take them off during the flight, stretch your toes, put on your circulation socks and relax.
A great trench can travel the world with you. It goes over a little black dress or blue jeans. It is extremely versatile. For instance, check out Heidi Klum and Amal Clooney's airport looks.
Wear minimal jewellery when travelling and pack statement pieces.
Clothing is only a part of looking good at the airport, but feeling healthy makes you look better. I love vitamins and vitamin boosters.
A quick touch-up before landing goes a long way. Lips, bronzer and concealer are all you need. Make sure you have a small bottle of your favourite fragrance too.
Celebrities in Travel Mode
2016's Best Dressed
Featuring some of the world's most famous female fashion icons, the British Airways World's Best Dressed Travellers list honours inspiring celebrities who travel in style and instigate major wardrobe envy every time they step on a plane.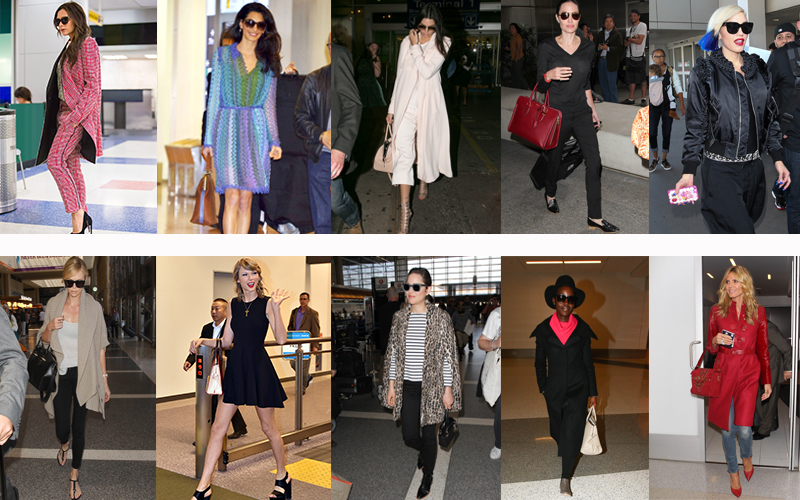 Victoria Beckham
Amal Clooney
Kendall Jenner
Angelina Jolie
Gwen Stefani
Charlize Theron
Taylor Swift
Marion Cotillard
Lupita Nyong'O
Heidi Klum