A Mother's Tragedy Turns into Inspiration
The Story of Baby Lucia
By: Sandrine Piedras
"They told us there would not be any ashes because at this young age the bones were mostly cartilage. On the same day, I ran to a tattoo shop and got a tattoo. I wanted her to have existed. I needed a proof for me and the world around me."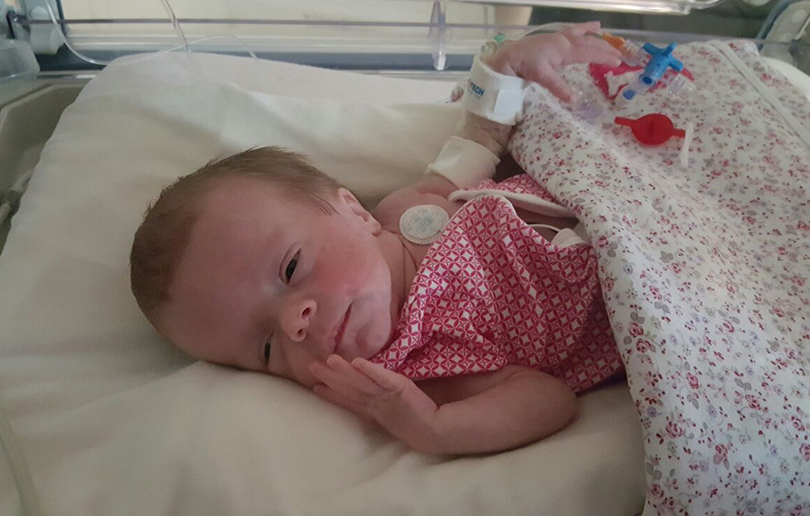 Entering the NICU – Neonatal Intensive Care Unit – is a frightening experience which no mum and dad are ever prepared for. It can turn the greatest adventure, parenthood, which we all look forward to, into an episode of uncertainty and fear that almost nobody ever speaks about.
Pregnancy is a time of sharing, of strong emotions, an intense period for the parents-to-be, an adventure composed of many steps, every day, a journey on a mostly well-marked path led by soothing, skilled medical staff.
However, when suddenly a few weeks before the scheduled date you end up in the emergency unit because you start to bleed slightly and lose some fluids, your life is suctioned by a tornado which takes and shakes you in all directions.
You most likely had a C-section as an emergency procedure like myself; you are not ready to have your baby, your hormones are crashing down, you cannot touch your baby, plus, you need to pump every three hours. It is a nightmare.
All you want is to have your baby in full health and in your arms. Instead, you become the outside observer of a transparent aquarium in which your child is connected to an array of tubes and sensors, which only allow for minimum contact.
NICU is a world apart, with its many opaque codes, rhythms, sounds and smells. Many things are to be discovered and understood for oneself, as the highly-skilled staff is 200% focused on the welfare and survival of your child.
My daughter Lucia was my first child. She was born premature on September 19th, 2015 at the age of 29 weeks and 4 days. She died of a grade 4 Intra-Ventricular Haemorrhage (IVH) on November 10th of that same year, after 51 days spent at the clinic.
Going back home without my baby was an almost insurmountable experience to live, but I could thankfully count on my husband, family, friends and also other NICU mums who had lived similar experiences at the same time, even though we all had different endings.
We had the cremation in France, and they told us there would not be any ashes because at this young age the bones were mostly cartilage. On the same day, I ran to a tattoo shop and got a tattoo. I wanted her to have existed. I needed a proof for me and the world around me.
From this experience, I left having made a promise to my daughter that her short life would leave a footprint on earth, in addition to her indelible presence in our hearts and souls.
It is from that promise that the Survivor Guide in Dubai's NICU was born; it focuses on vital information pages that any mum arriving at the NICU should know:
Rules of the NICU
Strange machines found there
A glossary of abbreviations and medical terms
Necessary logistics and administrative steps to be taken
Support groups in Dubai
Tips for breastfeeding and other practices
What to do on the first day you come back home
How to cope, how to be a parent
A wonderful success story
This welcome guide was created not only from pain, tears and love, but also the joy of getting to know amazing women who had went through hell with me and helped me grow as a woman, wife and mother.
I hope my baby Lucia lives through this guide and can help as many mothers as she could.
You can download the NICU Guide, and read inspirational stories, on www.nicudubai.wordpress.com.a