Getting Fit with Your Child
Fitness Gone Viral
Mother-Child and Ladies' Day Out Workouts
Fitness trends come and go; from the booty barre to mash-ups like 'yogalates', 'Piloxing', and female-oriented body shakers like burlesque and pole dancing, we may think we have seen it all.
One trend which has recently gone viral is mother-child workouts. Whether actually involving your child in the workout itself or simply letting them exercise in their own world as you shape up, mothers are no longer making excuses when it comes to hitting the gym – or simply working out at the comfort of their own homes.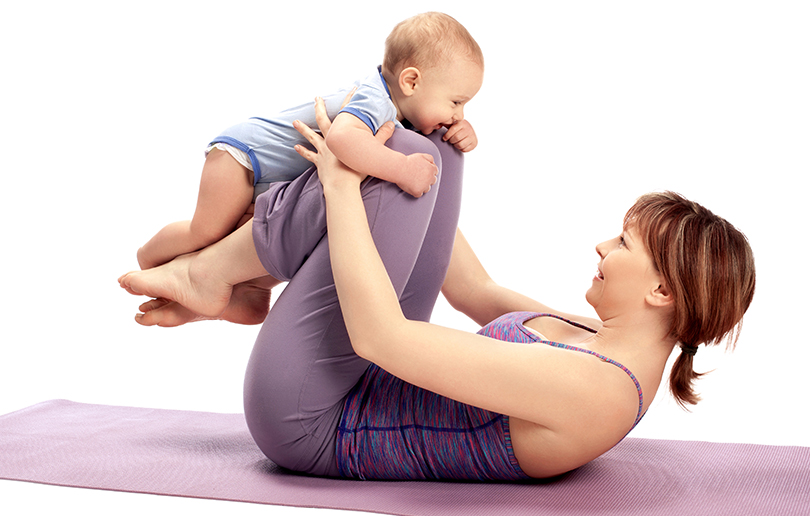 With fitness centres in the UAE looking to cater to mothers, many have recently set up child-friendly facilities to keep up. Fit Republik, a Sports City-based fitness centre, has launched The Playground, an area where parents can leave toddlers ages 1-4 years old while they work out or relax. It includes a swing, slide, mini climbing wall, crafts centre and more.
Mother, Baby & Child interviews Fit Republik's PR for a look into this fitness trend.
We have recently been seeing a growing trend of mother-child workouts. They may look good on video, but practically speaking, how feasible are they?
Mother-child workouts are a great way for mums to exercise. The additional weight of a child can be used instead of free weights, increasing the difficulty of the workout, which will help build strength and endurance. Working out with a child is also time efficient as you don't need to travel to the gym, you can work out in your home which is ideal for all those busy mothers out there.
What is the one thing parents have to keep in mind when working out with their children?
The most important thing for parents to keep in mind is safety. You need to make sure the child is safe and happy to work out, but you also need to be aware of your own safety. When parents work out with children, their attention can sometimes be focused on their child so they can lose focus of their own form. This can cause injuries.
Therefore, it is necessary to keep a good balance between the two. In addition, for new mothers, it is vital they check with their physician before they begin exercising to make sure their bodies are ready.
In your opinion, is it better to work out with the children, or let them work out on their own (once they are old enough) and why?
This primarily depends on what the parent wants to achieve from their workout. If you want to increase your muscle mass or train for a marathon, then it would not be suitable to include your child. However, if your workout is suitable for children, then it is a very fun bonding activity which will also encourage your child to have a good attitude towards living a healthy lifestyle.
Working Out with the Girls
The internet, as well as fitness areas and centres, have also been seeing an increase in ladies-only workouts. Fitness can make for good bonding – whether with your mother, sister or friends. Here are some ideas to get you off the couch:
Walking or hiking
Walking is a great low-impact exercise. Whether on the treadmill, hiking outdoors or strolling through the city streets, walking helps reduce stress levels and blood pressure, and is the perfect activity for a group. Walking with weights can also help intensify your workout.
Outdoor cycling
Hop onto a bike and get outside and into the fresh air with this strengthening and eco-friendly activity which has a number of health benefits and will keep the heart pumping. The thrill of the outdoors and wind flowing in your hair are sure to make you feel refreshed.
Weekend yoga retreat
Yoga offers a relaxing and invigorating means to restore the mind and strengthen bonds. From simple breathing and meditation to intense strengthening and flexibility sequences, it is the perfect way to balance the body and nurture relationships.
Dancing for fitness
Dancing is a fun way to warm up and burn calories. There are a number of great dance workouts to try with a partner or group which include Zumba, Salsa and choreographed dance routines which are easy on the body and a good excuse to dress up to work out.
Beach Day
The beach is the perfect place for enjoyable fitness activities. You can warm up with a walk or practice some yoga, work out the arms while building a sandcastle, and cool down with a swim in the ocean.
(Insider Tip: Dubai-based Coaching gurus at Ask for Life have a pool yoga session every Saturday at Eden Beach Club #askforlife)