Elle & Vire partner with award-winning chef for new delicious family dessert range
For the past 70 years Elle & Vire delicious French dairy products have been the go-to range for pastry chefs around the world.
Now, the popular French brand has partnered with an award-winning chef to create a tasty range of desserts that families can enjoy at home.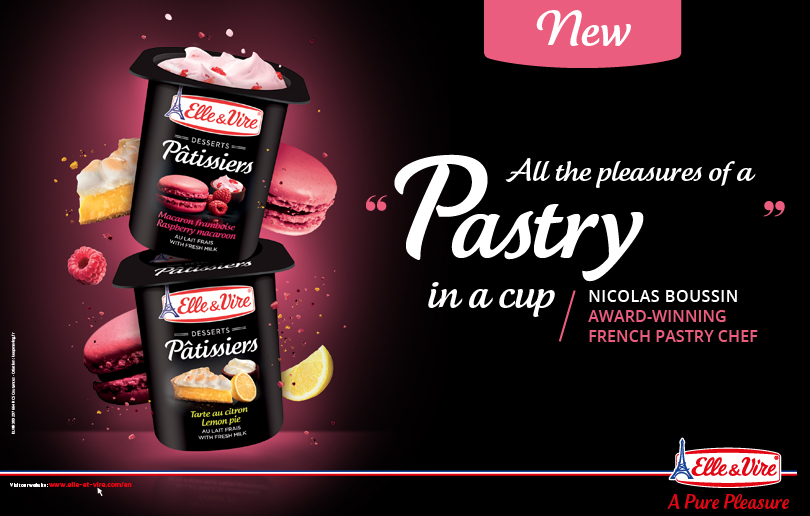 Elle & Vire : Lemon pie and raspberry macaroon
The two new desserts from Elle & Vire combine some of the best whole French ingredients: fruit, milk and finest cream.  Created by world-renowned pastry chef, Nicolas Boussin the lemon pie dessert combines the richness of a pastry dessert in a creamy pot. Meanwhile, the raspberry macaroon dessert crams all the incredible sweet flavour of the classic French treat into a handy-sized dessert pot. Two great French traditions, you can eat with a spoon.
The chef behind the dessert
In order to create the new dairy dessert, Elle & Vire called on the talent and creativity of a renowned pastry chef: Nicolas Boussin.
He found his calling as a pastry chef at a young age and has excelled in the profession ever since. Named "Meilleur Ouvrier de France" in 2000, he earned the title of the world's number two pastry chef in 2002 and has earned worldwide respect thanks to an exceptional creation, the "Gâteau", which will leave its mark on history and palates everywhere.
Today, he practises his art at the Elle & Vire Professionnel "La Maison de la Crème". At this think tank and training centre, he is passing on his expertise to professionals from diverse backgrounds and developing new recipes for the future. It was precisely here, at "La Maison de la Crème", that he developed the new dessert range.
About Elle & Vire
For 70 years, Elle & Vire has carried on a unique cream making expertise tradition in Normandy, a French region known as "France's dairyland". In this wooded region, between land and sea, the cows spend much of the year in the fields and produce high-quality milk every day. From this milk, men make the finest of creams. Elle & Vire has been harnessing and cultivating these resources since 1947. In our factory at Condé-sur-Vire, in France, they make the finest cream every day. It is a uniquely rich material, which has inspired the company to create the most indulgent of dairy desserts.
Details: for more information, visit Elle & Vire. If you enjoyed this article, you may like this story on kids cooking classes.