Free spa treatments at the Tis' the Season Mamas' morning
SensAsia Urban Spas was set up by entrepreneur Salina Handa (pictured with her daughters), Mother, Baby & Child sat down with the founder to discuss treatments for mums, Mother, Baby & Child's Tis' the Season Mamas' morning and setting up her own business in the UAE.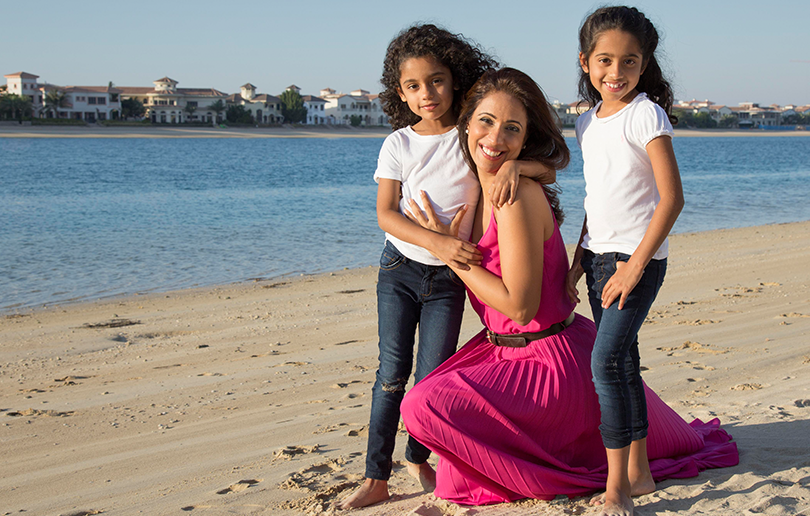 What treatments would you recommend for the mums reading?
We are very well known for our pre and postnatal treatments, so much so that they have their own menu, which we call SensMama. Any pregnant ladies need to have a 'Yummy Mummy-To-Be massage' at SensAsia, to find out what the fuss is all about, plus a 'Scrub-A-Dub-Mum', where we will scrub off those dead skin cells in all the hard to reach places that come with pregnancy. It truly leaves your skin feeling brand new. And we can even include the husband with our 'Yummy Mummy and Daddy-To-Be' package. For any mum – and all mums! – I recommend our Pillow Talk Massage. It's a beautiful, carefully thought out treatment, which includes Chinese pressure point massage, pure lavender essential oil and deep delta waves playing in the background. It is designed to lull you into a state of complete tranquility and encourage deep, healing sleep. And what mum doesn't need that?
Does SensAsia offer anything for children?
Around Christmas, we open up the spas to children with a special Holly Jolly Christmas treatment. It was inspired by my own nine-year-old twin girls, Sienna and Soroya, who already appreciate the benefits of massage, and looking after your body for life. We provide kid-sized bathrobes and hot cocoa with marshmallows instead of our signature ginger tea and crudités. As you can imagine, it goes down pretty well!
What's on offer from SensAsia for mums joining for the Tis' the Season Mamas' morning?
We'll be on hand to give mamas much-needed mini massage treatments, including The Stretch, Rapid Rub and Temple Time, and we have some incredible Christmas-themed treatments and our beautiful festive gift vouchers, which we'll be showcasing. Our team are also happy to offer advice on the SensAsia treatments that will combat specific concerns or skin problems, and there might just be some special discounts on offer too.
What inspired you to start your business?
It all started one day in the midst of the hustle and bustle of Hanoi. Lucky for me, I am a golf widow. While Kavit (my husband) played the afternoon, I went in search of a lazy afternoon indulging myself. Right in the middle of the most glorious Shiatsu massages I have ever ever EVER had, I almost ached at the thought of not being able to have this when I went back to Dubai. The idea struck to create my own sanctuary, that, if done correctly, I could also have so much fun doing so. At the time I was working in concept design and business development for a large packaging company. I had a business and marketing degree so I knew how to 'package' an idea and sell it. Now I just needed the ingredients to make the product work. I met Kavit back at the hotel that evening and was bursting at the seams, desperate to tell him my idea and hoping and praying he wouldn't crush it by laughing. Well, as SensAsia is now in its 14th year, and with four locations, you can imagine, he was extremely supportive of the decision.
What tips would you give to our readers on setting up your own business?
If you start any business, make sure you are extremely passionate about it. Because your dedication and commitment will be tested, especially if you have young children. And when it is, and you naturally ask yourself "Why did I get myself into this?!", you want to be able to always answer your own question with: "Because I love it."
What's your favourite treatment?
Our Warm Cocoa Butter Stone Therapy. It is two hours of muscle melting, ultra-skin softening, absolute indulgence. The length of the treatment really ensures I 'switch off', and the richness of cocoa butter combined with heated river stones is such a comforting, invigorating, total treat for the body.
What are your favourite beauty products?
I have been using Elemis for 14 years, and the brand has been an integral part of SensAsia since the day we opened at The Village, Jumeirah, back in 2004. I have moved away from Elemis to try other ranges, of course, but I always come back to it. It's the best range for my skin, and the constant research and introduction of new products just keeps Elemis fresh and exciting.
For more information visit SensAsia Urban Spas. Visit the Tis the Season Mamas' morning page to book your ticket to the event.