Ambulance service for women and children only in Dubai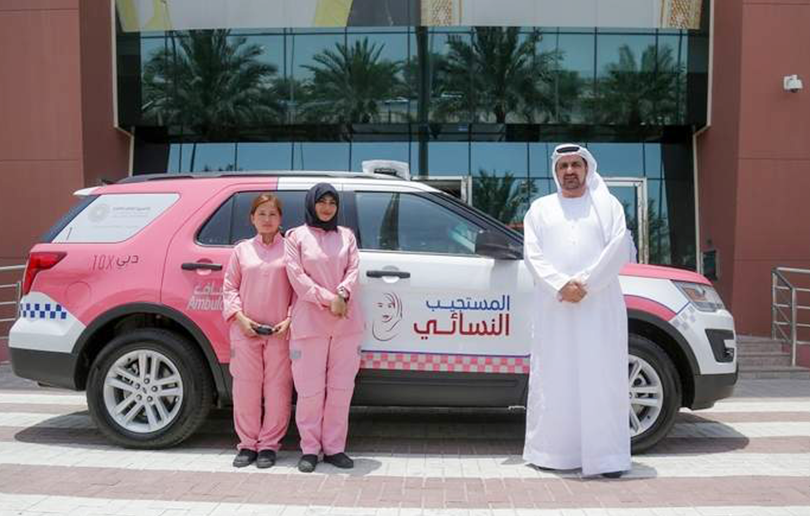 A new pink ambulance has launched in Dubai, for women, and children under the age of 12-years-old.
The ambulance which is coloured pink in a similar vain to Dubai's women-only taxi service is based at Al Tawar Municipality Centre .
Currently the service is only available 12 hours daily, operating 11am-11pm in the Deira area.
The ambulance is staffed exclusively with female medics in co-ordination with Latifa Hospital. The team are equipped to deal with a range of medical emergencies, from injuries to labour.
Khalifa Al Drai, Executive Director of DCAS said that everyone in the team, from the ambulance drivers to the on-board medics have undergone a high level of training at Latifa Hospital.
Will there be more than one pink ambulance?
After the initial two-month trial, Dubai Corporation for Ambulance Services (DCAS) will examine where most emergency calls are coming from, and reevaluate where the ambulance is most needed.
A second pink ambulance is also due to launch covering the Bur Dubai area at a current undisclosed date.
The Government of Dubai suggests to do the following when faced with an emergency in the city:
Call 999. This number "can be used in any emergency situation when you need to get in touch with the police or ambulance services".
If you need a doctor to come and visit your house, call 800-362867 (which operated by private health service Lifeline Healthcare).
"Quick response to emergencies can save a patient's life. It is therefore essential that you know where to go in case of an emergency, and know the contact numbers to call for medical help."
For more information about what is available at Women and Children's Latifa Hosptial, click here. You may also be interested in this article on maternity leave in Dubai and this article on birth certificate rules in Abu Dhabi.