Smart school uniforms just got smarter!
Time to organise the school uniforms ready for the start of the new school term!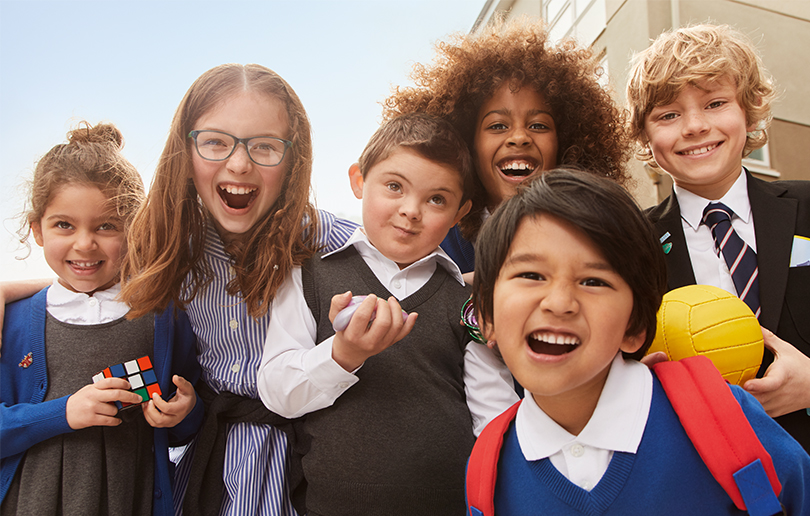 Getting right to it, what parents need from a school uniform is:
Uniforms that look smart and are great quality
Uniforms that wash and dry easily, while keeping their shape and structure
Uniforms that allow your children to…simply be children! This means clothes that allow them the comfort and flexibility to run for the school bus, clamber and climb, and even slide across the grass (as kids always do!) – both in and out of school.
The innovations team from the classic school uniforms experts, Marks & Spencer, has cleverly built in some great technologies in their entire school uniform range that really tick all the boxes for parents and kids. Check out the full range here!
Stain-proof and weatherproof
The UAE is prone to some occasional bouts of unexpected rain between the September to May period – and when it rains, it really pours here! The water-repellent and stain-resistant finish in the Marks & Spencer school uniforms range means that water and other spills simply roll right off the fabric,you're your kids stay dry in sudden downpours.
This weather-resistant finish is available on trousers, shorts, skirts, pinafores, blazers and coats.
Stain resistant clothes across the uniform range
School uniforms that are resistant to stains?! Yes, really! Whether your children have been playing outside or getting creative with the paints indoors, the 'Stainaway' technology makes washing easy. This is available on school shirts, polos, blazers, trousers, shorts, skirts and pinafores in the Marks & Spencer school uniform range.
Non-iron shirts
This is a really big deal! If you have two or more children at school, you know how much of a welcome and valuable this time-saving innovation is! The fabric is heat-activated, so you simply need to tumble-dry these shirts and hang them up immediately. There – all straight for school!
Scuff resistant shoes
Remember when we were kids, we all came home from school with scuff marks on our new shoes  – it's just how children are! With better innovation, kids can now play to their hearts' content and still be smart for school the next day in the durable, coated-leather shoes from Marks & Spencer. Not only this, the clever 'Freshfeet' technology incorporated in the school shoes combats the bacteria that causes foot odour.
Bobble-free jumpers with 'StayNEW' technology
Infuriating, isn't it – when new school jumpers are soon covered with those little bobbles! The clever technology used in the Marks & Spencer 'back to school' range helps jumpers to not only stay bobble-free, but also keep their colour, retain their shape, and keep your kids looking and feeling super-smart.
View jumpers/ cardigans range (or girls)
Crease resistant uniforms (at last!)
Children are children, and as such think nothing of crumpling up their uniforms and stuffing them into their bag when they're starting the day in sports wear! And even if they are more careful, nothing looks worse than a creased uniform. Go for a uniform that simply doesn't crumple, so your children look and feel smart all school-day long… whatever they get up to!
View skirts & pinafores range
Stretchy cuffs to help younger kids dress
Fiddly, time-consuming cuffs and buttons for young kids was never a great idea! Brilliantly clever, the 'Expandicuff' shirts from the Marks & Spencer range mean that younger children (up the age of 8) don't have to mess around with fiddly sleeve buttons and can get themselves ready quicker, always with a smart result. Genius!
View shirts range
Cooling clothes and smell-free sports kits
You know how the old-style PE kit smelled at the end of a long school day? Well not anymore! The innovative fabrics used in the new school term Marks & Spencer sports range keeps your children cool and fresh when they're active, thanks to special technology that safely repels bacteria. The final score? Cool kids that are free to enjoy sports more and a gym kit that remains reassuringly smell-free.
View kids' sportswear range