Girls do Good: An Augmented Reality Book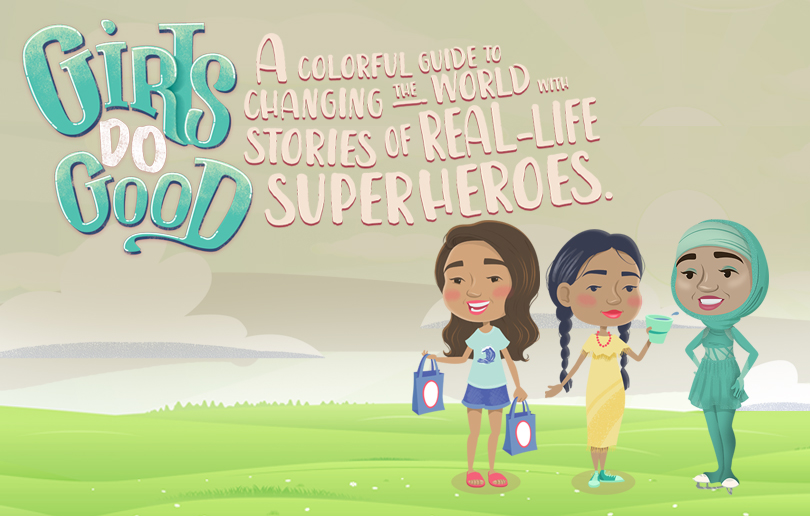 Girls Do Good, a book aimed at 4 – 12-year olds is coming to bookstores in Dubai soon, and it's one every mom should pick up for their girls. The book comprises stories of 11 world-changing real-life superheroes, all of which are stunningly illustrated in the print and digital colouring book with Augmented Reality.
Your girls can read about Dutch-national Laura who sailed the world solo at 14, Melati and Isabel – two Indonesia girls determined to get rid of plastic on the island, and Halima, a 15-year old Malawian girl who escaped child marriage, amongst other stories. From the Emirates, 23-year old Zahra – who was the first UAE-national to compete internationally, and in a hijab – has been featured for changing the rules of figure skating. The book authored by award-winning entrepreneur and speaker Jos Dirkx, and published by the Dreamwork Collective – a Dubai-based independent publishing company founded by Kira Jean – also includes a foreword by Nobel Peace Prize winner and founder of Gbowee Peace Foundation Africa, Leymah Gbowee, and influencer and entrepreneur Huda Kattan.
Girls do Good launches on October 11, International Day of the Girl Child, and will be available for Dhs77 at Kinokuniya in Dubai Mall and Magrudy's. You can also order the book from Amazon for $21. The book will be released in Arabic in the coming months, and is currently open for pre-order. girlsdogood.co