Family Brunch: Play House at Swissôtel Al Ghurair
There's something for every one at Play House.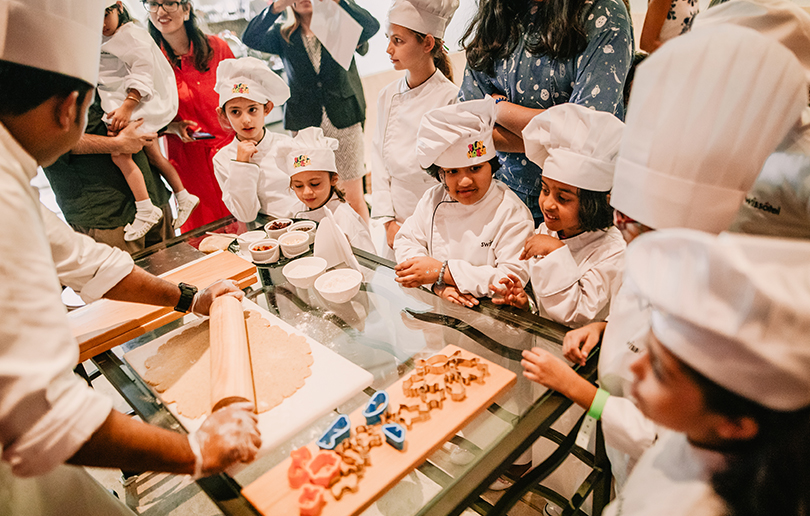 Kids will absolutely love this brunch. Take a photo with the big bear as you arrive and head to your dining table, at the sprawling space, to begin the sumptuous brunch. The culinary offerings are aplenty, but we suggest beginning with Vietnamese spring rolls, followed by DIY bruschetta, soup, salad, sushi, cold crustacean, cheese fondue, and Mexican salad made to order. Quench your thirst with a selection of juices, including apple spritz and ice tea, from the juice bar, while the kids treat themselves to chocolate cookie smoothies, and berry juice. Once the kids have tucked into their mini buffet featuring hot dogs, fries, chicken tenders, and candy floss, let them make a dash for the Play House. Everything from face painting to a bouncy castle, slides, ball pit, balloon bending, and colouring is available, along with an interactive chef's demonstration where kids don an apron and chef's hat. At the kids' area, attendants are on hand to look after the kids while you indulge. The older children will most likely plonk themselves on a beanbag at the Nintendo Wii area.
The widespread buffet comprises various food stations, and for mains, adults can try Arabic specialties, including shawarma and arayes; pizza; Mongolian barbecue featuring succulent lamb chops; Indian dishes including dal, tandoor tikka, biryani and butter chicken; Thai green curry made fresh with fish or chicken, and plenty more. End with an espresso and divine sweet treats including nutritious guilt-free bites, ice cream, cakes, brownies and fruity pudding.
Details: Every Friday from 12:30-4pm. Dhs80 per child (free for children below 5) and Dhs160 per adult. Contact +9714 293 3000.