Exercise and kids' development are linked says Dubai Chiropractic Doctor
Exercise and kids' development are linked, says Dubai Chiropractic Doctor, Dr. Nashila Farrah Jaffer, Director of 'We Rock the Spectrum' Kid's Gym, as she discusses the crucial  reasons to build regular movement  into children's lives.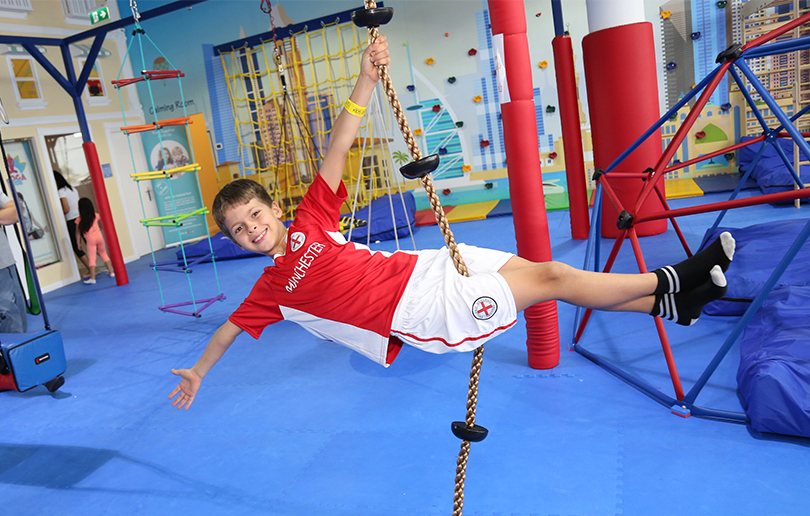 Why did you decide to set up We Rock the Spectrum (WRTS) in Dubai?
Exercise and kids' development are linked an the past, children led more active lifestyles.  Movement is essential in the development of children's neurologicdal system. In fact, 90% of stimulation to the brain comes from movement of the spine. I feel this lack of movement has significantly affected the growth and development of children today.
Being a mother myself, I have seen how important it is for my children to do something active every single day, and in Dubai it is not the easiest with the hot summer months. So, when I came across We Rock the Spectrum Kid's Gym whilst searching online, I thought this would be perfect in Dubai as an indoor playground for children to fulfill their sensory and motor development needs whilst having fun. I call it 'Play with a Purpose.'
What kind of services and classes do you offer?
We have Open Play whereby you can come with your child at any time of day. We encourage parents to play with their child inside the gym, but we also have a 'Drop 'n' Shop' option where we can supervise your child for an hour or two.
We have kids' fitness classes, dance and drama classes, a maths enrichment programme, birthday parties, coffee shop and free WiFi too. We also work very closely with Pure Child Health, a centre that offers occupational therapy and speech and language therapy, and we run parent workshops at the gym to help educate parents about child development and how exercise and kids' development are linked.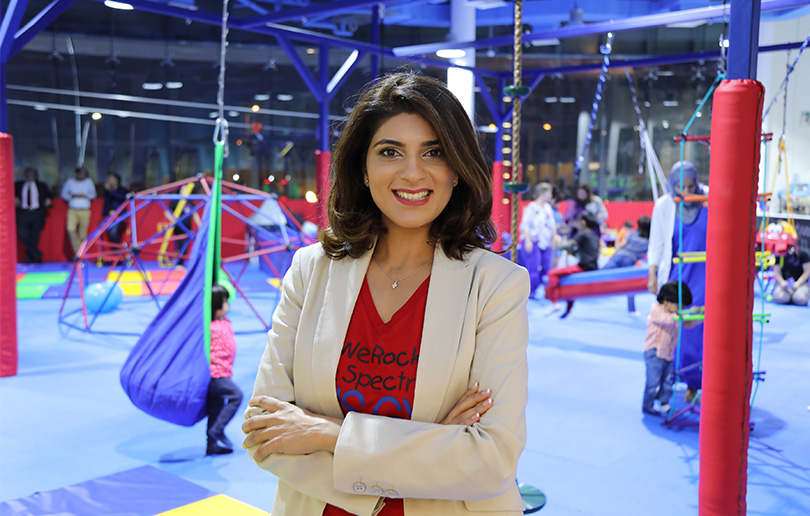 Why is it so important that parents take their children to a gym?
It is important for children to get into good habits early on and understand that movement is an essential part of an active, healthy lifestyle. Just as adults go to the gym and exercise to keep themselves fit, the same should be available for children so that it becomes a habit. If we can encourage the importance of exercise from a young age we will avoid many more health problems later in life.
What age should parents think about taking their kids to the gym?
We Rock the Spectrum Kid's Gym welcomes children as young as 1 year old. There are fun swings to help with spatial awareness and movement as well as soft play toys, role play and arts and crafts to encourage fine motor skills, as well as social skills interacting with other children. From birth to age 5, a child's brain develops more rapidly than at any other time in life. Scientific research has made it clear that the quality of a child's experiences in the first few years of life helps shape how their brain develops. Therefore, I would encourage movement and activity as early as possible.
Tell us about some of the specific benefits of the equipment.
There are ten pieces of equipment that will be found in every We Rock Kid's Gym, each one with a specific purpose. For example:
The climbing apparatus enhances body awareness, body scheme, motor planning and bilateral coordination. The child's body weight, combined with gravity, provides additional proprioceptive feedback to the joints, helping the child coordinate their movement.
The bolster swing provides a swinging side to side motion that is a great motor planning and motor sequencing activity.
The trampoline builds lower body strength and helps to teach balance and provides a full body workout.
The zip line, by far the most popular piece of equipment in the gym, is a great way to build upper extremity strength, muscle endurance, enhance the ability to integrate and tolerate movement and help give self-confidence as children challenge themselves to hold on long enough to get to the crash pit at the other end!
How do your services and classes cater to children on the Autism spectrum specifically?
The equipment found at all We Rock The Spectrum Kid's Gyms are the same pieces of equipment used in occupational therapy offices to help regulate children on the spectrum who experience sensory processing difficulties. In fact, statistics show that as many as 1 in 6 children experience sensory symptoms that could affect their everyday lives. We encourage parents with children on the spectrum to come and play with their child in an inclusive environment with children of all abilities. This encourages parent-child bonding, social interaction and a place where children of ALL abilities are welcomed. In addition, there are long waiting lists for some occupational therapy clinics and it can also be unaffordable for some families.
She adds: "Our staff are fully trained on the specialised equipment and we even have a Calming Room for children who may need a break from the excitement of the gym!"
MORE ON KIDS' FITNESS:
Fitbit for Kids launches in the UAE
DON'T FORGET…Use your voice to vote for your favourite products for mothers, babies and children and you'll be entered into the draw to WIN an exotic family holiday worth AED 17,000! VOTE NOW