A Mother's Many Roles
Edwina Viel takes us through her various responsibilities, as head of operations for her husband's clinic, founder of Seashells on The Palm, and mother to four children all below the age of ten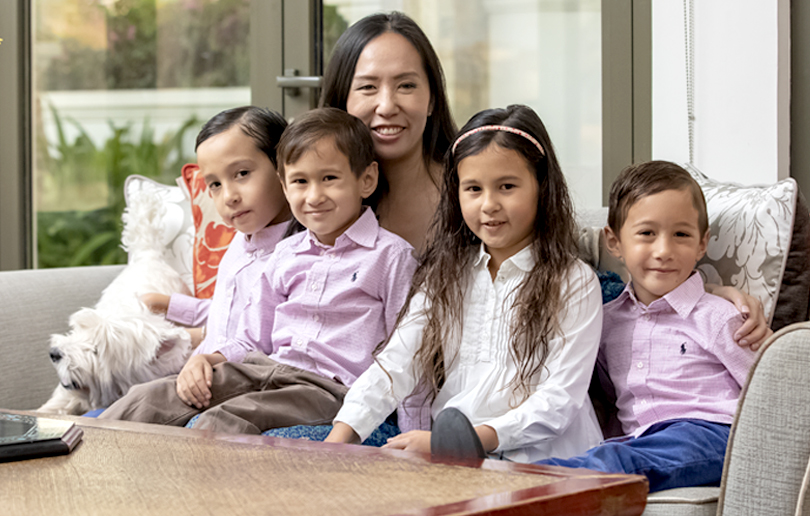 When Edwina Viel moved to Dubai in 2009, after the birth of her eldest son Luca, little did she know she would be calling Dubai home for the next ten years. "My husband, Maurizio and his twin brother had opened a branch of their clinic in Dubai Healthcare City. We came here initially to run it for just a few years," she tells me. The Singaporean-national was raised in the UK where she attended boarding school from the age of ten. She graduated in Economics and Politics at Edinburgh University, and returned to London to work for financial institutions such as Coutts and UBS, where at the latter she qualified as a fund manager, and looked after the private wealth of individuals, charities and small corporations.
The couple's move to Dubai saw them immediately looking for a home on The Palm. "We love the water – it can be such a tranquil environment to come home to after a busy day in the city. There is something to be said about a having beachfront property especially for a family. My children love fishing everyday out front, and over the weekends, might sail up and down the frond," she tells me, as we watch Sophia (7) swing, while the boys Luca (9), Lorenzo (6) and Leonardo (4) race on the shore. Her address also happens to be a part of her parenting and lifestyle blog title, Seashells on The Palm. "When I became a mother, I started researching a lot and always have had a love for learning. It all started when I first had Luca, and the BPA chemical scandal in plastic bottles was in the news. It made me think about what I was putting into or exposing my children to," says Edwina. She has long been a fan of Prince Charles' Duchy products too, that came from his farming operations. "Prince Charles has been fighting a crusade for organic food for decades, since the 80s. I then realised that I also loved researching about education and schools, and just had a love for reading and understanding more about parenting and lifestyle. I was approached by many people over the years who asked my advice, so I " decided to share my research online." Edwina soon intertwined her passion for writing and researching with her childhood passion for photography.
Similar to our yummy mummy from the November issue, Edwina left the world of finance to pursue a career in another field. Although, it wasn't intentional. "I don't think it was a deliberate and thoughtful switch. When I first moved to the UAE, there was very little on the subject of motherhood. I had so many opinions and cultures thrown at me, it was all very confusing for a new mother, and still can be. After reading some parenting books, I was shocked by how they made me feel. They had strict guidelines on child-rearing and after speaking to many women, these books made us feel like 'failures.' That's the last thing a new mother should be made to feel," she says. "There are also women in Dubai who have faced difficult situations such as miscarriages or women who struggle to have children – they are not alone. I have had women share their struggles in the hope of reaching other women who have gone through the same experiences. I hope to let them, through the blog, realise that there is no right way to raise a family. Each pregnancy, childbirth and family unit is a unique thumb print, but together we can support and learn from each other."
Motherhood has helped Edwina evolve too. She now finds herself being very efficient with her time and tells me that flexibility is key. "When you are a mother, you learn that on most days, a spanner is typically thrown into the works and you have to adjust your whole day very quickly without getting stressed out. Children do get sick, or they end up keeping you up all night, or you find out or remember that they have an activity or a birthday party that you have forgotten about. You just need to be surrounded with people/colleagues/friends who are understanding that as mothers, we can't always respond to emails, What's App messages, and all other forms of communication readily because of our schedules." To give you an idea of Edwina's day, it begins at 5:30am after which she leaves the house at 6am to drop Luca for swimming, heads to the office at 8am and works until 10am or 1pm. School picks ups are from 2-4pm, after which she sits down with the kids for homework and piano practice from 5-7:30pm, puts the children to bed, and then finally has a bit of time for Netflix and/or social engagements from 8:30pm. Her children are quite busy most days too, with swim squad, piano and violin lessons, coding, football, sailing, arts and crafts, martial arts, and Mandarin classes being a part of the mix. They also learn Italian at home.
"All my children are so different in their interests and I am just exposing them to various activities, so they can figure out which ones they are keen to pursue." When it comes to managing work life balance, Edwina tells me she tries to live an intentional life. It isn't easy in Dubai though, where you are invited to several events and need to socialize for work almost every day of the week. "This year, I have tried to filter much more how I spend my time, and block it out for work, family and time out too.
It is not ideal, as there are friends and people I want to support, but I realise this is a season of my life when my children and family really need me most. Otherwise, I get overwhelmed and exhausted, and I have to be careful where I spend my energy."
As for a motto she lives by, Edwina says, as a mother it is important to learn to forgive yourself, learn from your experiences, and move on. I try hard not to let the mummy guilt weigh me down. Our children are incredibly resilient, capable and very adaptable to change. I also try to champion women as mothers, career woman and entrepreneurs. For advice on starting a blog, she says "blog for the right reasons. Be authentic and true to yourself and don't worry about the numbers. It means more to people that you are doing it well, because they can hear your voice in your story/blog. This will have much more of an impact than someone that hopes for overnight 'instafame'."