Bluewaters Dubai transforms into Secret Santa Island
Visitors to Bluewaters, the unique island destination by Meraas, can enjoy a white winter this year at The Wharf, Bluewaters' retail district, as it transforms into Santa's Secret Island.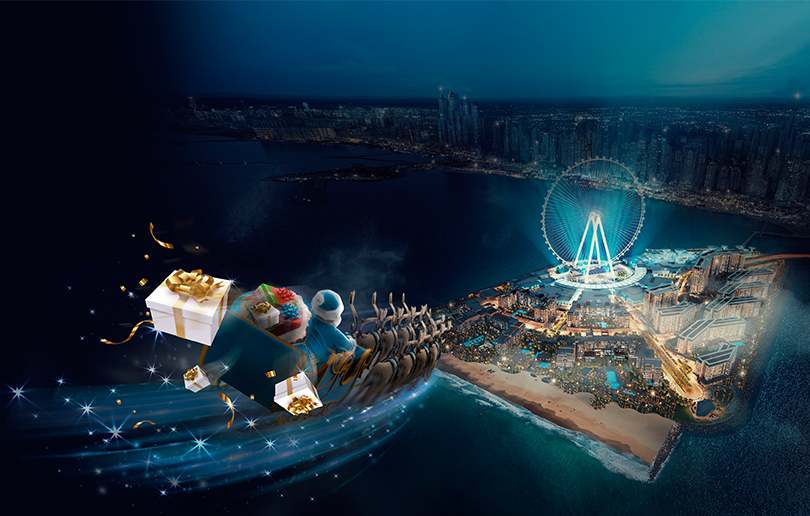 From 13 December 2018 to 5 January 2019, a stunning 12-metre-tall bespoke Christmas tree will greet visitors at the entrance as they come in through the Bluewaters pedestrian bridge, the bridge that connects the island to The Beach.
Three giant snow machines will shower snow throughout the day and make your winter come to life. A festive market, set among snow-laden trees, will feature themed kiosks selling unique items, F&B stalls, and several stages that host a wide range of live performances.
Caesars Palace Bluewaters will participate in the event with a licensed outdoor area, adorned in classic winter decor and serving holiday-themed treats.
Ardent Instagrammers will be in for a treat at Bluewaters with the 4.8-metre-long 'freeze wall' that enables them to capture their loved ones in frozen poses. A jumbo advent calendar will offer visitors the opportunity to enter an exciting social media competition to win special prizes, including tickets to The Green Planet, Laguna Waterpark, and Roxy Cinemas, concert tickets to The Rotunda Caesars Palace Bluewaters, Meraas Gift Cards, and more!
Children can use the giant post box to send letters to Santa and have a message played back to them on an interactive screen. Three work stations will be at hand – one to help the little ones write their letters, and two holding workshops on festive themes, such as making adorable ornaments and decorating gingerbread men.
Live performances for all ages, both roaming and on stage, will include guitarist, saxophonist and Christmas LED parade, among many other activations. In addition, little ones can also enjoy face painting and balloon bending.
Details: Santa's Secret Island at Bluewaters will be open from 13 December 2018 – 5 January 2019 from 1pm-11pm on weekdays, and 1pm-midnight on weekends. Parking is available at Bluewaters.