Meet the elephants at Emirates Park Zoo, Abu Dhabi
One of the most memorable treats your child can ever have is when they meet the elephants at Abu Dhabi Emirates Park Zoo. A venue of unique experiences, the zoo is highlighting two of its giant residents, Madu and Rada, as a must-meet treat this month with its one of a kind elephant encounter educational programme and feeding session.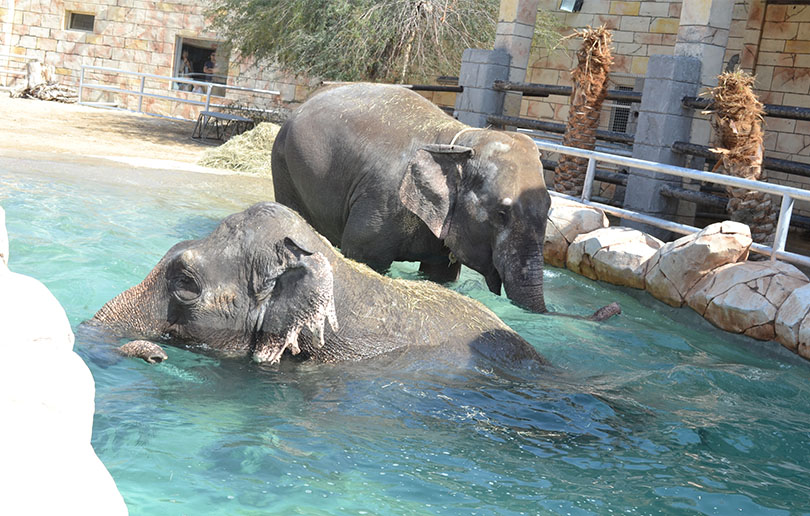 Friendly, cheerful and totally adorable, Madu and Rada are two Indian elephants who are also the largest residents of both the zoo and Abu Dhabi. The two elephants arrived in the capital after their rescue from being abused in a circus for several years. They now spend their days playing, enjoying fruits, frolicking in the water and sharing many unforgettable moments with the zoo's visitors.
The Asian elephant's population has declined majorly due to being hunted for their and loss of their habitat, meaning they are one of the top endangered species in the world. Emirates Park Zoo's is the only zoo in the UAE to house elephants, with the highest priority to make sure the charming duo get the attention they need to maintain a healthy lifestyle.
When you meet the elephants at Emirates Park Zoo – Abu Dhabi, you can mingle with and feed Madu and Rada with the assistance of their enthusiastic elephant keeper, who helps each visit to be fun, educational, interactive and informative for children and adults alike.
The Zoo Operations Manager of Emirates Park Zoo, Dr. Waleed Sha'aban says: "Protecting the wildlife is our main objective. We are pleased to be a zoo that helps to nurture the lives of our animal friends and raise awareness on each species in hopes of eliminating destruction of wildlife."
Details: For more information, visit Abu Dhabi Emirates Park Zoo. If you enjoyed this article, you may like this story on Five places your tween will LOVE in the UAE .