VR Park at The Dubai Mall: An Exciting Virtual World to Explore!
Dubai's latest and most exciting attraction – The VR Park at The Dubai Mall is now open. Blurring the lines between perception and reality, VR Park combines Augmented Reality and Virtual Reality (VR), providing unforgettable rides, journeys and games in an unbelievable two-storey attraction.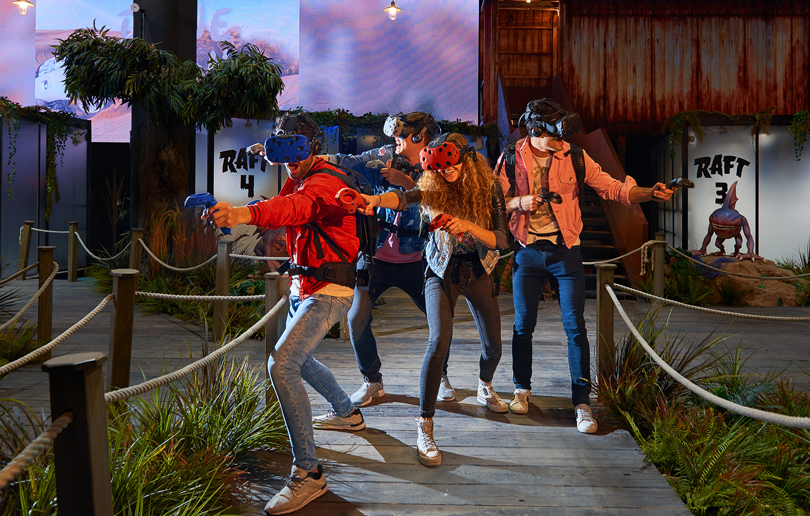 The VR Park delivers an unprecedented and awe-inspiring experience, with the all-new mind-blowing attraction with a range of games, rides and experiences to suit all ages. For example, feel what it's like to propel down the side of Burj Khalifa in 'Burj Drop', or hold on tight as your Dubai Drone taxi spins out of control on a rollercoaster adventure like no other!  Try a skydiving adventure with aerial views of in Plummet; and a hair-raising Dune Bash experience featuring close encounters with camel spiders, scorpions, snakes and other thrilling creatures.
Interacting with one another and living the experience together, The Raft requires you and the kids to grab your VR guns and work together to defend the swamp against an infestation of supernatural creeps; whilst gamers will love PAYDAY 2's VR heist, and the challenge to survive a zombie infested hospital in the apocalyptic The Walking Dead Outbreak. There's something for everyone with a PVRK Café serving out-of-this-world treats, and rides spanning horror, adventure, leisure, a multi-sports arena, and more. Younger children will especially enjoy Geminose: The VR Carousel, as beautiful and playful creatures join an exploration of magic, music and dance in their mystical world.
The family-friendly VR Travel Bus explores cities from around the world, without having to visit an airport; whilst space explorers can man their own spaceship and navigate a world full of aliens and space stations, in RobocomVR.
The 7,000 smq VR Park is located in The Dubai Mall on Level 2, between Reel Cinemas and KidZania® Dubai. Open from 10am to 11pm Sundays-Wednesdays and 10am to 1am Thursday-Saturdays, VR Park offers free entry for all to explore, and experiences priced at AED 15-45.
For more information: www.VRParkdubai.com. (Age and height restrictions apply to some attractions – do check!).