UAE tackles food waste education with new children's book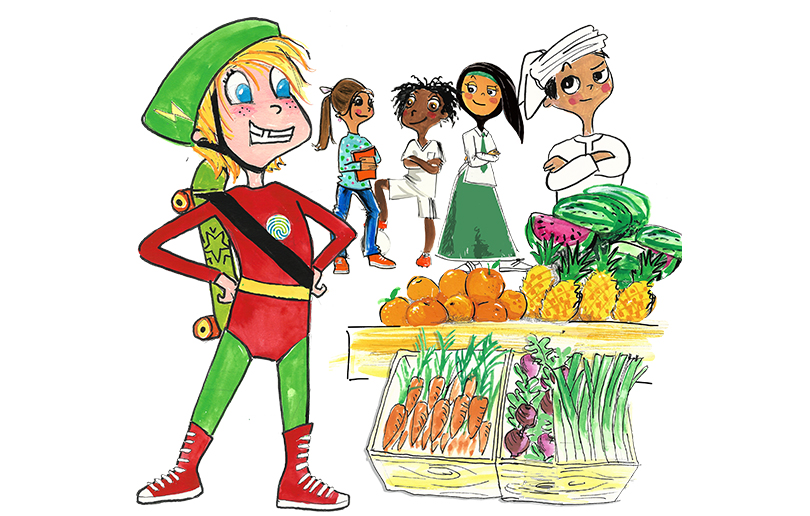 The adventures of five characters in a newly launched book will teach children how to tackle the enormous amounts of food wasted in the UAE each year.
Currently estimated at AED 15 billion worth of food across businesses and households, the characters feature in 'The Eco-heroes Fight for Food', will educate and inspire children on how to respect and protect the environment.
The book, which is being launched on 28th February by Save our World to coincide with the Dubai Food Festival and the Emirates Airline Festival of Literature, forms part of 'The Eco-heroes' series written by Colette Barr and illustrated by Leona Collins – two Dubai residents who founded the company 'Save Our World'.
"An alarming 3.5 million tonnes of food is thrown away in the UAE each year. The government and hospitality sector are working on initiatives to reduce this waste, however we need to bring this battle into our homes and this is where our book comes in. The funny antics of the Eco-Heroes are aimed at introducing a new food culture in UAE, one where all family members make a conscious effort to prevent food wastage" says Colette Barr, author of the Eco-heroes book series.
The Eco-heroes Fight for Food is the second in the series by 'Save our World'.  The books are written, illustrated and printed in the UAE using recycled paper and vegetable inks from local suppliers and featuring the Dubai font.
Fight For Food follows cheeky Finlay the Food Fanatic as he buys, prepares, eats, shares (and saves) food with his friends and makes the best chocolate cake the UAE has ever seen.  The fun, frolics and, silly encounters are brilliantly illustrated and placed amongst recognisable local landmarks.
"We created a funny and playful book that UAE children can relate to." explains Colette. "The characters are UAE-based school children of different nationalities, with two Emiratis, an Indian girl, a South African boy and a boy from Scotland. They all represent different eco-powers and the messages throughout are to encourage children to make a difference and look after the UAE."
Details: Save Our World will be at The Emirates Literature Festival in March as part of its Education Programme. For more information on the festival, click here.