Spa review: The Ultimate Spa Day at Address Downtown
Grab your girlfriends and head to the beautiful Address Downtown to enjoy a tranquil, luxurious spa day this month, inclusive of lunch and a 60-minute treatment – all for AED 650!
I'd recommend kick-starting your pamper day as early as possible, and enjoy the hotel's stunning five-tired infinity pool from 9am. After making our way through the exquisite hotel lobby, we arrived at the spa on the first floor around 11am, where we were greeted by the facility's manager, Christina.
We were then taken around the spa facility and shown to our treatment room in the female spa; as we opted for the couple's Swedish massage, we were granted the signature suite, which features floor-to-ceiling windows and a stunning one-way view of the Burj Khalifa and Dubai fountains.
Our massages were booked for 5pm, so we spent the day relaxing by pool. Despite the hotel being at 97 percent occupancy, the pool was very peaceful. Hari, our poolside assistant, looked after us wonderfully and showed us to our own private sunbeds, which were situated on a floating platform with direct views of the Burj Khalifa. Shaded cabanas are also available if sun-worshipping is not your thing.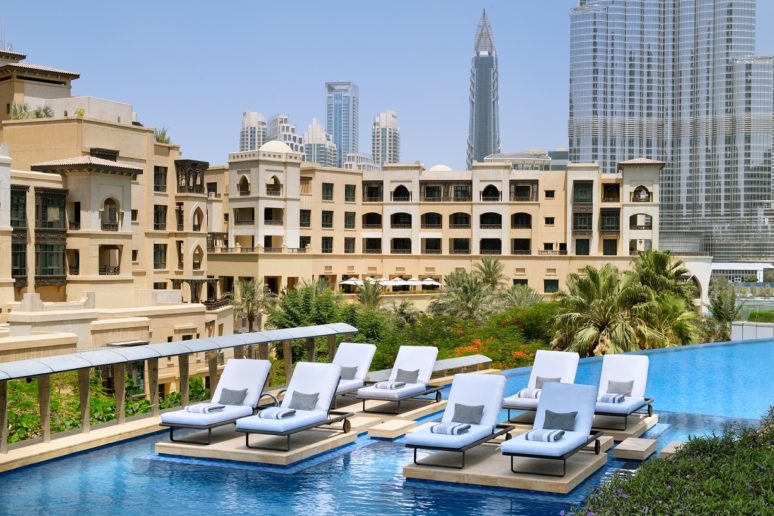 The Ultimate Spa Day package included Dhs150 to spend on food and beverage throughout the hotel, but we opted to use this during our pool day. The menu features a selection of delicious sushi rolls, flatbreads, sandwiches and salads – perfect for a light lunch bite. We tried the spicy tuna roll and the chicken quesadilla, which were both very tasty. Be sure to try the sundaes for dessert if you've got room; the Address Downtown Vanilla with caramalised peanuts is divine!
After a day in the sun, we head back to the spa facility an hour ahead of our massage time. Here, we had the chance to enjoy the spa's sauna and steam room ahead of our appointment, which acted as the perfect pre-treatment relaxation. Be sure to try the rainforest shower before you leave; it features four settings to reflect a different rainfall and pressure, complete with sound effects and colourful lighting to match the mood. (Spoiler: the "Caribbean storm" may not exactly be relaxing per-se, but worth a try all the same!)
Our therapists collect us at 5pm sharp, and welcom us back to our dimly-lit, expansive treatment room. We begin our treatment with a foot soak, where we were asked to declare any particular aches and pains, and how we preferred the pressure of our massage. We also chose our massage oils; I opted for 'refreshing' – an almond-based oil with infusions of lemongrass and mandarin, which my therapist assured me would make me feel revitalised around 15 to 20 minutes after my massage had finished.
When we moved to the tables, our therapists were very attentive in ensuring that we were fully at ease; checking the room temperature and volume of music were both to our liking. As part of the spa day package, guests can choose any 60-minute massage. We opted for the Swedish massage, which is a vigorous and energising treatment that employs long strokes, kneading, friction, tapping, percussion, vibration and shaking motions to apply pressure between muscles and bones.
My therapist trickled hot oil onto my back before beginning to apply medium to firm strokes – my preferred pressure. Paying particular attention to my shoulders, I instantly felt more relaxed and at ease, as she untangled the tensions that we know all too well from sitting in an office chair, five days a week. She placed hot beanbags onto my back at various points after finishing the back massage, which I was told is done to ensure that the muscles are completely relaxed and not retaining any tension after manipulation. My therapist then worked down to my legs and feet, before applying the same long strokes to my arms and chest area. The treatment finished with a head massage, after which I slipped back into my robe and enjoyed a cup of delicious hibiscus tea, as the curtains were drawn back for us to enjoy a fabulous view of Downtown Dubai at dusk.
Details: The Ultimate Spa Day package is priced at Dhs650 inclusive of a 60-minute massage and Dhs150 F&B voucher. For more information, visit the website.