Staycation review: The Abu Dhabi EDITION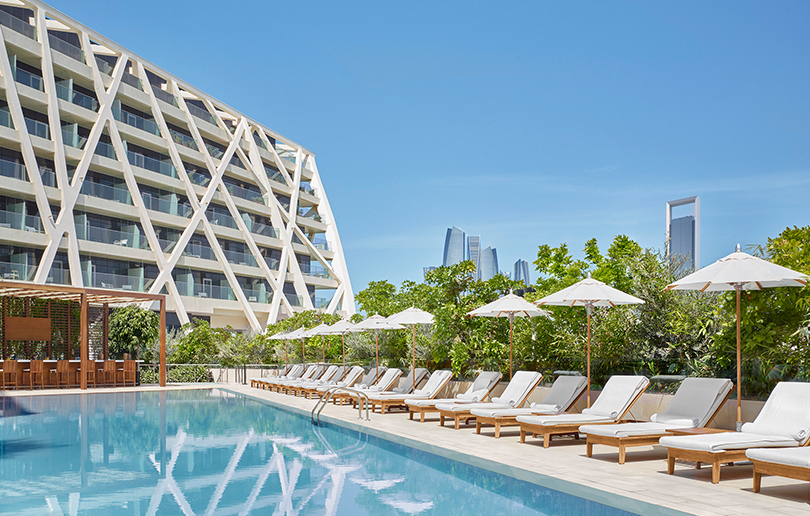 We journey to Abu Dhabi for a weekend in the city to check out the trendy Abu Dhabi EDITION at Al Bateen Marina.
Situated in the heart of the UAE capital, the Abu Dhabi EDITION is a waterfront oasis that offers a chic, urban getaway for both couples and families alike. The property opened last November, so is still very much in its infancy compared to some of the more established, well-known hotels in Abu Dhabi. But nonetheless, those looking for a luxurious minibreak – with fantastic onsite dining offerings, two outdoor swimming pools and a state-of-the-art spa facility – needn't look any further than the EDITION's solo Middle Eastern outlet.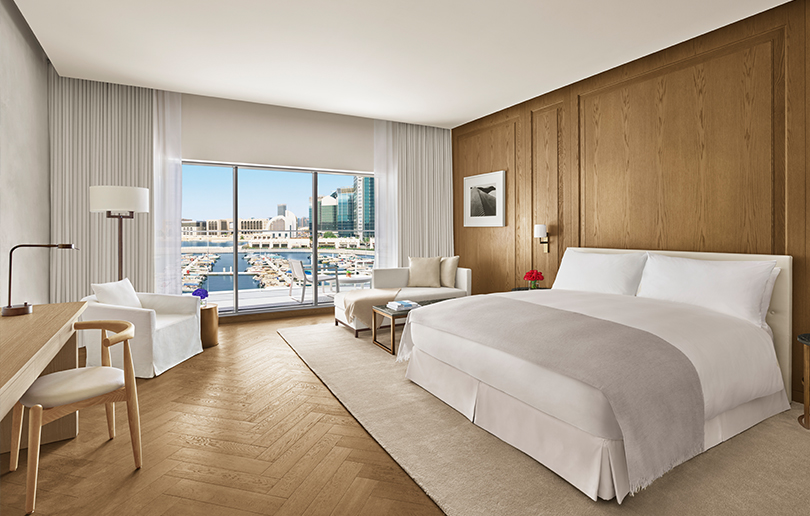 ACCOMMODATION
The deluxe marina room is perfect for a couple's retreat, while the two-bedroom apartment will comfortably house a family of four for a weekend break. The marina room features subtle nods to the UAE's local heritage throughout; expect stunning snaps of sand dune artwork on the walls, and grey oak timber flooring that draws inspiration from local basket weaving techniques. The bathroom features white marble surfaces with contrasting brass fixtures, a standalone bath-tub, rainfall shower and without a doubt the comfiest hotel robe (courtesy of La Bottega) that I have ever had the pleasure of enjoying – perfect for slipping into after a hot soak post-dinner. One of two outdoor pools at the EDITION can be spotted from the balcony, as well as sweeping views of Al Bateen Marina and its surrounding urban architecture.
CULINARY OFFERINGS
The EDITION is certainly not short of top-quality dining options for its guests. Overseen by British Michelin star chef, Tom Aikens, its three main outlets offer a plethora of cuisines and dining styles to suit all occasions. For an intimate dinner with your other half, we'd recommend heading to The Oak Room; a dimly-lit, stately-style restaurant with oak panelled walls, large leather chairs and gold details.
For starters, the seared hand-dived scallops, served with piccalilli and curried flavours, are cooked to perfection and form a well-rounded, light and tasty dish. Before selecting your cut of choice for main course, be sure to speak to Charlie Grainger – the Oak Room's resident meat sommelier, and the only known chef in the role across the region. Full of enthusiasm and an abundance of culinary knowledge, it's no wonder Tom Aikens headhunted him after a chance landing on Grainger's meaty Instagram profile. After much deliberation, we opt for the Little Joe Tomahawk, served medium rare. Not for the faint hearted, this 1kg hunk of grass fed, grade 4+ beef is cut tableside by Charlie himself, each slice revealing the shimmery red hues of a beautifully cooked steak. Perfectly paired sides are aplenty; we opt for the short-rib mac and cheese, wagyu chips and creamy peppercorn sauce – all of which are delicious.
For a lighter, daytime affair, head to Tom Aikens' day-to-night Mediterranean concept, Alba Terrace. Its Friday brunch offers a selection of fresh, vibrant dishes that bring modern Mediterranean cooking to the table. Highlights from the starters include the burrata – served from a cheese trolley alongside an 8-year aged balsamic vinegar, and the charcuterie board – which features a selection of cheese, olives, confit tomatoes and cold cuts; our favourite is the slightly spiced wagyu chorizo. The truffle pizza steals the show during the main course, topped with ricotta and mozzarella cheese, and sweet caramelised onions that contrast the earthy truffle taste.
Breakfast is served in chef Tom's third outlet at the property: Market. The menu takes a healthy approach to kick-starting the day (there's no traditional English fry-up in sight) and it's certainly quality over quantity here as everything is ordered individually off the menu, with no buffet in sight. If you're after a light bite, try the acai bowl – packed with fresh fruit, coconut shavings and goji berries. For something more substantial to set you up for a day of sunbathing or exploring the capital's numerous attractions, try the breakfast burrito with crushed avocado and sweet potato, or the chia seed and coconut waffles with spiced honey and coconut yoghurt if you have a sweet tooth.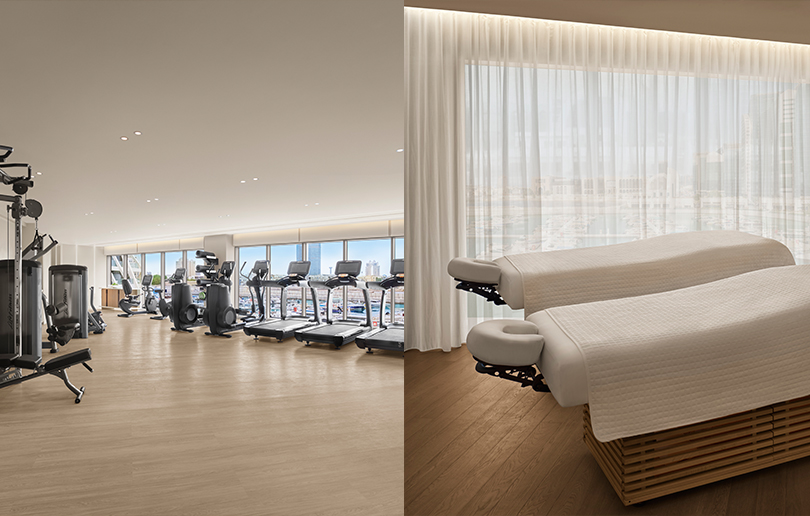 FACILITIES
The spa at The Abu Dhabi EDITION features separate zones for men and women, each consisting of seven treatment rooms including two Hammams, a facial room and couple's treatment suite. In keeping with the local theme seen in the guest rooms, the amenities found in the spa keep locality in mind; dates from Ras Al Khaimah, salts drawn from the Arabian sea in Abu Dhabi, and products including Hammamii – which is freshly made in the UAE using all-natural, locally sourced ingredients, including camel's milk.
It's worth noting that the EDITION spa is the only spa in the UAE offering the Himalayan Sound Therapy, which every guest is invited to try regardless of their treatment booking. Signature treatments also include the Warm Himalayan Salt Stone Therapy, which emits 84 essential minerals into the system using Himalayan salt stones and Tibetan healing bowls alongside a carefully curated menu of specialist treatments.
The hotel also offers two swimming pools, an indoor fitness centre, and a bespoke Cavicchi gold leaf billiard table in the main lobby for when it's too warm for outdoor activities!
Book now: From Dhs480 per night. Contact +971 2 208 0000 or visit editionhotels.com/abu-dhabi