ZIPPY unveils Spring Summer Collection 2019
Spring has arrived at ZIPPY stores, with a collection that stands out for its colours, comfort, functionality and style.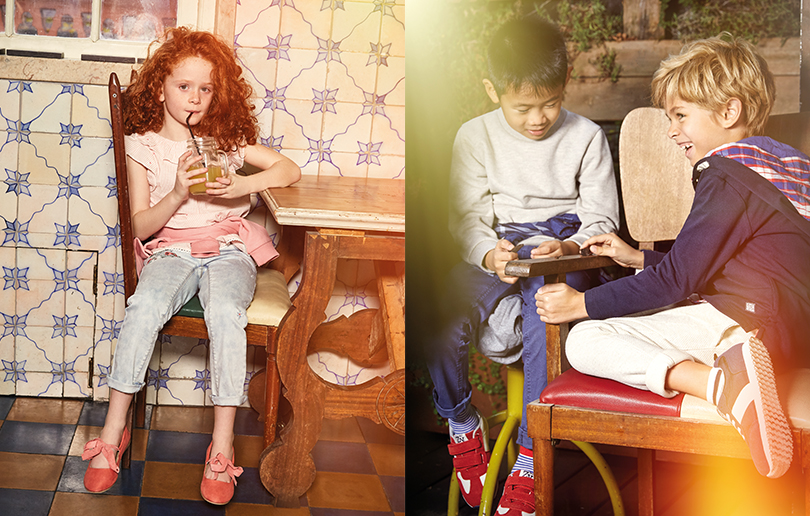 KID BOY AND KID GIRL
The brand's casual line for Kid Boy and Kid Girl takes inspiration from retro sport and new nautical, where the classic pieces are elevated with a modern twist, while primary colours take on their most vibrant versions.
For Kid Boy, the focus is on colourful checked patterns, overlapped and unaligned stripes. Numbers take the lead, circling back to the 80s. The star pieces for boy are hoodies, with zipper or in sweaters, parkas for the season change, joggers and sneakers.
For girls, long sleeves and t-shirts shine with inspiring and positive messages like "Be Happy and Bright. Be you", or "Do more of what makes you happy". Embroidered jeans and also a line of parkas, backpacks and vinyl footwear with neon details represent statement pieces.
ZIPPY presents yet another range inspired by the rustic simplicity of country mood. For boys, it's all about workwear detailed jeans and shirts in different tones of indigo blue. And of course, one can't forgo the versatility and functionality of denim. The girl collection is characterised by textured and fluid fabrics with vertical stripes, on dresses and skirts. The ethnic embroidery with a boho influence comes alive in tunics and overalls.
Especially designed for the boy collection, ZIPPY conceived a Retro Vintage line. Shirts, polos, shorts, chinos and jumpers are key. The vintage pieces come in a comfortable, modern version, inspired in the most classic letterings, featuring a sophisticated colour palette, ranging from classic navy to warmer tones like caramel and orange.
BABY
For babies, ZIPPY is growing the Mix and Match themed collections. The brand's most recent capsule collection for this season was designed to stimulate babies' imaginary universe. For boys, the Playing it Cool line features colours like green, yellow, blue and red, exploring the universe of geometric shapes, associated with children's development. Over the Rainbow is the name of the capsule collection for girls, with colours that stimulate curiosity, such as red, blue, aqua and yellow, under the inspirational motto of rainbows, associated with positive thinking. Fresh new for toddler is the introduction of the new 24-36 months size for the entire collection.
NEWBORN
For newborns, ZIPPY is growing its Welcome Home line, a 100% cotton collection, made in Portugal, in which softness and comfort are the priority.
This collection, ranging from 0 to 3-6 months, is made up of knitwear jackets, dresses, wholesuits and bodies. That also includes seamless knitwear sets – wholegarment – providing added comfort to the baby, while guaranteeing the outfit's perfect fit. In this category, ZIPPY also presents a premium underwear line, from 0 to 12 months.
In Nursery, all eyes are on the handmade wicker bassinet, with pure palm tree leaves, for your baby's first days. It is made in Italy with padded handles for greater comfort while carrying. The quilt is in a soft, high-quality fustian material.
Details: For more information, visit the ZIPPY website.