Ramadan dos and don'ts for a child's first fast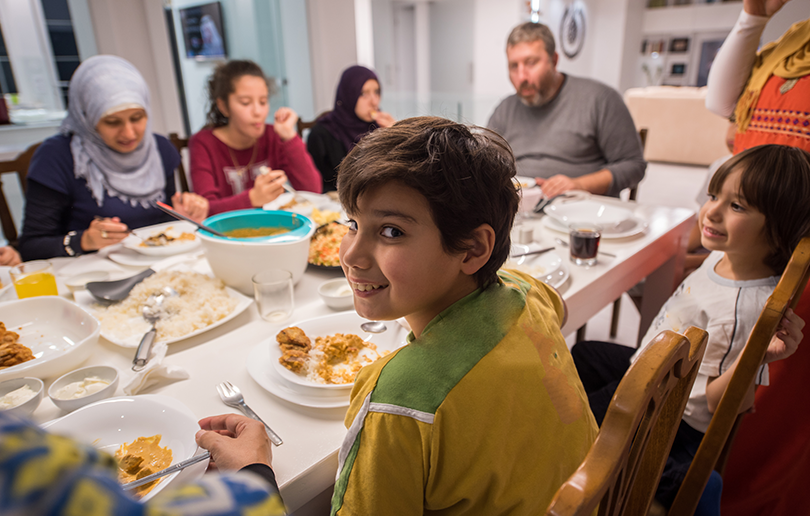 Arwa Traboulsi, Fitness Expert and Certified Life and Wellness Coach shares tips for parents with young children who are about to fast for the first time.
The Holy month of Ramadan is a special time of the year for Muslims all over the world. A time for reflection, devotion, unity and gathering of family members to celebrate the most sacred of months. But for parents with young children who are about to fast for the first time, it can be a challenging experience. Your child's first Ramadan fast can sometimes be overwhelming, for both of you. Here's a list of do's and don'ts to help you ease through the month with flying colours and make it a wonderful first experience for both parent and child, as it should be.
FASTING & PUBERTY
Islamic teachings call for Muslims to start fasting about the time they reach puberty. At which, children are considered adults and responsible for their decisions. Therefore, if your child hasn't reached puberty yet, you should never force them to fast. Then again, that's a personal decision. Any amount of time spent fasting before a child hits puberty, should be celebrated and considered as an achievement.
FULL DAY OR HALF DAY?
Do not force your child to fast the whole day or for long hours during their first fast; it can be quite overwhelming for them. Some parents allow their children to fast half-days, or to break their fast right after school. Others alternate between whole days and half-days, until their child gets the hang of it. This will help your child get into the routine and understand the reasons why we fast. If you do start with half-days, it is advisable to choose the hours of the day in which your children can fast; whether it be in the morning, noon or afternoon. Then gradually add more fasting hours to their day; making it easier for their bodies to handle the experience.
FIRST DAY OF FAST
Make sure that your child's first day of fast happens on a weekend, or at any other time when they are under your direct supervision. This will help you in assessing their ability to fast and plan accordingly.
HEALTHY HABITS
Ramadan is about abstaining from all sorts of food and liquids, but you can also prevent your child from eating their favorite food and snacks for a certain period of time. This will teach them how to fast while learning healthy eating habits – a good investment for the future.
DO NOT PUNISH
If you catch your child eating or drinking during fasting hours, do not consider punishment, but rather a time to explain more about the concept of fasting and the idea behind it.
SUHUR: THE MOST IMPORTANT MEAL DURING RAMADAN
Whether your child fasts the whole day or half a day, you must make sure they have a proper Suhur, consisting of vegetables, fruits, protein sources such as meat, chicken, fish. milk, cheese, and yoghurt. Carbs such as rice, potatoes and whole grain cereals and bread are good sources of energy and are much needed as well. Do not allow your child to have spicy foods to avoid thirst, bloating and indigestion.
KEEP THEM HYDRATED
Always make sure your child drinks lots of fluids, especially water, to stay well hydrated. Dehydration will result in reduced energy, sleepiness and extreme fatigue. Water will keep your child's body hydrated from dawn to dusk.
NO TO SUGAR!
Do not allow your child to consume too much sugar; it can upset the body's natural blood sugar levels, which can lead to mood swings and unwanted cravings. Get your child to eat dates or drink fresh juices instead of carbonated drinks.
LET THEM BREAK THEIR FAST THE WAY THEY WANT TO
Allow your child to break their fast the way they want to. It doesn't really matter what they have first, as long as it is nutritious and healthy. Ideally, water and a couple of dates would be the perfect way to break a fast, but after that, let them decide what they want. This will make it more fun for them!
GET THEM INVOLVED
Want to get your children into the spirit of Ramadan? Get them involved in any way they can – from helping in preparing the dinner table, to distributing dates to relatives and guests, to even being involved in preparing the meals. This creates the perfect backdrop for discussing all things Ramadan, and not to mention, the amazing and wonderful memories they'll form.
END IT ON HIGH
When Ramadan comes to an end, make sure your children celebrate Eid and are rewarded with words of love, gifts, and even some of their favorite snacks and candy which they had refrained from during the holy month, and regardless of the number of days they fasted, or whether they fasted half-days, full days or even just a handful of days.
If you're looking for fun, family-friendly activities to enjoy during the Holy month, click here.