In conversation with Shamim Kassibawi: "appreneur" and founder of Play:Date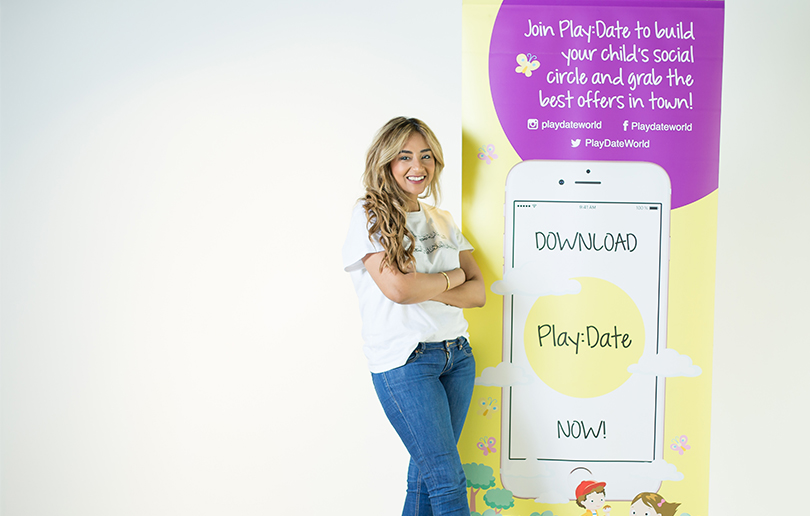 We caught up with Shamim Kassibawi, founder of the children's social app, Play:Date, to learn more about the inspiration behind the concept, and how it is benefiting Dubai children today.
How and why was Play:Date created?
I've been living in Dubai for about 11 years now, and one day while my sister was here on holiday, I noticed my niece playing all by herself. Kids are not like us adults, it's usually hard for them to make friends – this is where the Play:Date concept initially stemmed from.
Building and expanding your child's social circle is vital, as it not only helps develop important life skills, but it is also less likely that the child will have social and emotional difficulties later in life.
Living in an expat city, a lot of us are away from our families and sometimes struggle to make friends right away – this is applied to both parents and kids. I noticed a gap in the market and decided to build Play:Date where everyone could have a candid relationship, whether it was kids making friends or parents meeting other likeminded parents.
The next step was bringing it to life. However, a number of factors had to be considered – would parents be comfortable uploading their child's data online? How would profiles be screened? Was it secure? After lots of research, trial and error, Play:Date was born.
Post-launch, there was an additional angle that we added, providing families a fun experience through complimentary vouchers, giveaways, workshops and events on Play:Date. My number one goal is to create a convenient way for parents to build their kids social circle and for us is to give back to the community.
Why was Dubai the choice to launch the app?
I chose to launch Play:Date in Dubai for two main reasons. Firstly, it's been my home for the last 11 years and it is obviously an environment I'm very familiar with. Additionally, Dubai is an expat city and also a very safe one, hence the Play:Date concept fit in perfectly.
Building the app in Dubai allowed me to test the app on home turf, improve it and also connect with brands who are eager to support via coupons, gifts, etc.
Surprisingly, during the pilot phase we had opened up Play:Date to the rest of the world, and somehow organically, the US is our biggest market outside the UAE.
What opportunities and learning curves have you experienced in the 'app' industry? What have you learnt from these to develop the app further?
Honestly, the learning never stops, especially in a sector such as tech/app, which is ever-evolving. Day after day, I learn something new. You need to adapt, learn to pivot, constantly stay updated on industry news and educate yourself.
My 'appreneur' journey has gone through lots of ups and downs, but the one thing I would advise a fellow entrepreneur is to do your research. Conduct SWOT analysis, find out who your competition is – direct or indirect, and if you find something similar, don't let that stop you. Build on your idea, innovate and add something that becomes your own USP.
Talk us through Play:Date's growth and how it is expanding in the US…
When we launched Play:Date, we put it on pilot for 2 years. We wanted to spend time exploring all the nitty gritty details of the app,  monitor user behavior, improve, and fix any bugs. It was during this phase, we noticed that after UAE, the US was our biggest market.
It certainly is super exciting to see this grow organically and is something we will be tackling as soon as things are perfected on ground here. The US is our next target.
Future plans and funding?
From a future plans perspective , we plan to focus and go full steam ahead.
We have started adding various brand vouchers and complimentary entry at kid-friendly events onto the app. There's a monthly Big Fat Play:Date that happens at different venues across the city. Also, a nursery tour where we take our amazing panel of speakers to nurseries where they speak and conduct workshops on a range of topics.
Lastly, we are also going through our first round of seed investment – I'd like to see Play:Date funded, running on its own and giving mothers and women in general, a working environment that is best suited for them. A place where they can work flexible hours, bring their kids to the office and have a nursery/day care centre at Play:Date HQ – this is my dream.