Dubai cinema launches unique movie experience for kids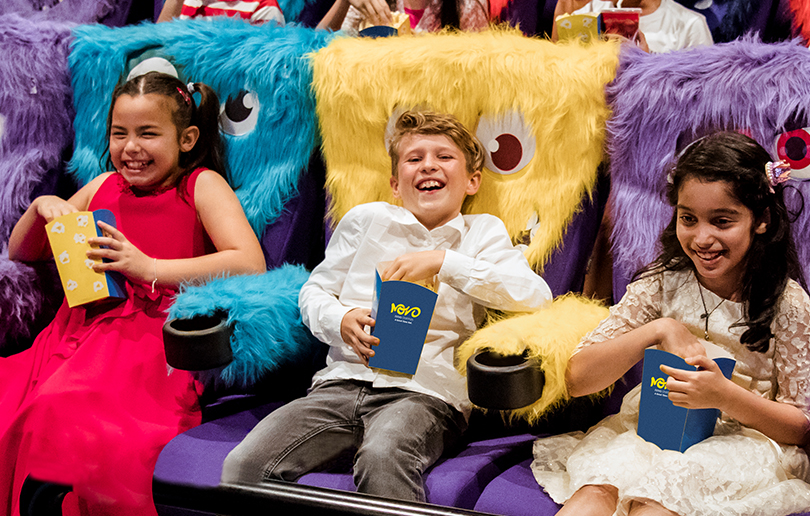 NOVO Cinemas has announced the launch of NOVO KIDZ – a unique new concept that promises to take children's cinematic experience to a whole new level.
The newly launched NOVO KIDZ guarantees to engage and excite with screenings fully focused around the younger audience – with uniquely created furry 'Friendly Monster' seats, adjustable light and sound for the little ones and sweet treats for movie viewings like no other.
Celebrate special occasions with the all-inclusive monster themed events – give your little monsters a birthday to remember with the NOVO KIDZ private party package. For AED99 per child, you will have access to the all-new private party room – serving up a selection of delicious food, whilst guests enjoy music and party games before blowing out birthday candles to complete the celebration. Invitations are included within the package so your guests can be invited in style, along with a party host and a special message before the movie starts to make the birthday boy or girl feel extra special.
Novo Cinemas aim to provide a unique experience for cinema goers – as innovators within the market, the new NOVO KIDZ follows suit as an industry first designed to further engage customers for the best viewing experience possible.
Novo Cinemas CEO, Debbie Stanford-Kristiansen, said "We're delighted to be bringing such a unique and special concept to our youngest Novo audience. We wanted to go the extra mile and create something  completely different whilst focusing on  ensuring a truly  emotional connection for our younger movie goers with the introduction of these fun friendly monster characters who also have their own names. We feel there has been a gap in the market and Novo brings the innovation and fun to fill it."
Details: To book, get in touch with the Cinema Team at Dubai Festival City Mall on 04-232-8328 or email festival@novocinemas.com