Your guide to Dubai's best summer camps 2019
Worried the kids will get bored this summer? Enrol them into an exciting summer camp filled with mind-challenging activities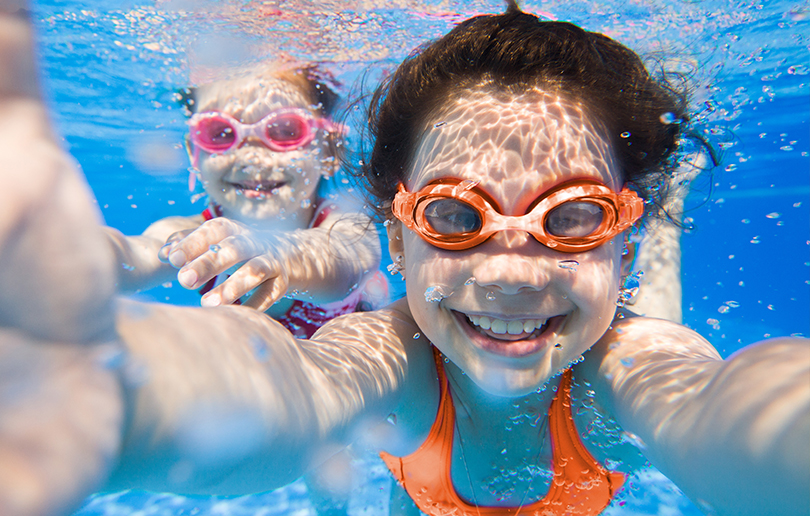 Hamilton Aquatics
This summer, your little ones can learn to swim with the Summer of Swimming programme. Babies over the age of three months and children can head down to the facility closest to them – there are 12 convenient located to choose from in Dubai – and learn this essential skill with five weekly lessons. The crash course will ensure your child isn't afraid of the water anymore, and in face love swimming as all pools are temperature controlled and lessons are delivered by UK qualified swimming teachers and coaches. The 30-60 minutes sessions take place in the morning and afternoon.
Details: From July 7th to September 5th at Dhs350 per week (early bird price is available until June 22 for Dhs300 per week). Book online at hamiltonaquatics.ae or contact +9714 450 8832 for a free assessment.
Hummingbird Nursery
Get the Summer Splash Pass to let your babies and toddlers embark on an educational journey this summer. For children between the ages of 4 months to 6 years old, Hummingbird offers weekly themes designed to stimulate their development in a safe and encouraging environment. Each week will focus on a theme such as a day at the beach, fishing, lemonade stand, vegetable gardening, treasure hunt, holiday time, sailing, building sand castles, and summer passport stamps, finally ending with a special party at the end of the week. Through each theme, kids will learn sensory play, arts and crafts, role-play, and try out plenty of indoor summer activities to keep busy. Children who complete the full nine-week programme will receive a special Hummingbird Summer Splash Pass Passport, where children can revisit their incredible summer by remembering all the places they visited with their friends and all the milestones they've accomplished. This programme isn't a camp, but a step towards big school preparation as all the key areas of their learning journey will be covered through the British EYFS curriculum.
Details: Prices are flexible and depend on the timings you choose. Dhs600 per week for four hours a day, Dhs1,020 per week for six hours per day, and Dhs1,400 per week for 8 hours a day. You can choose the Summer Camp FlexiPass too, for Dhs60 per hour (minimum four hours a day, one day per week). Those booking for two weeks get a complimentary four-hour Summer Camp pass. Visit hummingbird.ae to locate the nearest branch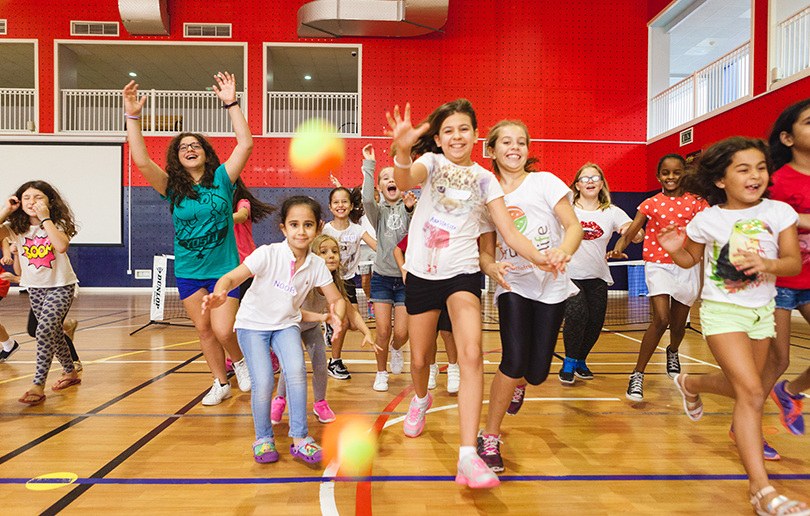 Dubai Holiday Camps
Pick the closest venue to your home – Dubai International Academy (Emirates Hills), Collegiate American School (Umm Suqeim), Modesh/Sports world at (Trade centre) and Raffles Springs Nursery/Raffles Starters (Springs 7) – and enroll children into this summer camp for activities including aquatic fun, ball skills, arts & craft, messy play, bouncy castles, brain gym, dance, gymnastics, sensory play and more (for ages 2-4), For kids between ages 5-14, activities such as football, dodgeball, gymnastics, dance, jewellery-making, cooking, tennis, basketball, aquatic fun, computers, art, archery, street hockey, rugby, mini Olympics and talent shows are just some of the many activities on offer. There's something for all ages, so your kids will definitely be entertained and make new friends at camp. Can't do drop-offs and pick-ups? Door to door transportation is available, and breakfast is provided for all children at the venue.
Details: Regular weekly fee is Dhs790 per child, while the monthly rate is Dhs2,500. The camp is available for children between 3-14 years, however, Raffles Springs Nursery/Raffles Starters only accepts children between 2-4 years old. Visit dubaiholidaycamps.com or contact +9714 420 3732 for special offers on sibling fee, booking for four weeks and more, and bus fees.
Splash 'n' Party
There are over 15 activities to keep little minds active, stimulated and happy this summer. From 9-11am every morning, your children can get free access to splash pads and slides, bungee trampoline, the dunk tank, aquatic Zumba, and the zipline area. In addition to this, they can canoe, snorkel, try tug of war, water aerobics, limbo rock, the sack race and watch plenty of stage shows and performances outdoors. From 11am-2pm, the fun continues indoors with culinary activities, robotics, science lab, dance mania, board games, creative arts, archery, table tennis, air hockey, boxing and a magic show. Kids are provided meals too.
Details: From July 7th to August 29th, 9am-2pm. Dhs499 per child per week, and from Dhs250 for transportation. Splash 'n' Party is located in Villa no. 1, Street 8A, Al Safa. Visit splashnparty.ae or contact +9714 388 3008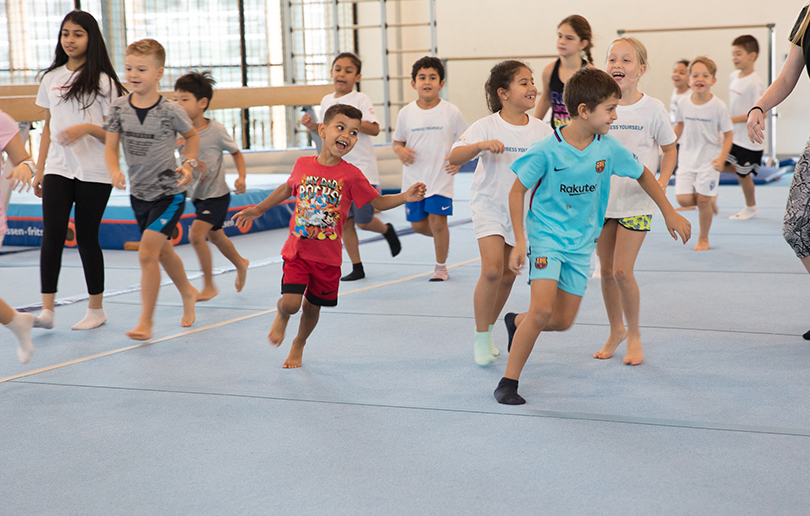 FitRepublik Summer Camp
For a summer like no other, let your children head to FitRepublik this summer. The multi-discipline facility gives kids aged 5-14 years-old infinite opportunities to let off steam, make friends and learn loads in a hugely stimulating environment. Kids are free to enjoy various activities at the venue include the pool's "Wibit" obstacle course – the largest in Dubai. The camp is split into separate age groups, where kids are guided by young, dynamic coaches — among them Olympic athletes and world leaders in their fields— who know a thing or two about their disciplines. There's plenty more in store, with games, trampoline, parkour, sports, clothes and shoe customization, bracelet-making, lip sync battles and jam sessions, that older kids will love.
 Details: June 7 to August 29. Packages are flexible, with daily and weekly options for full days from 8am-3.30pm, and half days running from 8am to noon. Campers get 10% off if they book before Jun 30, and 10% sibling discounts throughout the camp. You can even combine the two discounts to get 20% off! Visit fitrepublik.com or contact +9714 556 1800.
Ora
Let your little ones journey back through time this summer through Ora's unique summer camp, enabling your young explorer to witness a prehistoric world – right here in Dubai, in 2019! Blending creativity, innovation and exploration through augmented reality, super science experiments and sensory fun, children will learn BIG things in FUN ways. 
Details: Prices start at AED 1,050 per week for half day (8:30am-1pm), and AED 1,650 per week for full day camps (8:30am-6pm.) Day passes are charged at AED 350 for full day, and AED 250 for half. Available for children aged 1 to 4 years. The camp will run from 30th June to 29th August. Those signing up with a sibling or friend can avail a 10% discount on weekly rates. Call 055 646 052 or visit events.ora.ae/summercamp for more information.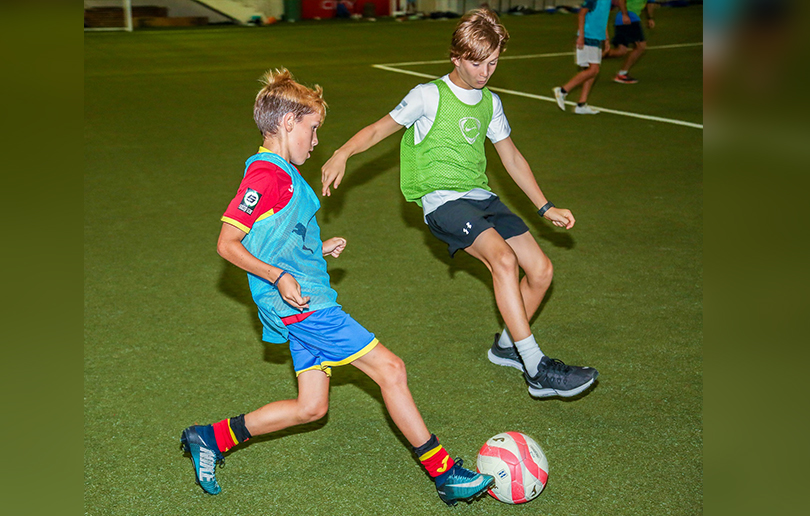 Dubai Sports City 
Dubai Sports City (DSC) has announced that it will host the only world-class multi-sport camp this summer, to cater for an overwhelming demand from parents for their children to participate in various sports activities during the school holidays. This year's Summer Camp will be open to those aged between 3-11+ years old.
Throughout the summer holidays, Dubai Sports City and its academies, will offer participating youngsters the opportunity to immerse themselves in a variety of popular sports under the guidance of qualified and expert coaches in their chosen sport. The activities on offer include: Spanish Soccer School, Dubai Eagles (Rugby), ICC Academy (Cricket), and the CF Tennis Academy.
The sports programme has been developed with a premium sports offering at its core, from the best facilities to inspiring coaches that have trained champions and all in the surrounding of the vibrant Sports Village.
Details: This year's Summer Camp costs 695 AED per week (9am – 3pm) and there is an early bird discount of 20% on offer to those who sign-up before the end of June. There is also a 20% sibling discount offer. Healthy meals for participating children can be requested from the numerous F&B outlets situated on-site, making life as convenient as possible for parents. For further details about Dubai Sports City's Summer Camp, visit: http://www.dsc.ae/SSCamp.html.
Jameel Arts Centre
This summer, Jameel Arts Centre will host its first Summer Arts Camp for children ages 8-13 led by UAE artists, creatives and educators. Each of the two Camps (July 7-11 and July 21-25) will feature five days of full-day programmes consisting of immersive hands-on workshops and activities inspired by the Jameel's exhibitions. Designed to nurture creative learning through art thinking and making, the activities include drawing, collage, pattern-making, story-telling, zine- and film-making, mindfulness, reading sessions, an arts-specific treasure hunt, and the construction of a collaborative, large-scale cityscape installation made of upcycled material.
With limited spaces available, young arts enthusiasts are encouraged to sign up as soon as possible.
Details: The five-day programme is priced at AED 1400 per child, and is open to just 15 participants. Camps will take place from 9am to 4pm, with an early drop-off option of 8:30am available. Please register through learning@artjameel.org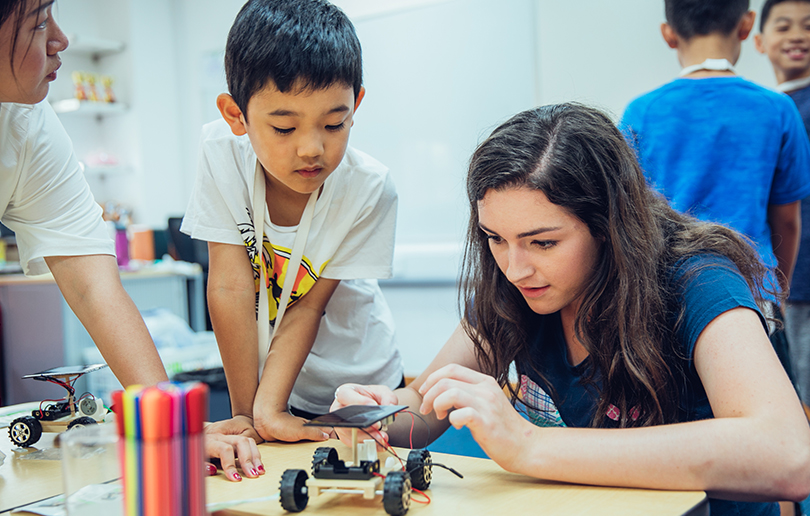 Ivy Camps USA, Dunecrest American School
Ivy Camps USA has partnered with Esol Education to bring its first-rate summer camp to Dubai, for children ages 5-12. Hosted at Dunecrest American School near Al Barari, Ivy Camps USA combines diverse academic and fun activities to offer an innovative educational experience led by an elite team of instructors hailing from the world's top universities.
There are two week-long sessions that take place in early August, providing children access to world-class learning facilities at Dunecrest American School's campus, with daily meals and snacks included. Ivy Camps' Dubai camp offers three tracks: Build Your Own Business; Performing Arts; the Junior Ivy Program.
Details: Session 1 will run between 9am and 3:30pm from Sunday Aug 4 till Thursday Aug 8, and session 2 will run from Sunday Aug 11 till Thursday Aug 15. Cost per week is AED 1,950. Register by June 30 to receive 10% off. For more information, visit ivycampsdubai.com
Bab Al Qasr Hotel
Bab Al Qasr Hotel welcomes young adventurers to a world of fun, learning and edutainment at the hotel's Summer Camp from 7 July – 29 August. Offering a daily, weekly and monthly package to choose from, the summer camp provides a dynamic program designed to suit children of all ages.
Youngsters ages from 5-14 years will be spoilt for choice, with countless opportunities to socialise, release their inner creativity, gain confidence and discover new passions. With a range of bespoke entertainment and activities, the camp curriculum includes swimming classes, Dancing, Zumba, Arts and Crafts, Virtual Reality, and Fun Games which will be available from 9 am – 1:30 pm during weekdays.
Campers will also be provided with a delicious lunch and refreshments during break times. 
Details: The summer camp is priced at AED 199 per child, AED 799 weekly and AED 1299 for a two-week camp programme. For more information, please email recreation@babalqasr.com or call +971 2 205 3090.