Five fun UAE spring camps to check out
Let your little ones have some fun while they are off from school and enroll them in one of these educational and fun spring camps for the upcoming holidays.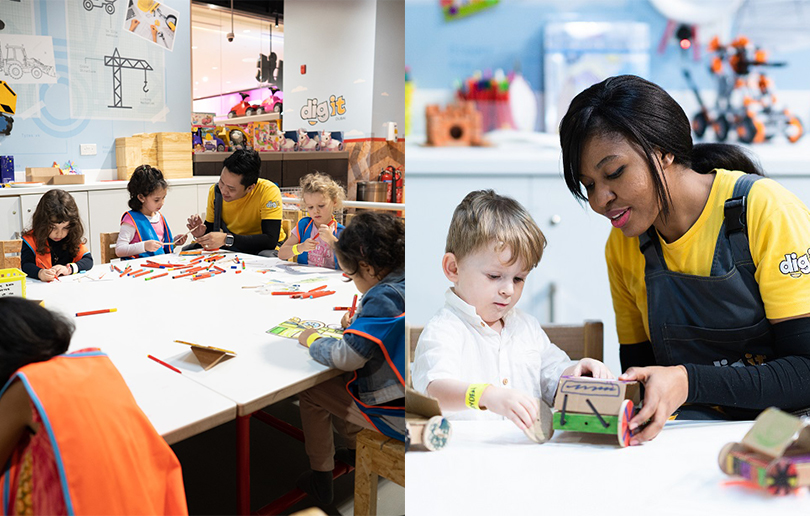 British Orchard Nursery
Young campers at British Orchard Nursery will learn simple mathematics through rhymes and stories this spring break. The fun, imaginative and adventurous activities based on two popular rhyming stories by prize-winning author Julia Donaldson, will help children explore the world of numbers through easy concepts.
The two-week camp will focus on one book each week, discovering its central theme through various activities. Starting with Squash and Squeeze in the first week of the camp, youngsters will be drawn into appreciating the size of the house of an old woman who has been complaining that her house is very small, while the story will help children understand the concepts of size and space. As they move on to the second week, they will encounter the clever, silent Ladybird, who is a perfect planner and skillfully saves the prize cow helping children learn about planning, further honing their critical thinking skills.
Details: Spring camp is open to children age 1-4 years in all 20 branches, and runs from the 31 March until 11 April (2 weeks). Transport is available. For more details, contact your chosen branch.
Dubai Sports City
Hosting its first-ever collaborative Spring Camp this Easter, DSC will encourage children to get active and participate in various sports activities during the school holidays.
During the two-week camp, activities on offer include: Spanish Soccer School, Claude Harmon III Performance Golf Academy, Dubai Eagles (Rugby), ICC Academy (Cricket), and the Clarke Francis Tennis Academy.
The sports programme has been developed with a premium sports offering at its core, from the best facilities to inspiring coaches that have trained champions and all in the surrounding of the vibrant Sports Village. There is also the option to extend camp hours from 4pm to 5pm, enabling parents to collect their children after work hours.
Details: Spring camp will take place at the Sports Village between 31 March and 11 April. Pricing starts at AED 150 per day, or AED 695 per week (8am-4pm) – AED 795 to extend until 5pm. There is also a 20% sibling discount offer. For more details, visit the website.
Mattel Play Town
Spring Camp at Mattel Play! Town is aimed at children three to ten years of age and will offer fantastic opportunities for children to engage and enhance their skills across multiple Meraas outlets. The fun is not limited to Mattel Play! Town – children will also enjoy a range of interactive experiences at The Green Planet, Hub Zero, Roxy Cinemas, and Laguna Waterpark at La Mer.
The daily drop-off point will be Matell Play! Town in City Walk at 8am, with camp running until 4pm, meaning parents can drop their children off at the award-winning edu-play centre then relax over breakfast at one of City Walk's multitude of stunning cafes and, more importantly, enjoy an entire afternoon off parenting duties! For an extra fee, extended pick-up times can also be arranged.
Activities for five to ten-year olds range from dance classes, arts & crafts, puppet shows, live shows at Mattel Play! Town to unique plant and animal experiences at Dubai's first enclosed ecosystem, The Green Planet. Children can burn off some energy with laser mazes and games galore at Hub Zero, immerse in a movie at Roxy Cinemas, and splash around at Laguna Waterpark – plenty to keep children active and engaged, as well as having FUN! There is a separate package available for younger ones, aged three to four years.
Details: Meet daily at City Walk at 8am between 31 March and 11 April. Priced at AED 855 for a 5-10-year-old child per week, or only AED 475 per day and AED 975 for a 3-4-year-old child including parent per week. There is also a 15% sibling discount. For more information, visit the website.
OliOli
Kids can explore the creatures of the ocean and participate in discovering the underwater world with a range of exciting STEAM based projects at OliOli's spring camp this March. With engaging activities such as creating 3D carboard sea creatures, making scuba gear and building boats to race in the OliOli Water Gallery, campers will have endless fun our while learning along the way!
Separate camps will be held for kids aged 4-5 years and 6-9 years.
Details: Spring camp will take place at OliOli Building, Al Quoz 1, from 9:30am to 1:30pm from 31 March to 4 April. Priced at AED 990 per child, per week; AED 250 per child, per day. There is also a 10% sibling/friend discount. For more details, contact 04 702 7300 or visit the website.
Dig It, The Springs Souk
Dig It is making sure that kids have fun during the upcoming spring break without getting bored at home or being glued to their TV sets, tablets or video games. Between 31 March and 11 April, kids between the age group of 4-10 can learn, play and stay active with the Dig It crew.
From creative workshops, to games and sporting activities, your kids will be digging away the spring break boredom. Let your kids unplug with these incredibly engaging workshops and activities which encourage building new friendships, teamwork as well nurture their social skills.
Details: Spring camp at Dig It, The Springs Souk will run from 31 March to 11 April, from 9am-1pm. Priced at AED 700 per week, or AED 170 per day. To book your child's space in venue, call 04-4384479 or email enquiries@digitdubai.com.