A Nuturing Home: Mariam Ahmed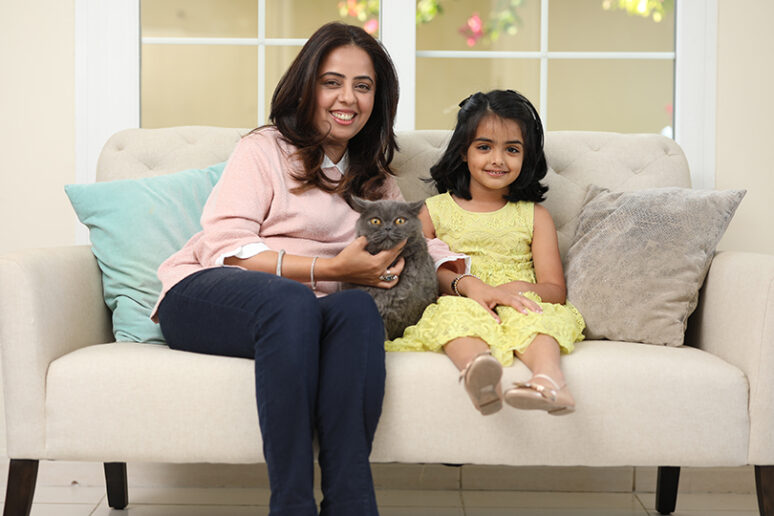 Mariam Ahmed, Founder of Pets in the City, discusses her role as a mum, entrepreneur and pet-owner.
Pakistani-Canadian Mariam Ahmed was raised in Saudi Arabia, moved to Cyprus for a higher education, and lived in Canada for ten years before relocating to Dubai. "I yearned to return to the Middle East as have always considered it 'home'. I decided to move to Dubai 16 years ago, as around that time Dubai was coming up really fast, and the best part is it still continues to grow, beautifully," the mum of a little girl tells me.
Her current role entails heading, nurturing and growing her pet grooming business, Pets in the City. "I decided to leave the corporate world behind few months after my daughter was born. I've always been a workaholic with self-imposed tight work regimes. I felt very guilty when I couldn't deliver the same standards to either of my roles, as a mother or in the corporate world. That's when I decided to focus solely on her," says Mariam. That decision, however, didn't last very long as shortly after leaving her job, her current pet business started to materialize. She does admit that working for herself has its perks though. She can work from home at odd hours, take her baby along to supplier meetings, and so on. "It wasn't long before my signature became known as the 'mom-preneur'; someone who attends meetings, trade shows, baby in tow!" she laughs and says.
Mariam's daily routine begins before dawn salah, which is followed by the school rush and drop-off, breakfast meeting and planning with her husband – also her business partner – and the day's agenda that comes to a halt by 5 or 6pm. "I've groomed my daughter since birth, to realize that anywhere can be considered a 'play zone' and that the park can even be an office, if I bring the laptop along! So, my time for my daughter is her being with me and mentally I'll be multi-tasking as needed." Mariam says working with her daughter and doing almost everything for her myself, without a nanny, has helped her understand her daughter better, as grow and bond together. "I feel these young years will pass by incredibly fast, so I really want to enjoy her to the max, by keeping her with me as much as possible."
As for bonding with her pet cat, Mariam explains she grew up in Jeddah, and the whole neighborhood's cats were 'hers'. "I'd crawl under parked cars or even pull them out of trash bins to rescue them, in my sense of the word! I've been a 'fur-rent way before becoming a parent," she tells me while cuddling her cat. Mariam wanted her daughter to have that similar sort of love, respect and comfort towards animals. So, on her first birthday, we introduce a cat to our family. "It was so natural for my daughter at that stage; they don't have any fear or inhibitions at this age, unless you've placed any of your own fears or beliefs into your children." Gradually, Mariam's family grew to include dwarf hamsters and budgies. And of course, all the strays we have – I forget to count those!
Apart from the best time to introduce a pet to the family, Mariam has a few tricks up her sleep when it comes to parenting. "A solution to many a tantrum, is food. Be wary and think of the following: has it been two hours since the last meal? Feed again. Did you put bit more salt or sugar in their meal? If they're asking for candy, it's feeding time again. I've seen a labeled 'bad' boy, a toddler; go from mean bully to calm and smiling just by giving him a sandwich."
I agree with the saying that life teaches and reteaches at various stages of our lives. What has worked for Mariam is to 'un-learn' and 're-learn' to adjust and change with whatever life brings. Such a lovely motto to live by. "When I was in the corporate world I'd comply with the organization's culture, to grow. I've applied the same practice when I had my daughter. Each day is a new learning, a new beginning for her, and a new lesson for me.
Pets in the City offers the residents of Dubai a unique opportunity to groom their beloved furry friends anytime & anywhere. For more information, please visit petsinthecity.me
You may be interested in reading: Pet care 101: Four tips to keep your dog's teeth healthy