INVITATION: 'Preparing for Birth' Pregnancy Event, Mon. 18th Oct
Mother Baby & Child is running two FREE pregnancy events this month in our series to help support and prepare women in their pregnancy, help you prepare for birth and navigate life with a newborn baby in the first few weeks. And this time, we're taking you to hospital for a look around, after we interview the entire pregnancy team – it's a rare opportunity to get some peace of mind and help prepare you for birth, regardless of the hospital you're working with.
Taking place on Monday 18th October is a must-attend event for pregnant mums…and here's why: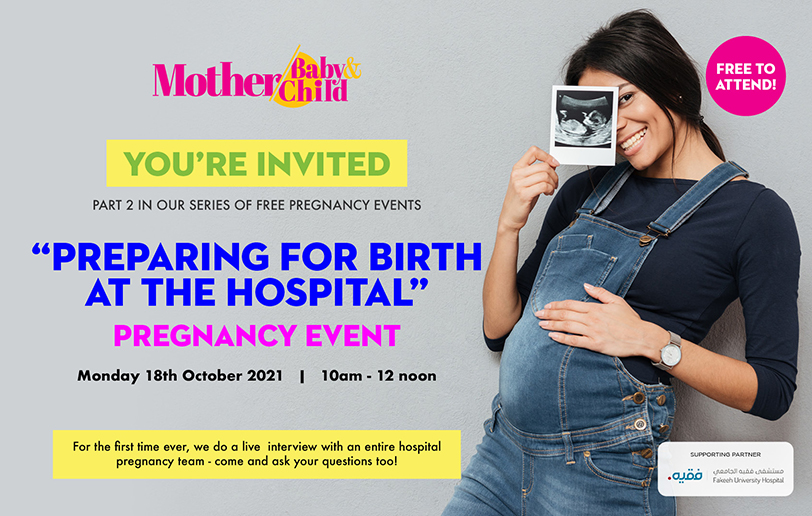 You would normally only see one healthcare professional at a time during your pregnancy appointments, but this event gives you a very rare opportunity to see Mother Baby & Child Editor, Kay Marham, interview a 4-person 'pregnancy health care' team a top Dubai hospital. This will give you a great feel for how a hospital team should work together on all aspects of every individual woman's pregnancy journey, regardless of where you have planned to give birth. 
EVENT INFORMATION:
Date: Monday 18th October
Time: 10.00 am to 12.00 midday
Theme: 'Preparing for Birth' in association with Fakeeh University Hospital
Location: Fakeeh University Hospital, Silicon Oasis, Dubai (see Google map)
At this event, the Editor will be asking the team to show us – all the ladies attending this event – to actually show us the birthing suite and talk us through the day of going into labour. 
Among the 'team at the top' being interviewed, are the Lead Consultant Neonatologist, Head of Department and Consultant Pediatrician, and two Specialist Obstetrician and Gynecologists at Fakeeh University Hospital.
This is a must-attend event for any pregnant woman who is nervous about the health of the baby and giving birth!
EVENT AGENDA:
09.30 – 09.45 am –

Guests arrive at the Atrium of Fakeeh University Hospital in Silicon Oasis, for coffee and bites

10.00 am –

Welcome address from Kay Marham, Editor, Mother Baby & Child Magazine, who will explain the interview topics for each doctor. 

10.05 am – INTERVIEW:

with Dr Alaa Younus Mohammed, Specialist Obstetrician and Gynecologist.

TOPIC:

'How Should a 'Normal', Low-Risk Pregnancy & Labour Progress in the Third Trimester?'

10.20 am – INTERVIEW:

with Dr. Jayacy Jayankar, Specialist Obstetrician and Gynecologist.

TOPIC:

'The Relationship Between the Patient and the Hospital'

10.40 am – INTERVIEW:

with leading child health expert, Dr. Bariah Dardari, HOD and Consultant Pediatrician.

TOPIC:

'Understanding Premature Birth & Care for Premature and Newborn Babies, from Day 1'

11.00 pm – INTERVIEW:

with Dr. Rima Mounla, Lead Consultant Neonatologist.

TOPIC:

'Neonatal Nutritional Necessities and Techniques for Establishing Breastfeeding'

11.20 pm –

 

QUESTIONS FROM THE AUDIENCE: Ask about your i

ndividual pregnancy concerns

11.45 pm – SHORT TOUR:

Let's take a look at a Birthing Suite!
All pregnant mothers attending will be given a 'thank-you' Goody Bag for attending. 
REGISTER TO ATTEND THE  EVENT ON MONDAY 18th OCT 
If you would like to attend this event as a pregnant mother, or as a mother who is planning to have more children in future, simply scroll down the page and fill in your details.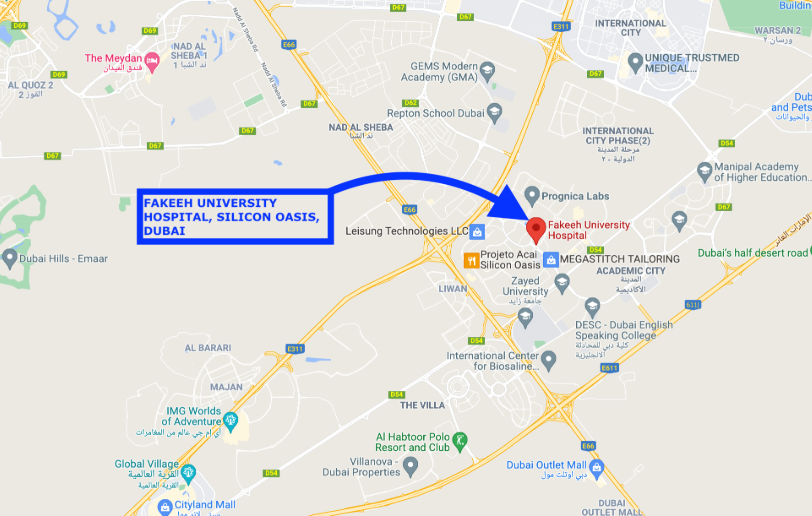 ABOUT FAKEEH UNIVERSITY HOSPITAL
With a rich legacy of over 43 years, Fakeeh Care is committed to delivering medical excellence and championing outstanding research in the UAE. Fakeeh University Hospital has one of the strongest reputations in the region for its outstanding level of genuine human kindness and support in its professional care of pregnant mothers. Check out this video to see one pregnant mother's experience of pregnancy care at the hospital:
FURTHER READING ON PREGNANCY TOPICS:
Meet the Obstetrician: Interview with Dr Jayacy Jayankar
Predicting your Baby's Gender? Old Myths & Facts!
DIARY DATE FOR THE FOLLOWING WEEK…
FOLLOW-UP EVENT ON TUESDAY 26th October
'Preparing For Motherhood' Event 
According to Dr. Jayacy Jayankar, Obstetrics & Gynecology Specialist at Fakeeh University Hospital, our partner in 18th October event, the top concerns that women have during pregnancy include:
Is my baby well and healthy?

I'm anxious about the time comes to give birth

I want to be a great mother, but I don't have any experience of what to do
If any of the above sound familiar, then please know that you are not alone – these are fears that every woman has during her pregnancy. And we're here to support you in going through these concerns together, by giving you free access to some of the UAE's best professionals in pregnancy care, to ask your questions. 
HOW TO REGISTER FOR THE FOLLOW-UP ON 26TH OCTOBER: 
Please note that registration for this event opens AFTER the October 18th event! If you'd like to secure your place on 26th October:
You can either leave your details with our Mother Baby & Child team at the Pregnancy event the day before, at the Fakeeh University Hospital, OR…

Email to reserve your place at this follow-up event. Simply add the word 'REGISTER' as the subject line of your email, and include your name and mobile number in the email. Send it to: Kay.Marham@cpimediagroup.com