Perfect family vacations on 'Family Island' (Ailafushi)
What does a perfect family vacation look like? Let's put the microscope on a tropical island paradise family resort just 4 hours away from the UAE in the Maldives, called Ailafushi – which translates as 'family island!'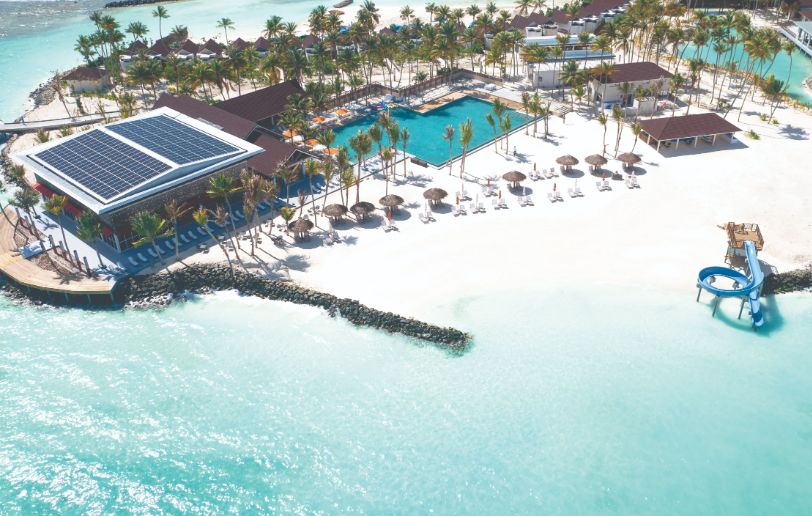 Travelling with your children to the little island of Ailafushi in the Maldives could not be simpler – you simply walk out of the front door of the airport after a 4 hour flight and you're immediately hit with a view that tells you you've just landed in paradise! You'll see a picture-perfect beautiful little turquoise-blue bay in the Indian Ocean, with the soothing vista of palm trees…and your speedboat already waiting to take you the short 15 minute ride to Ailafushi. (No, you won't get splashed – the speedboat is fully covered!)
TROPICAL ISLAND LIVING ON AILAFUSHI
The Maldives temperature in August is around 26-30 degrees Celcuis, making it the perfect temperature to spend lots of time to top up on your children's vitamin D levels outside and enjoy the easy island life that will relax and refresh all the family, regardless of their ages! The sea temperature this month is usually the same, so you'll enjoy the Ailafushi resort arranging the options of:
Taking exhilarating boat rides to watch playful dolphins doing acrobatics in the water

Letting the Ailafushi expert resort dive instructors teach your children how to snorkel or dive

Taking romantic or relaxing beach walks every day, skimming your feet through pure crystal clear, warm Indian Ocean 

Enjoying the views of your island from the water by hiring a jetski

Discovering your inner child on a twisty waterslide that lands you in the warm, shallow waters at the shore of the beach – you'll be giggling with delight every time, just as your kids will!

Going fishing, kayaking, banana boating or any of the other multitude of watersports or activities available 

Simply relaxing in perfect temperatures sunbathing by the sea or by the pool, watching the dive instructors practicing snorkelling techniques with kids in the shallow corners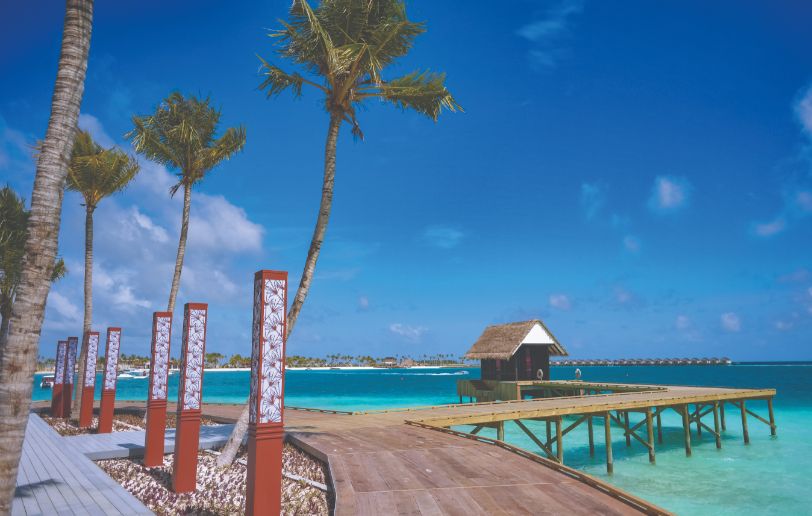 LISTEN TO THE OCEAN FROM YOUR BED, WITH BREATHTAKING VIEWS!
Beach Villas
Imagine how you'd feel waking up to the relaxing, rhythmic sound of the ocean every morning, opening your eyes and seeing it in all its aquamarine-mint green glory directly outside your window – with maybe just your own little stretch of beach and a palm tree or two to obstruct your view! The Family Beach Villa options for your stay at Ailafushi gives you exactly this. 
Water Villas
Alternatively, if you have enthusiastic swimmers in your family, you can opt for one of Ailafushi's Water Villas, with their bedroom terraces providing steps that take you directly down into a warm, shallow ocean that is so crystal clear, you can see to the bottom. There are life jackets included in every Water Villa, so even if you are not so confident in the water, you can still enjoy a private warm dip and you'll have your own balcony to hold on to for support!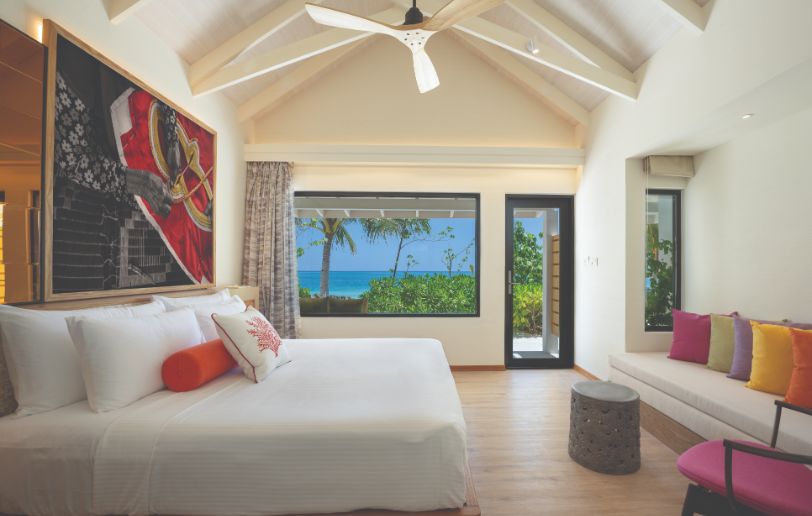 Ocean View Family Rooms
If you prefer to wake up and start your morning enjoying a coffee on your private terrace, overlooking the white sands of the beach, taking in the expanse of crystal aquamarine ocean and palm trees, then this is the option for you. Aside from having a separate children's bedroom, the terrace is maybe the most picture-perfect scenic view it is possible to enjoy on this planet. It is a great space for families who want to take the time and space to feed a baby or toddler before family breakfast – or if you are an early morning riser that waits for the family to wake up – or simply to chill together before you go and explore the breakfast options that are cleverly provided to suit every cultural taste.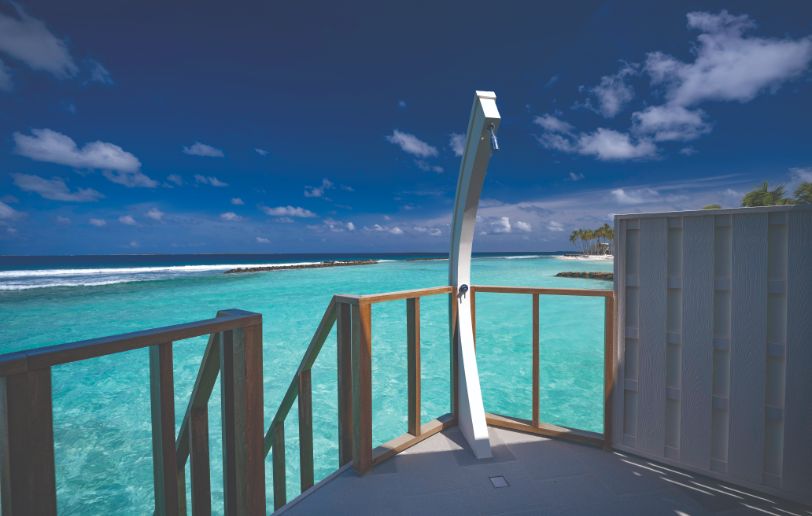 BLISSFUL ALONE TIME FOR YOU, KIDS CLUB PARADISE FOR THEM!
If you want to enjoy some couple time alone, Ailafush has a very extensive, multi-area, multi-activity  Kids Club that is fully supervised and intelligently thought-out to keep kids entertained and happy all day long. Features include:
A supervised and dedicated colourful kids pool for happy splashing and swimming

A food and snacks menu especially for the children, so they won't go hungry while hard at play

An outdoor games, play climbing and area for kids aged 2 years and above

A play kitchen where they can indulge their culinary imagination!

A teen zone with lots of games and hangout zones 

A comfy, quiet 'snooze' area with comfy beds for when little ones need their nap

A supervised indoor climbing wall 

A karaoke and area for kids to let out their inner popstar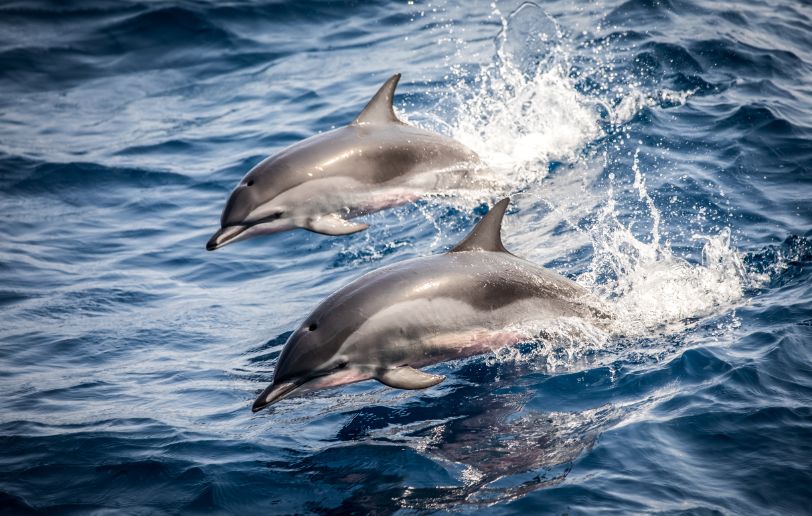 The Kids Club in Ailafushi really is a haven for children to let loose and simply be what they are supposed to be – fun-loving, hard-playing little explorers who love to use all that energy to play with other kids and enjoy themselves while being mentally stimulated…and exhaust themselves ready for a good night's sleep! 
FUN FAMILY VACATION HIGHLIGHTS
LEARN TO SNORKEL OR DIVE
With Ailafushi's own dive and watersports centre on site, expert dive and snorkelling instructors can teach you or your children how to explore and discover the underwater world of colourful corals, vibrant marine life and be thrilled by the experience of swimming or snorkelling alongside the colourful fish…and even sea turtles, one of the symbols of the Maldives.
FAMILY LUNCH IN A RESTAURANT UNDER THE SEA!
The 'Only Blu' Restaurant is built 6.8 metres underwater in the ocean and is the largest under ocean restaurant in The Maldives! You'll enjoy the most memorable lunch experience of your children's lives while you enjoy the stunning panoramic views of the marine life, corals and colours of  the Indian Ocean.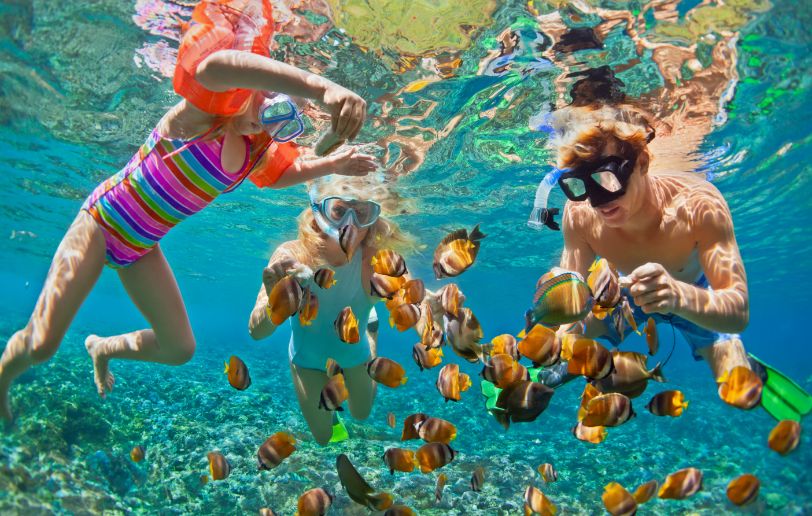 WATCHING DOLPHIN ACROBATICS IN THE OCEAN!
Kids will be absolutely thrilled by a boat ride out into the ocean to spot wild dolphins excitedly enjoying themselves by swimming alongside your boat, jumping, spinning and doing dolphin acrobatics. This activity promises to be a memory that will last a lifetime for you and your children!
'ME TIME' WITH THE 'ELE | NA' SPA & A JACUZZI OVERLOOKING THE OCEAN
You may never find a more breathtakingly beautiful location for a spa than the 'ELE | NA' spa at Ailafushi. Short for 'Elements of Nature', the 'ELE | NA' spa offers a full range of treatments for both couples and individuals. If you want to involve the kids in a totally heavenly moment, book yourselves an outdoor family jacuzzi overlooking the serene aquamarine waters of the Indian Ocean beyond the creamy sands and palm trees in your foreground.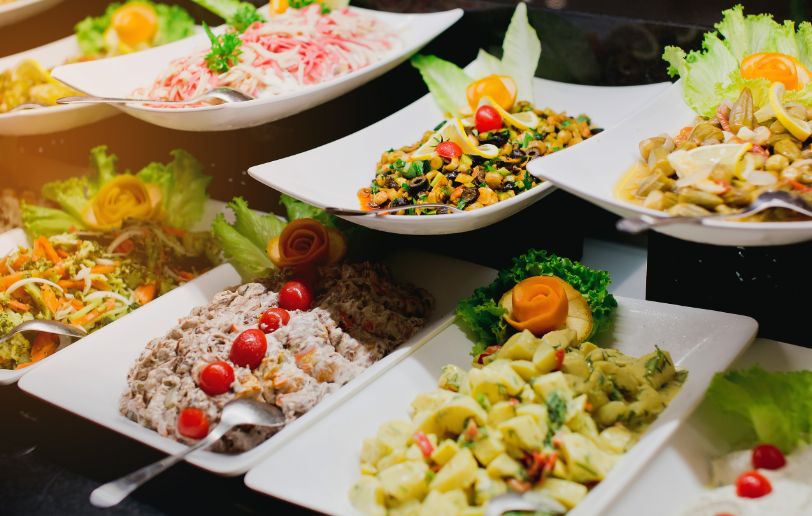 FRESH, DELICIOUS, WORLD-CLASS CUISINES
As part of its 'Fushi Plan' package, the Ailafushi resort gives you an all-inclusive experience that includes breakfast, lunch, dinner at the international restaurant. It's buffet style, complete with a special dessert room! You'll be utterly spoiled for choice between the multitude of dishes from Europe, India, Asia, the Maldives itself, including classics such as pasta dishes, Indian veg and non-veg favourites. You'll find a huge array of salads, grills, fish dishes, home-made breads, lots of beautifully presented appetiser bites if you want to try flavours from other countries. 
Eat in any of the dining areas where the tables are laid inside different seating areas, depending on whether you're in the mood for sitting outside among the palm trees, on comfy lounge seats, in a more formal looking setting, or outdoors under the shade. 
IMAGINE HOW IT FEELS…
Imagine the excitement of your children telling their school friends that they saw dolphins jumping out of the water this summer – or they went snorkelling and saw the amazing world of life and colour under the ocean – or how they beat their personal record of taking waterslides into the sea!
Imagine how you would feel with all your stresses melting away and instead filling you with calm, happiness, lightness and energy after a vacation enjoying nature, breathtaking scenery, great food, service geared for your comfort and enjoyment and most of all…your kids feeling the same!
If you are interested in taking an August family break, making the most of the half-term or festive break and want to experience the benefits of taking a family holiday, check the Ailafushi website.
*The Ailafushi resort is part of the appropriately named 'Colours of OBLU' brand by Atmosphere Hotels & Resorts.