Brilliant family-friendly areas to live in Dubai
There are a number of factors to consider when choosing the most adequate neighbourhood for your family. Prince Ufuoma Eshalomi, Sales Director at Powerhouse Real Estate, gives his suggestions of the best family-friendly places to live in Dubai
Arabian Ranches: A charming village within the city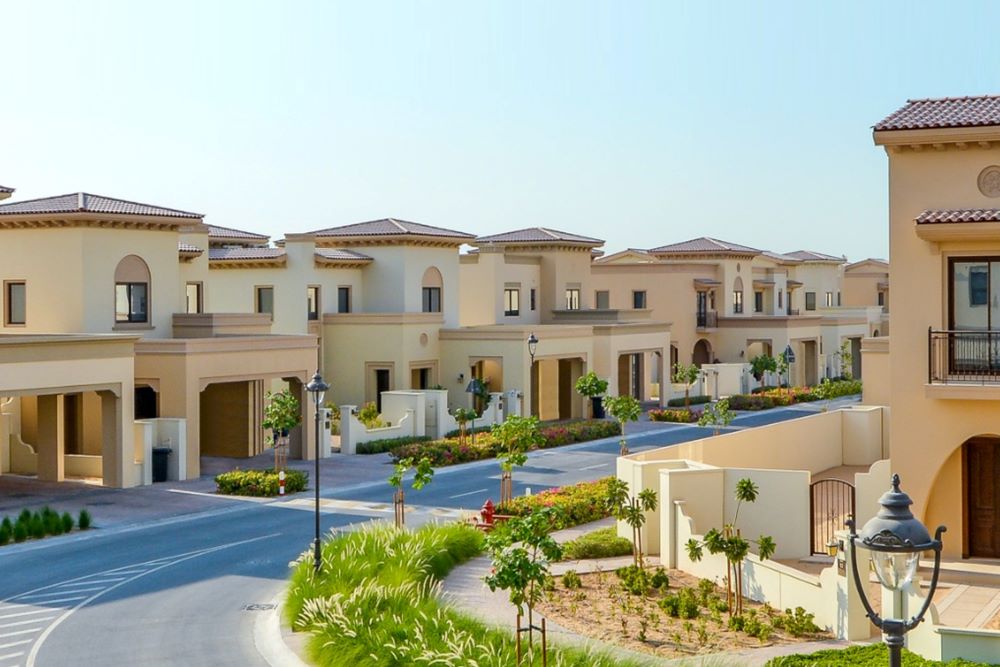 Launched in 2004, Arabian Ranches hasn't lost its appeal over the years. A cluster of 12 village-style communities spread over 6.5m square metres, it's one of Dubai's most sought-after residential villa communities. The fact that it launched 17 years ago actually acts in its favour – it's had the time to build character and watch a real community grow within its gates.
Boasting a selection of restaurants, parks, a golf club, and the Dubai Equestrian & Polo Club, Arabian Ranches certainly has a lot going for it. Designed with families in mind, there's something for every member of the family here.
Schools
Served by three schools, there is the Ranches Primary School, a nursery and primary school which follows a UK curriculum.  GEMS World Academy is an IB curriculum school with a "Very Good" KHDA rating. Then there's Jumeirah English Speaking School, a not-for-profit organisation.
There's the stunning Arabian Ranches Golf Club, the Ranches Sports Bar and the Polo & Equestrian Club.
The community has a family-friendly Hamptons Cafe which boasts a unique style and charming atmosphere.
When it's time to shop for the new week, there's no need to rush to the city.
The Arabian Ranches Community Centre, located at the community's entrance, has a Géant supermarket. It also has a Costa Coffee, a Burger King, pet stores, and much more. It even has its own medical centre, a pharmacy and plenty of parking.
If the village-style serenity gets too much and you're looking for an adrenaline rush, IMG Worlds of Adventure is a five-minute drive away. The ever-popular Global Village is also close by, where you can travel the world in a single evening.
And if that's not enough, JBR Beach is just 15 minutes away.
Head for the Hills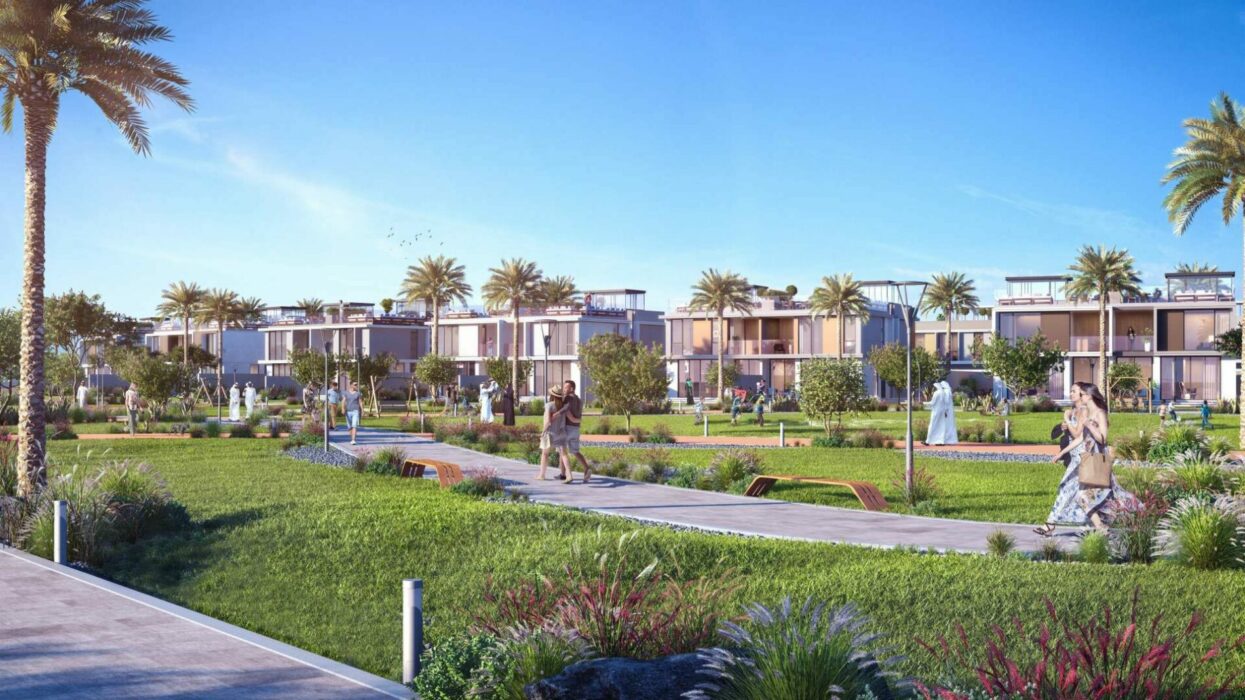 Dubai Hills is one of the city-state's newest residential areas, a master planned community off Al Khail Road. This eleven million-metre-squared mega-development was undertaken as a joint venture between well-respected UAE developers Emaar and Meraas. It is situated between Downtown Dubai and Dubai Marina and is part of Mohammed Bin Rashid City.
At the centre of Dubai Hills is a golf course and more green space than you could imagine, given its desert location. This up-and-coming district already has a strong community feel and a thriving residential buzz. There's immaculately laid out green avenues, a logical network of wide roads and serene greenery and lakes.
Dubai Hills is among the first phases of Mohammed Bin Rashid City, the on-going planned mixed-use development. Nestled in and around the golf course links and acres of lush parkland, you'll find tasteful, well-proportioned villas, designed in contemporary style. Many have their own pools – and all are designed to the green building standards set by Dubai Municipality. Constructors replanted the existing trees on-site, with plans to plant hundreds of the distinctive trees around the development.
Eventually, the development will include some 4,600 villas and 22,000 apartments, but for now, the core development comprises around 1,500 distinctive villas, including neighbouring districts. There's a safe, suburban feel to the development, and yet it lies minutes away from the hubbub of new Dubai, the beach and the Marina.
For leisurely days and shopping, the Dubai Hills Mall features key stores like a Geant supermarket, as well as clinics, a pharmacy, office space, restaurants and leisure facilities.
The golf course offers views of the Burj Khalifa and the cityscape of Sheikh Zayed Road. The clubhouse includes a restaurant, bar and a gym.
For those who aren't fans of golf, there's a tennis academy, gyms, a 45-kilometre track for cycling and running, and Dubai Polo and Equestrian Club is just a short drive away.
At the heart of the community's design is sustainability, mobility and connectivity – it's designed to provide everything required close to hand.  You're just 15 minutes from Downtown Dubai and the beaches of Jumeirah, and half an hour from the airport.
GEMS Wellington Academy school is just a ten-minute drive away, while residents can take advantage of discounted prices at the community's very own ice-skating rink, skate park and splash park for the little ones.
The Lakes
This area forms part of the Emirates Living development, an upmarket living zone conceived in the early 2000s, built by renowned developer Emaar.
The wider Emirates Living area comprises four gated communities: The Lakes, The Springs, The Meadows, The Greens, The Views and Emirates Hills. The defining feature of the area is water and greenery – there's an incredible 52 million square foot of greenery, alongside relaxing water features and meandering lakeside pathways.
The area is popular with international families – especially given that all the properties have large private gardens and the kids are safe thanks to communal swimming pools, play areas and parks.
You can expect two to six-bedroomed villas and townhouses in The Lakes, across six different zones – Forat, Zulal, Ghadeer, Maeen, Deema and Hattan. This well-established community delivers the best in suburban living, and is only ten to 15 minutes' drive to the bustling beauty of JBR, Dubai Marina and the beach, for example. Dubai Internet City and Media City – both important business hubs in the city state – are also only 10-15 minutes' drive away.
Residents can enjoy urban skyline views, parks, lakes, swimming pools, basketball courts, tennis courts, football pitches and gyms. There's a range of local shops within the community, and the local malls offer cinemas and restaurants. It is the perfect location for smaller and growing families.
The Lakes Club is within the community, where locals enjoy local supermarket Choithrams, a nail salon, a hair salon, a dry cleaner, a gym, a fun club for the kids, and the well-known Reform Social and Grill, a popular destination restaurant.
Within the wider Emirates Living development, there are several schools including Dubai International Academy, Emirates International School, Dubai British School as well as the American University in Dubai on the edge of Dubai Media City. The Lakes is home to Raffles International School Nursery.
A key attraction for many are the Emirates Golf Club and Montgomerie Golf Course – both world class courses, and both within a kilometre of The Lakes.
The six smaller neighbourhoods within The Lakes feature 600 villas in three to six-bedroom layouts.
The properties themselves are designed in contemporary architectural styles, with high ceilings and plenty of space. You'll get a maid's quarters, ample parking, a private garden and many offer glorious views of greenery or the extensive lakes.
The Meadows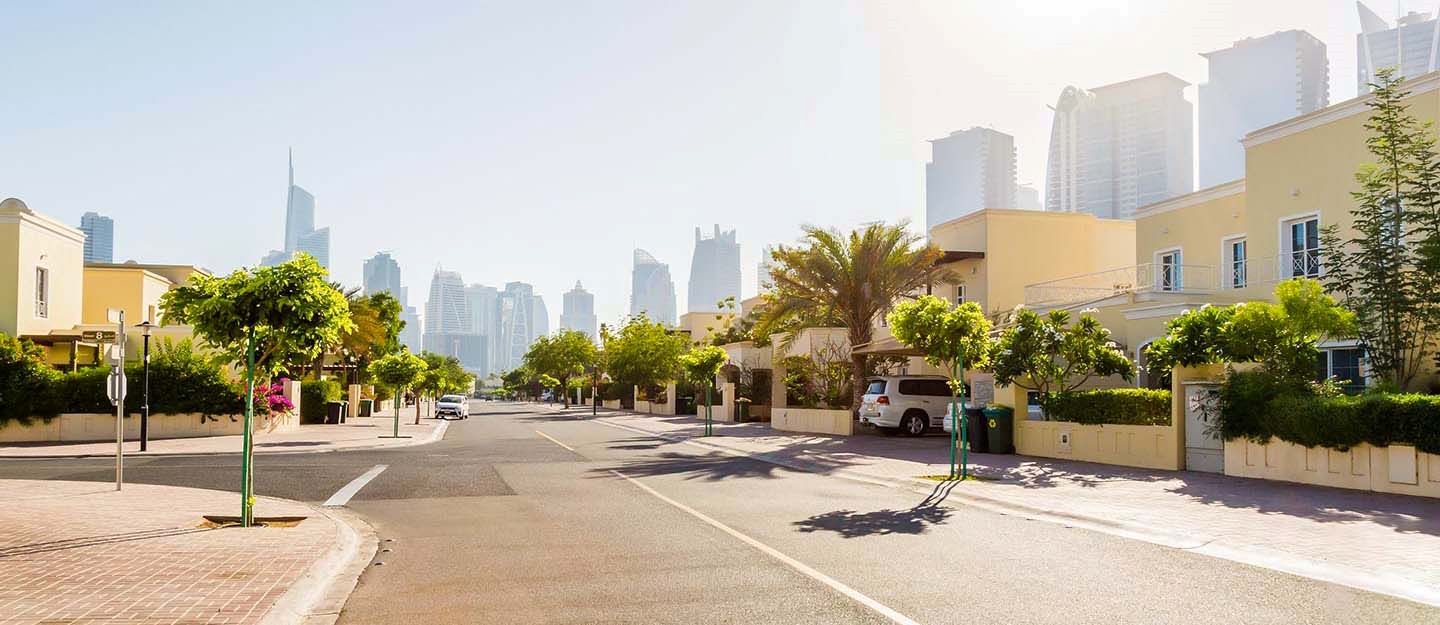 The Meadows comprises independent villas, forming a small part of the Emirates Living Community.
It is a secure gated community with a range of outdoor fitness facilities including football pitches, tennis courts and basketball courts. You'll also find jogging tracks, pristine swimming pool areas and outdoor gym equipment. The Meadows community is perfectly placed, being close to popular destinations such as Dubai Marina, JLT, JBR, Bluewaters Island and Palm Jumeirah.
However, with so much at your fingertips, you may not be inclined to venture out. The Meadows Souk is home to household names such as Spinney's and McDonalds. The picturesque Meadows Village boasts a Waitrose, and a range of familiar restaurants. The surrounding area offers gyms, malls, cinemas and restaurants.
The Meadows is family friendly with several barbeque areas and safe play areas. The area's schools include Dubai British School, Emirates International, Dubai British Foundation and Dubai International Academy. As for the little ones, there are several nurseries.
Spanning a variety of locations, totalling nine distinct areas, Meadows 1 – 9 boasts more than 1800 villas. Layouts range from three-bedroom villas up to six-bedroomed properties.
Premium Meadows' villas can be found within areas 3, 4 and 5. These prime villas have breath-taking views and access to the Montgomerie Golf Club Dubai.
Palm Jumeirah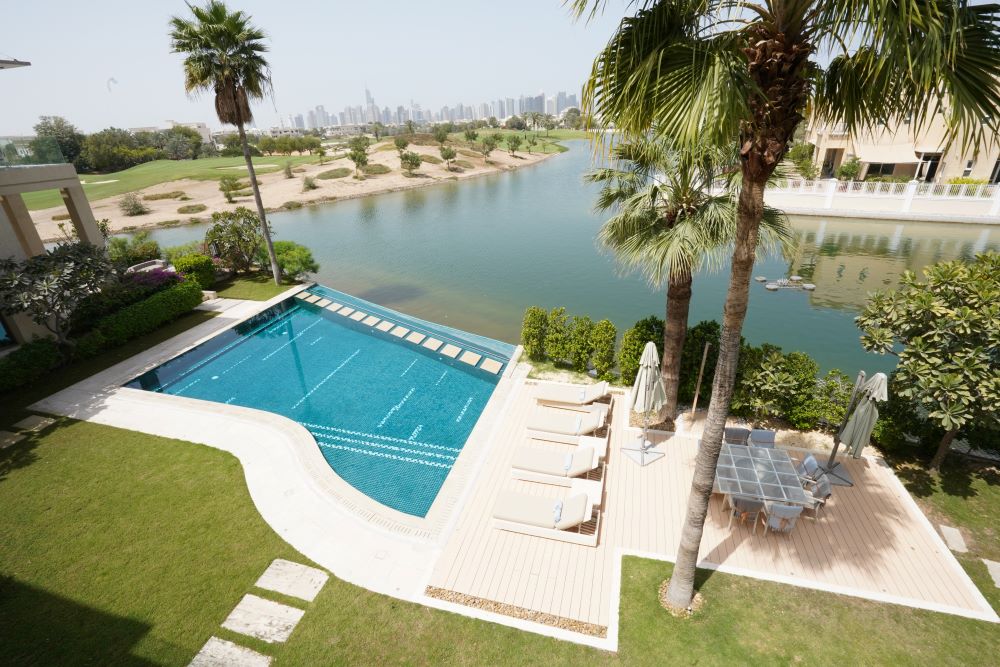 The iconic real estate offered on this man-made island comprises oversized apartments and enormous villas, most of which include their own stretch of beach. This is the ultimate Dubai lifestyle statement, lying offshore and yet close enough to JBR, Dubai Marina and the Sheikh Zayed Road to make any commute bearable.
The trunk features a bustling mall, and there are a number of beach clubs, restaurants and cafes. Don't forget the five-star hotels on your doorstep, along with clinics, the chance to do watersports or simply sunbathe the weekend away. Entertainment comes via The Pointe, the Palm's renowned leisure destination.
Ocean views make the Palm a great place to live, but there are ample amenities, too – this is a decidedly urban environment, flanked by ocean, and a linear park runs the length of the trunk for an evening stroll or jog.
The Springs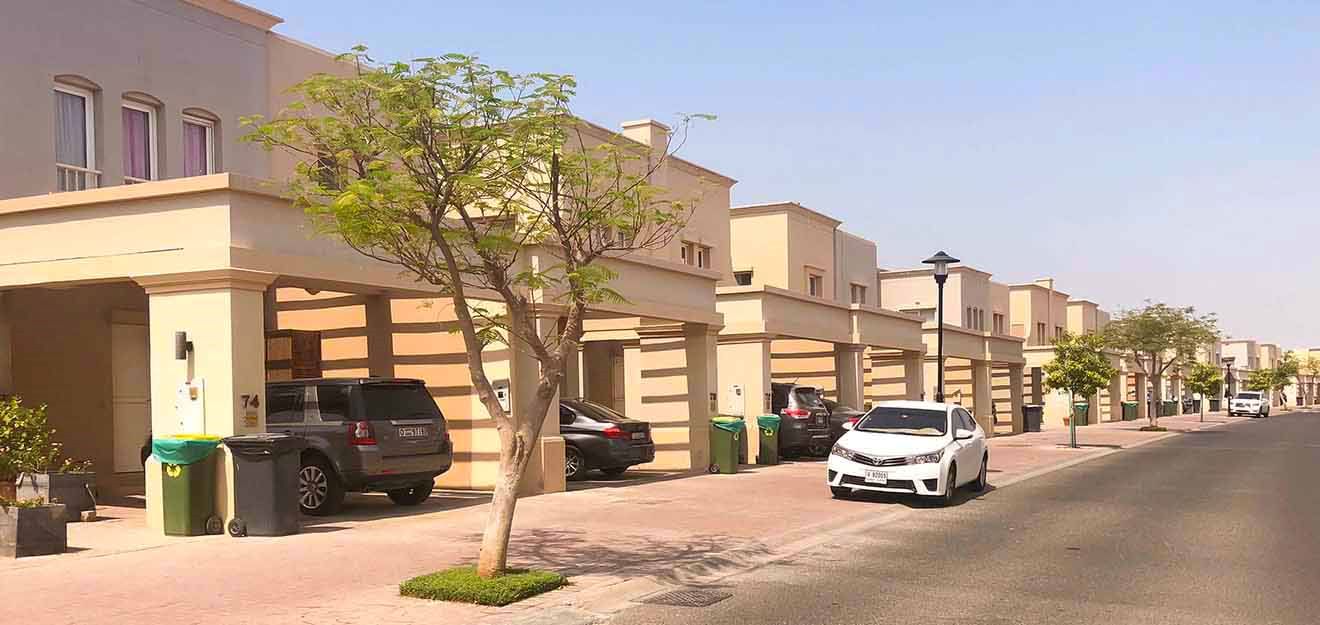 Among the first Emaar developments, The Springs is often considered one of the best communities in Dubai. It's perfect for families, with skyline views, parks, lakes, swimming pools, basketball courts, tennis courts, malls, gyms, cinemas and restaurants. It's a well-established, master-planned community, with lush, verdant landscaping and calming lakes. While peaceful, it's a mere stone's throw from the hustle and bustle of the city. Residents can choose from villas or townhouses, and the district is also renowned for being reasonably priced in comparison to other master-planned communities.
The Springs community is very close to popular destinations such as malls, Dubai Marina, JBR and Sheikh Zayed Road is within easy reach. Springs Souk is the closest shopping area where you can find a supermarket and cinema.
There are ample schools to choose from in the district, including Dubai British School, Emirates International, Dubai British Foundation and Dubai International Academy. There are several gyms, too.
There are a number of nurseries for the little ones, and healthcare facilities. It's a good area for pets too, with one of the city's only 24-hour dog parks within Springs 8.
From the entry level two-bedroom villas with a study, to some of the larger three-bedroom properties featuring a, study, maids and family room, there's something to suit all stages of life and budgets. The Springs offers a total of 4,851 townhouses across 14 different areas.
Dubai Marina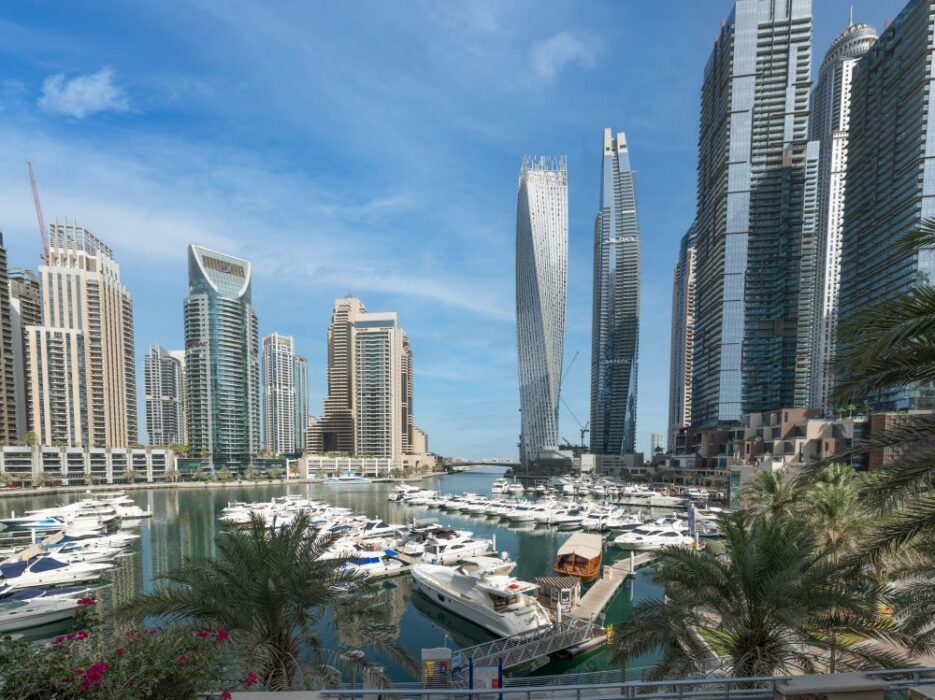 Nestled between the beach and Sheikh Zayed road, Dubai Marina is a predominantly high-rise district – featuring five or more of the world's tallest residential towers – which attracts people from all over the world for the best in convenient urban living.
Dubai Marina is a well-established community, home to around 120,000 people, offering stylish, large apartments in the heart of 'New Dubai'.
The community is served by two Metro Stations – one at each end of the Marina, as well as the 14.5km Dubai tram service. Trams loop around Dubai Marina and Jumeirah Beach Residence, then a spur takes travellers along the ocean side Al Sufouh Road to Dubai Media City, the Palm Jumeirah, Dubai Pearl and Dubai Knowledge Village.
Dubai Marina Mall is an upmarket three-storey venue which includes globally-recognised brands, casual dining outlets, a multi-screen cinema and a children's play area. The Mall links to the upmarket Address Marina hotel, and to Pier 7, the multi-level rotunda with bars and restaurants.
Dotted around the Marina you'll find multiple large supermarkets, family-friendly dining spots, salons, spas, shops and service providers. There's a host of gyms and fitness centres too.
Most of the striking towers feature their own swimming pools and gyms as standard.
Towards the front – ocean-facing side of the Marina, you get towers with ocean-facing apartments, many with long balconies and floor-to-ceiling windows, to take full advantage of the light and the view. From these apartments, unmatched views of Dubai are much-sought after.
World-class yachts fill the Marina, and the surrounding wide walkway is the perfect spot for a stroll. The walkway features many waterside restaurants and the chance to rent a bike or a boat. Municipality water taxis ply the waters, allowing for a waterborne shortcut across and around the Marina for a few dirhams. For the more adventurous, there's a ferry which takes a scenic route along the coast to the Dubai Creek at weekends.  Schools surround the Marina too, with most offering a bus collection and drop-off service.