Indulge in contemporary Levantine cuisine at Mezza House
Nestled in Downtown Dubai, this contemporary Levantine restaurant offers panoramic views of the city's skyline, a diverse menu of popular Mezze dishes, sizzling grills, and freshly prepared dishes that bring back memories of home-cooked food.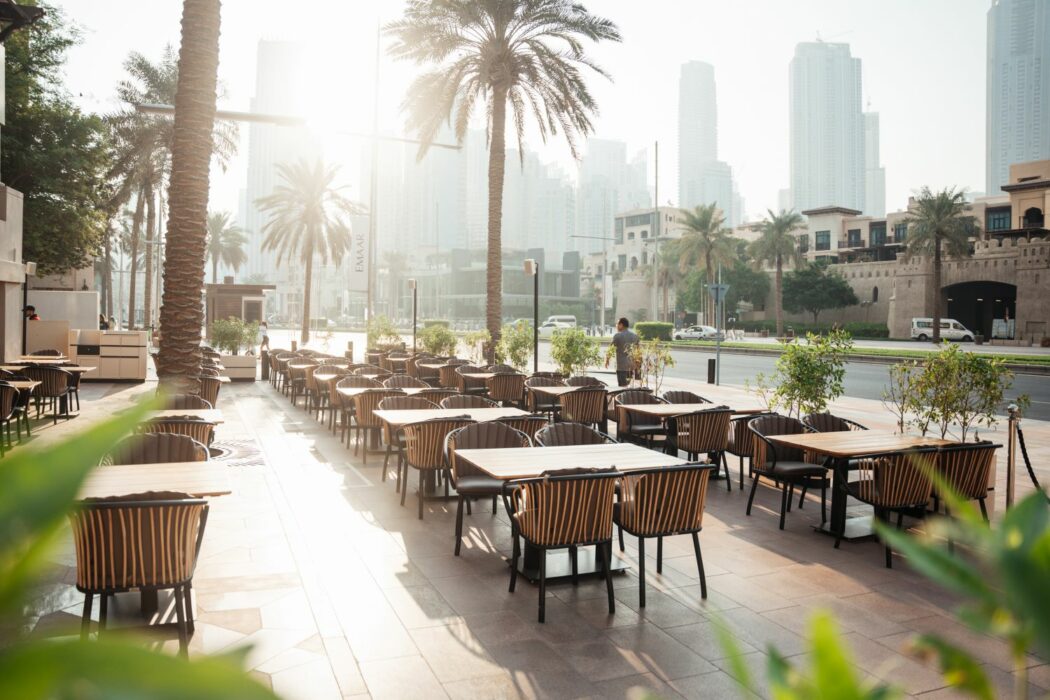 This bustling restaurant opened in 2007 and since then, it continues to be focused on pouring the love and care of ancestors into each of its dishes in a lively environment and a welcoming setting.
Mezza House honours the past, present, and future while gracefully bringing the authenticity and tradition of the Levant into our modern world.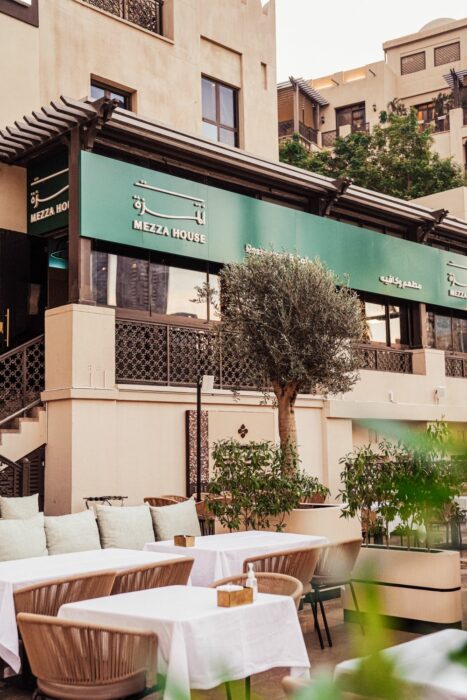 The venue's interior design is inspired by the topography of the Yarmouk River Valley, which lies on the border of Syria and Jordan, is known for its rich biodiversity and home to thousands of plant and animal species in Jordan.
The entire space has floral embellishments, especially a polished plaster wall relief of a black iris, a rare local flower chosen by the designers as a representation of tenacity. The subtle colour scheme is also inspired by the vegetation of the Valley; the rose tones are reminiscent of the Anatolian Orchid, which grows along the riverfront, and the greens are reminiscent of the Atlantic Pistachio tree.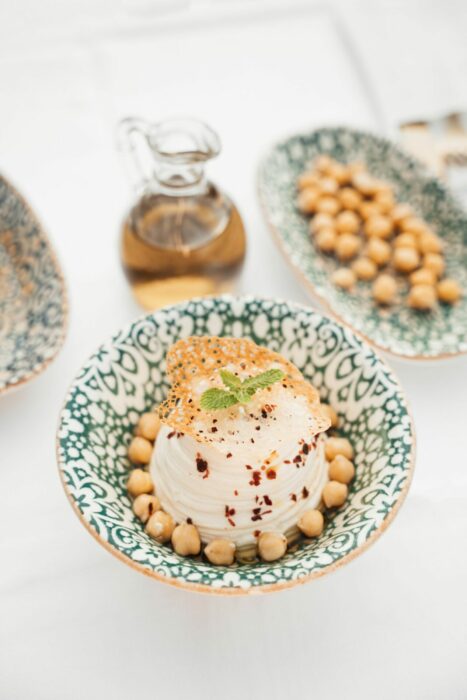 As soon as you enter Mezza House, you are enveloped in a warm and inviting atmosphere. The restaurant's succession of spaces changes as you go around the different several areas packed with custom booths, rattan dining furnishings, and terrazzo flooring. As the weather is now perfect to sit outdoors, my dining partner and I decided to sit on the new open-air terrace, Jnaynet Mezza, that overlooks the Burj Khalifa, Dubai Opera and the Boulevard.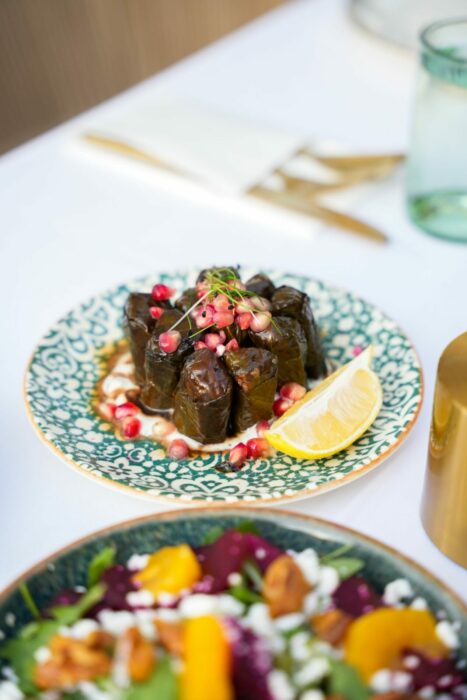 The menu features a wide variety of soups, salads, hot & cold mezze dishes, homemade savoury pastries & kibbeh, grilled meats, kebabs and tabkha.
Our waiter recommended us to order a soup, a salad and a couple of hot and cold mezze. We both started having the mushroom soup as the Freekeh wasn't available and Tabbouleh with pomegranate, which was refreshing and light.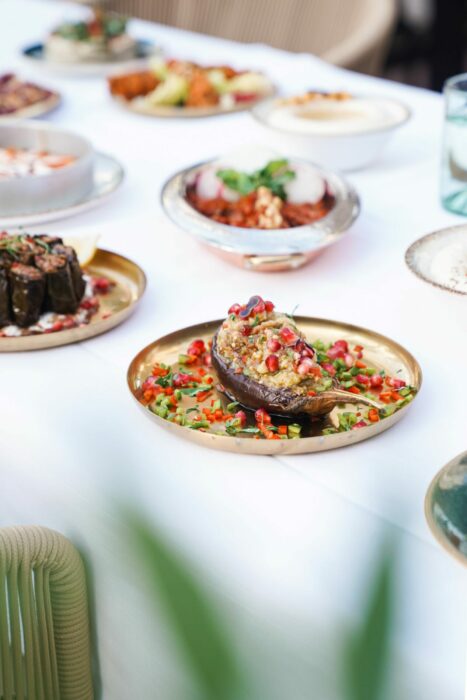 Shortly thereafter, we continued with a generous portion of yalanji (stu­ed vine leaves), the succulent fried mfraket veal & mushrooms, which was beautifully balanced a with a lot of flavour, and Palestinian makloubeh chicken, that was juicy and slightly crispy.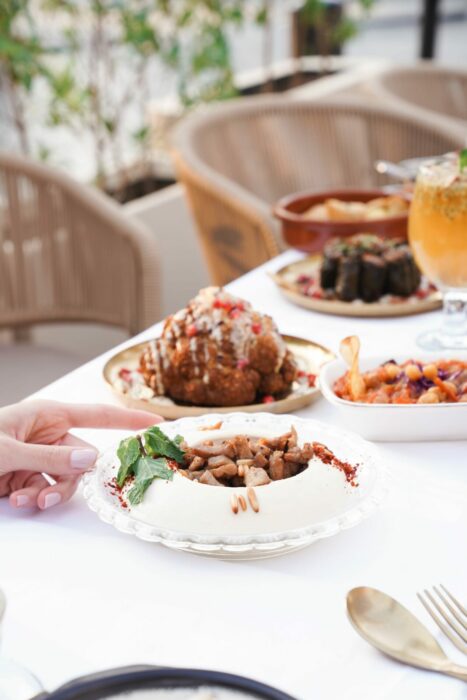 The deserts' menu has delectable treats such as mouhalabiy (a creamy Lebanese pudding topped with pistachio), saffron caramel and umm ali (a classic Middle Eastern bread pudding), but we were so full at this stage that we decided to skip desserts.
Showcasing delicious Levantine cuisine and breath-taking views, Mezza House is an ideal spot for a delectable dining affair with loved ones.
Yansoon 9, Shaik Muhammad bin Rashid Road. Open daily from 12pm-3am. Call +9715 0945 5597 and visit the website or Instagram