Top kids room trends for 2023
Explore the latest trends in children's room decor with insights from Nahel Selo, Creative Director at Sedar Global. From dreamy color schemes to cosmic adventures and enchanted forests, find out how to create a personalized, functional, and imaginative space that sparks your child's creativity.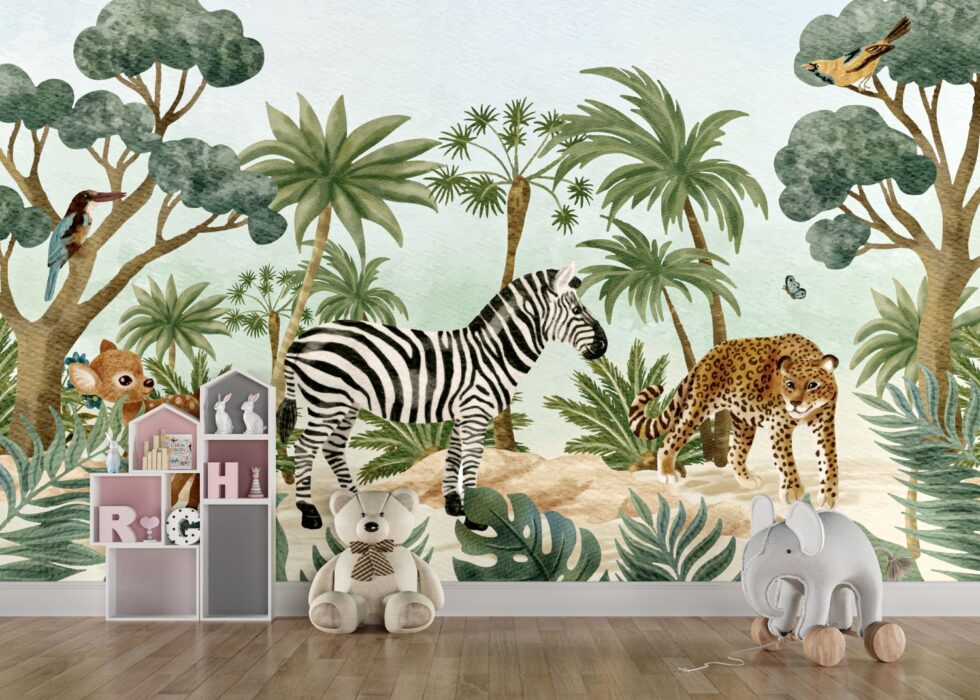 With kids heading back into a busy school routine, creating a magical space for your little one to play and learn is more important than ever. Decorating a kid's space should be a fun and joyful journey, however creating an area that can grow with your child can be tricky.
In need of some tips?
Check out these easy to implement enchanting and functional kids room trends from leading interior label Sedar Global. Famous for its unique made-to-fit and custom designed kids wallpaper and fabric collections – perfect for blinds, curtains pillow or upholstery, the brand has also launched a "print anything you like" service where you can get creative using any design or graphic to print onto blind or wallpapers. Whether you're starting from scratch or looking to revamp an existing space Creative Director Nahel Selo explores the latest trends to create a one-of-a-kind yet affordable kids' environment that's both relaxing for focus yet inspiring for the imagination.
Go Whimsical or Go Home

Say goodbye to neutrals and hello to brights, pastels and bold hues this year. Lavender and candy shades of pink are back in and the palette of choice to add a pop of uplifting colour to your kids space. These ethereal anti-neutral shades are perfect for creating a magical atmosphere especially when teamed with string lights or another trend that's popping up such as cloud-shaped designs, giving a relaxing and earthy ambience cloud shaped touches can be added as light pendants, wallpaper prints or pillow accessories giving a cosy element that can stand the test of time.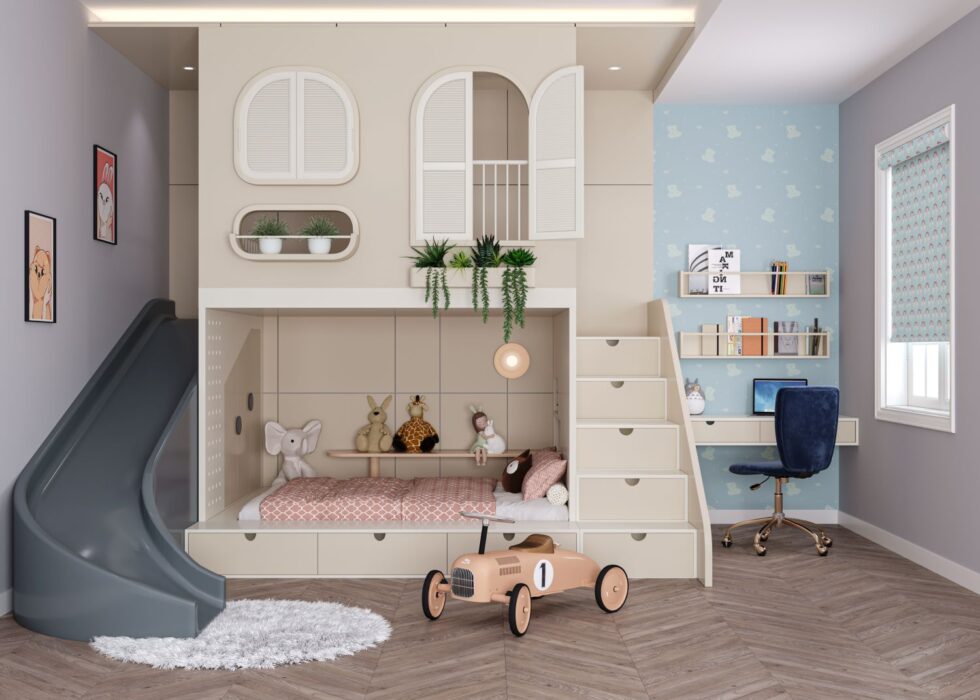 Nahel Selo Creative Director at Sedar adds "choice of colour palette can make or break the look and feel to your kids space – according to colour psychology, certain shades can affect children positively and lift their mood. Green, especially moss or sage shades, can help kids feel calm and focused, while bright colours like orange can boost the mood. If you are looking to create an energising and creativity inducing setting, opt for shades of yellow. Blues and subtle purples on the other hand, are considered soothing colours and the right shades of blue like turquoise can stimulate productivity."
Soar Into Space
Ignite your child's curiosity about the vast universe with a space exploration-themed kids room interior. Cosmic-inspired colours and starry wall murals or wallpapers featuring constellations and galaxies are trending for 2023 and are perfect for adding a sense of awe and wonder to the room. Selo adds "this is a look that can be as subtle or immersive as you wish and works well across a range of ages, here deeper blues and purples can be used and touches that can be minimised with age can be added and easily be reworked in the area from childhood through to teen hood. From adding an astronaut or space mural behind a headboard, lighting shaped like planets, to glow in the dark accents such as adding a chalkboard with glow in the dark chalks that can double up as an organiser panel for a playroom or study space".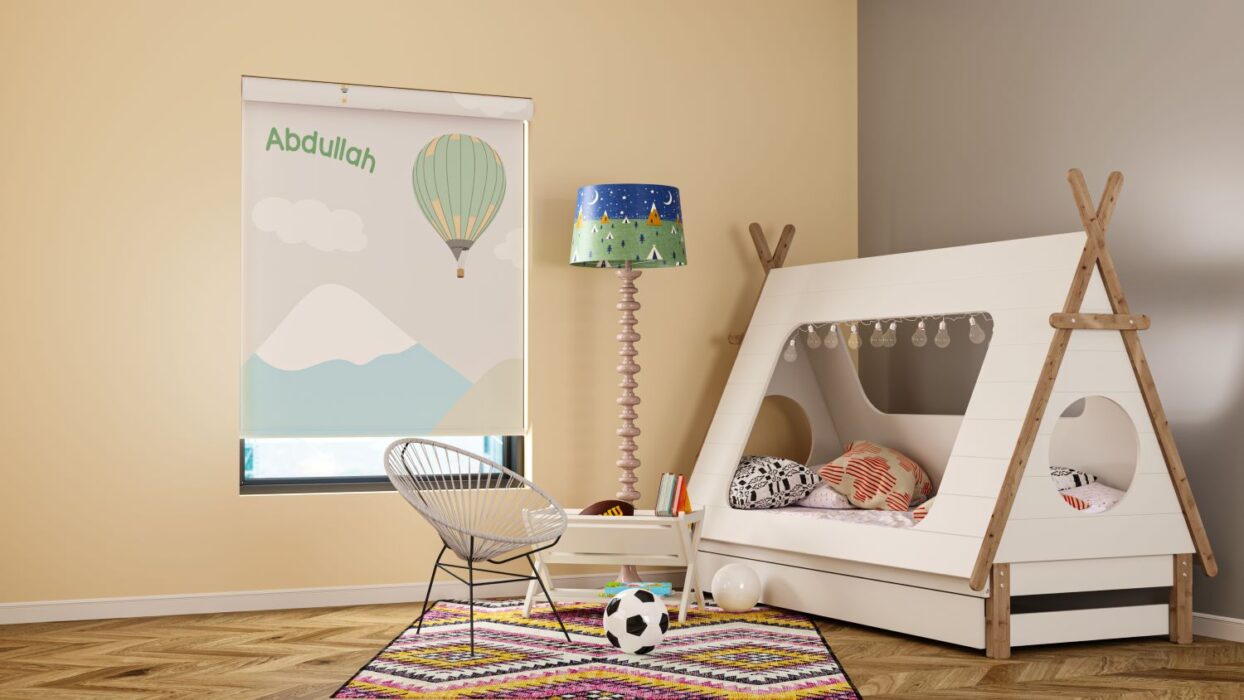 Enchanted Forest Feels
Immerse your child in the enchanting beauty of nature with magical forest-themed kids room interiors. Selo adds there are two ways to work this look that are trending from Scandi forest which is more stripped back and relies on playing with textures and contrasting fabrics within the space for a cosy feel over colourful, to all out charmed woodland through the use of nature-inspired elements and hues.
Tree murals depicting towering trees with woodland or jungle characters create a sense of depth and wonder. Leafy patterns on textiles and wallpapers further enhance the connection to nature, working the ongoing trend for interiors of bringing the outdoors in. Vibrant colours like greens and browns dominate this design, mimicking the hues of a vibrant forest creating a visually stimulating environment for your child. Selo adds "to ignite your child's imagination, incorporate their name into wallpaper prints, imaginary play areas reminiscent of treehouses where your child can escape into a world of make-believe. Adding climbing areas or small slide for adventure and creative play".
Make It Multifunctional
Maximise your kids space and make it work for them in every way. 2023 is all about making kids rooms multi-functional, turning them into a place for sleep, learning, play and homework as they get older. A top tip is to use floating shelves or create more floor space with a raised bed – bunk beds are back in and are great for creating an under space for a desk or storage where toys can be put away before study time.
Clever placement of furniture is key – if you have siblings sharing one space, use a large bookcase in the middle with each desk either side so each kid can work privately. Using bookcases as a divider is not only great for creating an individual area for quiet study but is also great for organisation. To ensure individuality personalise with accessories suited to each kids tastes either side, from rugs, through to pen holders and desk organisers.
Ensuring a flow of natural lighting and how it enters the space is hugely important; place your kids desk or craft area where it will receive the most light, but don't forget to install drapes and blinds on the windows for when the sunlight is too harsh.
Selo adds "If you are creating a homework space within a bedroom space ensure to use black out curtains or blinds so kids still get a good night's sleep and combine with a second layer of roman blinds in one of our themed prints or slatted blinds to manage lighting during the day".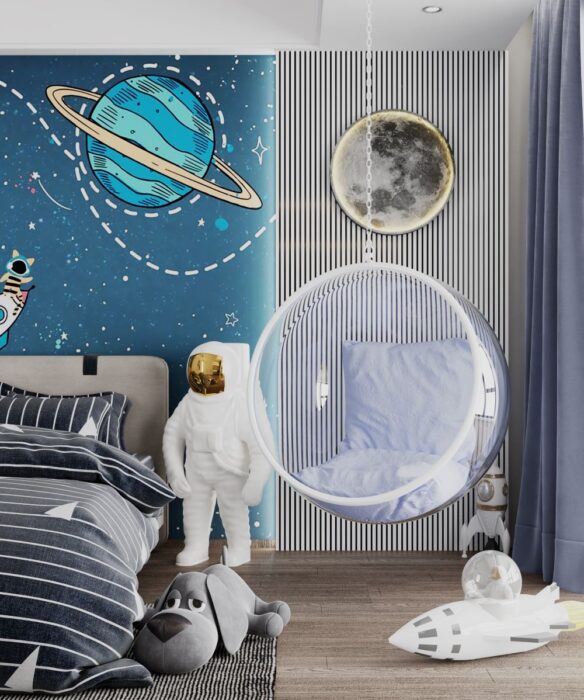 Fun Furniture
In 2023 we are seeing a trend toward unique and imaginative furniture that will inspire your child's creativity. Besides bunk beds in all shapes and forms making a comeback we are seeing tepees instead of armchairs and hanging chairs or oversized throw pillows for reading areas. Pick styles that can be updated as your child's style changes.
Nahel Selo suggests "a window seat is great design addition not only does it provide great storage but cover the seat with made-to-measure throw pillows and it can double up as a reading seat."
Let Your Little One Decorate It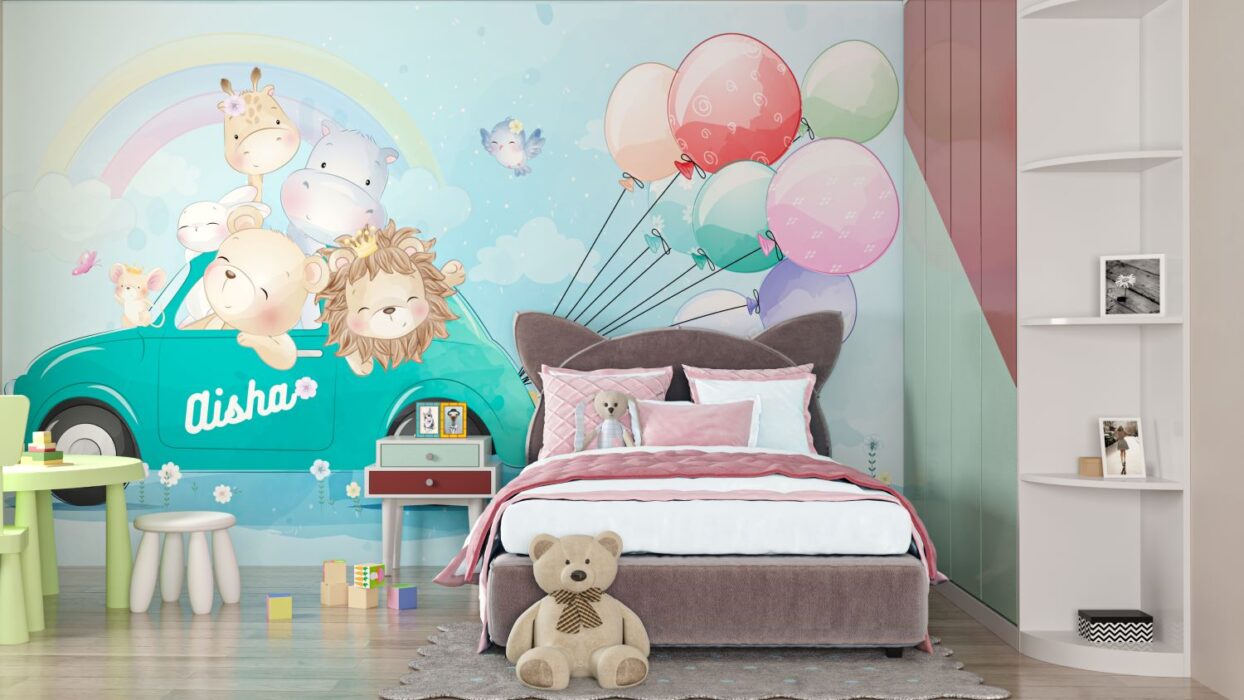 Last but not least let your little one add their own personal touch to the space and involve them in the process. You might not want to hand over the reins entirely but why not let them create drawings or collages that can be framed for a unique special touch. Or at Sedar we can print any photo, pattern design or character your kid chooses onto their fabric or wallpaper for the ultimate personalised space.
Sedar Global are running a "Back To School" offer – till 4th  September shoppers can enjoy 25% off custom printed blinds & wallpaper. Sedar will be offering free at home visits to take measurements for parents. For more information visit the website