Win Beautiful Brands Products bundle worth 324 AED!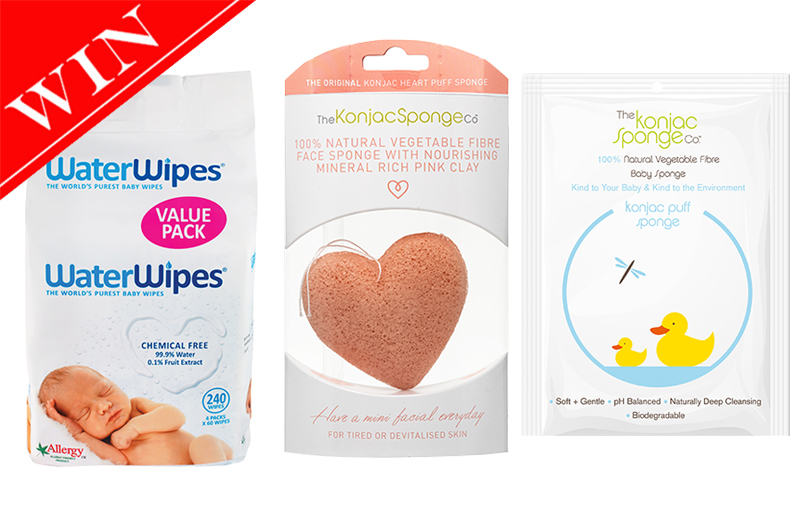 Water Wipes:
This Value pack contains 4 packets of 60 wipes. Sometimes you can be changing your beautiful babies nappy up to 10 times a day. Imagine then using chemical based wipes up to 70 times a week and locking them up with a nappy! There is no product that you would use that many times, even as an adult. Water Wipes are free of chemicals and are great for nappy rash and other sensitive skin conditions like eczema or psoriasis, Water Wipes don't irritate the skin and are also approved by Allergy UK and are safe to use from birth!
Konjac Pink Clay Heart Sponge:
Show you and your babies skin some love with this cute heart shaped Konjac pink heart sponge with added pink French clay and our Konjac Baby Pack that comes with a face and body sponge. The pure Konjac Sponge deeply cleanses, removes blackheads and gently exfoliates the skin. The unique net like structure of the vegetable fibres helps to stimulate blood flow and promote skin cell renewal.
Konjac Baby Sponge:
The Baby and Child Kit contains a face and body sponge. As well as a mesh drying bag, and a travel pouch too. Originally created for babies, this extra gentle Konjac Baby Face Sponge is perfect for cleansing babies delicate skin without the need for often damaging products. This size is ideal for newborns and premature babies, but also for older children at meal times and soothing inflamed cheeks from teething and weather. Brilliant for children prone to eczema. All children have delicate skin so a pollutant free natural cleansing product means no chemicals at wash time. Just add water for the ultimate in natural, chemical free skin care. For babies and children of all ages.The simplest way to naturally cleanse delicate skin with natural vegetable fibre purity.
THIS COMPETITION IS NOW CLOSED!
The winner is Salina Ballout