Babyshop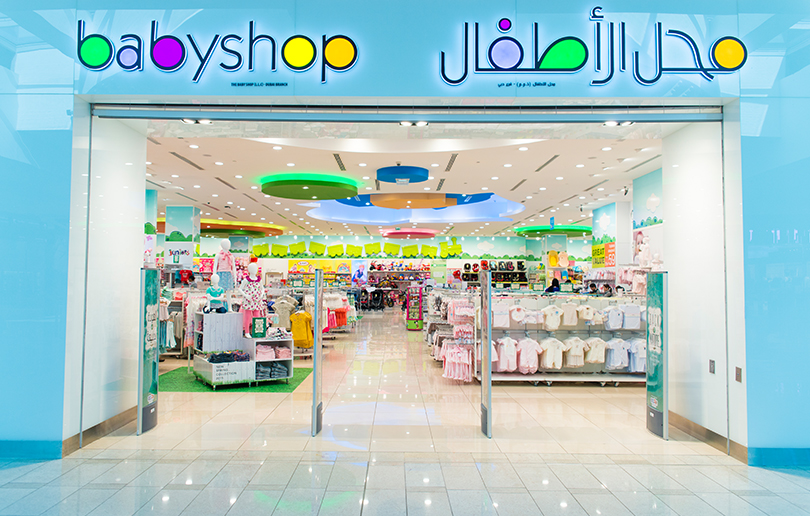 OUR STORY
Parents across the world, irrespective of their nationality or culture have one thing in common – they want only the very best for their children. This simple insight was the inspiration for Babyshop, a one-stop concept store for kids of all ages: from newborns and toddlers to tweens and teens up to the age of 16. Babyshop also offers a range of products for mothers and moms-to-be.We were established in 1973 in Bahrain and have since increased our regional presence to more than 210+ stores across the UAE, Oman, Qatar, KSA, Kuwait, Jordan, Pakistan, Egypt, Lebanon, Yemen, Libya, Sudan and Kenya. Our stores offer a wide range of products from fashion clothing, baby basics, toys and nursery furniture to home safety and travel accessories. Sourced from world-class brands, our products include Lee Cooper, Barbie, Disney, Graco, Ferrari, Maclaren, Maui and Sons, Fisher Price and Little Tikes. Our in-house brands, Juniors and Giggles also form a major part of our product mix.
CSR
We have consistently demonstrated our commitment to Corporate Social Responsibility through child safety awareness campaigns. Titled 'Child Safety First', this initiative began in 2005 based on a detailed understanding of the routines of infants, toddlers and kids, as well as what they come into contact with every day. By identifying potential high-risk situations, we were able to come up with a comprehensive and affordable collection of child safety equipment and solutions for use in cars and homes.We have achieved 10 years of pioneering safety. Our community programme is endorsed by the Road and Transports Authority of Dubai, the Health Authority of Abu Dhabi and Royal Oman Police to emphasise the importance of child safety when travelling. It also partners with parents to support them in proactively providing their children with a safe environment, in every sphere of their lifestyle. Click here to download our Child Safety First catalogue for 2014.
AWARDS
Our consistent, focused commitment, phenomenal growth and high quality standards won us Superbrand status in 2010 and 2011. Besides being an acknowledgment of our superior quality, widespread variety and excellent customer service, this award is also a reflection of our revolutionary approach to retailing. Babyshop has become a household name for kids and mums in our retail sector.
BABYSHOP KEY STATS
Babyshop was the first concept of the Landmark GroupRetails over 70,000 unique products every yearMore than 210 stores across the regionIn 2013, Babyshop celebrated its 40th year
VISION & MISSION
To be the number one children's store that provides exceptional value and a great shopping experience for moms and kids
VALUES
Passion for excellenceIntegrity in everything we doEmpowering people to strive and deliverAdapting to changing market and consumer needs