Giving birth: Natural cesareans now available in the UAE
The first natural cesarean has been performed in the UAE, at Danat Al Emarat Hospital for Women and Children in Abu Dhabi.
The procedure was performed on a German woman, who was unable to give birth naturally. Natural cesareans have only been performed in a handful of places worldwide, and this was the first time the procedure was performed in the UAE.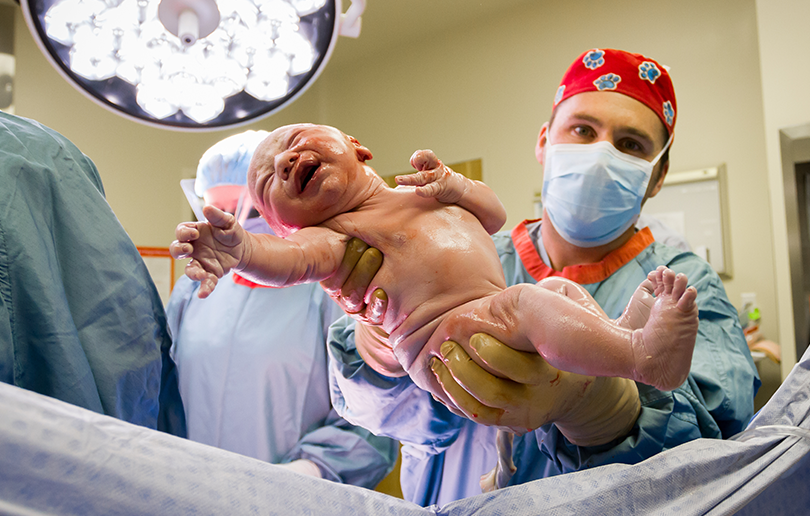 The baby, who was named Zoe, was born at 39 weeks and weighed 7.7 pounds. According to the hospital, her parents and the medical team nicknamed her "the natural one".
In a standard caesarean, the procedure is usually over within 10 minutes. The medical staff then take a further 30 minutes to stitch the incision closed. Most caesareans also involve having a divider, so that the woman does not have to see her stomach being cut open.
So what's the difference in a natural cesarean?
In a natural cesarean the process is much slower. After the incision has been made, the medical team lift the baby's head out. Following that, the team allow the newborn to push itself out the rest of the way, mimicking natural birth. Once out, the baby is then placed on the mother for immediate skin-to-skin contact. Unlike a traditional cesarean, the umbilical cord is not immediately cut. Instead, it is only cut once the pulsations have stopped, allowing for nutrition to continue flowing to the baby.
Along with the natural cesarean, the mother also chose to partake in vaginal canal swabbing. The controversial procedure is believed by some to help increase the good bacteria in babies born by C-section. Advocates believe that the process mimics the exposure to good bacteria gained by babies born naturally.
Dr. Gowri Ramanathan performed the natural cesarean in the Abu Dhabi-based hospital, she said  "At all times during this natural cesarean section, safety to the mother and baby was prioritised. It was indeed a very exciting moment for the parents; and for us as a team."
You may also be interested in this article on maternity rights in the UAE.