You and your little ones are invited to a Playdate with Blueair on 20th November!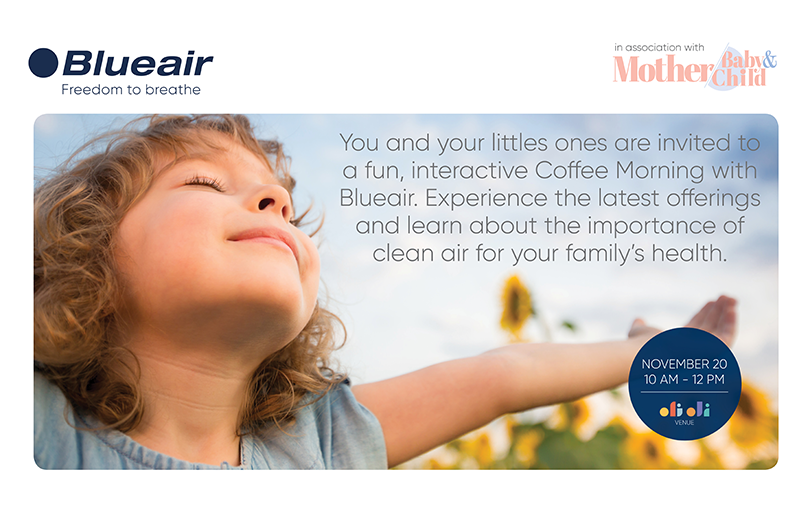 You and your little ones are invited to a Coffee morning with Blueair. Bring your children along to OliOli for a morning of fun, educational activities. While the children mingle with their new friends over the course of two hours*, you will be able to experience Blueair devices and discover why it's beneficial for your home. The morning is guaranteed to be an entertaining one for all ages, and as usual, there's finger food, coffee, and raffle draw prizes in store.
Date: Wednesday 20th November
Arrival Time: 10am, the event will finish at 12pm.
Location: OliOli, Al Quoz 1, Dubai (Next to Oasis Centre)
*Little one's will receive 2 hours complimentary access to OliOli on the day from the end of the event (approx 12pm)
There are just 50 spaces available for this event, so if you would like to join us, please fill out the form below.
You will be contacted via email on Thursday 14th November should you be successful in receiving a place to attend.
Registration is now closed!
Important Information
By filling out the registration form above you are expressing an interest to attend, if your registration has been accepted you will be contacted on the email you registered with one week before the event.
Your registration is for yourself only and if confirmed does not admit any additional adults.
There is no cost incurred to attend the event.
Our events are for Mothers who are pregnant or have children age 0-16years unless stated otherwise.
We do not confirm people on a 'first to register' basis.
If you wish to share the event registration on your social media platforms or with friends, you can, however this does not affect your registration status or increase your chance of being confirmed to attend.
We confirm people based on various factors and depending on the focus of the event this includes, but is not limited to;

The registration form should be competed in full, with correct information – any incomplete or falsified registrations are automatically removed.
If you have attended an event of ours in the last 12 months – to give everyone a fair chance to attend one of our events, we do give automatic priority to people who have not attended one of our events in the past year.
If you live within a certain proximity to the event and the services being promoted.
The age of your children – some services being promoted will only be suitable to a specific age group.
PARTNERS