The Bench Brunch at The Pavilion Downtown Dubai
Dubai is full of not-so-hidden gems. With the abundance of food and beverage outlets and a constantly-booming hospitality sector, residents and visitors almost never run out of options for leisure.
Downtown Dubai has been recently emerging as a vibrant, creative hub and the plethora of dining outlets across its entire walkway spoils everyone for choice, but new discoveries always make for beautiful mornings, and such was ours at The Pavilion's Bench Brunch.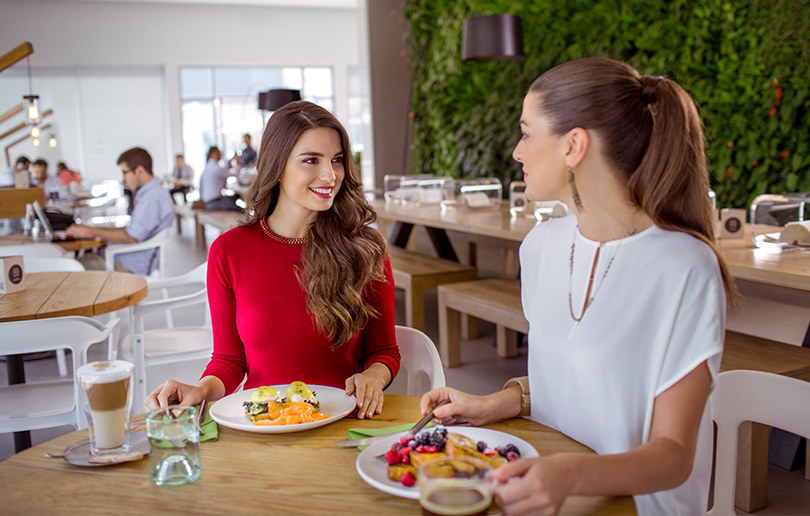 Located just down the boulevard from Vida Downtown Dubai, The Pavillion Downtown Dubai is among Downtown Dubai's creative hubs, and is renowned for its delicious spread of urban and organic food and variety of sweet and savoury treats.
Appropriately named in very close reference to the multitude of benches available for diners across large picnic tables, The Bench Brunch is the perfect way to spend your weekend catching up with family and friends; it is an everything-friendly venue with a giant plushie-filled kids' area and a library corner.
Enjoying lush greenery and the bright daylight that seeps through the ceiling-to-floor windows, you indulge in delicious, picture-perfect food. The appetiser spread includes breakfast favourites and, unlike many other open-buffet feasts, it offers you the chance to either grab your ingredients and make your own dish or snatch miniature versions of innovative sandwich creations.
Alongside these is the beverage set-up, with fresh juices, detox-boost shots and even glass bottles of milk. You can also grab some jar salads and Chinese-style noodle boxes while you are at it and sneak in a few whoopie pies and caramel macaroons before later revisiting the dessert section.
At your table, you receive the a la carte Main Course and Beverage options. Our choices were the Open Smoked salmon on Toast and Chicken Caesar Salad, and with the crazy-big portions and flavourful bursts of goodness, our hearts were broken over the fact that we could not pay the appetiser buffet yet another visit – we were simply stuffed.
Whether you choose to dine indoors or take your experience outside under the sun on the outdoor terrace and enjoy a stunning view of the Burj Khalifa, the kids' station will keep the little ones perfectly entertained while you enjoy some downtime!
Every Friday and Saturday, from 10.00 am to 3.00 pm at The Pavilion Downtown Dubai. Priced at only AED 115 DHS per person, a 50% discount applies to children between the ages of six to 12 years. Free for kids below six years of age