Make Back to Learning a breeze at The Galleria Al Maryah Island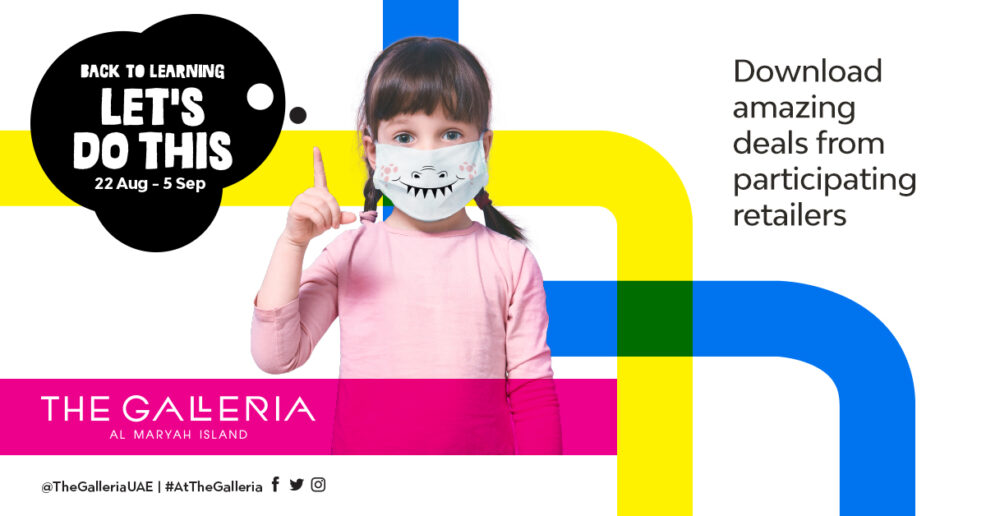 The Galleria Al Maryah Island is celebrating the upcoming school season with a 'Back to Learning' campaign from 22 August – 5 September, whether learning is in the classroom or at home.
Whether you're a parent, student or teacher you can take advantage of some great discounts and rewards whether you're shopping for essentials or dining with the family.
Shop for academic study guides and stationery at Books Kinokuniya, which also features the largest children's department in the Emirate! Get the latest electronics and tech gadgets to ensure you're ready for the classroom at Jumbo Electronics or Virgin Megastore.
Get Your FREE 'Back to Learning Kids' Pack'
From 22 August – 5 September, shoppers can be rewarded with a complimentary 'Back to Learning Kid's Pack' with every AED 500 spend at any store in the mall. This pack, which is suitable for kids 3-12 contains all the essentials they need to get ready for school, and includes a resuable mask, a resuable water bottle, hand santiser and a lunch box set.
Get your FREE 'Back to Learning Kid's Pack' while quantities last …all you need to do is show your valid receipts to Guest Services.
Learn more about the Kid's Pack here: https://thegalleria.ae/magazine/back-to-learning-kids-pack/
Scan the QR Code and Get Amazing Offers in our E-Booklet
Visit the mall, scan the QR Code throughout the mall and download our Back to Learning E-Booklet filled with exclusive offers & discounts from a wide range of stores including buy 1, get 1 free, gift with purchase or cashback offers.
Or, you can download the E-Booklet from the website: https://www.thegalleria.ae/media/documents/BLT_Offers.pdf
Rewards Card for Teachers!
The Galleria is showing its appreciation for all hard-working teachers by offering them an exclusive Rewards Card filled with value-added offers & deals from stores and dining outlets across the mall.
Teachers just need to present their teacher ID card to Guest Services to receive their digital Rewards Card.
In addition, several retailers are offering some great rewards for teachers:
– Vision Express & Rivoli Eyewear are offering free eye tests for teachers (must show teacher ID)
– Thrifty Car Retail – 60% off regular priced car rental rates
#LearningAtTheGalleria – Learning Beyond the Classroom with Online Masterclasses
The Galleria will be launching #LearningAtTheGalleria, a series of online masterclasses hosted by some of your favourite brands.
These will be featured @TheGalleriaUAE social media platforms during the campaign period
Topics and brands featured include:
– Pottery Barn Kids – How to set up the ideal study/work space at home
– Caboodle – Hand washing hygiene for kids
– Gusto DJ Musical Instruments – Introduction to music
– Books Kinokuniya – All about manga (a style of Japanese comics)
– Jumbo Electronics – Discover the latest tech gadgets to prepare for school
Get Back to Learning with The Galleria. More info here: www.thegalleria.ae/backtolearning