Review: Basko
Located at the front of the Opus Tower in Business Bay, this Mediterranean restaurant brings you back to the 1960s with a diverse menu influenced by French, Italian and Spanish cuisines, retro tunes and stylish colourful interiors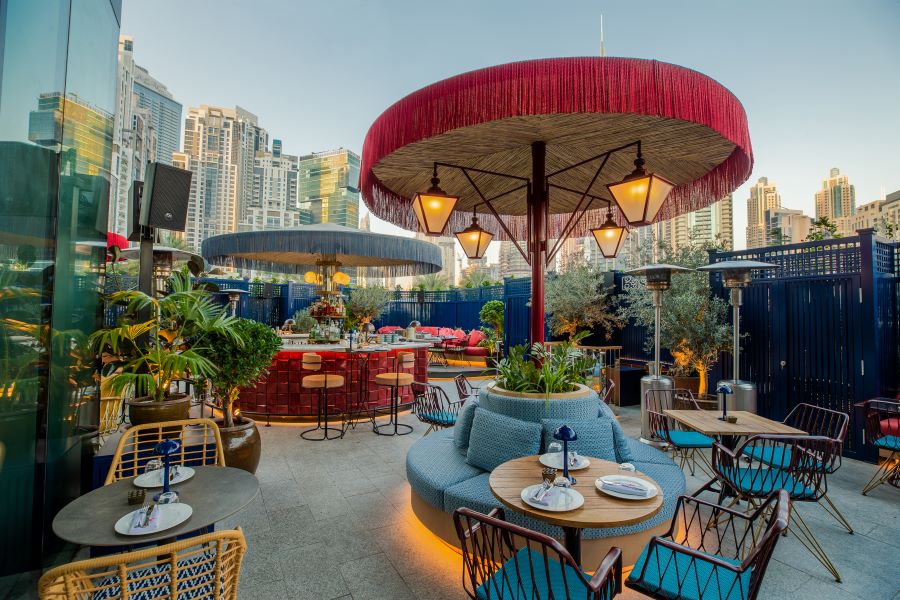 As soon as you come in, Basko's interior design really stands out with a deep-blue ribbed front, marble-top, gold trimmings and blue treillage framing the beverages on display. The venue's design was inspired by a teenager living in a traditional Mediterranean home in the 1960s and his journey when he travelled to other cities and discovered new aesthetics different to his roots. The walls are adorned with abstract paintings that complement the Mediterranean colours and vibes from the 60's era.
Bold colours can also be seen throughout the exterior design with sharp reds and deep blues. The terrace features huge chic umbrellas and boasts a partial view of Dubai's stunning skyline.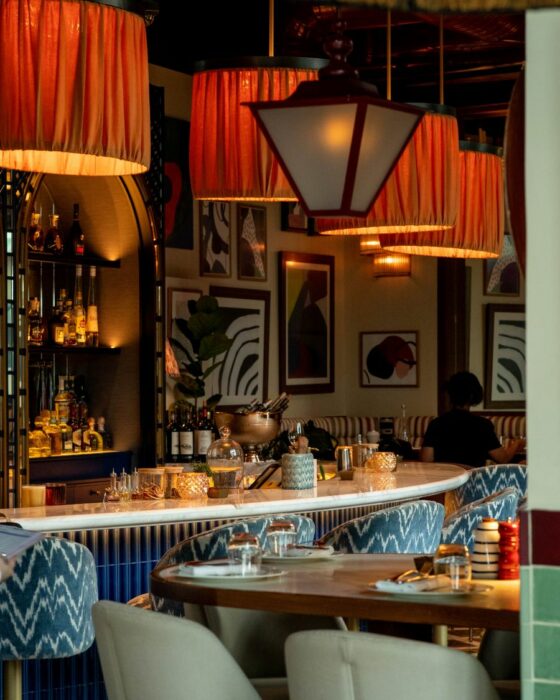 Award-winning head chef Youssef Akiki takes a classic approach with modern touches to Mediterranean cuisine. To start, my dining partner and I followed the recommendations of our bubbly and friendly Brazilian waitress and we chose sea bass ceviche with avocado, citrus and basil ice cream. As suggested by her, we tried first the basil ice cream, a flavour I was quite curious about as I have never had it before, and to my surprise, it was incredibly good and gave a very distinctive taste to this dish.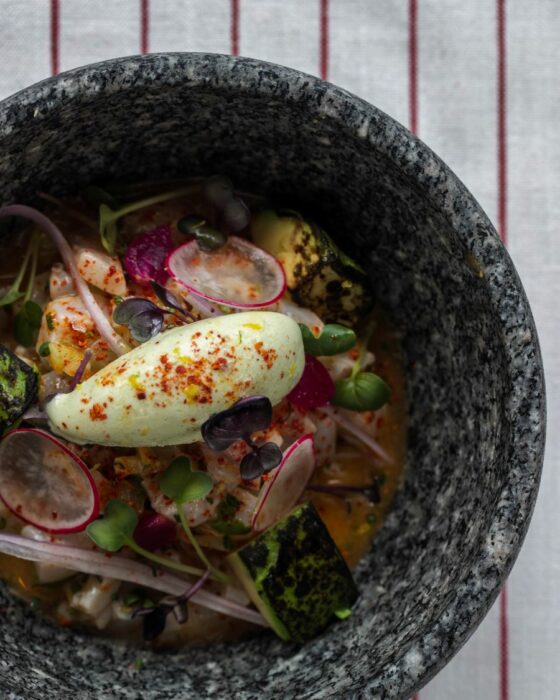 We continued with hand sliced Wagyu beef tartar, with bone marrow tartine, crispy bread, olive oil which was truly tender and delicious and crispy tuna tartines which were full of flavour.
Following the tapas concept and wanting to try more starters, we opted to have smoked brisket brioches, grilled calamari with piquillos citrus & tomato sauce and patatas bravas which were really crunchy and the sauce just had the right amount of spice.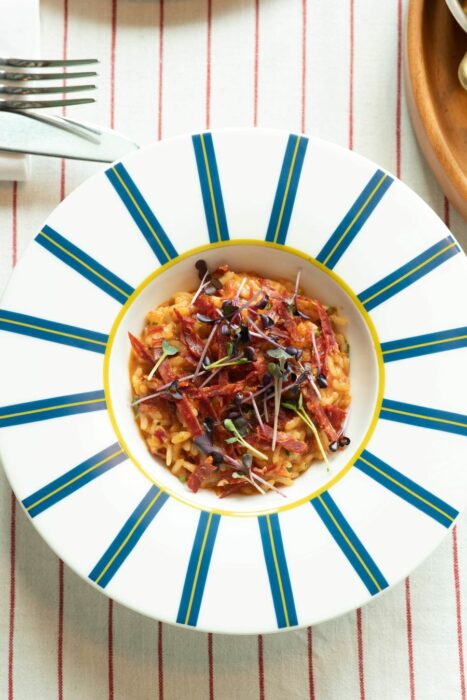 For mains, the menu features Mediterranean specialties such as the delightful grilled octopus with romesco sauce, brussels sprouts, the succulent saffron cecina spaghetti with Parmigiano Reggiano & beef Cecina and the divine duck thigh confit with veal bacon & potato grenaille.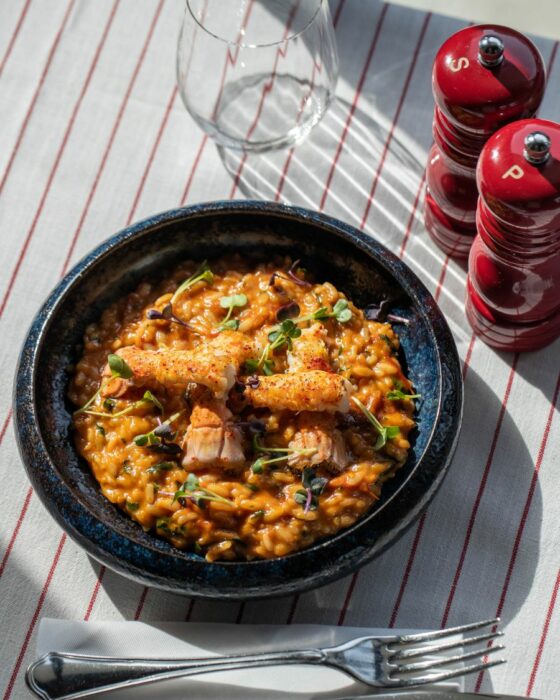 Although we were quite full by this stage, we made some room for dessert, and we tried the rose cookie (melted cooked cookie with rose ice cream) and it didn't disappoint. The cookie literally melt in our mouth and the rose ice cream added a rich aroma to the dessert.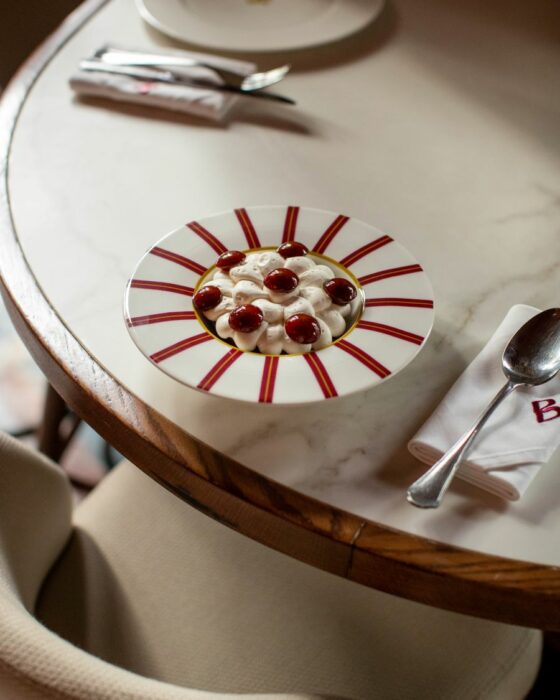 Not to be missed also is the stunning mirrored staircase that joins Basko with its bar Suave, that creates a mysterious and inviting atmosphere and adds a touch of exclusivity and luxury to the whole place.
From the stunning interior design to the attentive service, delicious food and fantastic vibe, Basko has won me all over and I will definitely keep coming back for more. Truly recommended.
Basko, The Opus by Zaha Hadid, Business Bay. Daily from 12pm-1am. Call +9714 582 4242 and visit the website or Instagram