Brilliant tips to keep kids active
Check out our top five tips to help your child stay active in new ways.
Studies tell us that kids need to stay active for their physical strength and fitness, their ability to concentrate and their mental health – all very important aspects of wellbeing! So, here are five interesting ways to keep your little one active while still having plenty of fun!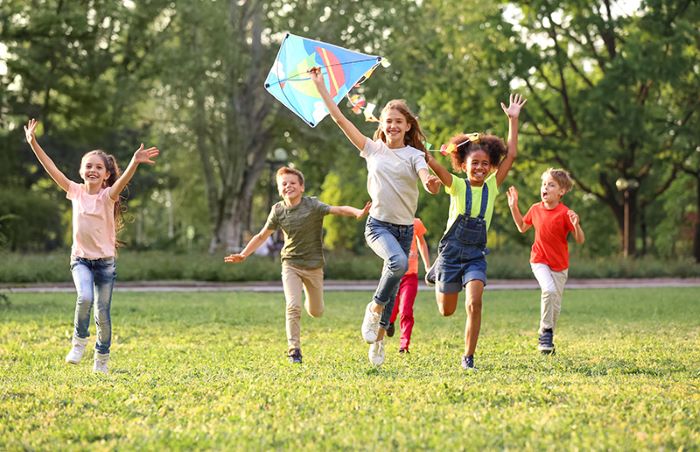 Water games
Playing with water in the heat is a great way to have fun, stay cool and keep active. Water guns and the garden hose can transform a normal afternoon into an exciting event for everyone to get involved. Get some old clothes on and share the equipment around. Make up plenty of water balloons too and prepare for a splash! whole distance if they want or they can stop to examine something that catches their attention along the way.
Research has shown significant improvements in general mental and physical wellbeing in children who walk a kilometre daily. It's also a wonderful opportunity to check in with your child and to ask them about their thoughts and feelings. They're more likely to answer openly and honestly when they are occupied with something like walking. Overall, this is a great activity that can help your child physically, emotionally and socially.
Dancing
One great, high-energy activity is dancing. It's an especially good option on hotter days where we have to stay inside for longer. There are all sorts of dances you can try – perhaps even have a competition for the most creative dance move. Nobody should take it too seriously, it's just about fun and having lots of laughs while keeping active. So turn up the volume and get ready for a family dance off!
Walk a kilometre
Walking one kilometre may not sound like the most interesting activity but it's about what you can do along the way. Your child can run, skip and dance the
Treasure hunt
If you want to inject some excitement into your child's playtime, arrange a treasure hunt. It doesn't matter what the treasure is but do put some effort into hiding the objects around your house or garden. You can draw a map or write some clues for your child to reach the treasure. There are great resources online for this. So hand them the map and sit back as they run around happily searching.
Sports day
If your child is competitive, consider holding a family sports day. There can be individual events, teams or events where your child competes against themselves, trying to beat their own record. They can race to the end of the garden, see how high they can jump, how many tumbles they can do, or anything else you can think of!
Keep it light-hearted and safe and have plenty of refreshments ready. Keeping active is vital for our children's health and it doesn't have to be a difficult or negative experience. So, get creative, have some fun with it and don't be afraid to join in!