Review: Le Méridien Maldives Resort & Spa, Thilamaafushi Island
Looking for a once-in-a-lifetime, cross-off-the-bucket-list, beyond magical and unforgettable family holiday? Then don't think twice and head straight to Le Méridien Maldives Resort & Spa with your children and loved ones!
The Maldives… who hasn't heard about them right? The kind of place you think of for honeymoons, romantic getaways and secret encounters… but actually there is much more to this country than just what a luxurious resort can offer.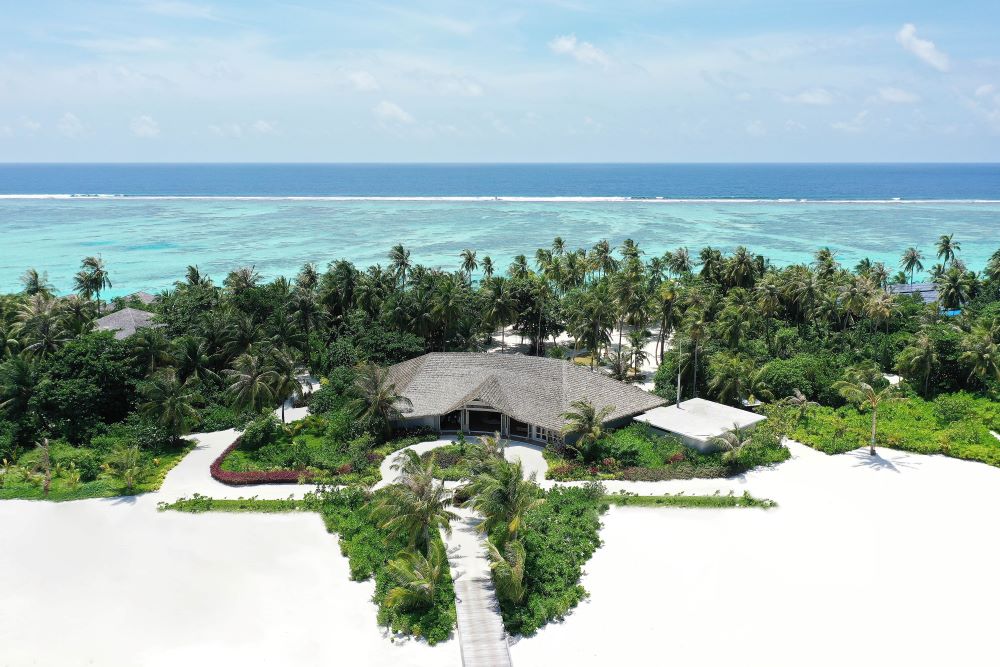 From the UAE there are several options now to fly direct. If you would rather spend your hard-earned dirhams when you are actually there, the best pocket-friendly option is Wizz Air. There is one flight a day that lands in the evening, which means if you need to take a seaplane to reach the resort you will have to spend one night in a hotel near Male airport, but don't get discouraged by this. As stunning and fancy the resorts in the islands are, I feel everyone should experience some time in the capital, embrace being in a city that is still blooming, walk around the narrow streets and realise that despite all the luxury in the islands, there is a city here which is ready to grow into the exclusive reputation enjoyed by them.
That's exactly what I did, and I am glad I got to discover a bit the capital of Maldives. After a short sleep in a hotel near the airport in Male, my travel partner and I wake up at 5.30 am to go back to the airport to take the seaplane that will take us to our resort, Le Méridien Resort & Spa Maldives. As I am not a morning person whatsoever, it's probably one of the few times I am looking forward to waking up early as it's my first time taking a seaplane and I am buzzing with excitement!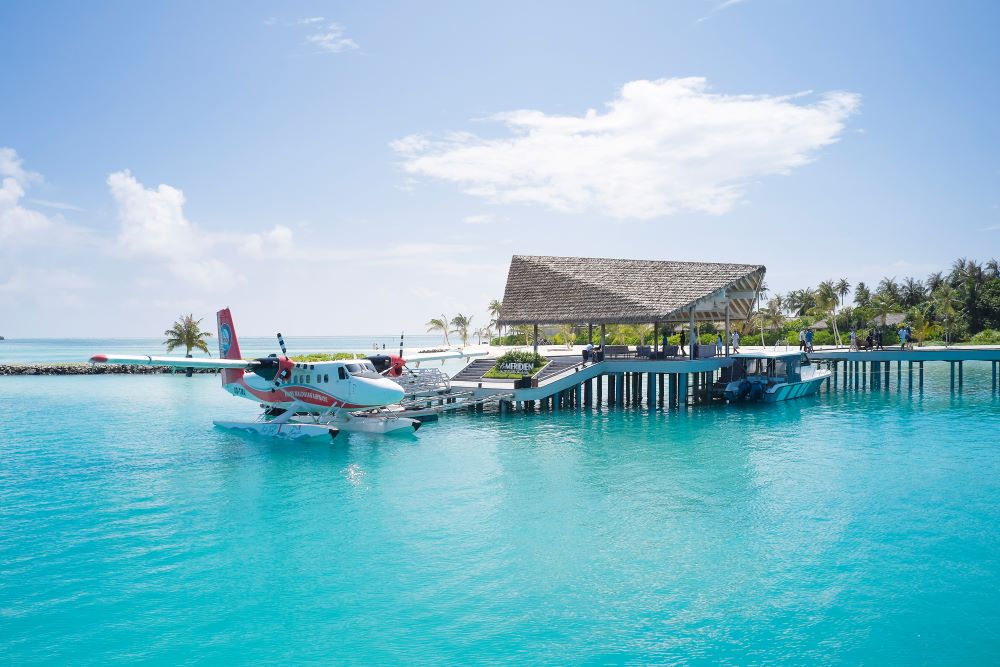 Despite how much I love travelling, I don't enjoy flying so much and turbulences make me uneasy, but I can't wait to feel how is the experience on a seaplane. As we take off on the water and reach the sky, I look up to the clouds on both sides of the seaplane and I feel I have entered a dream. Looking down you can see the tiny islands surrounded by the most stunning turquoise water and, as it starts raining a bit and a rainbow comes up, I honestly feel a magical sensation that truly gives me goosebumps of how lucky and grateful I feel to have experienced something like this.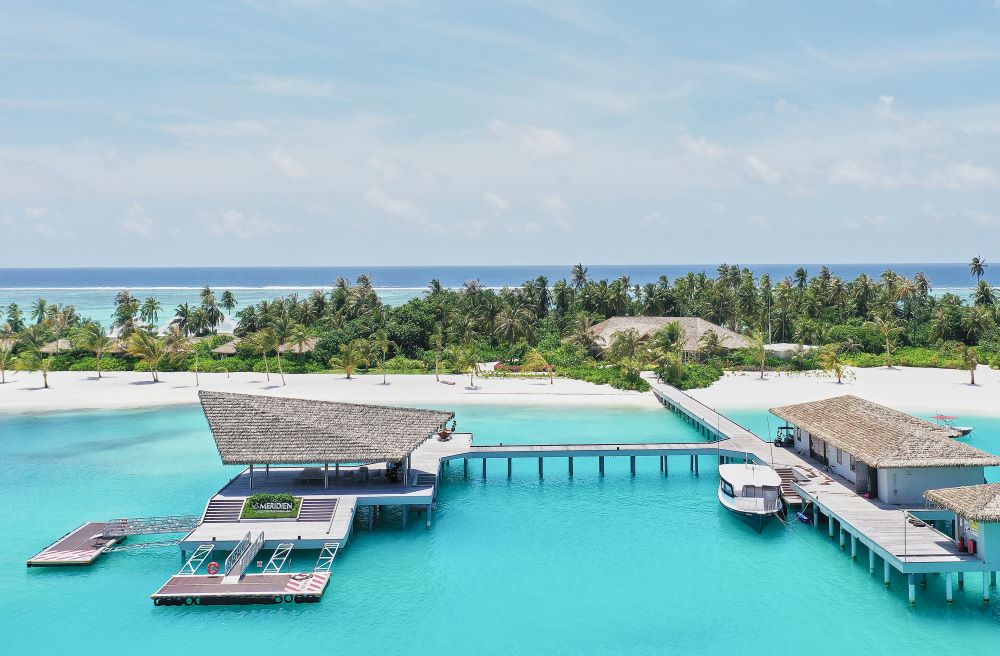 The seaplane is just a short 35-minute ride, so before I know it, we land and are warmly greeted by the hostess. Secluded in the south-eastern pocket of Lhaviyani Atoll, Le Méridien Resort & Spa Maldives is located in Thilamaafushi island, a natural island defined as "island surrounded by vast lagoon" in Dhivehi, the local parlance of the Maldives.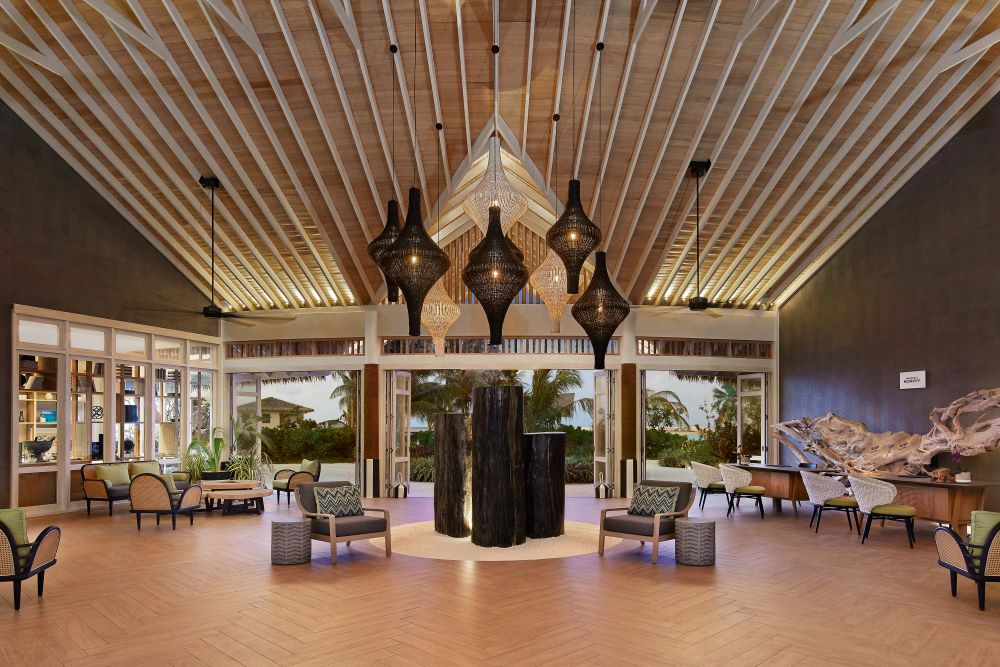 The resort's design is inspired by the formation of the Maldives archipelago, its unique topography, surrounded by reefs and vibrant marine life. This blueprint is fused with Le Méridien's mid-century and Bauhaus philosophies to present a concept that unites art, renewable materials and industrial design.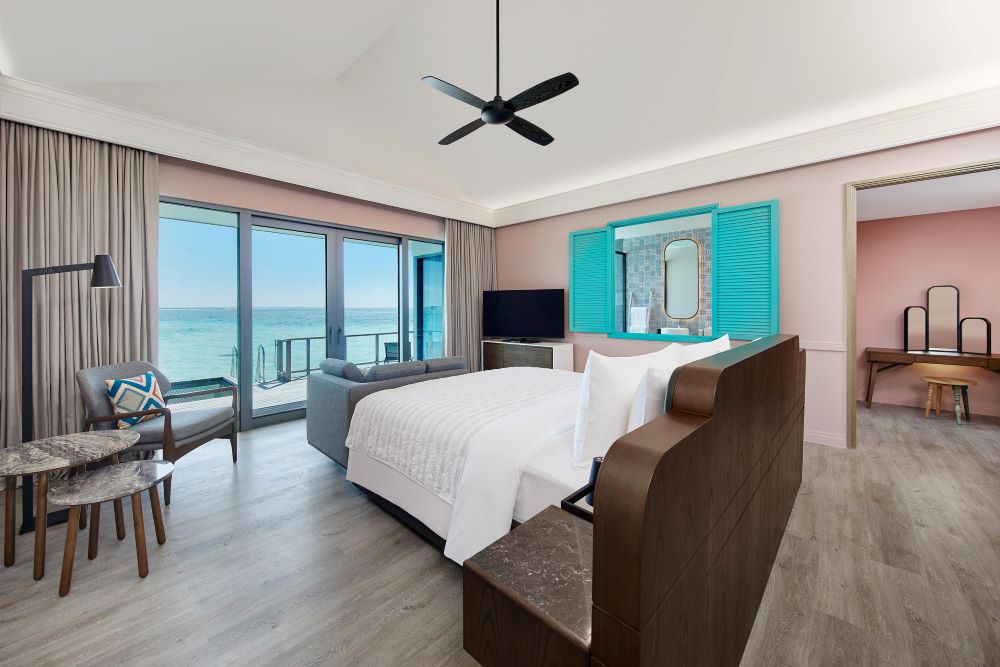 We soon reach the reception, and we are offered a refreshing juice while we do the check-in, which is a quick and smooth process. Shortly after, we are taken to our lagoon villa with a buggy. As soon as we enter, I am beyond impressed.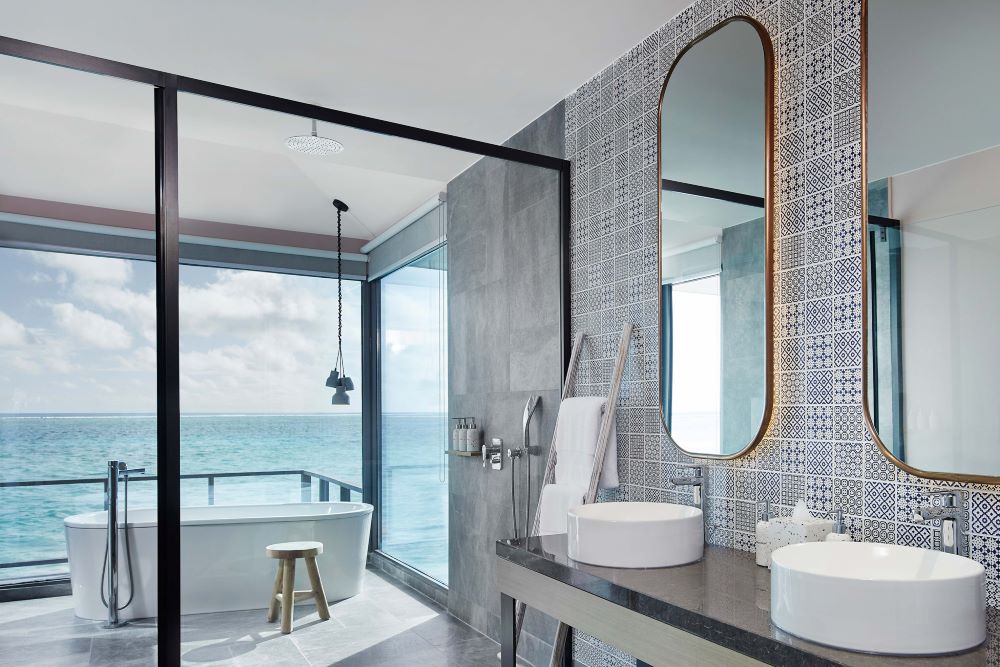 The villa is located on its own stretch of beach and surrounded by tropical gardens with stunning views across the ocean. As I walk around it, I am instantly captivated by the infinity hues of blue from the overwater hammock, the crystal-clear waters below and the ocean facing bathroom that boasts a freestanding bath.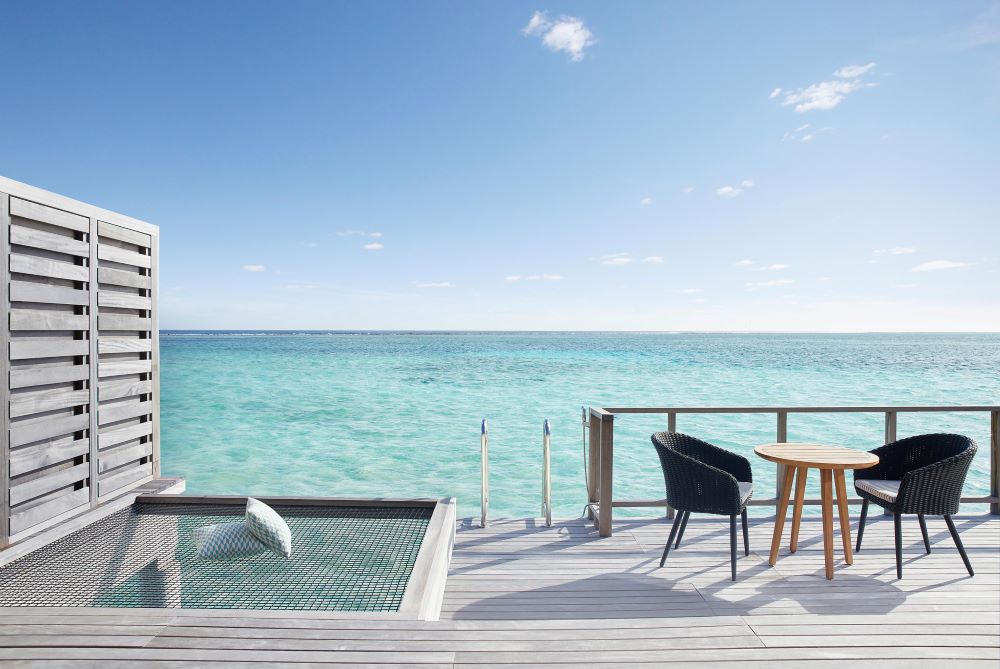 Day 1
Our first stop on the resort is lunch at Riviera, a beachside bar and restaurant with an oceanfront infinity pool and private beach that offers Mediterranean specialties. As my travel partner and I love seafood, we decide to try a couple of small plates to share: French pernod flamed oysters with spinach and caviar, gambas al ajillo (Armagnac splashed shrimps with garlic flakes, sweet paprika and cayenne pepper), and pulpo gallego (garlic and paprika marinated grilled octopus, fennel and lemon wedges). We really liked all of them, but our favourite were the oysters as they were truly flavourful and juicy.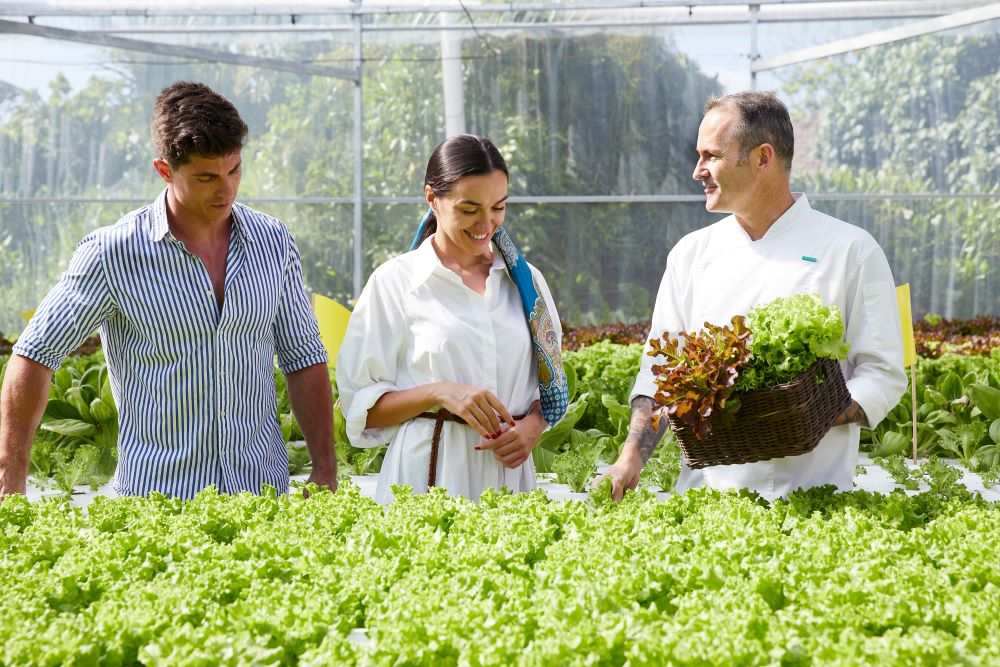 After lunch, we head off to discover the Green House, the largest hydroponic garden in the Maldives, where we are shown all the different varieties of vegetables that grow here and explained the importance of hydroponic farming practices in an island formed nation, the benefits of compositing and how hydroponic farming can produce fresh and healthy food for us and the planet. The Greenhouse is a blueprint for the resort's food menus and provides a physical link between the plate and the Executive Chef's mindset – one not just occupied with creating beautiful food, but with the origins of the ingredients used.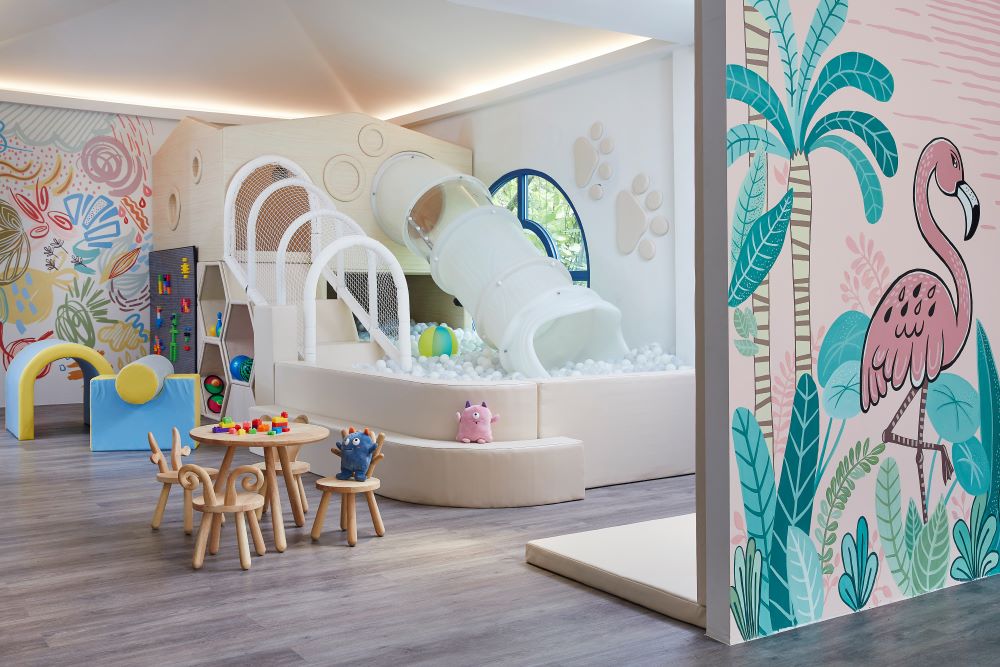 After the Green House, we get a tour to see the main beach & water villas plus the Kids' Hub. The Thilamaafushi villa is nestled within a discreet island alcove and perfect for families in search of a secluded hideaway. Swaying palm trees provide privacy around the villa, whilst fresh ocean breezes flow through the villa's three bedrooms, three bathrooms and alfresco living spaces.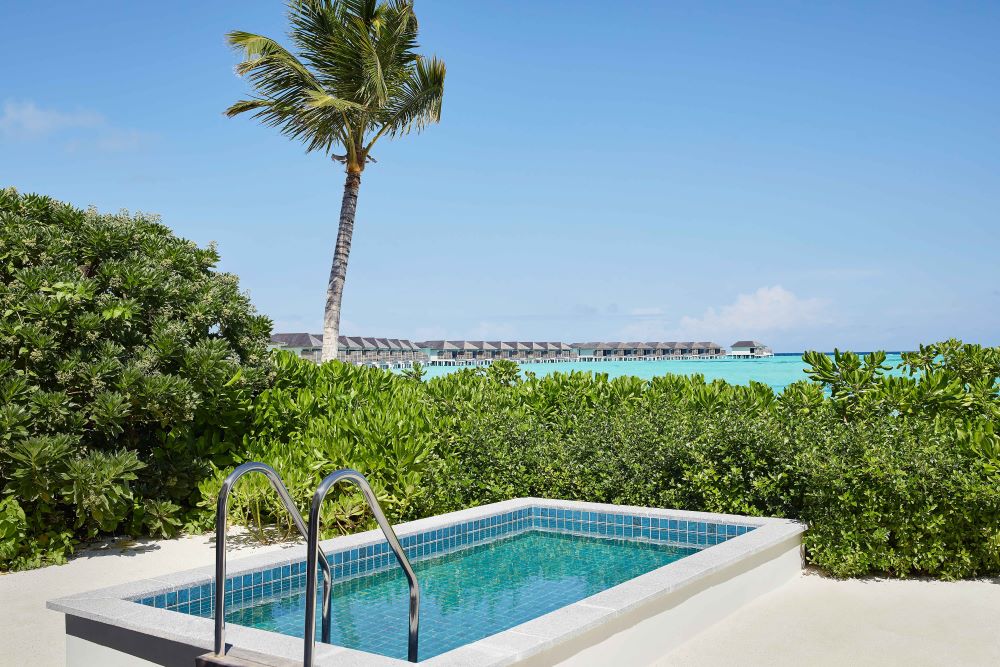 The resort also offers two-bedroom overwater villas with a pool, where the ocean is always in view from the two sundecks; one complete with an infinity pool and the other featuring a hammock suspended overwater. Designed especially for families, the villa features two king beds, an interior interconnecting door, two ocean facing bathrooms and a well-appointed living room.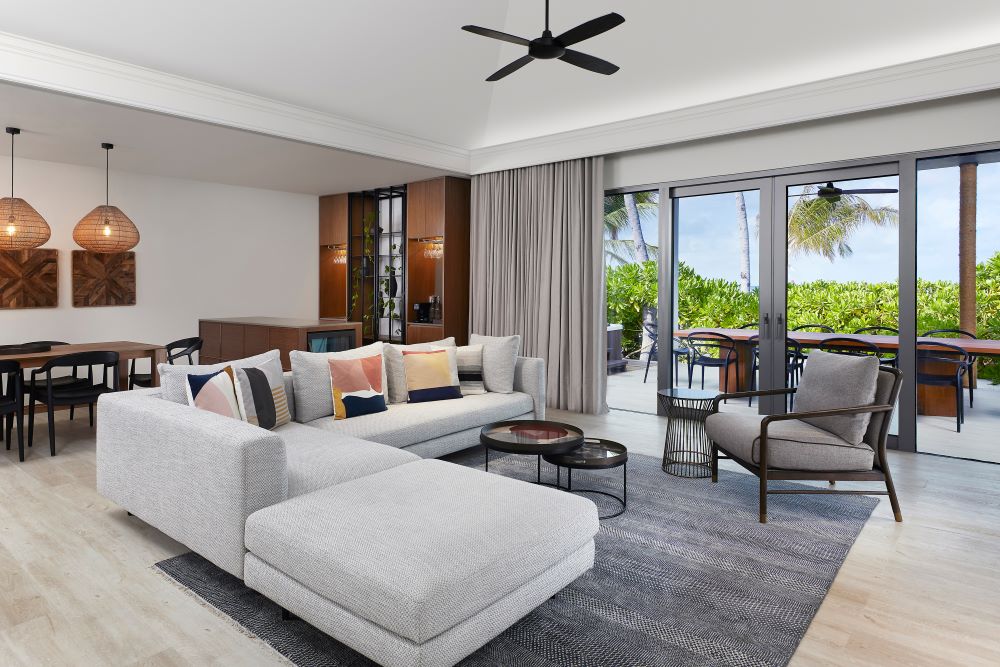 The Kids' Hub is a creative space that teaches children about the Atoll's abundant flora and fauna that thrives on land and sea. Through an edutaining program that nurtures discovery and conservation, the Kids' Hub aims to engage through a thoughtfully curated program that invites aspiring inventors, junior culinarians and little culture-seekers into an immersive world where toying, tinkering and free-play are celebrated.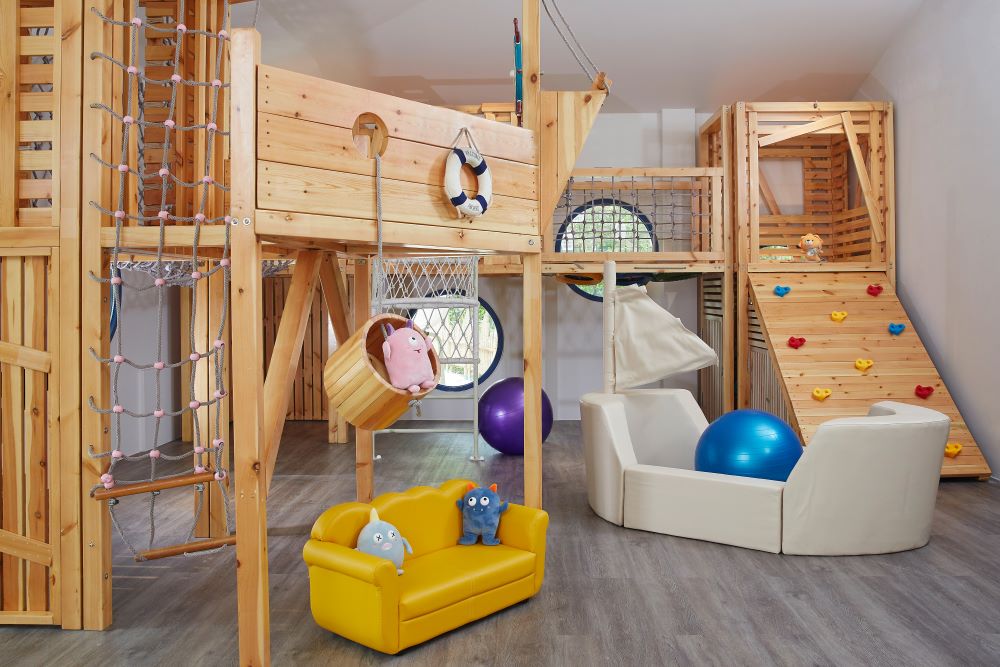 The Kids 'Hub offers a weekly fun-filled schedule with outdoor activities allowing children to experience the authentic Maldivian spirit: marine biology, aqua adventures, Maldivian dance lessons, Bodu Beru lessons, gardening, shell collecting, palm leaf art, coconut bowling, treasure hunt, nature walk, beach fun games and sand sculptures making.
By the time we are finished it's nearly sunset, so we decide to come back to our villa to have a swim and enjoy the absolutely breath-taking views. As the sun sets, we get ready for dinner at Velaa Bar + Grill, where we savour fresh seafood, meats and woodfired delicacies. The chic venue also offers a kids' menu with delicious dishes that the little ones will love such as air-fried chicken tender, turkey BLT wraps and vegetable quinoa pizza.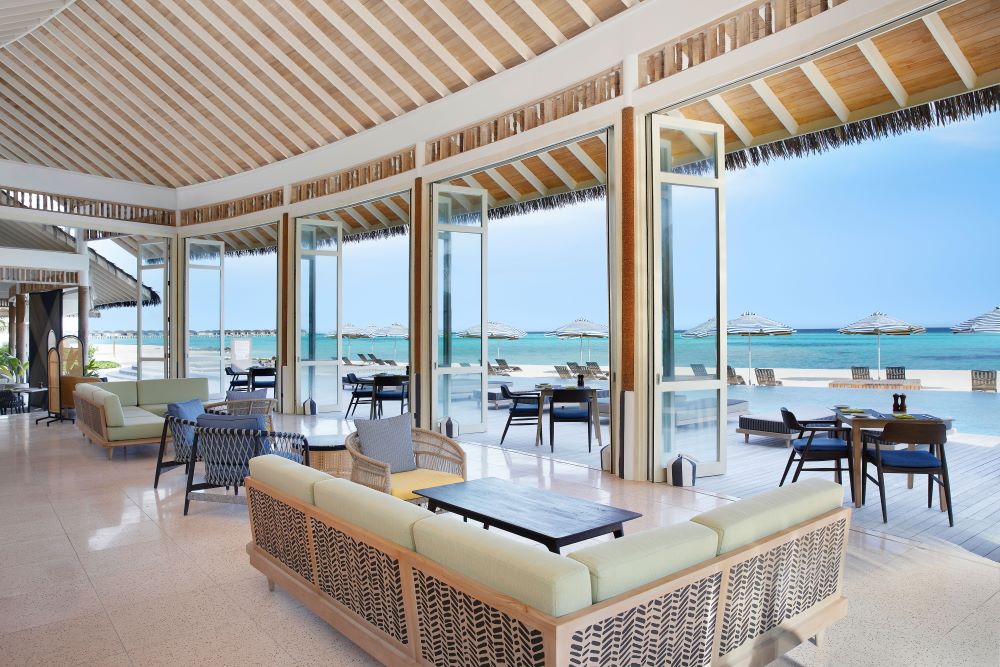 Day 2
After a long sleep in our incredible comfy bed, we go for breakfast at Turquoise, an eclectic restaurant that features international dishes, freshly prepared juices, seasonal fruits and brewed Illy coffee. For kids, there is a special breakfast menu available 24 hours that includes delightful dishes such as Belgium waffles, pancakes and eggs your way.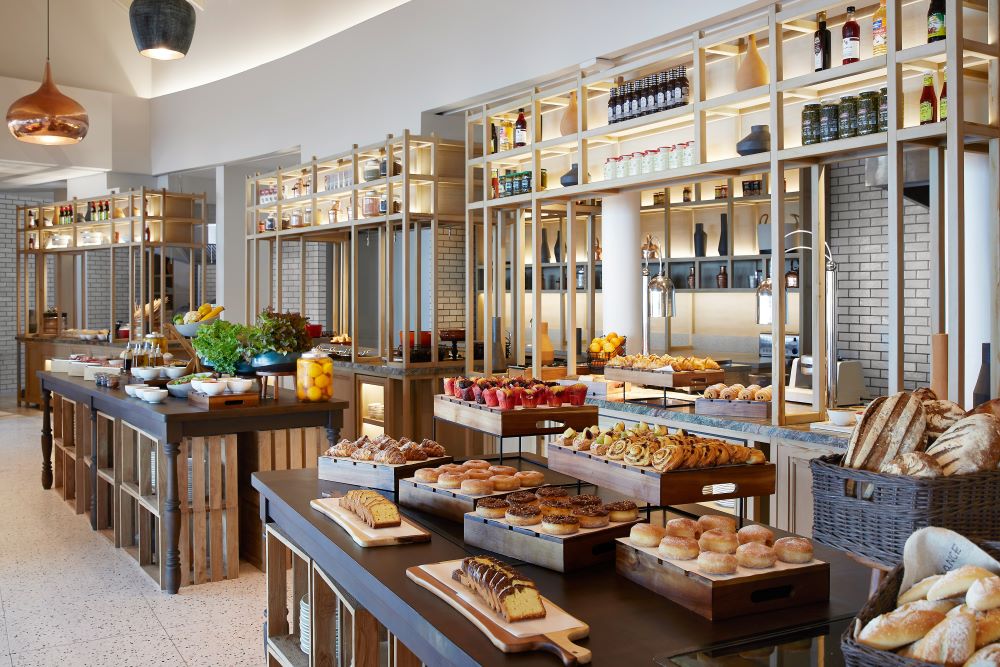 Our first activity is supposed to be snorkelling at the House Reef, where you can observe the incredible beauty of the Indian Ocean and the natural habitat of hundreds of tropical marine life, but we opt to do kayaking instead as my travel partner and I aren't huge fans of being underwater. The resort offers a complimentary activity every day.
Kayaking really opens up our appetite so we head to Riviera for lunch again hoping to catch some more sunshine. Unfortunately, it starts raining heavily for several hours which means the sunset dolphin cruise we were supposed to do gets cancelled, but as the weather is warm and it doesn't rain often in Dubai, I actually very much enjoy being in the rain on the beach. For animal lovers, the sunset dolphin cruise is a must though, where you will have a marine biologist on board to educate you about these intelligent mammals.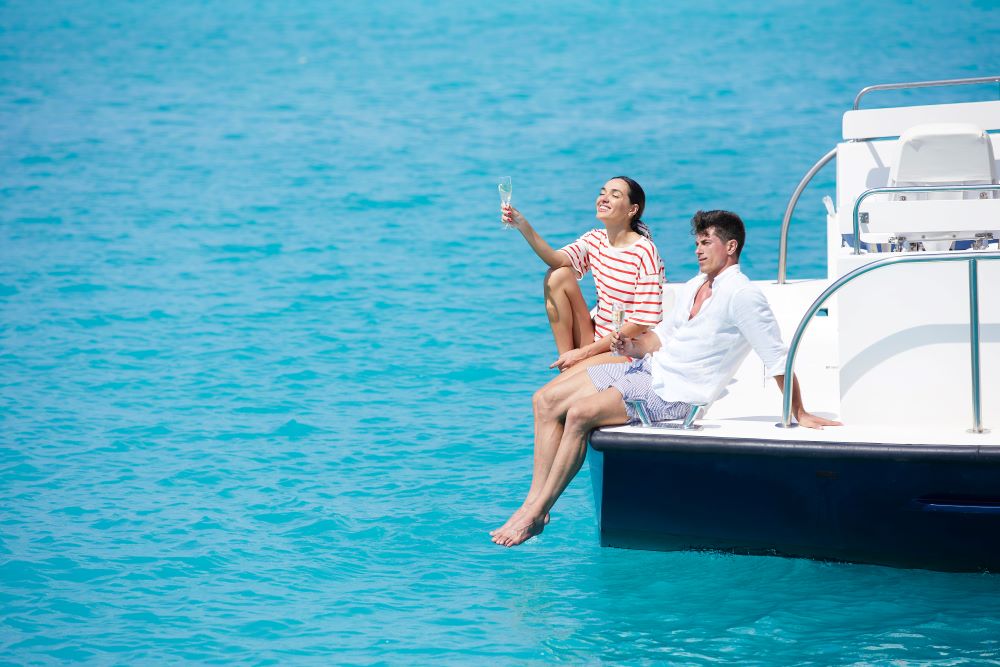 Another activity truly enjoyable that we didn't get the chance to experience because of the heavy rain is 'twilight cinema', set against the backdrop of the night sky, you can choose from a selection of classic and contemporary movies to watch on a big screen.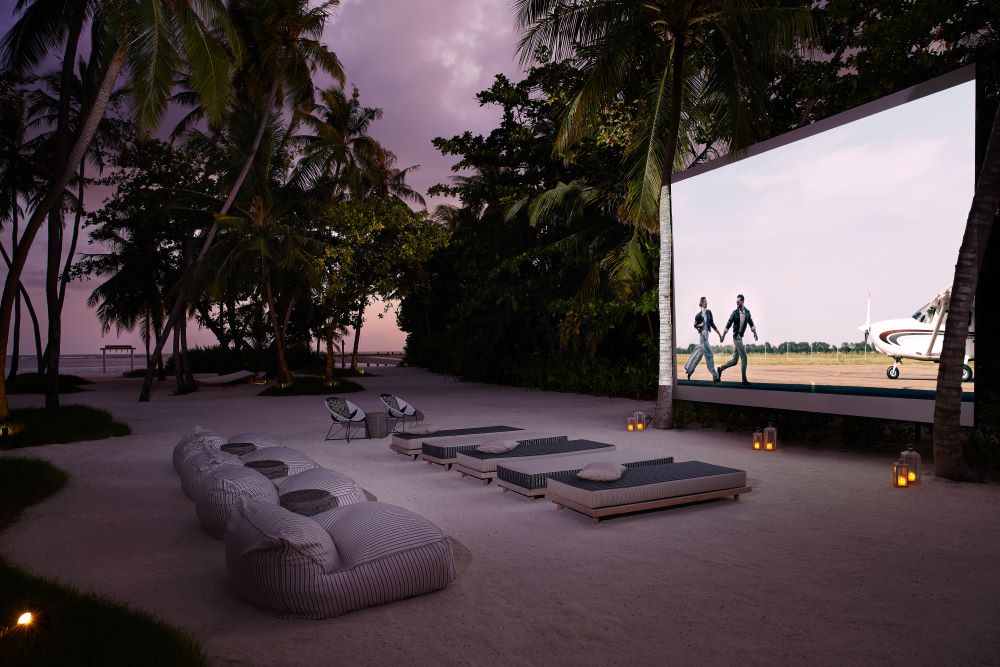 Since the rain doesn't seem to want to stop, we go back to our villa for a quick rest and we get ready for a beach barbeque at Turquoise restaurant, where we enjoy a sumptuous selection of grilled seafood, fish and meat.
Day 3
I wake up to the light sound of the sea waves and I go to the terrace to have a quick swim before breakfast. I am happy to see the weather has improved and seems the sun will come out soon. After a delightful breakfast at Turquoise, we are taken to Explore Spa, a tranquil sanctuary to refresh, revive and let go to the magnetic energy of the Indian Ocean lapping underneath.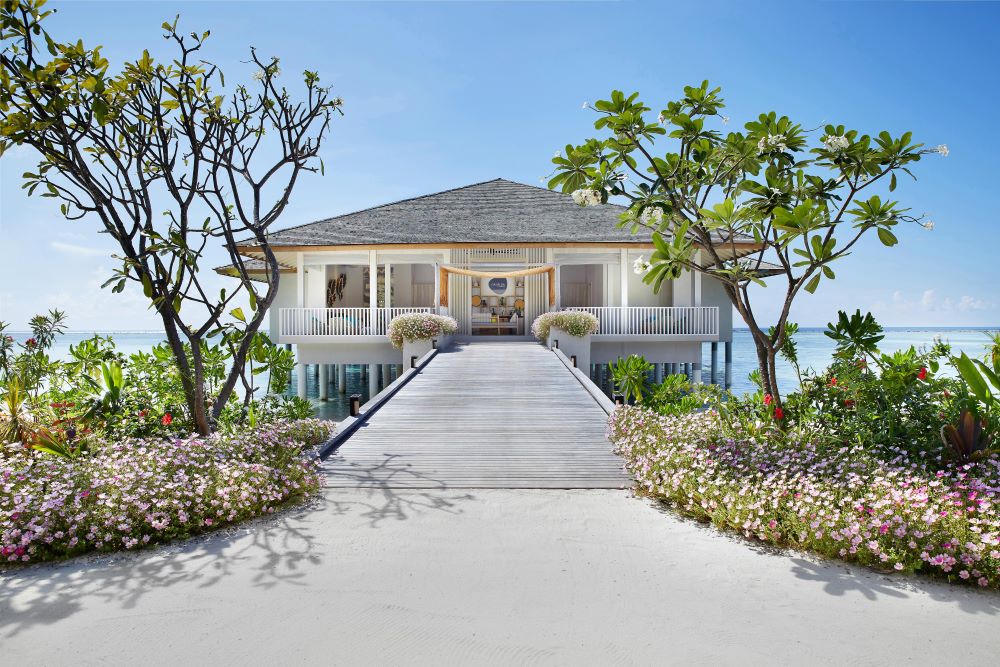 Interior spaces have been created to foster calmness and relaxation, while the wide variety of treatments have been designed to stimulate, engage and invigorate the senses. Children from 5 to 12 years old can also enjoy bespoke treatments such as 'magic massage', 'fabulous facial', 'twinkle toes' and 'mani makeover'.
After a thorough consultation, our therapist recommends we try the Balinese massage, which is a combination of ancient therapeutic techniques that work deeply to relieve muscles and joint pain, break down knotted tissue, and promote harmony between the body and mind. Balinese massage pushes along each individual massage to give thorough stimulation to the soft tissues.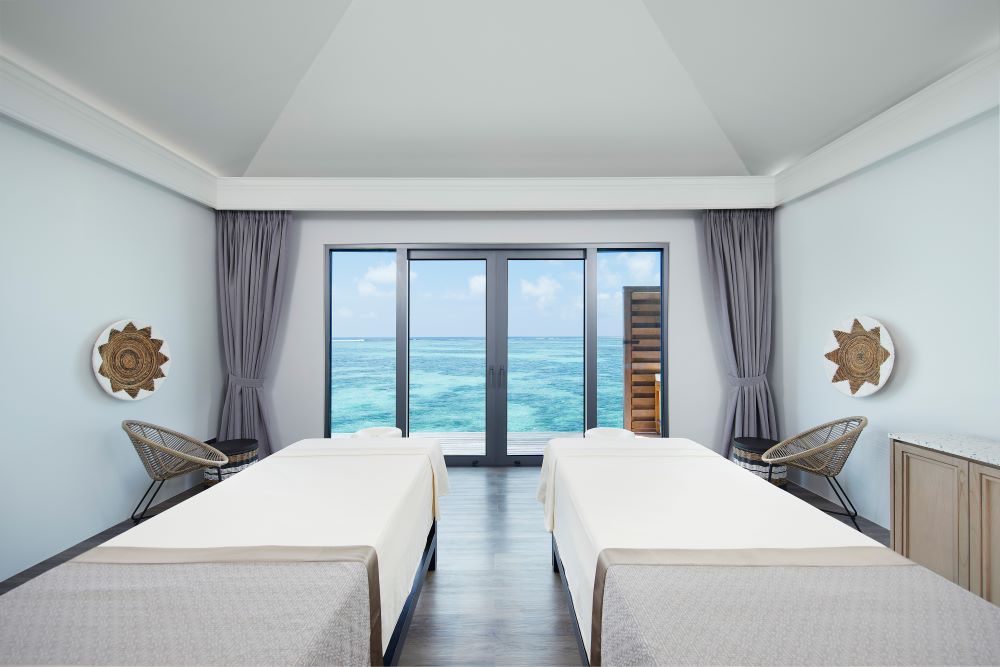 As I haven't had a massage for a while, I am really looking forward to it. Our room has stunning ocean views and once you lay down on the massage bed, you can see the sea as the floor is crystal. Truly such an unforgettable touch! The massage leaves me super relaxed, energised, as if I was just born again. After it, we get taken to another room where we lay down on a bench and enjoy a warm cup of tea.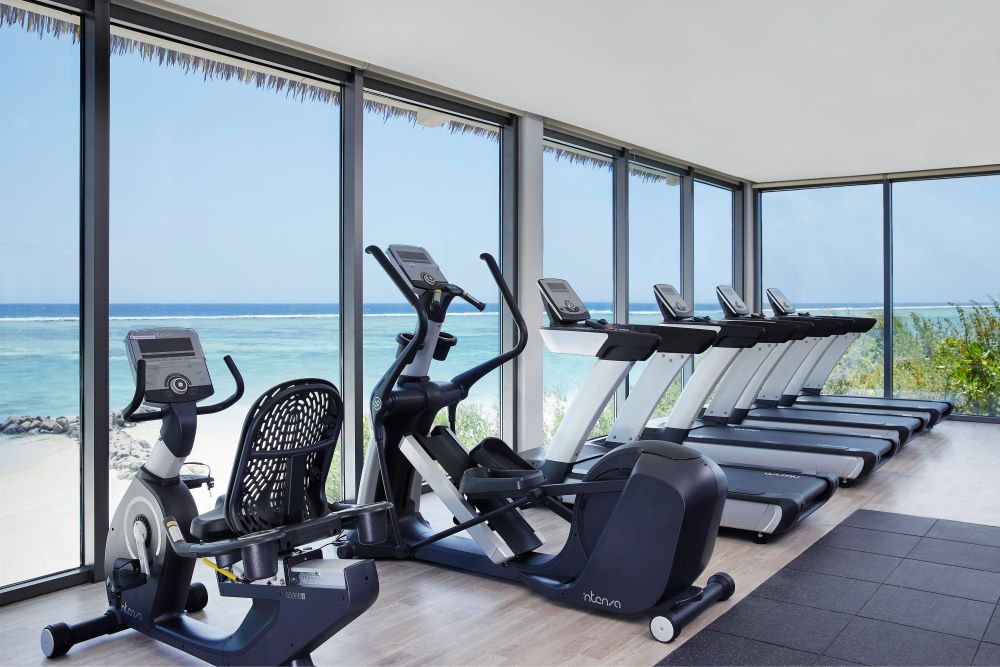 As we are feeling super recharged, we decide to go to the pool and try aqua aerobics, which is a fantastic way to get fit, feel good and have fun. Aqua aerobics helps you to tone muscles and improve flexibility, but the buoyancy of the water provides support. The instructor is very welcoming and friendly and shortly after we start, other guests also join, curious about what's happening on the pool and keen to join the fun.
Once the class is finished, our next stop is Art Jam, a creative arts space aimed to educate and inspire guests during their stay through a dynamic mix of art programmes presented by Maldivian artist Saeed Ahmed. Saeed gives a warm welcome, show us the gallery and take us to our painting class. I used to love painting when I was little, but I haven't done much of it since my school days, so I am truly excited to give it a go again.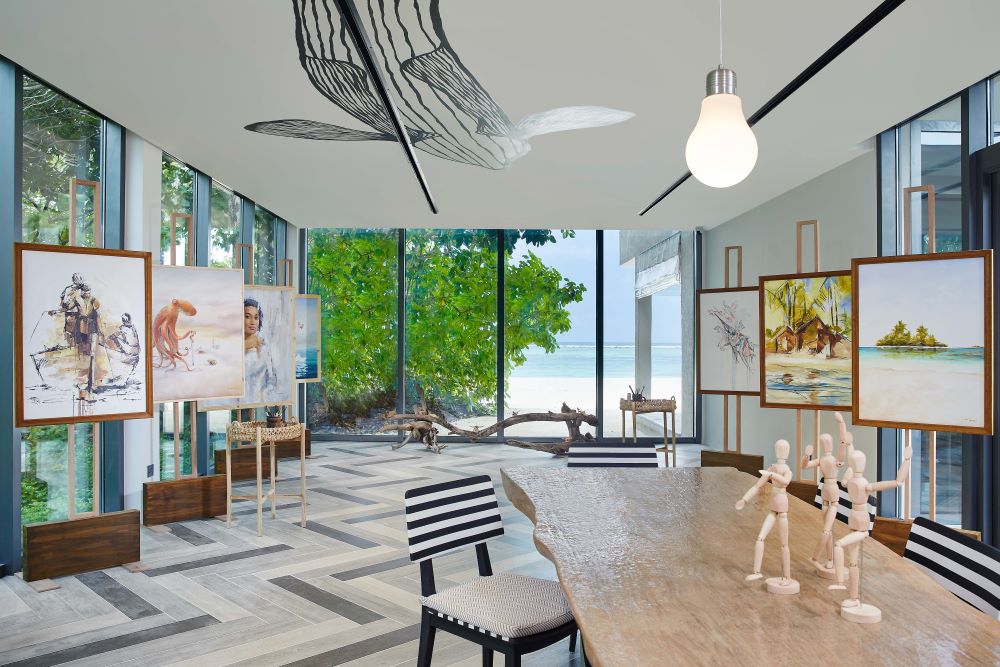 Saeed gives us a coconut to use as our canvas, asks what we would like to paint and explains the main painting techniques. We both decide to paint the Maldivian seaside on the sunshine. As I start painting, I get flashbacks of my childhood memories when I painted a colourful butterfly, and a deep sense of happiness and gratitude goes through my body. I truly have forgotten how relaxing and fun painting is and despite I am not becoming a Picasso anytime soon, I promise myself to do painting more often.
Once we are finished with our creative coconuts, we go back to our villa to relax and get ready for our dinner at Tabemasu, which means "to eat" in Japanese. This stylish venue offers a distinctive dining experience where art, design and gastronomy are fused to create a playfully chic dining experience.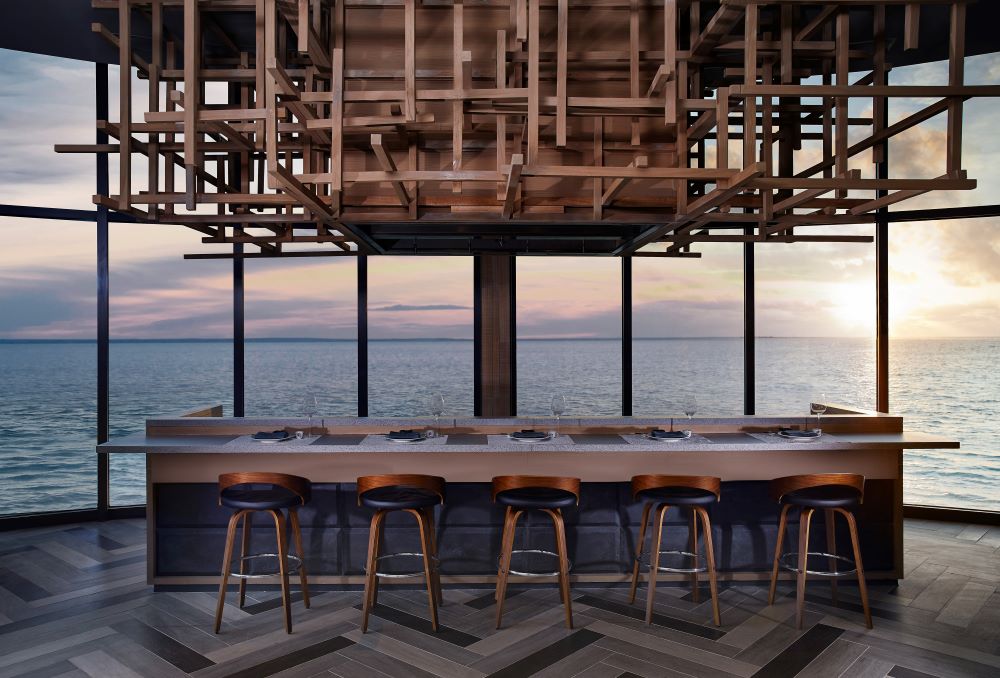 My dining partner and I opt to try the Omakase menu, which means "trust the chef" and offers the chef's personal interpretation from traditional Japanese cuisine to modern with a French touch, with luscious delicacies such as Hamachi ceviche, Hinadori gyoza and Wagyu beef.
The restaurant also features a menu for the little ones that includes chicke chips furai, yakiudon (beef, cabbage, carrots and spring onion) and vanilla ice cream.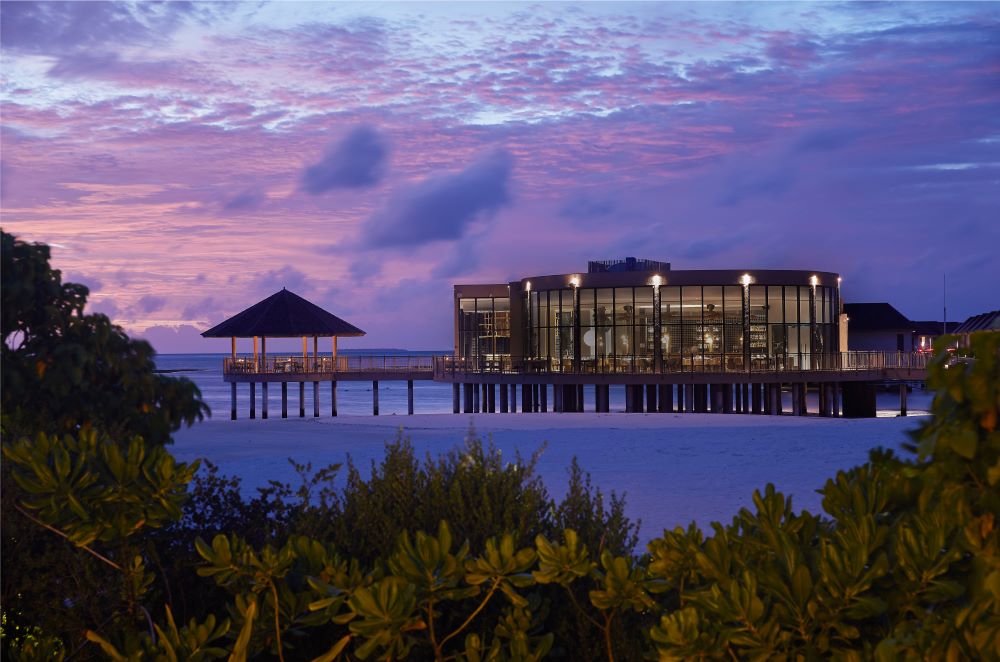 Day 4 and last one in paradise!
Another early morning awaits us, as we wake up very early to do sunrise yoga at 6 am. Our instructor gives us mats and, as I get on a comfortable position on it, I can't stop looking at the truly mesmerizing views of the Indian ocean as the sun starts appearing. The class is suited for all fitness levels, and I truly recommend it to kick-start your day with energy, gratitude and motivation.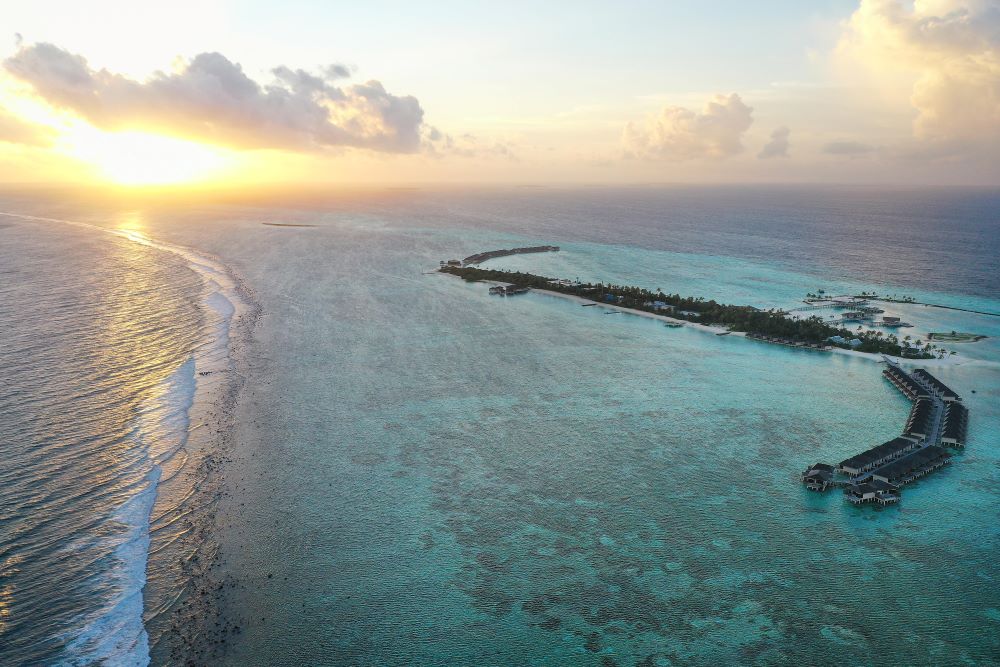 After a fantastic breakfast and quick dip in the pool and sea, it's time to pack our bags and say goodbye to this marvellous slice of paradise. I feel slightly sad to leave, but truly grateful to have experienced such an incredible and enlightening trip. The Maldives, you have really taken my breath away, impressed me in every possible way and I will definitely be coming back for more!
Le Meridien Maldives Resort & Spa is the ideal place to enjoy a spectacular family holiday that your children and loved ones will keep in their memories forever. Truly attentive service that goes above and beyond to cater all your needs, the most extraordinary turquoise sea water, pure white sand and plenty of fun activities to keep the whole family entertained. If this isn't paradise, I don't know what else could be.
Book a Stay
Le Méridien Maldives Resort & Spa, Thilamaafushi Island. The villas start from $600++ (AED, 2,204) for double occupancy and including breakfast. For more information and to make a booking, call +960 400 8888 and visit the website or Instagram