Why secondary school matters
Choosing the right secondary school is pivotal for your child's future. Swiss International School Dubai offers an exceptional educational journey, combining academic excellence, holistic development, and a safe, nurturing environment.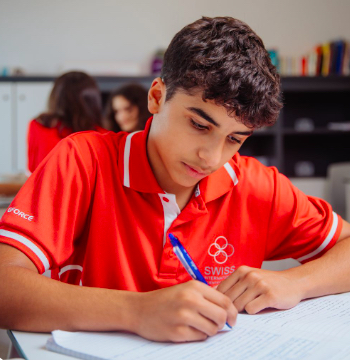 As a parent, one of the most critical decisions you'll make is selecting the best secondary school for your child's education. This decision sets the foundation for their future and shapes their academic and personal development. In the bustling city of Dubai, where educational options vary, finding the ideal secondary school can be daunting. Among the plethora of choices, Swiss International School Dubai stands out as a beacon of excellence in secondary education.
Let's explore why choosing the right secondary school is vital for your child's future success and how here at SISD we can provide your child with a nurturing environment where they can thrive.
The importance of secondary education 
Secondary education is a crucial phase in a student's academic journey, typically spanning from ages 11 to 18 years. During this time, young minds undergo significant cognitive, emotional, and social development, making it essential to provide them with a supportive learning environment. It is in secondary schools that students begin to specialise in specific subjects, laying the groundwork for their chosen career paths or further studies. Thus, the quality of secondary education plays a pivotal role in shaping students' abilities, aspirations, and future prospects, which is why SISD is one of the leading secondary schools in Dubai!
Why choose the best secondary school?
Academic excellence:
At the heart of any exceptional secondary school is a dedication to academic excellence. Top tier schools prioritise a robust curriculum that fosters critical thinking, problem solving, and creativity. These schools employ highly qualified and experienced educators who are passionate about empowering students with knowledge and skills relevant to the modern world. Here at SISD, we follow the prestigious International Baccalaureate (IB) curriculum, renowned for its rigorous approach to education. To learn more about our secondary curriculum you can do so here.
Holistic development
Secondary education should encompass more than just academics. A comprehensive approach to education involves nurturing a well-rounded individual by encouraging participation in extracurricular activities such as sports, arts, and community service. These experiences instil essential life skills, including teamwork, leadership, time management, and empathy. Here at SISD, we offer an array of extracurricular opportunities, ensuring students receive a balanced education, this includes sports, creative arts, after-school activities, and so much more.
Safe and supportive environment
The teenage years can be emotionally challenging for students as they navigate personal growth and identity. A supportive and safe environment is crucial to help them flourish during this time. Top secondary schools prioritise student well-being, providing counselling services and a culture of inclusivity and respect.
College and career readiness
Secondary school should adequately prepare students for their future endeavours, whether it's pursuing higher education or entering the workforce. Leading schools offer guidance and resources to help students make informed choices about their careers and university destinations. Here at SISD, we offer personalised counselling and career guidance to equip students with the tools they need to succeed beyond graduation.
Networking opportunities
The connections students make during their secondary education can have a lasting impact on their lives. Attending a reputable secondary school can provide access to a valuable network of alumni and industry professionals, opening doors for future opportunities. Our very own alumni network spans the globe, and they offer students a supportive community even once they leave our school.
Why choose SISD as your child's secondary school option?
Located in the vibrant city of Dubai, Swiss International School Dubai is a premier choice for secondary education for many reasons.
World-class faculty: Our school boasts a team of highly qualified and experienced educators who are passionate about their subjects and committed to their student's success. They create a stimulating learning environment that boasts curiosity and academic excellence.
State-of-the-art facilities: Our campus is equipped with state-of-the-art facilities to support students' diverse interests and talents. From cutting-edge science labs to well-equipped art studios and sports facilities, the school offers an enriching learning experience.
Extensive extra-curricular programmes: We offer a wide range of extracurricular activities allowing students to explore their passions and talents beyond the classroom.
Emphasis on character development: We place a strong emphasis on character development and instil core values such as integrity, respect, and empathy. These qualities are essential for students to become responsible citizens.
Choosing the best secondary school for your child is an investment in their future. A school that prioritises academic excellence, holistic development, and student well-being can set your child on a path to success. We are committed to providing a nurturing and stimulating environment with an emphasis on academic rigor, extracurricular opportunities, and personal guidance to prepare students for a bright future even beyond their school years.
Remember, the decision you make now will shape your child's trajectory for years to come. So, take the time to research and explore your options, and choose a secondary school that aligns with your child's needs and aspirations.
For more information, visit the website