Rooted Regimen: cleaning your home and saving the planet, one refill at a time
Veronica Martin caught up with Soraya Sawan, entrepreneur and co-founder of Rooted Regimen, to discuss her company's mission to make homes healthier and safer, how important it is for parents to consider the safety of their household products for their children and how parents can educate themselves on the potential dangers of certain household products.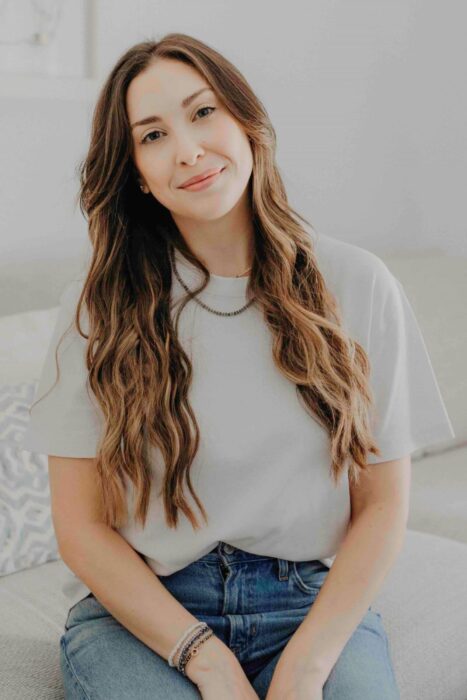 What inspired you and your husband to create Rooted Regimen and what's your company's mission?
Our journey to starting Rooted Regimen really began 10 years ago. When we got married in 2013, we decided to get a dog together. As a puppy, our Golden Retriever Leo suffered from extreme skin allergies, having severe breakouts and never-ending skin infections. My husband Bassem also struggled with allergies his entire life and was taking antihistamines daily. We were also trying to start a family, and I struggled with endometriosis and then had to undergo years of IVF. It felt like there were so many different things going on with our health, and we just wanted to feel better.
We were yearning for ways to make our lives healthier and lower our toxic load. From the cleaning and personal care products we were using to the food we were consuming, we started making changes. While there's so much in our environments that we cannot control, we felt that what comes into our homes and our bodies (from what we put on our skin to what we eat) are within our control.
Once I got pregnant with our first child, I really focused on understanding ingredients in everyday products. I started by switching out my deodorant, then changed my entire haircare routine, soaps, toothpaste, skin products, everything! Finding truly non-toxic cleaning products was the biggest challenge though. For a long time, we had no choice but to use products that claim to be 'plant-based', but in reality they still contained harmful ingredients. We found some cleaner products abroad, but over time we spent a small fortune on shipping to Dubai and knew it wasn't a sustainable option.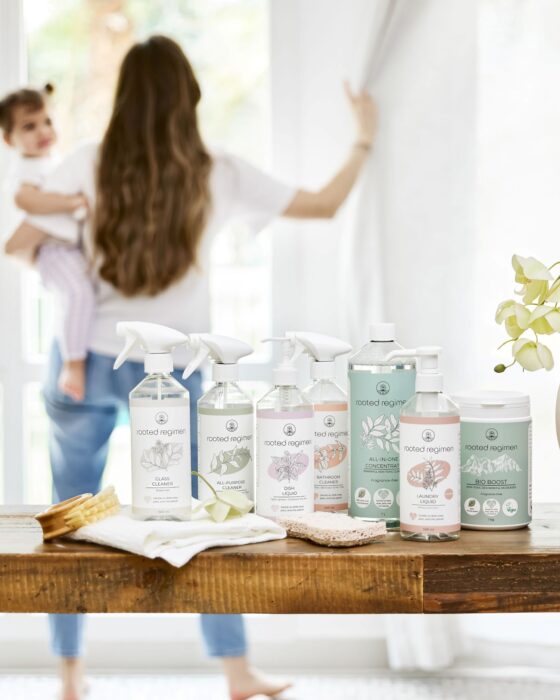 Since we couldn't find anything that really met our needs, and seeing a huge gap in the UAE market, we thought, 'Why not make it ourselves? We can do this'. And so, we did! We've created an impeccably safe and clean formula, made of 100% plant and mineral based ingredients to meet all cleaning needs from laundry to floor cleaning and everything in between, without any harsh chemicals!
Our company's mission is to make homes healthier, safer, and more organized. We wanted to create a non-toxic solution that could be used for everything, while also making it affordable and sustainable. By using our refillable bottles, your home gets decluttered once you toss all those bulky, single-use plastics. Less plastic production, transportation, and consumption is also so much better for the planet. The air quality in your home will also significantly improve, as our All-In-One Concentrate and Bio Boost are completely natural formulas without any VOCs, phthalates, parabens, colorants, synthetic fragrances, SLS/SLES, phosphates, bleach, ammonia, chlorine, or ANY other harsh chemicals. So when we say non-toxic, we absolutely mean it.
How are Rooted Regimen's products different from other home care products?
Rooted Regimen is one of the few home care brands in the UAE made 100% with plant and mineral based ingredients, and not just "made with plant-based ingredients", which is a rather vague statement. Our products are impeccably safe, and every ingredient we use has a green rating (the safest!) on Environmental Working Group (EWG), one of the most globally renowned authorities that rates ingredients based on their immunological, reproductive and carcinogenic effects. Our products are safe for even the most sensitive of people, including infants, pregnant women, and those with allergies and chemical sensitivities.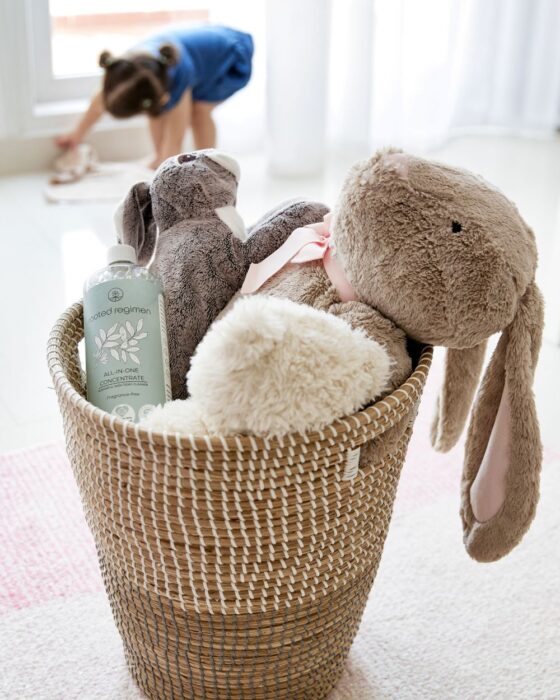 Our format is also quite unique in that it is refill-based, and reduces single-use plastics consumption by over 90%, which makes it great for the planet as well as our customers' wallets.
Many of our customers are shocked by how powerful our products are when they first try them. Over time, people have been wired to associate powerful cleaning with harsh chemicals. The reality is that high quality plant and mineral-based ingredients, when optimally formulated, can tackle the toughest cleaning, laundry and dishwashing jobs very effectively.
How important is it for parents to consider the safety of their household products for their children?
People generally believe that what goes into their bodies and on their bodies can harm them the most, but the reality is that elements around a person's body can be just as harmful. Pollution and radiation are two great examples of things in our surroundings that can be extremely harmful to us. Household products can be one of the biggest contributors to indoor pollution, and there it is imperative for parents to take a closer look at what chemicals they and their loved ones are breathing in and encountering through laundry and dishes. There are plenty of studies that link chemicals commonly used in household products to respiratory diseases, infertility, allergies, migraines and even cancer.
What is Rooted Regimen's approach to packaging and sustainability?
Sustainability is at the core of our brand identity. While we wanted to make a powerful, non-toxic product, we also wanted to create something that would better the planet. Our packaging is 100% recyclable, BPA and phthalate-free. When choosing the bottles for our Complete Starter Kit, it was key that the plastic we were using was completely recyclable and contained no harmful chemicals. By using our refill model, single-use plastics are reduced by over 90%. As a brand, we save on heavy production and transportation costs of endless plastics.
What are some harmful chemicals that parents should look out for when selecting household products for their family?
The most important thing to note is that labels don't necessarily have to mention actual ingredients. Brands are permitted to use generic ingredient descriptions such as "anionic surfactants", "perfume", "fragrance", "colorants", etc. We categorically avoid products that use generic descriptions such as these because there's no way of knowing what the actual ingredients are in the product.
According to the Environmental Working Group, the single word "fragrance" can mask over 3,000 different chemicals. Other ingredients we avoid are phthalates, parabens, SLS (sodium lauryl/laureth sulphate), and Triclosan. At Rooted Regimen we believe in complete ingredient transparency, so that consumers have the information they need to make their own product choices. Honesty and transparency is so important to who we are, which is why we list out every ingredient on our bottles and our website and social media channels.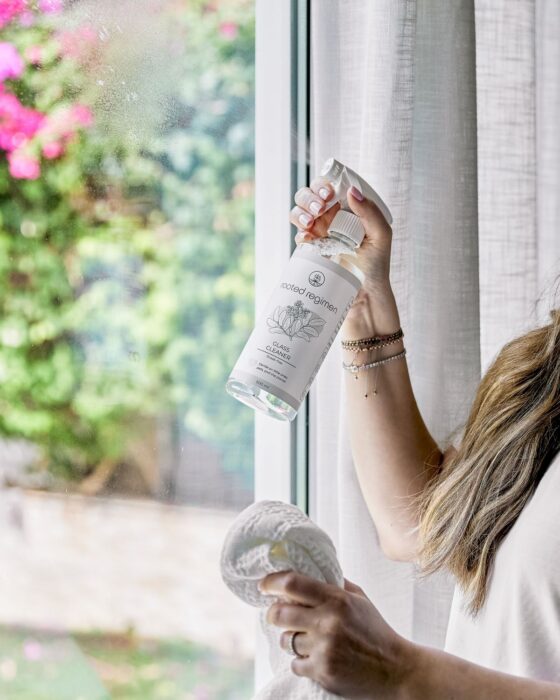 How can parents educate themselves on the potential dangers of certain household products and make informed decisions for their family?
The best thing to do is read, read, read. Read product labels, read studies, read articles, the news, follow pages that inspire you on social media. Everyone's needs and priorities are different, so I wouldn't say one source is better than another. Through your own research via credible sources like the Environmental Working Group, medical centres, holistic doctors, etc. you can deduce what matters most to you and your family's needs.
Our family suffered from allergies and fertility issues, so we really wanted to understand how things like VOCs, ammonia, bleach, sulphates, phosphates, synthetic fragrances, etc. affect our skin and respiratory and endocrine systems.
Through our Instagram content, blog posts, and email marketing we aim to provide our followers and customers with interesting, snackable bits of content related to low-tox living and ingredient safety. Over time, we hope that all this content will meaningfully contribute to their learning on the topic.
What role can plant-based materials play in creating safer and more eco-friendly household products?
Many synthetic chemicals used in conventional cleaning and personal care products can be toxic to aquatic life and are not readily biodegradable. On the other hand, most plant-based ingredients tend to biodegrade a lot quicker and are usually non-toxic to aquatic life. Needless to say, plant-based ingredients are significantly safer to human health.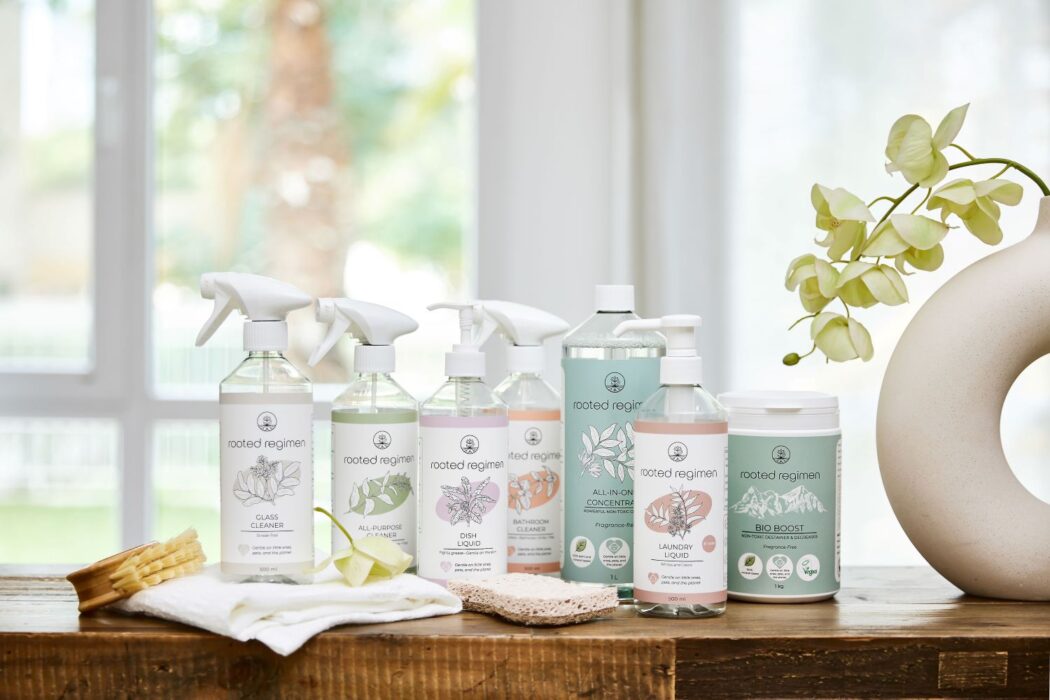 In what ways can the adoption of a refill model for household products benefit families and the environment?
What our refill model offers is natural, non-toxic products made affordable. Customers pay significantly less per bottle than they would for any other leading plant-based brands. By virtue, a refill model is a more sustainable solution to conventional products as it reduces single-use plastics.
What are some strategies for encouraging children to be more involved in maintaining a clean and healthy home environment?
Make cleaning fun! My eldest daughter loves refilling the Rooted Regimen bottles, and since our formula is non-toxic, I never have to worry. Both of my girls love to spray and clean surfaces, sometimes even unnecessarily. When children feel like they're doing something that's contributing to the home environment, they feel empowered and thus get excited. We also teach our girls why recycling is so important and have taught them what's recyclable (paper, plastics, cans, etc.), and we have them fill up the bins every day.
We also have special songs (all made up on the fly) for hand washing, tidying up, taking off shoes in the house, etc. Most of the time, it works. Tantrums not included!