Discover the perfect oasis of luxury and adventure at Mazagan Beach & Golf Resort
Elevate your senses and indulge in the epitome of luxury at Mazagan Beach & Golf Resort. Set against the backdrop of Morocco's picturesque coastline, this opulent resort showcases world-class amenities, impeccable service and unrivalled elegance.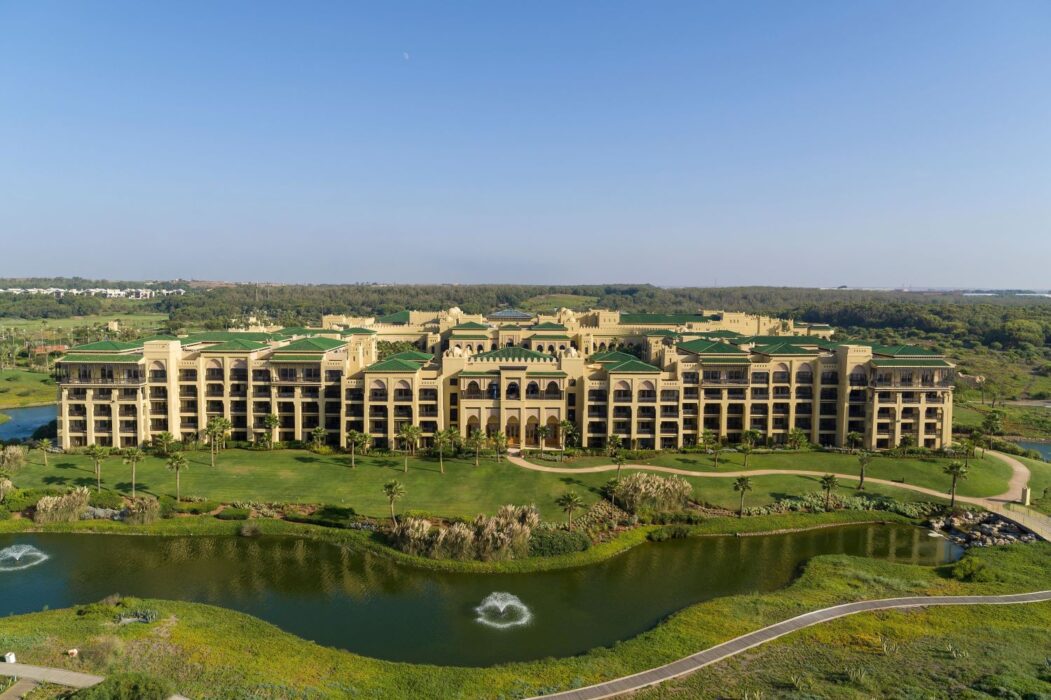 Morocco is a captivating country that boasts a mesmerizing tapestry of landscapes. From majestic mountains to vast sweeping deserts and pristine beaches, the country's natural beauty is simply awe-inspiring. This North African gem boasts a vibrant fusion of cultures, where ancient traditions blend seamlessly with modern influences.
From Dubai, you can fly direct to Casablanca with Emirates and the flying time is around 7,5 hours. Once you get there, the resort is one hour drive away and, under prior reservation, a free shuttle service is offered between the resort and Mohamed V Airport.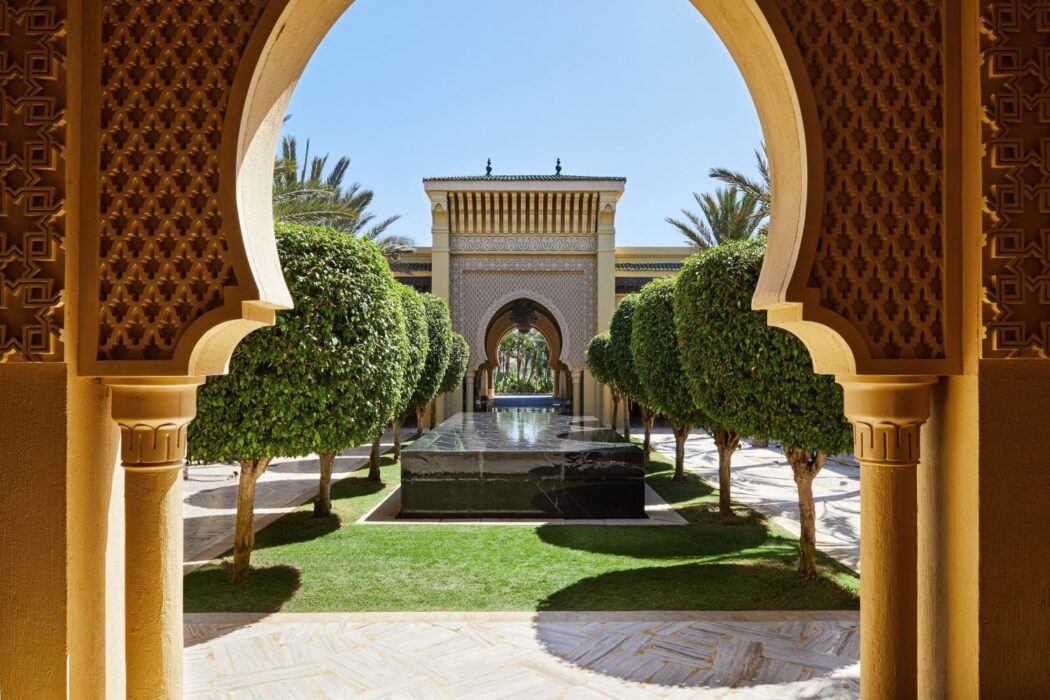 Driving through the gates of the Mazagan feels like entering a dreamy oasis of lush greenery. As soon as my travelling partners and I arrived at the resort, we are warmly welcomed with fresh mint tea. Designed in an exquisite Arabic-Moorish style, the expansive resort encircles a magnificent grand riad, adorned with intricate mosaic tiles, intricately carved doors and ceilings, majestic pillars, graceful archway and shimmering lanterns.
After a quick check-in, I am taken to my room, a deluxe king prime ocean view, which boasts a contemporary design with Moroccan features and marvellous views of the resort and the Atlantic ocean. There is also a marble bathroom complete with walk-in shower and an inviting bathtub. The bed is gigantic and incredibly comfy, so I decide to have a power nap before getting ready for dinner.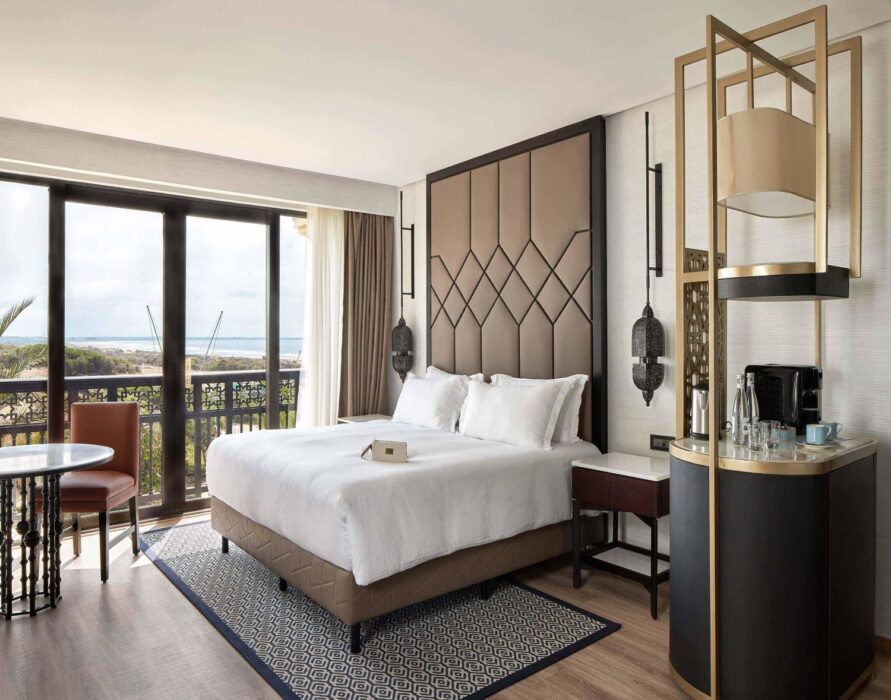 The first restaurant we visit is Sel De Mer, a gastronomic haven inspired by French elegance and dedicated to exquisite seafood. Bathed in a soft, ethereal blue glow emanating from floor-to-ceiling lights, the restaurant immerses us in an ambiance reminiscent of the mythical Atlantis resort. Each meticulously presented dish pays homage to the ocean, celebrating its bountiful treasures. After a careful look to the extensive menu, we decide to have a selection of starters and mains to share, so we can try a bit of everything.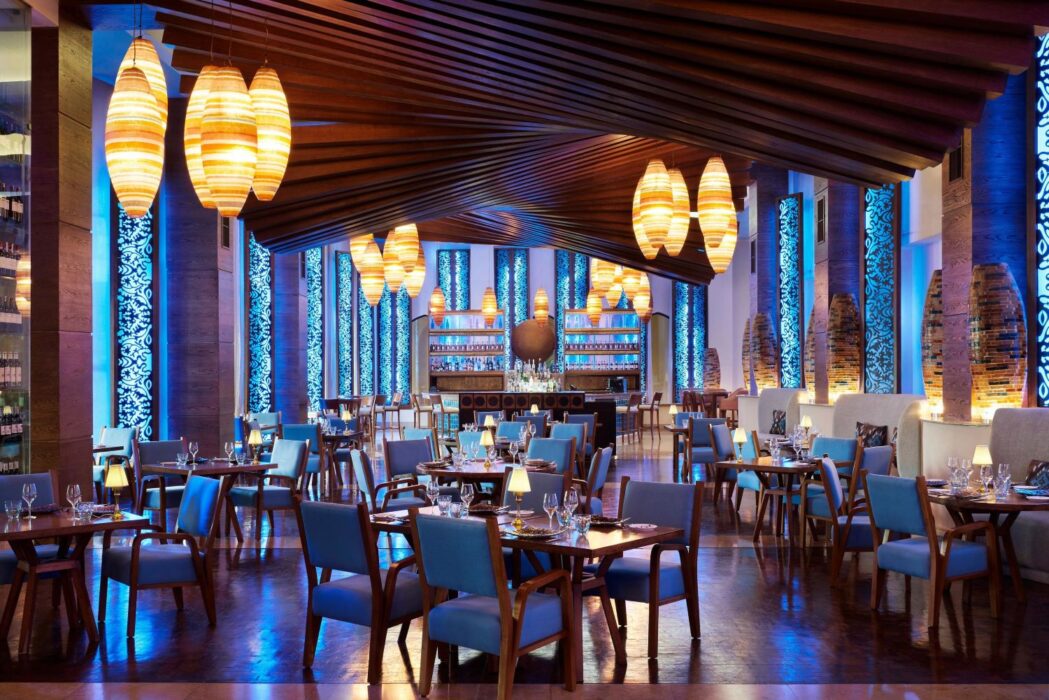 We begin with a delightful shellfish cream soup, artfully prepared in the distinct Sel De Mer style and adorned with prawns crostini. Some people have never tried oysters before, so we decide to have a platter. I personally love them, but I feel is one of those type of food that you either love them or hate them, as they have a very particular taste. My travelling partners aren't convinced, so this means more oysters for me! We continue with tantalising octopus carpaccio, accompanied by parmesan pickles, and a crispy combination of crab meat and scallops, heightened by a sweet chili sauce and aromatic coriander. As I am such a big seafood lover, I feel truly in paradise!
After a brief interlude, we succumb to the temptation of handmade seafood linguine, a symphony of sumptuous lobster bathed in a delicate shrimp sauce, its creamy base infusing every bite with a harmonious blend of saltiness and savoury notes. To complete our feast, we savour the succulent oven-baked seabass, its tender flesh exuding flavours that transport us to pure coastal bliss.
Day 2
After a really long sleep, I wake up feeling super refreshed and energised. Still feeling full from the night before, I decide to have just a coffee for breakfast and I get ready to have a tour of the resort. The magnificent Mazagan resort stands as a testament to King Mohammed VI's visionary plan to transform the region into a premier tourist destination.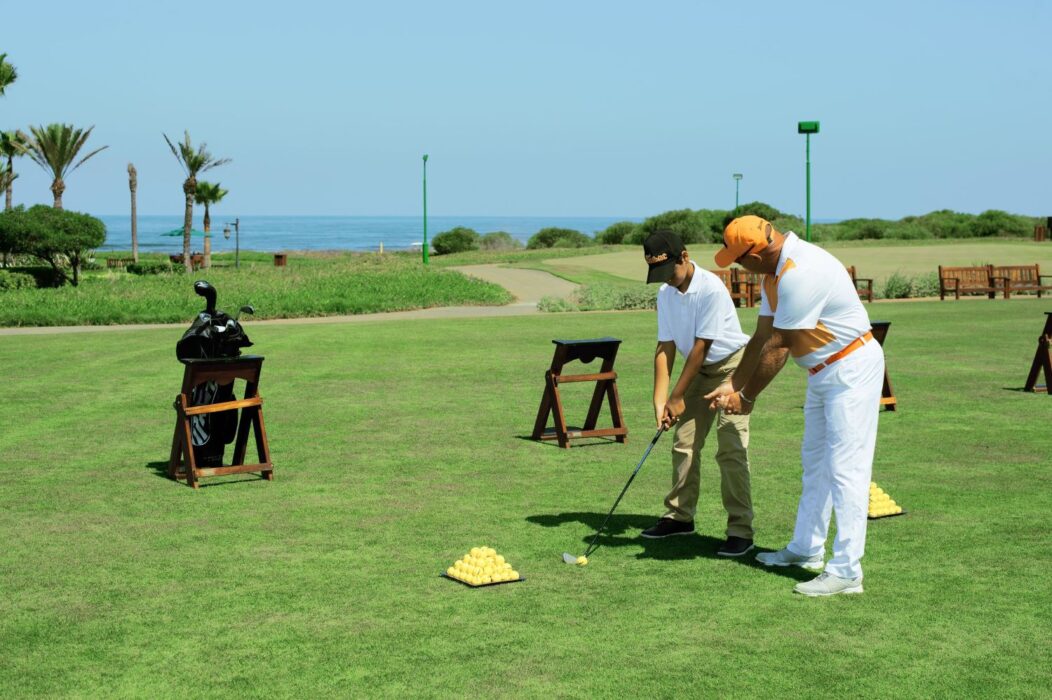 Crafted by the renowned Kerzner International, renowned for its luxury destinations worldwide, including the iconic Atlantis, The Palm, Mazagan is a true masterpiece, boasting 500 opulent rooms and suites, including two Royal Suites, a splendid ensemble of 15 restaurants and bars, a rejuvenating spa, state-of-the-art fitness centre, an 18-hole Gary Player-designed golf course, two football pitches, and the largest casino in North Africa.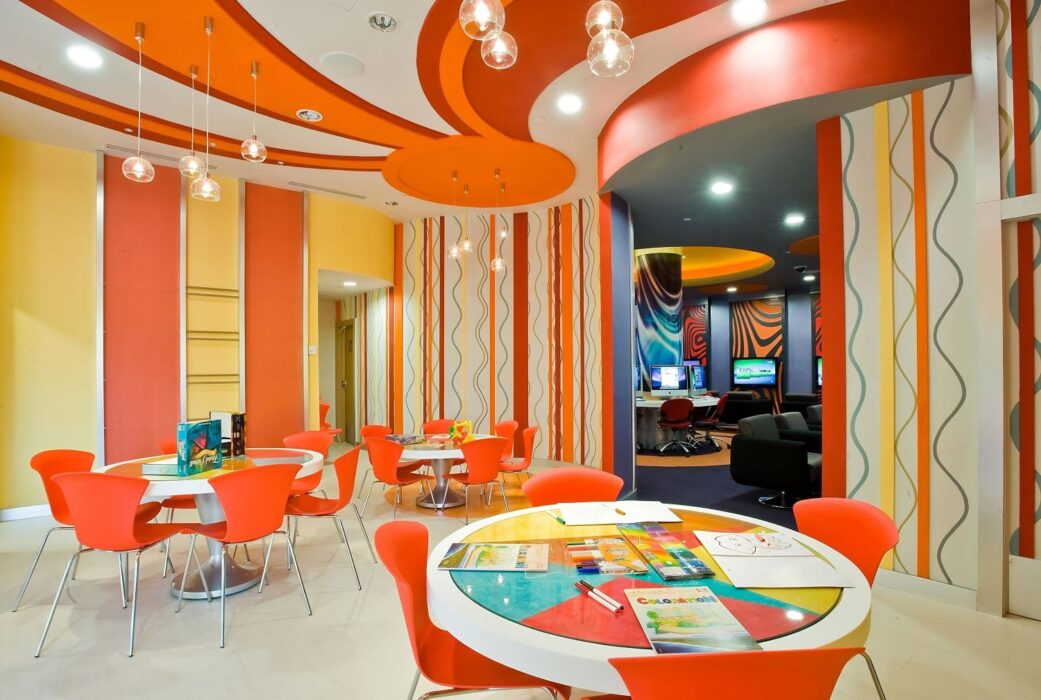 Ensuring an unforgettable experience for young guests, Mazagan also offers a wealth of options. Children can revel in their own dedicated swimming pool, while the kids club and teen club curate a program brimming with exciting activities, from forest biking and horse riding to crafting, yin yoga, meditation, chess, archery, discos and video games. A football academy and baby club cater to the diverse needs of all ages, while the impressive farm introduces youngsters to the enchanting world of goats, chickens, cows and other animals.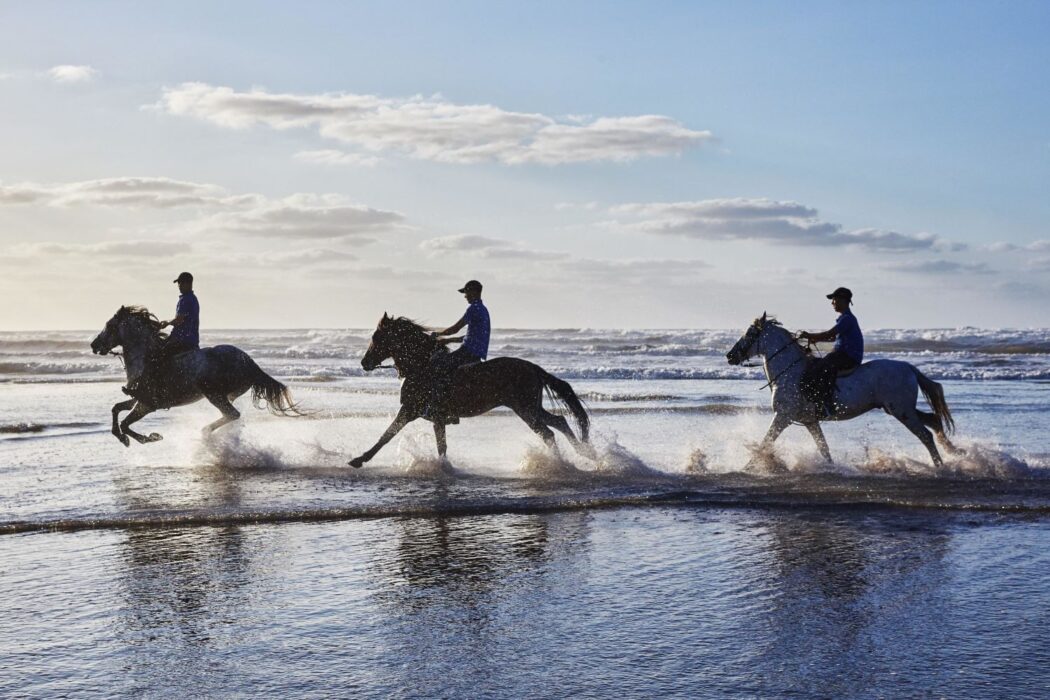 For the adults, an abundance of sporting and sightseeing activities awaits. The vast pool, nestled amidst towering palm trees, beckons for leisurely moments of relaxation, while the expansive beach serves as a playground for surf lessons, beach games, horse riding, quad biking and football matches.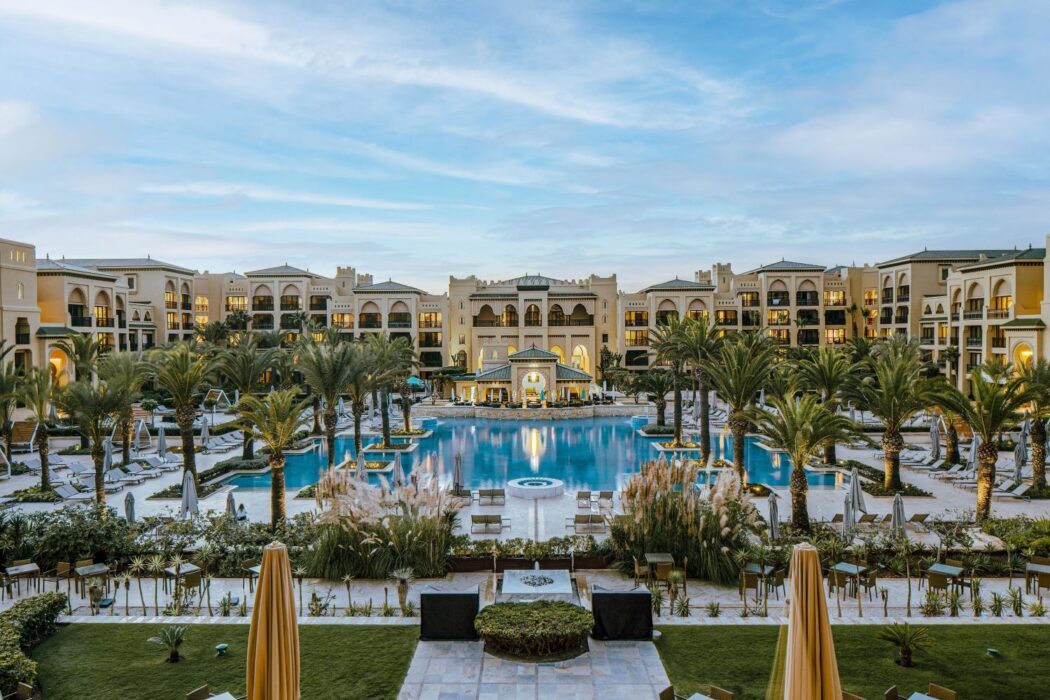 Seeking an exhilarating adventure, I decided to embrace the thrill of quad biking. This was my first attempt at quad biking and, as I don't have a driving licence, I was a little apprehensive to do it on my own, so I decided to have a driver with me. The ride was great fun and gave me the chance to explore the full length of the fantastic beach.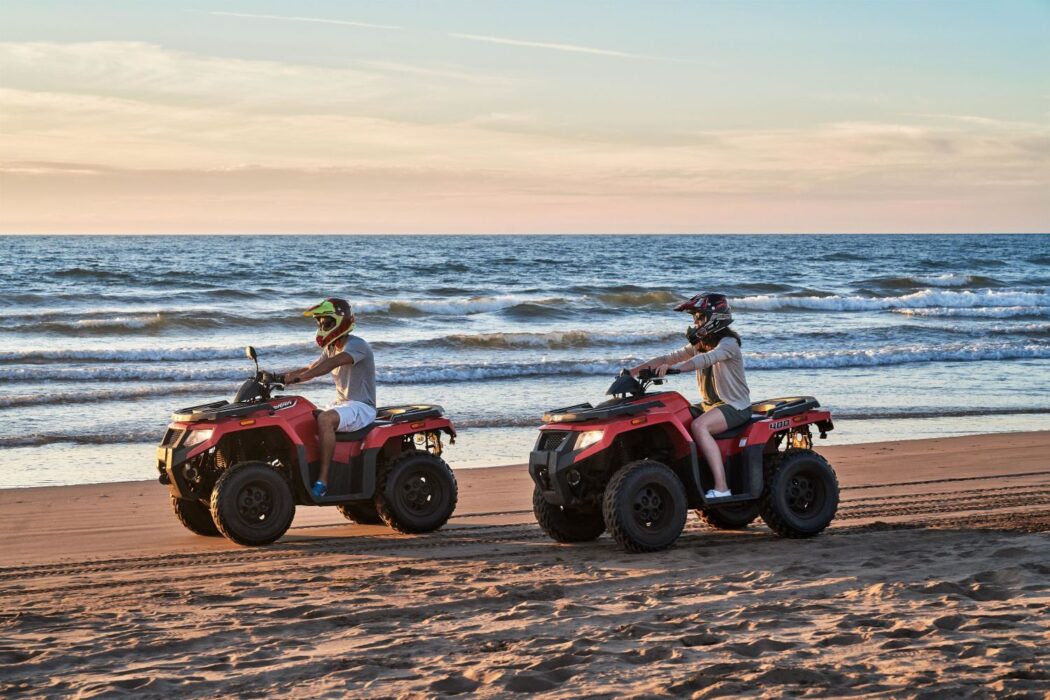 With a gleaming brow and an exhilarating energy coursing through my veins, it was time to have lunch to Buddha-Bar beach club, renowned for its delicious pan-Asian cuisine, legendary music and vibrant atmosphere. Our order comprised a signature sushi platter, accompanied by an array of starters, including salmon tempura salad, Chinese chicken bao buns, and crispy fried calamari. I couldn't stop digging into salmon sashimi as it's my favourite type of sushi: simply light, delicate and truly exquisite. For the main course, we delighted in a succulent rib-eye steak and tender chicken thighs adorned with spring onions, each dish perfectly cooked and bursting with flavour.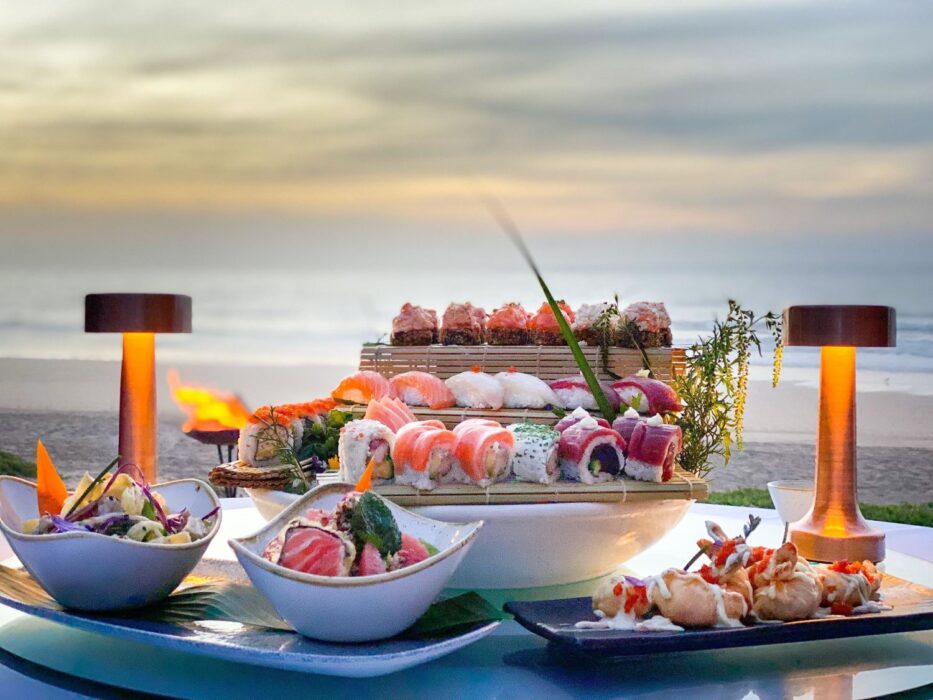 After lunch, we headed to the on-site spa for a relaxing massage. Renowned for its authentic hammam experience and stunning treatment rooms with views over the Atlantic Ocean, Mazagan Spa offers personalised massages and facials, yoga and Pilates classes, a state-of-the-art fitness centre and an authentic Moroccan bathing ritual in their lavish marble and mosaic hammam, spanning over 100 sqm and including hot and cold saunas.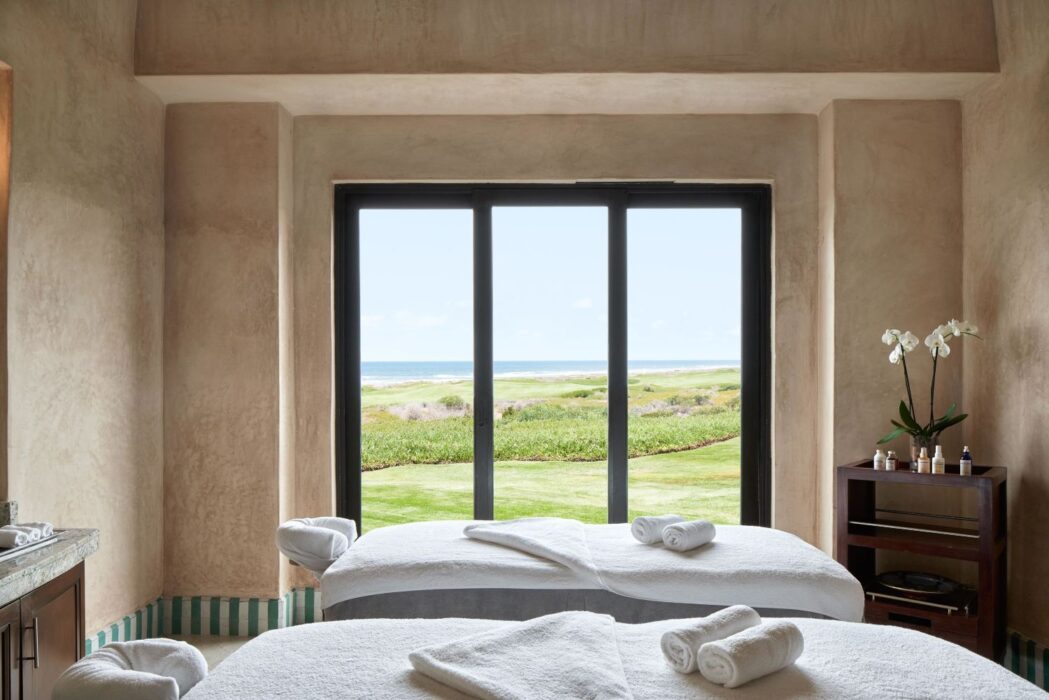 The full body massage was just exactly what I needed. As the massage begins, I feel my body loosen and unwind under the skilled hands of my therapist. Every stroke is perfectly tailored to my needs, releasing the knots in my muscles and soothing the tension in my mind. The experience is nothing short of exquisite, leaving me feeling rejuvenated and refreshed.
After leaving the spa, I go back to my room to get ready for dinner at Bushra by Buddha-Bar, featuring a contemporary Middle Eastern menu created by the award-winning Chef Greg Malouf.
As we settle into our seats, the aroma of the mezzes begins to enchant our senses. Silky hummus adorned with spiced pumpkin, hazelnut falafel accompanied by pickled turnips, and succulent Merguez sausages nestled atop a bed of harissa-infused potato salad grace our table. The exquisite flavours of each dish are elevated by the enchanting melodies of the live modern Middle Eastern music performed by the extraordinary violinist, creating a truly unforgettable dining experience.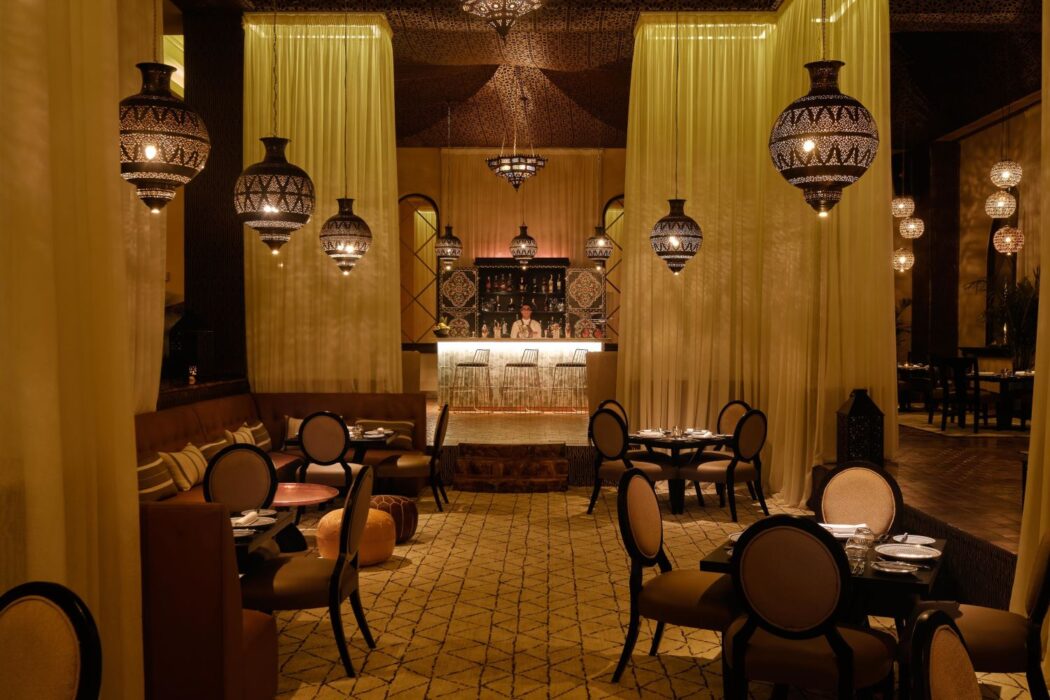 For the main course, we embark on a culinary voyage, delighting in the butchers' Mishewee, a combination of shish tawook, Adona kifta, prime beef fillet kebab, and fragrant Lebanese rice. The charcoaled jumbo prawns, adorned with vermicelli stew and accompanied by a luscious aioli, transport our taste buds to new realms of gastronomic delight. We end the evening with an exquisite Middle Eastern tiramisu, delicately spiced with cardamom and adorned with hints of orange blossom, and the lively beats played by the talented Moroccan DJ.
Day 3
While the resort offers a dreamy and relaxing atmosphere, a visit to Casablanca is an absolute must. Our first destination is the magnificent Hassan II Mosque, the largest functioning mosque in Africa and the seventh largest in the world. Designed by Michel Pinseau under the guidance of King Hassan II and built by talented Moroccan artisans, this architectural marvel was completed in 1993. Its towering minaret stands at an impressive height of 210 meters, making it the second tallest minaret globally.
The mosque stands on a promontory looking out to the Atlantic Ocean; worshippers can pray over the sea but there is no glass floor looking into the sea. The walls are of hand-crafted marble and the roof is retractable. It really is a very impressive and beautiful building and also one of the only mosques in Morocco open to non-Muslims.
Our next stop takes us to the old medina, where strolling through its streets feels like stepping back in time. Echoes of the past are still visible in the remnants of the ancient city walls and forts, while the narrow alleyways have retained their timeless charm for centuries. The historic centre has transformed into a bustling bazaar, where artisans showcase their skills and offer an array of goods, including leather products, oils, Moroccan delicacies, textiles, footwear, spices, and even heirloom antiques passed down through generations.
While exploring the medina, bargaining is part of the experience, but most vendors are open to negotiation and offer reasonable prices. Amidst the vibrant atmosphere, you'll find delightful outdoor cafes and cosy restaurants. Take a moment to savour a cup of coffee or tea while observing the locals as they go about their daily lives.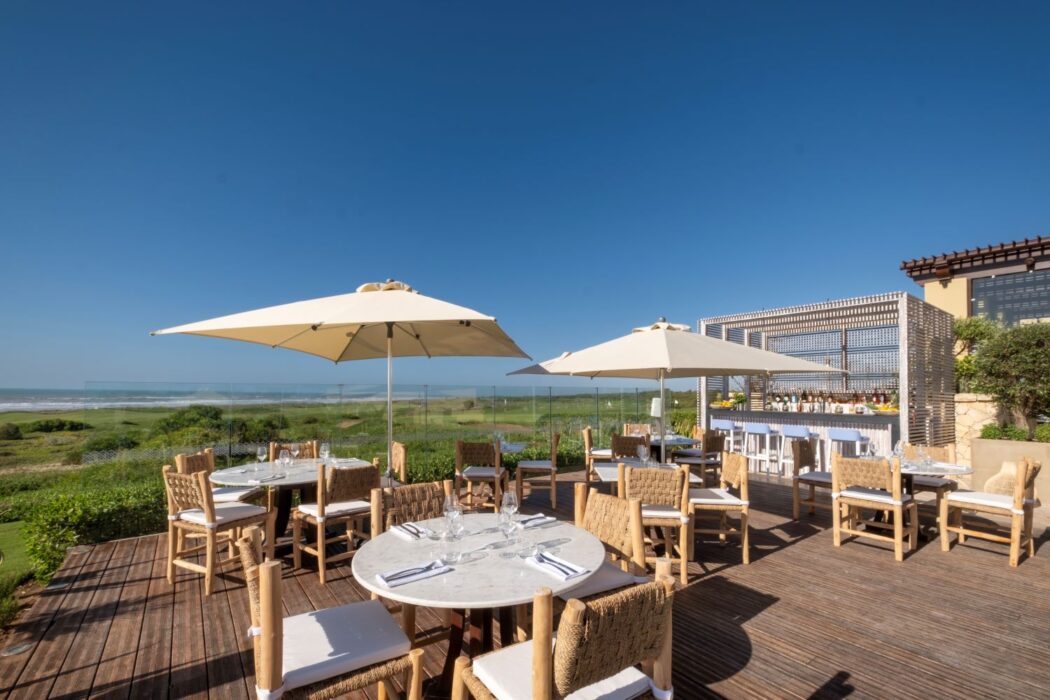 After our adventure in the old medina, we return to the resort for lunch at the recently opened Greek restaurant, Mazi Garden. "Mazi," meaning "together" in Greek, presents a refined and modern interpretation of traditional dishes inspired by the owners' childhood memories. The menu is designed for sharing, and we start our meal with an assortment of dips, including tzatziki with a hint of garlic, tarama mousse, and smoked aubergine with tahini. Alongside, we indulge in sea bass tartare with cucumber and green apple, and a refreshing watermelon and feta salad topped with hazelnut and basil.
Moving on to the hot plates, the feta tempura with lemon marmalade stands out with its unique flavours, while the grandma's meatballs with spicy tomato and garlic yoghurt provide an exquisite culinary experience.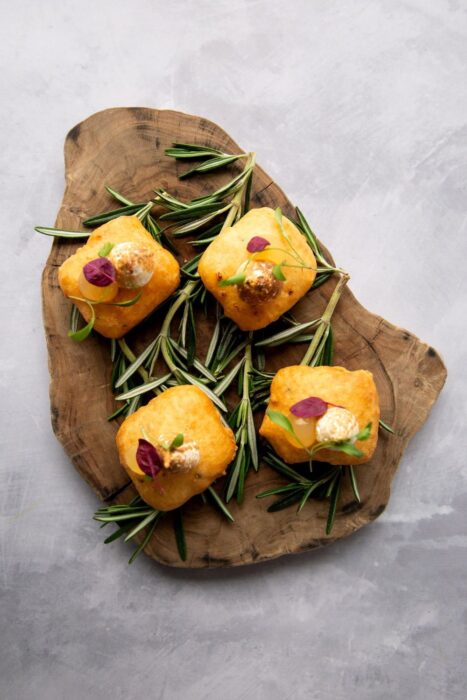 For our main courses, we couldn't resist the grilled octopus with Kalamata olives cream, which delighted us with its tender texture and delightful flavours. Additionally, the lobster linguini with tomato bisque offered a tangy taste that literally melted in our mouths. Taking a moment to appreciate the stunning sea views, we concluded our remarkable lunch with a decadent chocolate mousse cake and loukoumades—deep-fried pastries soaked in sugar syrup—accompanied by lavender honey and crushed walnuts.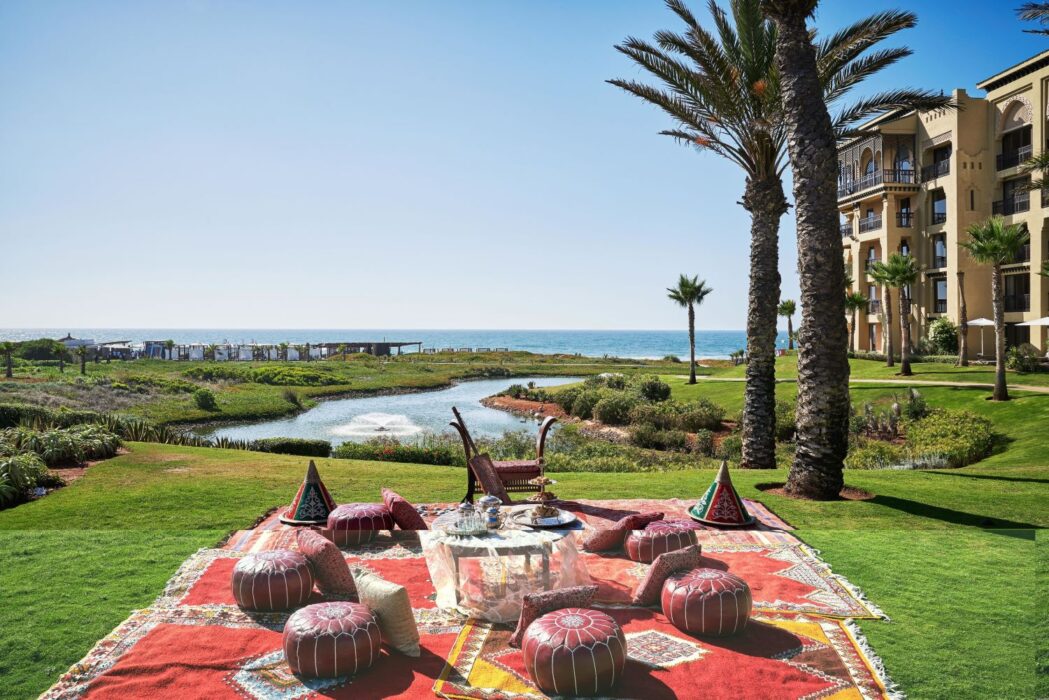 As our stay at the resort comes to an end, I spend the remainder of the day unwinding by the pool and strolling along the magnificent long beach, captivated by the mesmerizing sunset. Mazagan Beach & Golf Resort truly offers an ideal setting for a spectacular family holiday. With exceptional service, remarkable facilities, a plethora of activities, and an immersive cultural experience, this resort leaves no stone unturned in providing a truly memorable stay. Look no further if you seek the perfect combination of luxury, entertainment and cultural exploration.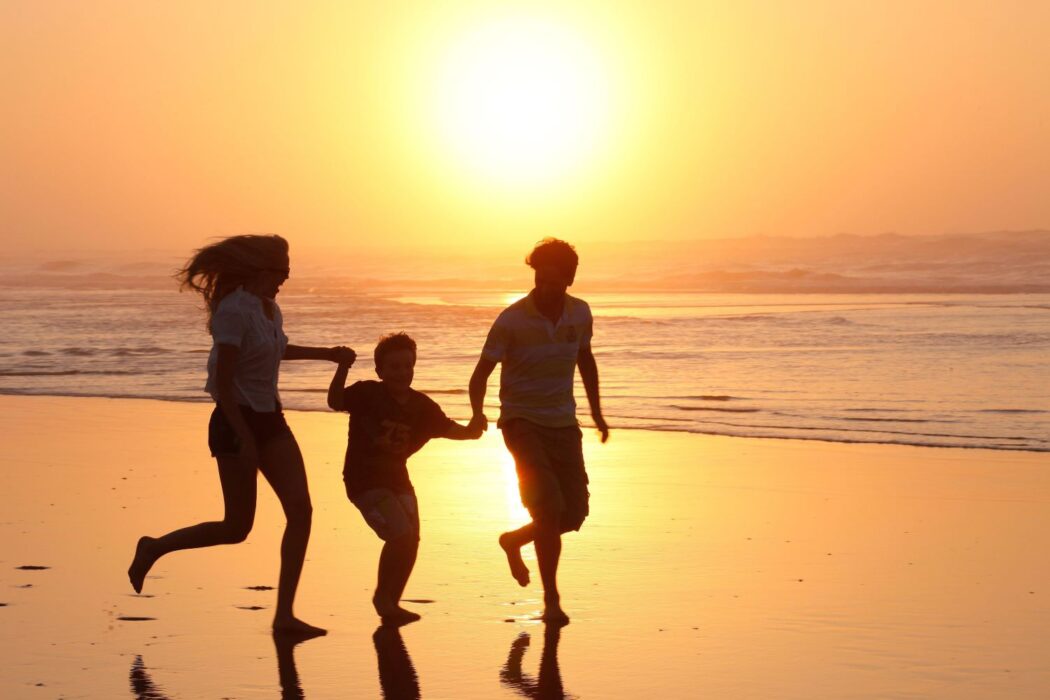 Until August 18, Mazagan Beach & Golf Resort has a special offer for this summer, "The Moroccan Beachfront Getaway", which includes accommodation and breakfast for two adults and two children under 12 years of age (from 1700 MAD per night, excluding taxes). Enjoy up to a 15% discount on room rates and 15% discount on spa treatments.
For more information, visit the website or Instagram