Family resorts that you should know about
If you're looking for family-friendly holiday resorts that combine luxury, stunning landscapes and immersive experiences, we have you covered! 
Summer is a wonderful time for families to embark on fun adventures and create happy memories together. There are many kinds of trips to take, from staycations, to cities, to nature retreats. We've selected three gorgeous destinations to highlight this month that are ideal for parents and children alike. So, get ready to dive into the wonders of these enchanting resorts, where quality time, relaxation and exploration await you and your family.
RECONNECT WITH YOUR INNER CHILD AT C MAURITIUS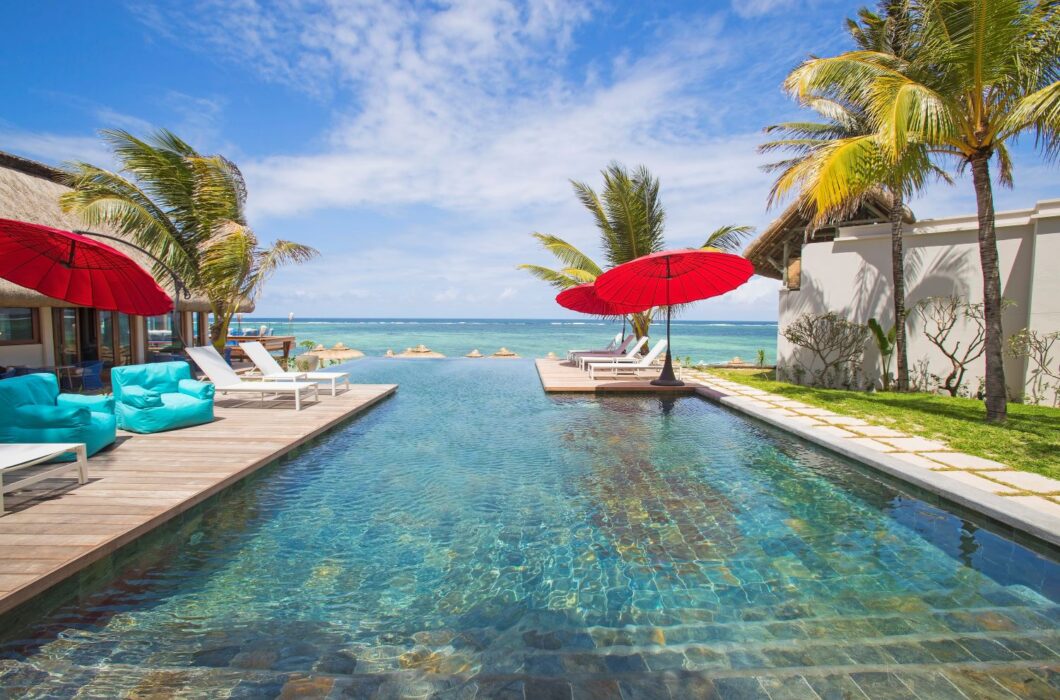 Nestled in the vast expanse of the Indian Ocean lies Mauritius, a captivating island paradise. This hidden treasure, positioned east of Madagascar, is filled with vibrant marine life and lush tropical foliage. Beyond its breathtaking natural allure, Mauritius offers a great mix of cultural influences, blending the vibrant tapestries of Africa, India, China and France. If you venture into the untamed realms of the island's eastern region, you will find the whimsical haven of C Mauritius. Here, the coastline reveals a picturesque panorama of traditional villages and untouched stretches of pristine beach. As you venture further, the scenery transitions into a mosaic of mangroves, sugarcane fields and lagoons, painting a picture of untouched wilderness waiting to be explored.
A quirky ethos
C Mauritius is a sophisticated yet casual hotel that provides a carefree escape for the young and the young-at-heart! With vivid splashes of colour and many playful elements, such as giant swings and a welcome drink from a mad scientist's 'concoctor' machine, the dynamic environment of the hotel is a joyful setting that promises to keep your family entertained.
An all-inclusive dining experience
With an all-inclusive dining experience available at four unique restaurants, your every craving is sure to be satisfied with the sumptuous breakfasts, buffet lunches and themed dinners on offer.
Your family will also be able to partake in afternoon tea at the bustling agora, 'Cpicerie', located at the heart of the resort, where hand-picked specialty food and beverages will be served. Moreover, an extensive selection of fresh drinks, soft drinks and sparkling water is available in all hotel bars and restaurants, while the stuffed mini bar is filled daily with a selection of fine beverages and delicious snacks. Indulge in an endless flow of tasty food and refreshing drinks without worrying about any extra charges, as everything is part of your booking.
Entertainment and activities
C Mauritius takes the lead when it comes to entertainment, offering a series of free sports and fun activities to keep your family moving and active. Immerse yourself in luxury with not just one, but three magnificent infinity pools. Sporty families will enjoy the padel tennis court, tennis court and outdoor gym, thoughtfully constructed using natural materials to blend harmoniously with the surroundings. For thrill-seekers, the clubhouse offers an exciting opportunity to try kitesurfing in the enchanting lagoon, along with kayaking, stand-up paddling and windsurfing. You can also embark on a family snorkelling adventure by traditional canoe, guided by a knowledgeable member of staff. For those seeking a more challenging expedition, join a local guide on a mountain trekking journey, guaranteed to ignite your sense of adventure.
Get ready for a truly unforgettable trip, filled with fun, excitement and experiences that allow you and your children to connect with the island's culture and traditions, creating meaningful memories that will last a lifetime.
THE ULTIMATE GRECIAN ESCAPE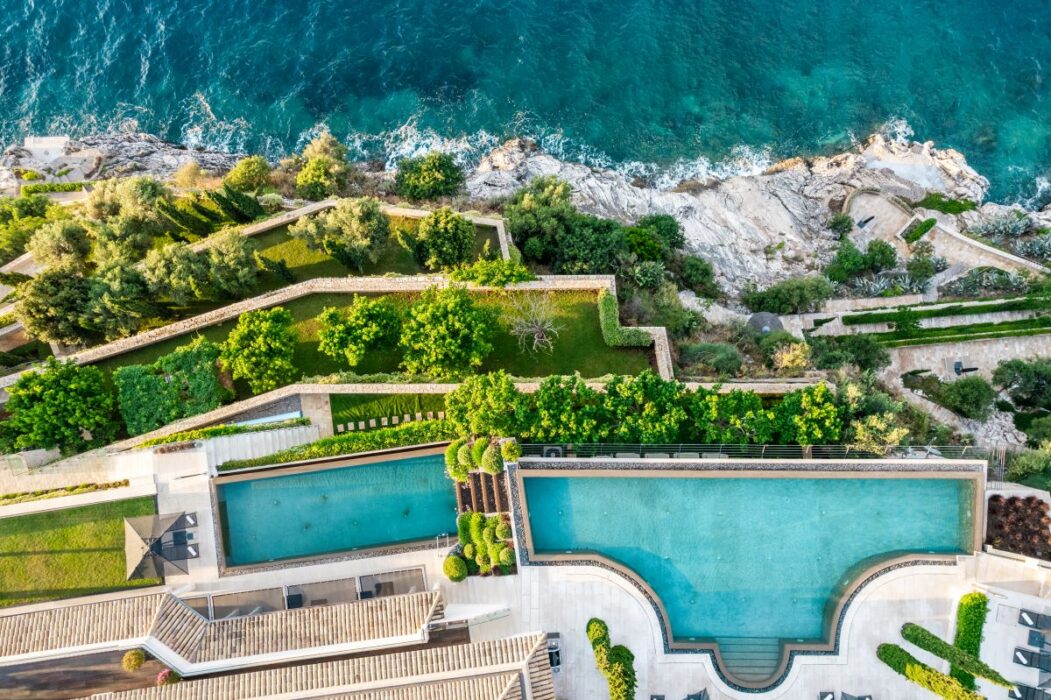 For a Mediterranean getaway that combines relaxation and adventure, look no further than Ultima Corfu. Perched on a dramatic hillside overlooking the breathtaking Ionian Sea, this ultra-luxury resort is a haven for families seeking a private sanctuary to unwind and rejuvenate themselves. The villa's expansive floor-to-ceiling windows invite natural beauty to flood the living space, while the sprawling wraparound terrace provides a perfect backdrop for al fresco dining with stunning views.
Adventures await you
At Ultima Corfu, your family will have unrestricted access to the sea, with a private yacht available for charter. You can embark together on daily trips to local islands, accompanied by a dedicated captain and chef to cater to your family's needs. The resort's personal concierge is at your service throughout your stay, curating private excursions to the most beautiful spots on the island. Here, you and your loved ones can explore Corfu's imposing palaces, charming squares and sandy coves with pristine waters. Ultima Corfu offers a range of experiences tailored to suit all tastes, ensuring that every member of your family finds something they love.
Unwind and rejuvenate
When it's time to relax and restore your body and mind, treat yourself to one of Ultima Corfu's signature treatments or holistic therapies. Parents can enjoy an impressive Hammam experience, soak in the ocean view jacuzzi or take a dip in the two-tiered infinity swimming pools. Ultima Corfu ensures that families experience the ultimate wellness retreat, both indoors and outdoors, amidst the beauty of the Mediterranean.
FUN IN THE SUN AT ONE&ONLY REETHI RAH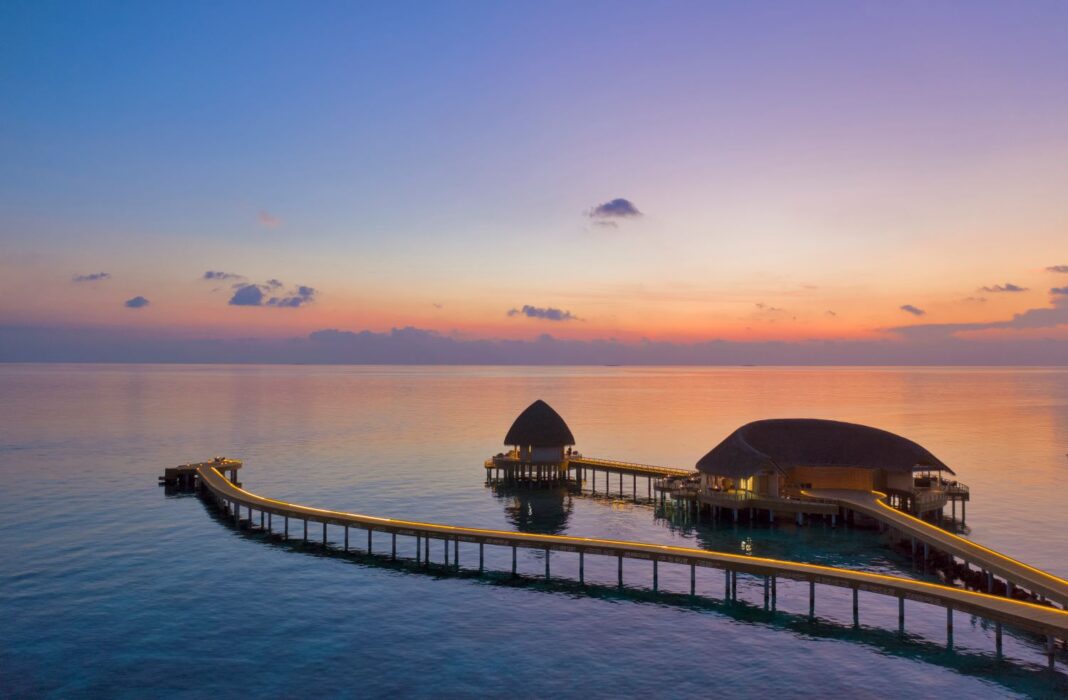 Embark on an extraordinary journey of seclusion and freedom at One&Only Reethi Rah, an exquisite luxury resort perfect for families. Nestled on a sprawling private island in the stunning North Malé Atoll, this retreat promises a truly luxurious experience. Picture your loved ones stepping onto the immaculate, powder-white sand beaches, being embraced by the crystal blue waters of the Indian Ocean and inhaling the invigorating fragrance of the lush tropical gardens that surround the resort.
Dining for all the family
One&Only Reethi Rah is an award-winning luxury beach resort in the Maldives. The resort boasts six incredible restaurants, with creative dishes from across the globe inspired by produce from the surrounding oceans and their own organic gardens.
A plethora of facilities
Here, you and your family will be spoiled for choice with an array of exceptional activities. Explore the resort's twelve magnificent beaches and dive into the turquoise waters for exhilarating water sports such as wakeboarding, jet skiing and snorkelling. Whether you're a novice or an experienced diver, delve into the depths of the ocean on diving expeditions, where you will find a vibrant underwater world teeming with life. If land-based adventures are more your family's style, enjoy some friendly competition with beach volleyball, badminton or table tennis. Whatever your family enjoys most, One&Only Reethi Rah promises exhilarating adventures across sand, surf and sky.
Top notch spa days
For those seeking pure relaxation, the renowned One&Only Spa beckons, offering an oasis of serenity where you can pamper yourselves with indulgent treatments. Enter a state of deep relaxation with their tailored wellness experiences and enjoy their all-encompassing approach to wellness. They offer bespoke ESPA treatments, as well as therapeutic journeys inspired by the island.
One&Only Reethi Rah is a beautiful luxury destination where families can make many memories together in an idyllic setting, complemented by top-notch amenities and warm hospitality.
These three picturesque destinations offer the perfect backdrop for an unforgettable family summer trip. Whether you choose to immerse yourself in the enchanting beauty of Mauritius, explore the wonders of Ultima Corfu in the Mediterranean, or indulge in the natural paradise of the Maldives, each resort provides a unique blend of luxury, jaw-dropping natural beauty and exciting activities tailored for families. So pack your bags, gather your loved ones and embark on a summer adventure filled with joy, relaxation and family fun!