Fantastic things to do during Halloween in Dubai
It's that spooky time of the year again… Here are our suggestions to make the most of Halloween this year with your loved ones.
CÉ LA VI Dubai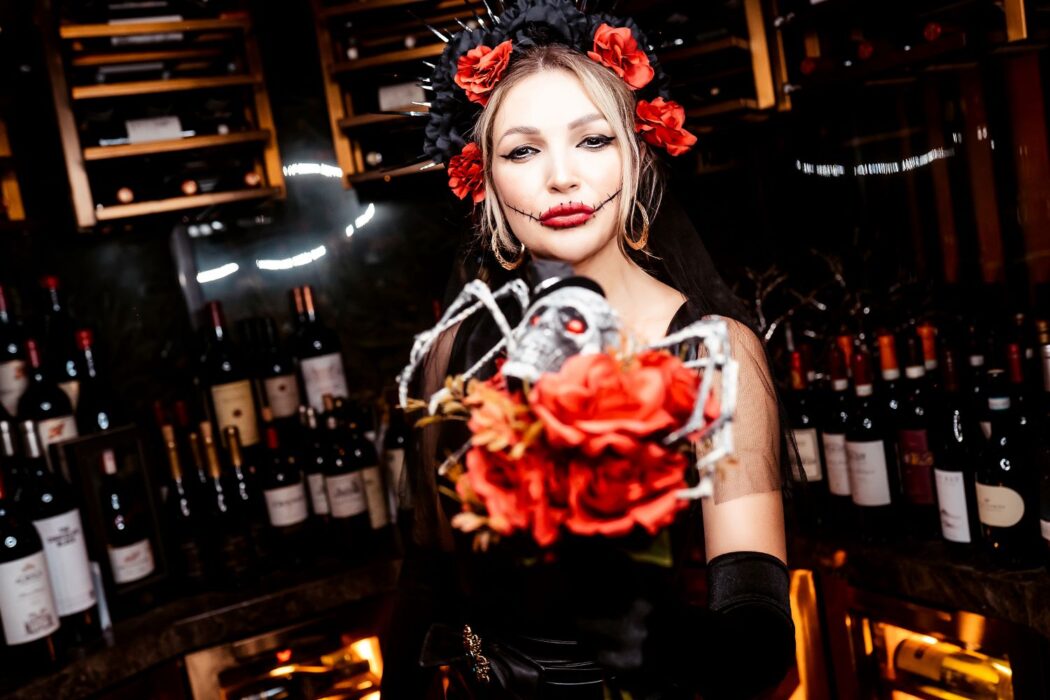 Prepare to step inside a world of spine-tingling excitement this Halloween, as CÉ LA VI Dubai undergoes a captivating metamorphosis into a dark and enchanting circus. Immerse in an electrifying experience with haunting music and mesmerizing vibes. Their talented performers will leave you entranced as they captivate and entertain, and the night is yours to dance away as the music courses through your veins. Get ready for an extraordinary Halloween, as DJ Eran Hersh brings the cool vibes of Miami to Dubai with his electrifying music!
Halloween Brunch on October 28 12:30-4pm. From AED390 per person. October 28 from 10pm until late with DJ Eran Hersh and October 30 from 10 pm until late with DJ Eran Hersh. Ladies can enjoy unlimited drinks for AED150. Visit the website or Instagram
Kibsons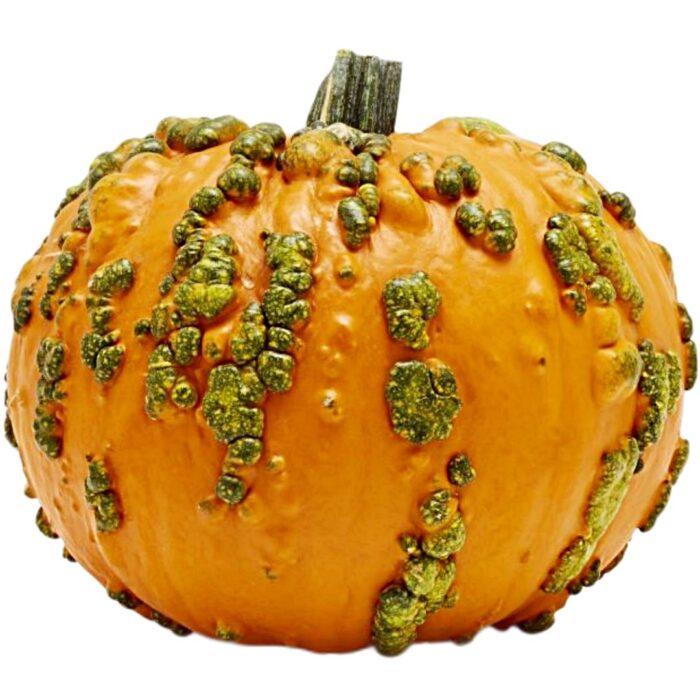 This acclaimed family-operated company has fully stocked up on all things eerie for Halloween, offering a variety of items ranging from spooky costumes to chilling pumpkins, perfect for the winter's spooky festivities. Whether you're hosting a spine-tingling party or a ghostly gathering, decorations and balloons are just a click away, ensuring that your trick-or-treaters understand you're prepared.
When it comes to pumpkins, you're in for a treat! Kibsons presents an extensive assortment of pumpkins in various sizes, shapes, and colours, guaranteed to give your neighbours a delightful fright. From Knucklehead Pumpkin and Sparkler Pumpkin to Líl Tiger Pumpkin and Warty Minion Pumpkin, Kibsons offers them all.
Visit the website or Instagram
Olioli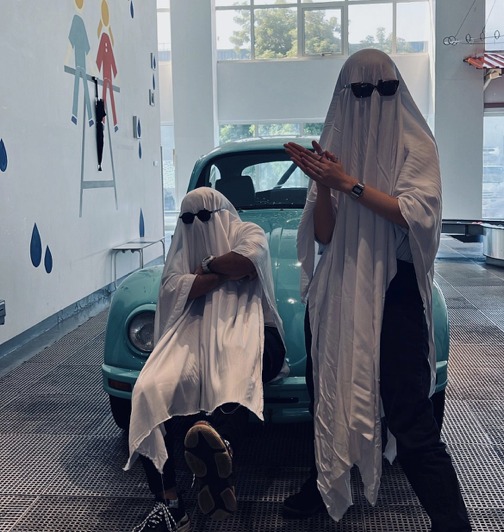 The most enchanting Halloween celebration is making its return from October 27 to 31 at OliOli®: "Trick and Treat." Calling upon all the kids to break the witches' spell by completing 13 clever tricks to reclaim their sweet rewards. It's a spooky adventure brimming with riddles, rhymes, puzzles, and challenges throughout the renowned children's museum.
As a special surprise, friendly ghosts have prepared fantastic prizes for the best costumes. The costume competition will coincide with OliOli®'s "Trick and Treat" event, offering participants a chance to win multi-visit passes to enjoy OliOli during the upcoming holiday season.
From October 27 to 31. Tickets start from AED129 for 1 Child + 1 Adult – book online in advance for great savings. Visit the website or Instagram
Century Village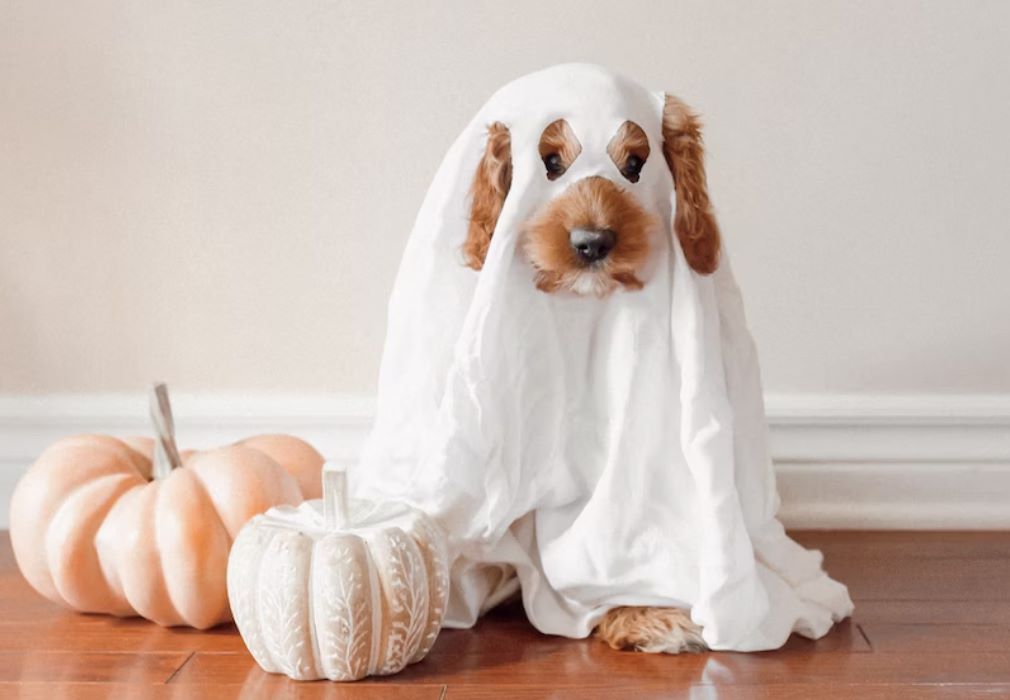 Get ready for the UAE's spookiest and most pet-friendly gathering – it's the Halloween Prunch, taking place on Sunday at the delightful Century Village. The best part? Pets of all ages and children under the age of 6 are admitted for free. There are exciting prizes valued at 5000 AED up for grabs in various categories, including Best Costume for males, females, boys, girls, and even your beloved fur babies – the Cutest Costume for dogs, cats, kittens, and puppies.
Expect live performances, a photo booth, delightful treat tasting stations, a dog kissing booth, and even a "Paint My Dog" station. And for your feline companions, there will be milk tasting stations to pamper them.
October 29. From 257AED for adults and 155AED for kids (6-12). Call +9715 8 592 2492
CouCou Dubai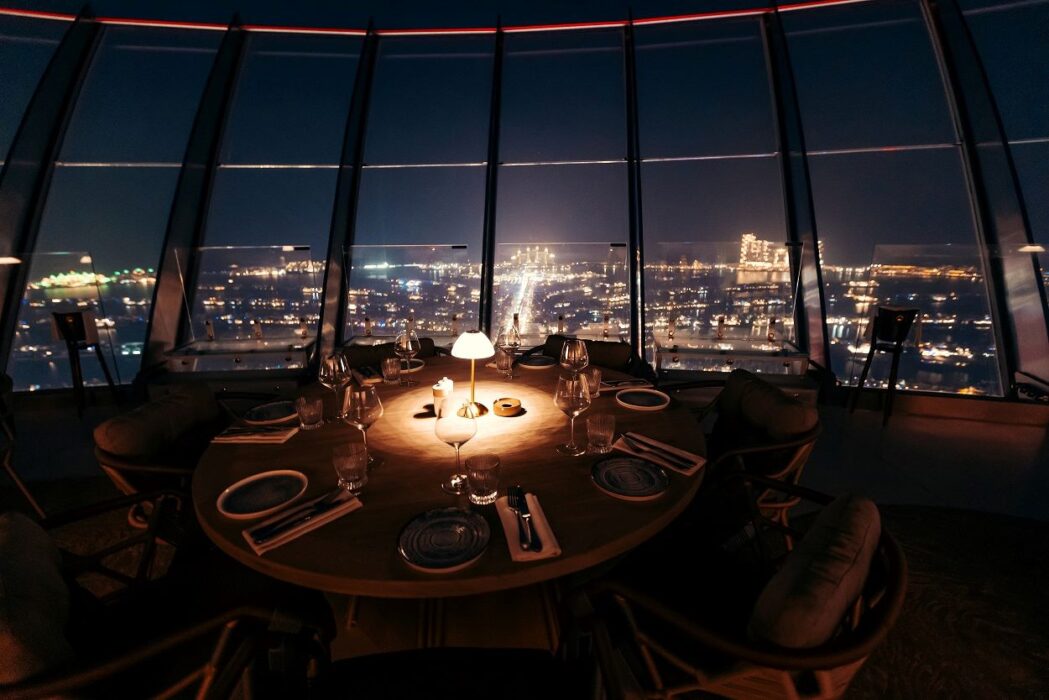 CouCou Dubai is about to undergo a two-night transformation into an exhilarating journey, showcasing captivating and tempting culinary delights along with unexpected entertainment high above, on the 52nd floor. Secure your reservation and discover the mysteries that lie in store, ready to quicken pulses and raise excitement to new heights.
52nd floor of The Palm Tower. October 30 to 31 from 8pm. Visit the website or Instagram
SOON Nobby x True Izakaya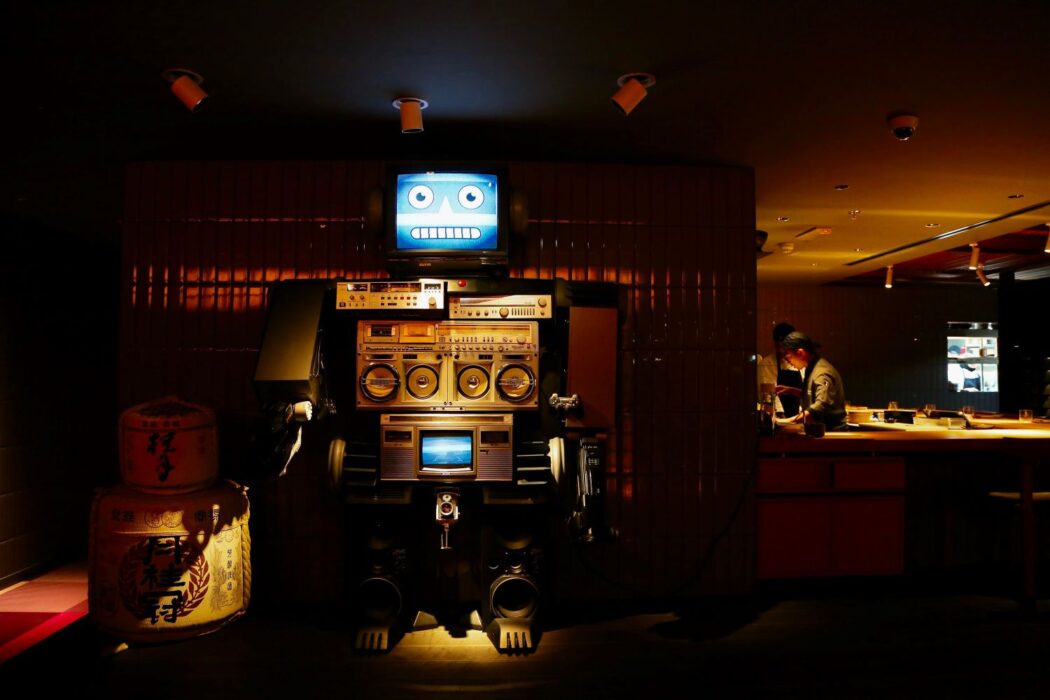 As the eerie season is here, SOON Nobby x True Izakaya is stepping things up a notch by hosting a Tokyo-style Halloween celebration on October 27 and 28, as well as on 31. This izakaya venue is extending an invitation to guests to showcase their creativity with Japanese pop culture-inspired costumes while enjoying an evening filled with spooky culinary delights, sake, and lively DJ beats. The most imaginative costume will be awarded a voucher worth AED 1000 for use at SOON Nobby x True Izakaya, along with a ticket to the upcoming Middle East Film & Comic-Con.
October 27 and 28 from 8-11pm and 31 from 7-10pm. Call +9715 5434 0575 or email reservation@soondxb.com
DREAM Dubai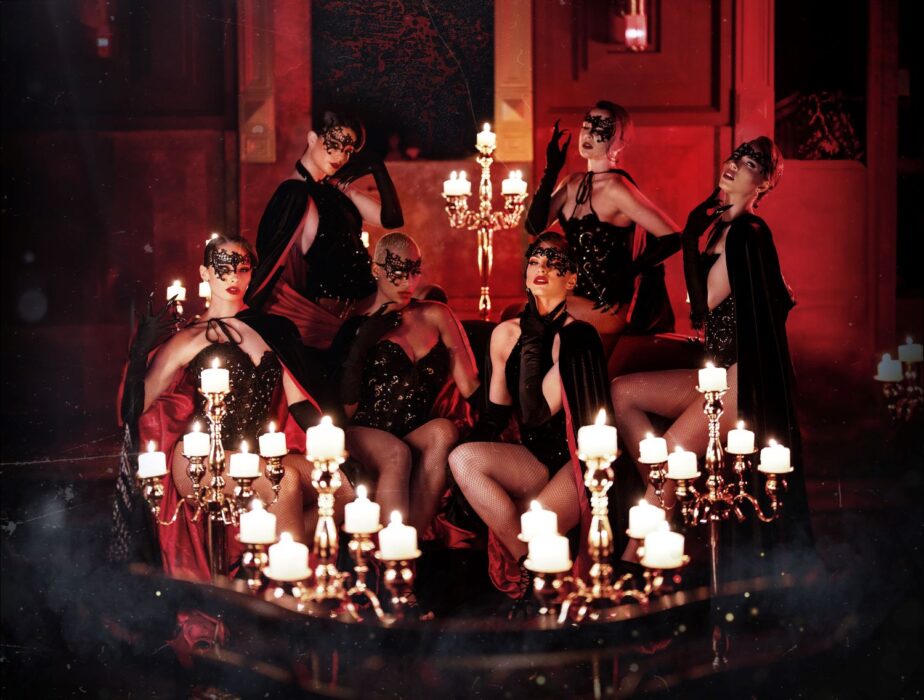 This Halloween, embark on a journey into darkness and indulge in a week of enchantment and thrilling mysteries at DREAM Dubai, where they present "Voyage to Nowhere" until October 31. Immerse in an exciting expedition where the boundary between reality and the supernatural becomes blurred. DREAM Dubai has prepared a lineup of surprises, including new acts, to grace the stage.
In addition to the live entertainment, you can savor a diverse à la carte menu featuring delicious Mediterranean dishes, along with exclusive themed items designed for this special occasion. Indulge in the "Midnight Pumpkin" dessert, featuring vanilla meringues shaped like ghosts, almond, pumpkin puree, and raspberry sauce. Or give the "Haunted Spirits" cocktail a try, a blend of Johnnie Walker Black Label, pumpkin spice syrup, Thai chili, carrot, lemon, and ginger, offering a taste of the spicy, sour, and rich flavors of Halloween.
Address Beach Resort. Until October 31 from 8pm until late. Minimum spend starting at AED 1,000 per person. Visit the website or Instagram
Mister Baker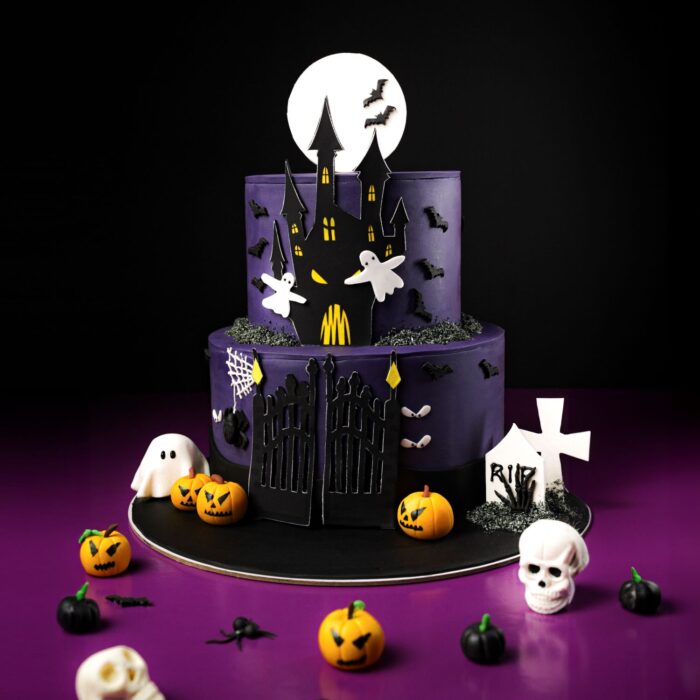 Prepare for a delightfully spooky Halloween season with Mister Baker's tempting creations! Mister Baker is all set to add some thrilling flavours to your Halloween festivities. Whether you're hosting a gathering or simply craving some eerie edibles, Mister Baker has you covered.
Mister Baker's Halloween cakes allow you to choose your favourite filling and sponge flavour from the available choices. These cakes come in both 3 kg and 4 kg sizes. And if you're in the mood for bite-sized treats, Mister Baker also offers a charming assortment of cupcakes just for you.
Visit  the website or Instagram
Swissôtel Al Ghurair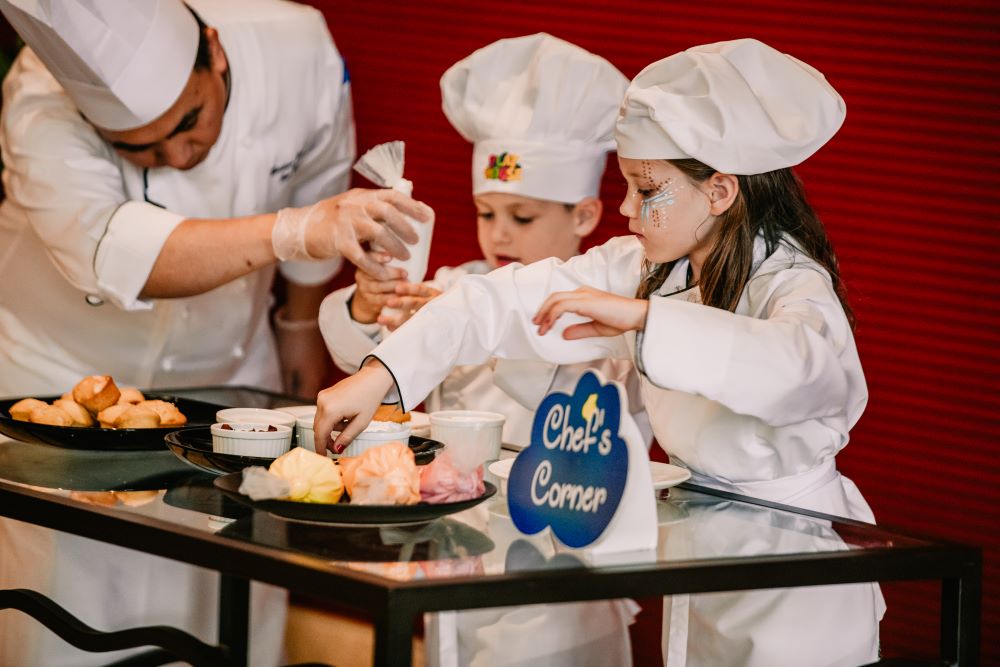 Swissotel Al Ghurair invites families to join in on an early Halloween celebration featuring a delectable spread and creative presentations. The culinary team has crafted special dishes such as Smoked Duck Confit Roulade with Red Bell Pepper, Butternut Squash with berry compote, Buffalo wings with a devilish red sauce, Halloween-themed sausage rolls, Beetroot & Pistachio-crusted Rack of Lamb, Monster Cake Pops, and Coffin Break. To accompany the feast, there are family-friendly beverages including Monster Punch and Bloody Temple.
For the younger guests, a range of Halloween-themed activities and friendly, not-so-scary monsters await in Liwan. Children can have their faces painted with their chosen spooky designs, engage in a Pumpkin painting competition, learn how to create Pumpkin Rocher Pops, or participate in a "Trick or Treat" adventure with their friends. Kids dressing up in well-planned costumes for brunch even have a chance to win a family Lindt Afternoon Tea experience.
Liwan Restaurant. October 29 from 12.30-4pm and is priced at AE159 per person and AED79 per child, while children below 6 years dine complimentary. Visit the website or Instagram
Ladurée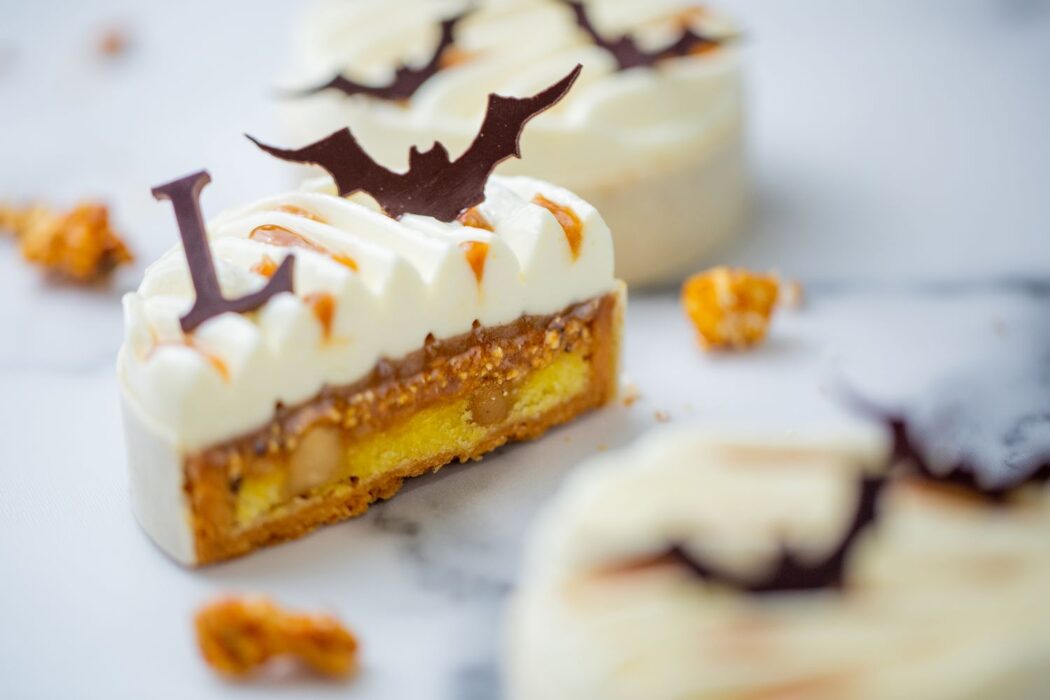 As the eerie season approaches, Ladurée is ready to satisfy your sweet cravings. Until October 31 Ladurée welcomes all to savour their delectable Halloween-themed treats that are sure to leave you yearning for more. Ladurée is introducing a Halloween signature delight known as the 'Popcorn Tart.' This sinfully sweet creation features a delicately crisp pastry base adorned with corn almond cream, macadamia nuts, roasted corn praline, and a generous drizzle of caramel popcorn.
But that's not all. Ladurée is taking the spooky factor up a notch. From October 27 to 31, visit their exquisite store, where they will showcase a special Halloween-themed collection of 'Printed Macarons.' These visually captivating macarons are creatively inspired and will tantalize your taste buds while adding a touch of spooky sophistication to your day.
Visit the website or Instagram
Habtoor Grand Resort, Autograph Collection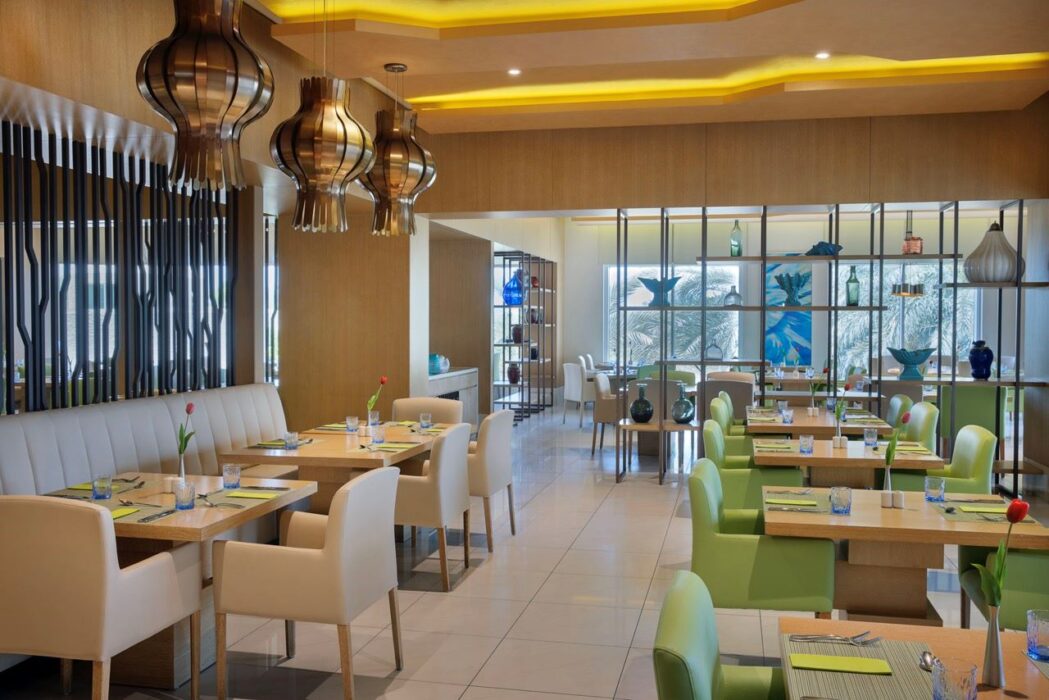 Al Dhiyafa Grand Kitchen is going all out for this Halloween season. Indulge in an expertly curated Halloween-themed BBQ Night that promises to excite your taste buds. The culinary experts at the restaurant have designed a captivating menu that offers a delightful selection of dishes with a touch of spookiness. Dive into a mouthwatering and flavourful array, complete with a wide variety of sizzling grilled BBQ delicacies, served hot off the grill right to your table. Put on your spookiest and most bone-chilling costumes, gather your fellow ghouls, and head to this elegant buffet restaurant, extravagantly adorned with Halloween decorations.
October 31 from 6:30-10:30pm. AED195 per person. Call +9715 0780 6342 or email hgrs.fbreservation@habtoorhospitality.com