Unwind in luxury under the stars at Bab Al Nojoum Al Mugheirah
Curious about glamping and dreaming of getting away from the hustle and bustle of the city with your family? Then pack your bags and head off to Bab Al Nojoum Al Mugheirah to enjoy nature in style.
Bab Al Nojoum Al Mugheirah features classic airstream trailers and one and two-bedroom Scandinavian-inspired cottages with kitchen and toilet amenities. A few of the cabins also include private plunge pools, BBQs, and fire pits. The camp offers a wide range of activities for visitors, including stand-up and kayaking on the river as well as mangrove exploration, nature excursions, and tree-planting.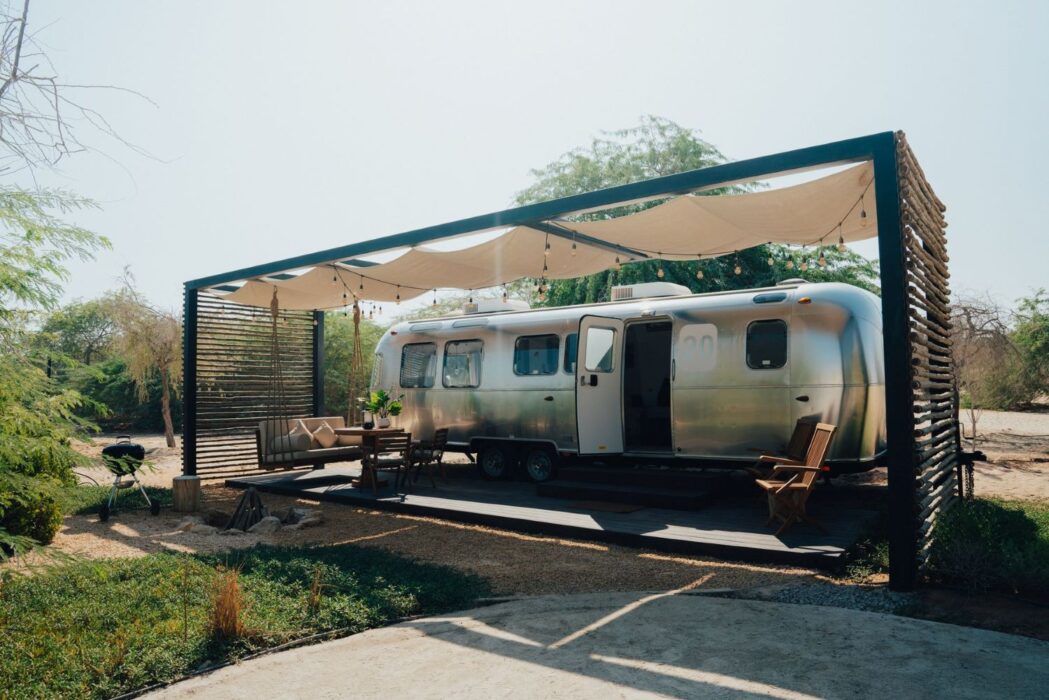 Leave behind the worries of distance as you embark on a captivating trip to a destination worth every minute of travel. Despite being a two-hour ride away from Dubai, the enchanting experience that awaits at this hidden gem will make the journey a delightful part of your adventure.
Upon arrival, the warm hospitality of the staff instantly envelops you, making you feel like a cherished guest. As we proceed to the reception for check-in, our cheerful and affable camp host, Jason, greets us with a smile, eager to guide us through the plethora of activities available.
A swift buggy ride takes us to our haven for the stay – a one-bedroom cabin that epitomizes the essence of luxury glamping. With its inviting sofa, cosy dining area, private fire pit, and a refreshing plunge pool, it's a haven of comfort nestled in the heart of nature. The seamless integration of luxury and serenity creates an ambiance that soothes the soul and rejuvenates the spirit.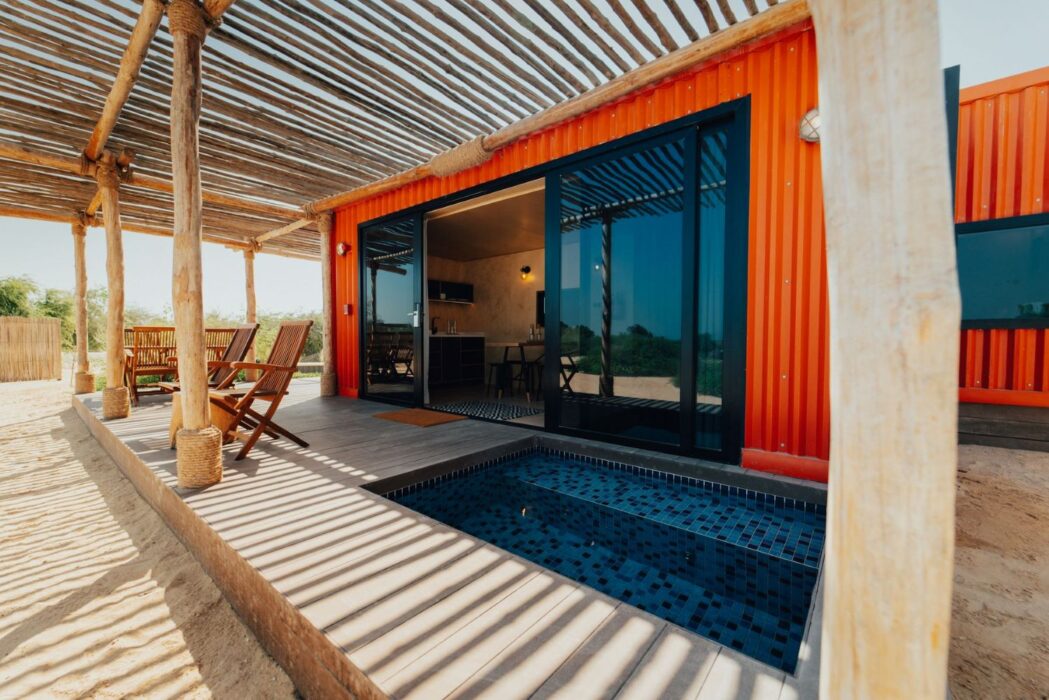 Our journey commences with an immersive exploration of the entire complex, guided by Jason. As we embark on a scenic drive, we encounter a diverse array of awe-inspiring flora and fauna. Jason's expertise shines as he shares intriguing insights about the different types of trees, while captivating encounters with elegant horses and graceful gazelles unfold before our eyes. The commitment to sustainability echoes throughout the surroundings, with visible efforts to protect and preserve the precious ecosystem.
The experience is not merely about indulgence and relaxation but also about embracing the harmonious relationship between nature and humans. Every aspect of the journey reflects a deep-rooted dedication to preserving the environment and fostering sustainable practices.
Our next adventure takes us to fly a kite. With a sense of curiosity and excitement, I take hold of the strings, ready to embrace a new thrill. After a few attempts, I find myself manoeuvring the kite quite well and I feel like a child again.
As the kite-flying extravaganza comes to a close, we return to our tranquil cottage, drawn to the allure of the private plunge pool. Submerging ourselves in its crystal-clear waters, we surrender to pure bliss and relaxation. The gentle caress of the water against our skin washes away the worries of the world, leaving us rejuvenated and refreshed.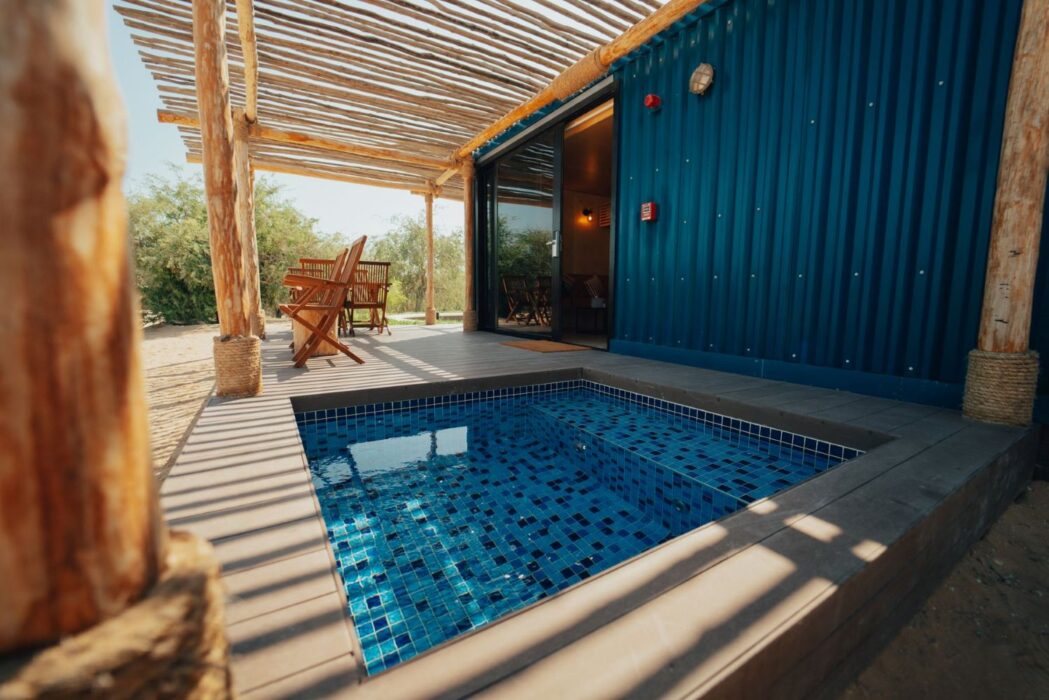 For a truly delectable dining experience, we venture to the vibrant restaurant that beckons with tantalizing aromas and specialises in grilled prime meats and authentic Arabic delicacies. Indulging in a perfectly cooked steak paired with fragrant rice and crisp vegetables, we savour every succulent bite, appreciating the culinary expertise that elevates our dining experience.
Returning to our cosy cabin, we find ourselves irresistibly drawn back to the inviting plunge pool. As we immerse ourselves in its tranquil waters once more, we gaze upward, marvelling at the vast expanse of stars that adorn the night sky. In this serene setting, we find solace, peace, and a profound connection with nature that rejuvenates our spirits and fills us with a sense of awe.
The following morning, our exploration continues with a leisurely stroll through the enchanting mangrove. Led by Jason, whose passion for nature is infectious, we learn about the remarkable adaptability of mangroves. These tropical plants thrive in loose, wet soils, withstand saltwater, and gracefully endure periodic submersion by tides. As we absorb Jason's wealth of knowledge, we can't help but feel a deep appreciation for the intricate balance of nature's wonders.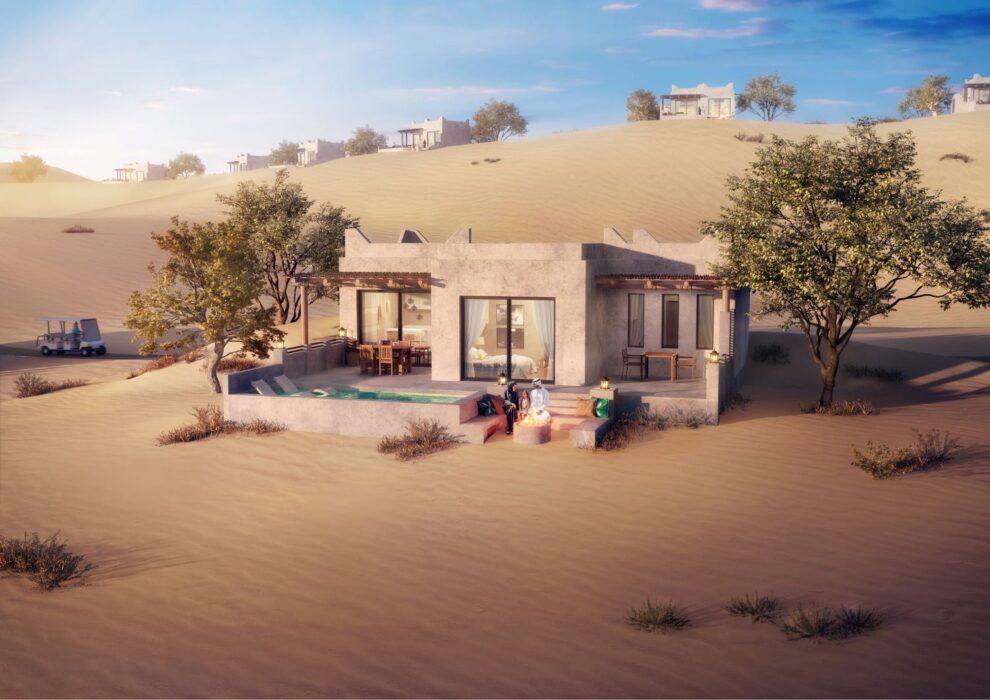 If you yearn for a destination that invites you to reconnect with nature, unleash your inner explorer, and create unforgettable memories with your loved ones, Bab Al Nojoum is the answer. With its three luxurious sites—each offering a unique experience—there's an idyllic retreat to suit every preference.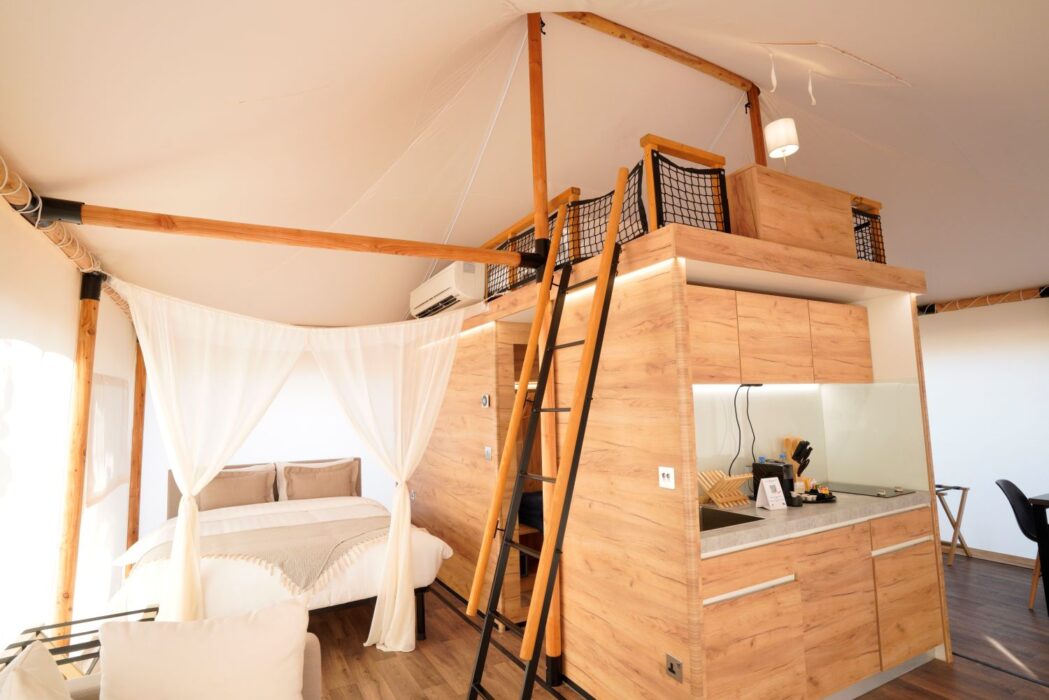 From the serene beachside camping tents at Hudayriyat to the luxurious private villas at the brand new Bateen Liwa Resort, Bab Al Nojoum presents a harmonious blend of comfort, adventure and natural beauty.