Ten fun fruit & veggie snacks for kids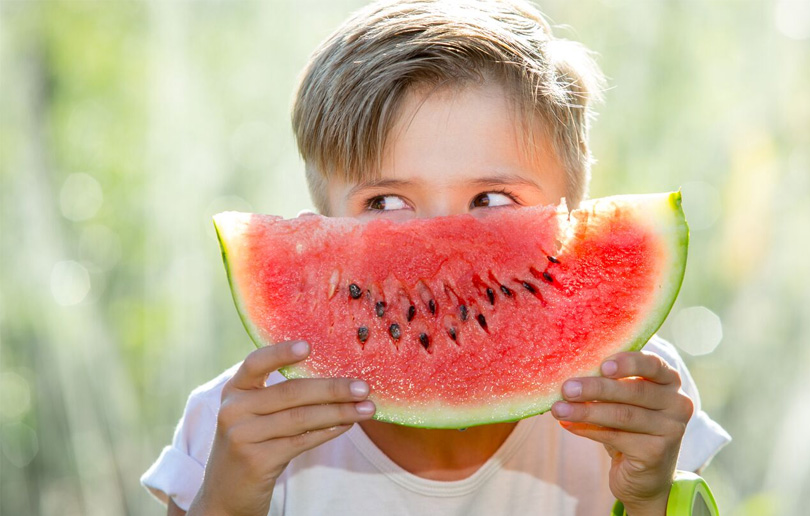 Here's ten ways you can sneak some extra vitamins in to your kids's packed lunch box
FRUITY SKEWERS
Fruits are easier and more fun to eat on skewers. Mix up your fruits and include different hues and flavours from dragon fruit to kiwis, pineapples and strawberries. (Try this delicious fruit skewer recipe!)
DRIED FRUITS
This is a good way to sneak in some nutrients. Pack up dried apricots, raisins and blueberries for an on-the-go snack. If you're feeling adventurous, try this dried fruit energy ball recipe.
FRUIT SALAD
You can always add a fun dressing like poppy seed or balsamic vinegar for a tangy twist to you regular fruit flavours.
POPSICLES
Freeze 100% juice to make colourful popsicles.
PEANUT BUTTER & ANYTHING
Peanut butter goes with many things…apples, bananas and even carrot and celery sticks.
LUNCH BOX
Rubicon's new range for kids has no added sugar, colours or preservatives and packs 100% of their daily recommended allowance of Vitamin C.
 SMOOTHIES
Kids love a tasty smoothie, and it's a good way to sneak in some veggies while masking the taste. This forest fruit and banana recipe is hit with kids.
THE TRIO
Spread 1 tsp. of peanut butter on any fruit and dip it in dried fruits and crushed cereal.
VEGGIE VASES
Slice a bit off the top and bottom of multicolour grape tomatoes and plant a broccoli or cauliflower floret inside.
WAFFLE APPLES
Instead of unhealthy traditional waffles try this fruit version. Slice and core an apple, then brush both sides with melted butter. Pre-heat a waffle iron then brown the apples for two to three minutes.
FROZEN FRUIT CHUNKS
Watermelons, bananas and grapes work wonders as frozen treats. (Try these tasty frozen fruit sticks!)
Looking for more fruit snack inspiration? Try one of the delicious recipes below…  
Peanut houmous with fruit & veg sticks
Rye bread with almond butter and pink grapefruit segments