Dubai mums out in force for Mirdif's new Okaidi Obaibi store
Mother Baby & Child hosted a mums event at Okaidi Obaibi Mirdif City Centre this week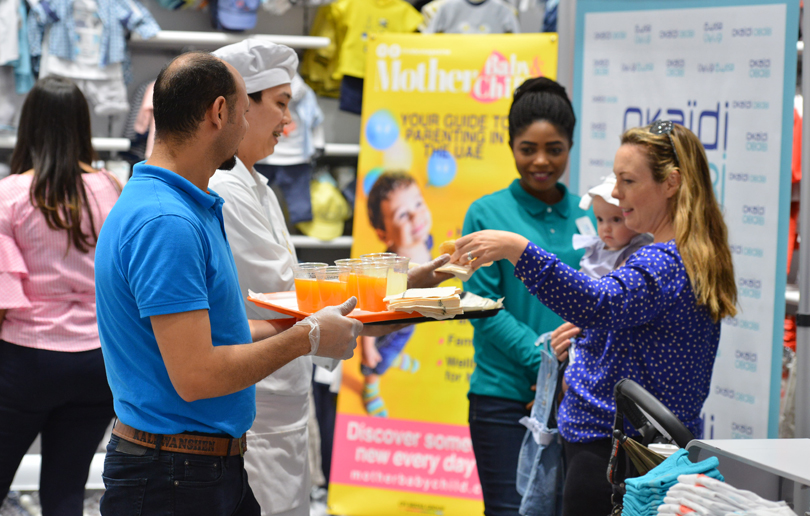 Okaidi Obaibi, relaunched its Mirdif City Centre – Dubai store yesterday with a fun event, organised by Mother, Baby & Child. Local mums came along and were treated to photoshoots with their little ones before listening to a lively presentation about the importance to their children's future of making environmentally-friendly fashionable clothing choices.
Not forgetting their own vitality and wellbeing, mums were then given their own questions and answers session with acclaimed pre- and post-natal exercise specialist, Reem Ghussein of women's fitness experts, Fit Squad DXB. After a just-for-fun prize draw, the Dubai mums browsed the cute and trendy clothes in-store, treating their little ones to Europe's favourite high-quality baby brands at their mum-friendly prices.
Environmentally-friendly clothing choices in Dubai
Since its inception in Europe in 1996, the Okaidi brand ethos has been: "for every child to be happy, responsible and take charge of their future." The brand acknowledges that, as your children grow, they want to help choose their own clothes. By operating to social, societal and environmentally-responsible clothing production methods, it means the range can empower today's children to live a life where they are making environmentally-friendly choices as a normal part of their growing up. This in itself has a massive impact on our environmental future, especially since the store has 1,034 branches in 63 countries and is still expanding.
The Obaibi brand credo is: "helping parents and their children to grow with peace of mind." By sourcing 100% organic cotton and upholding their social and environmental responsibilities to our children's future, the brands offer Dubai's mums the opportunity to raise happy, fashionable, confident kids who are playing a part in their own future by making sustainable choices. And that means a lot of kids, making responsible choices!
The first of the special ranges for Ramadan are now appearing in the Okaidi Obaibi Mirdif City Centre store, providing the perfect choices for both gifting and indulging your own 0-14s.
Future mums' events
Our events are free for mums to attend and you're always welcome to bring the kids. Keep an eye on our 'Events' section of the website for information on our future events for mums, or sign up to our weekly newsletter and we'll tell you all about!
Details: to see the full image gallery of the event, head to our event's page. For more information, on the brand, visit Okaidi Obaibi.