How to perfect your pregnancy skincare routine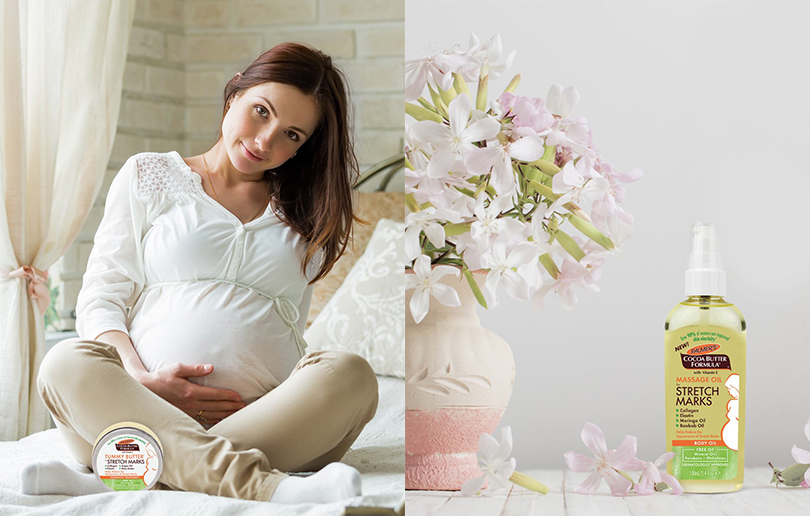 For many women, motherhood is their most desired dream. As a result, you may hope for your pregnancy complexion to reflect your radiating inner joy – but sadly, this may not be the case. Pregnancy could prove to be a very tricky time for your skin, as the hormonal changes can cause a lot of skin complications, including acne, dryness, itchiness, and of course – stretch marks.
More than 50 percent of pregnant women get stretch marks, which is why it is so important to find a skincare routine that works for you during this time. It may seem overwhelming with the amount of products on the shelves, all claiming to be that "miracle solution" that you're looking for.
To give you more insight into a trusted range, we take a closer look at Palmer's pregnancy collection. All the products mentioned below are dermatologically tested, hypoallergenic without any harsh detergents, and perfect for gentle cleansing during your pregnancy…
Pregnancy body wash 
Start your day by using Palmer's pregnancy body wash. Specially designed for sensitive skin, it's ultra-gentle, formulated with pure cocoa butter, vitamin E, collagen, elastin and shea butter to give deep long-lasting moisture to stretching skin. It's sure to keep you refreshed and nourished throughout the day.
Stretch mark lotion 
Take some time for yourself and treat yourself to a refreshing bubble bath. Before you slip into a snuggly robe or rush into your work clothes, don't forget to apply Palmer's stretch mark lotion. It's a light-weight lotion that makes it perfect for mornings as it is easy to apply and absorbs quickly, meaning you can dress immediately after.
Stretch marks' cream
Try to get into the habit of using Palmer's stretch marks' cream throughout your day. It's a concentrated formula containing cocoa butter and vitamins, and is perfect for use on problem areas such as the belly, buttocks and bust area.
Tummy butter
Fill your evenings with Palmer's lavender fragrant tummy butter for the ultimate relaxing wind-down. It moisturises the skin to help keep its natural elasticity, hence reducing stretch marks' appearance.
Skin therapy oil
Palmer's advanced multi-purpose skin perfection oil can be used any time of the day. With it being a dry oil, it absorbs very quickly. It can be used all over the body and is specially designed to reduce stretch marks appearance, scars, and uneven skin tone. Apply daily for skin that instantly looks and feels softer and smoother with this unique, non-greasy, non-staining skin therapy oil.
Details: For more information, please visit palmers.com