The boss Mum: Hannah Curran
Founder of Pure Born, Hannah Curran, discusses vision boards, eco-friendly nappies, and work-life balance as a single mum.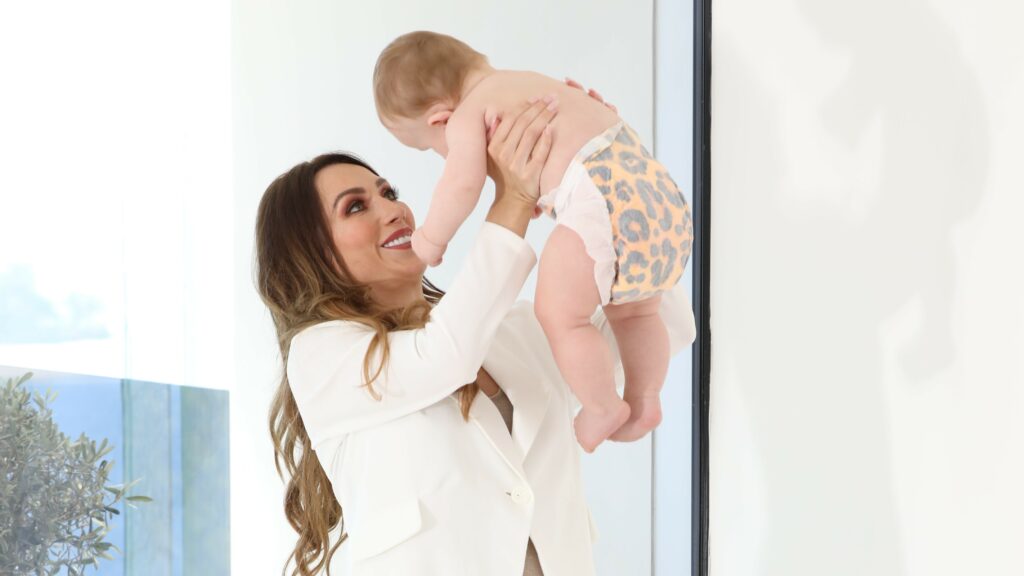 When we met with Hannah Curran, the chic mum was clad in a white suit and heels, looking every bit like a mumpreneur who knows what she wants to achieve. Hannah laughed and chatted while adorable baby Rocco – wearing leopard print Pure Born nappies – crawled around. One look at Hannah and you could tell the ambitious mum reaches for the stars.
Hannah Curran relocated to Dubai in 2012, for a job opportunity, and soon found herself setting up a day nursery and working on the launch of Pure Born nappies in 2016. "My mum has always been in childcare and used to say, 'The best thing about my business is that I have the same challenges every business will have, ups and downs, good days and bad days, but people always need childcare.' Hannah tells me the same thought occurred with nappies in mind (diapers if you're American), and whilst looking into this industry, the challenges with sustainability, green alternatives and affordability kept appearing. "I wanted to offer something greener and more affordable. Pure Born diapers are hypoallergenic, ultra-absorbent, and made with up to 43% organic bamboo. Since the launch, we've expanded into wipes and will soon be releasing baby care items."
Hannah doesn't seem like the kind of woman who stops working. A typical day in her life begins with giving Thanks. "No matter what's going on I remind myself of all my blessings, and this really helps me to start my day right. I get to the office early if there aren't external meetings, meet with the team and vision board daily with goals. Inspiration can strike at any moment and I like to visualise," says Hannah. At the moment, Pure Born is at a rapid growth stage, so the team are quite busy. "We're at the product development stage which takes up to 12 months, so we're under a lot of pressure with regulating bodies to get this right.
But we also want to get it right for our parents (clients) and we're trying to give them the most natural alternative products possible." Once Hannah is home, she spends her time with baby Rocco, orders takeout, gets back on email and finally tries to switch off. Obviously in between I fit in mani-pedis and friends."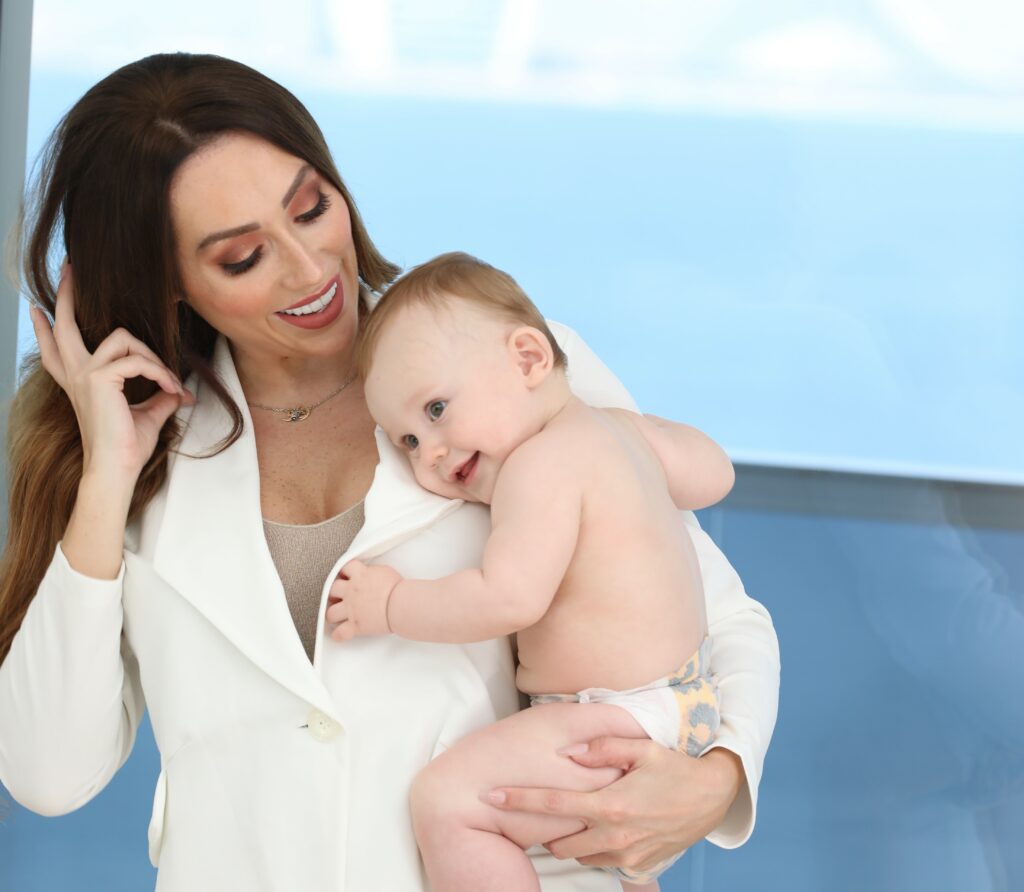 When asked about how she manages her work and life, she says, "I ask myself this question of work-life balance a lot and I really don't know what the correct split is, especially being a single mother. I'm lucky my brother is living with me and is around a lot for Rocco. When I'm not working, I try to be present and we laugh a lot. He's a happy baby and I think that's all that matters!" says Hannah. As we take in the view of the Burj Al Arab from the apartment, we discuss gender roles and purpose. "When we speak to men, we don't ask them how they manage baby and career goals. I want fulfillment in life, for me this is the satisfaction I get from work and purpose I get from my baby. I learn so much from both and yes, it's a balancing act, but isn't everything in life?" says Hannah. "He brings so much goodness, so I have more balance than ever, because I don't just work all the time. I'm very blessed that we have access to such good childcare in UAE. I have a live-in nanny (Ailyn) – which outside of UAE isn't a given – she helps me raise him, gives him love when I'm not around and he's still so young that I don't think he misses me yet! He comes to the office sometimes and other than that I try not to guilt myself. I'm doing it all for him and he gives my life purpose."
A strong network is crucial for mumpreneurs and Hannah attributes her emotional wellbeing to support from family and friends. "It's so important to keep the real ones around, not the ones that tell you everything is rosy and easy. We have a hard-enough time with social media pressures. You need friends in the same situation that laugh with you through the screams and nappy changes," she says.
"I hope Rocco has lots of siblings. I've been blessed with a calm baby and I want lots of children. I raise him alone, so I would of course want him to have a father figure eventually. I think it's so important to choose the correct person for your kids with the same beliefs and morals." Furthermore, she tells us Pure Born will continue to thrive. "We're entering new markets this year. I just hope parents love our products as much as we do, that's most important," she says. Hannah is also launching the Pure Born foundation – a platform for giving back – which will be her main focus over the next year. "We already give 5 per cent of PureBorn proceeds to charity, but we want parents to see where they're helping to make a difference," she tells me. After all, life is all about making a difference.
With thanks to Hannah, make sure you follow Pure Born on Instagram here. 
If you enjoyed this article, you may also like; When life takes it's course: Zahra Abdalla